Thursday, October 27, 2016
Message from the Most Holy Virgin Mary
To Her Beloved Daughter Luz De María.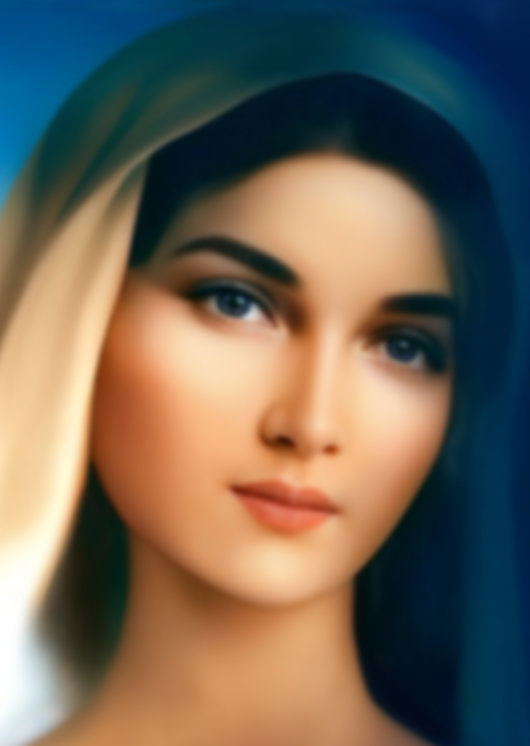 Dearly beloved children of My Immaculate Heart:
I bless you; My Maternal Mantle remains over you, over the faithful People of My Son.
I ENTREAT YOU TO PAY THE UTMOST ATTENTION TO THE APPEALS OF MY SON FOR YOU TO
KEEP YOUR PHYSICAL SENSES IN CONSTANT PRACTICE AND TO SEE TO IT THAT, WITH THIS, THEY ARE MORE SPIRITUAL THAN PHYSICAL.
You must understand, children of My Immaculate Heart, that in these instants of such difficult in which My Son's People are living, it is essential that you continually mortify the human will through love, in order that it understands that it must be given over to the constant search for being more spiritual and denying itself human whims.
My Son wants a faithful people, He wants children who are understanding towards their peers. Each person has their personality, but at this instant, you must strive for that personality not to be so worldly but to tend toward holiness; only in this way will you manage to endure to the end.
From various sources you are hearing dates, announcements, you pay attention to everything... instead, you should focus on growing spiritually, on endeavoring to leave behind all that is worldly and sinful.
You know very well what it is that you have to change in order to draw nearer to and fuse with the Divine Will ... You talk about charity and when My Son brings you a trial with your peers, the human ego emerges. No, children, in this way you do not give testimony to what you say with your word, you must give testimony by working and acting with Faith, Hope and Charity.
THIS PRACTICE OF THE SENSES IS SUPREMELY IMPORTANT, AS WHEN, AND ONLY WHEN THE
SENSES GO FROM MERELY BEING USED UNCONSCIOUSLY TO BEING PLEASING TO MY SON WILL, THEY WILL ACHIEVE TO BE LESS WORLDLY AND MORE ATTACHED TO THE WORK AND ACTION OF MY SON.
I come to bring to you the Living Water, I come to immerse you in the Living Water - regenerating and purifying, the water of love, of devotion and obedience to what Heaven asks of you.
YOU MUST BE WILLING TO BE OBEDIENT, BECAUSE OBEDIENCE IS THE ART OF HOLY SOULS.
Obedience does not mean walking blindly but walking in the light of the Holy Spirit using the Gift of Discernment. I have called you to unite yourselves to My Son, to travel the path of love, knowing and scrutinizing the Word of My Son, so that you do not walk blindly but enlightened by Knowledge, by Wisdom, and therefore understand that obedience to the Divine Will is necessary, even when you do not understand the why or wherefore of things...
My Son sees further than you see, man can see further if he does not use the sense of sight as a purely physical sense. Consecrate the sense of sight to Me and then you will see what you do not see at this instant.
My Son is hastening the steps of His People. You have so many blessings, so many gifts, but you keep them locked up out of ignorance and sometimes out of fear. But behold, I come in the Name of My Son, out of love for the People of My Son, love for you who are My children, to tell you to free these gifts, these virtues that you keep locked up, to place them before the Holy Spirit so that He be the One who guides you, and so that you in obedience to the Word of My Son, achieve to become more spiritual.
CHILDREN OF MY IMMACULATE HEART, SUCH IS THE DEGREE OF TRIBULATION APPROACHING YOU, HENCE THE IMPORTANCE OF YOUR BEING MORE OF HEAVEN AND LESS OF EARTH.
The whole Earth will be shaken, it will turn on its axis, the water of the seas will not be contained and will rise up upon the land. The land will shake forcefully, you will live through exceedingly strong instants, and only with a true faith in the Promises of My Son and in My Protection and the assistance of your Travelling Companions and the intercession of the Saints, will you remain standing.
YOU URGENTLY NEED TO PREPARE YOURSELVES AND TO KNOW, PRACTICE, ACQUIRE KNOWLEDGE REGARDING HOW TO SURVIVE WITHOUT ADVANCED TECHNOLOGY.
You know that soon, very soon the star that is the sun will attack the whole Earth and man's technology will be reduced to ashes. This will be chaos for man, since you depend completely on technology. You must investigate how to survive without this technology that has made you easy prey for satan, because it has clouded your thinking, has hardened your hearts to the point that some are zombies, wandering around fully controlled by all the negative effects of science and a misused technology.
You have not yet recognized the tentacles of satan that have been acting from beforehand, and in this instant they have risen up against all souls. For you, what you see as normal leads to great sins, great offenses towards My Son, great and serious pain to my Immaculate Heart, and this is because you do not discern, you merely follow modernism.
Children of My Immaculate Heart:
YOU ARE CLOSER TO RECEIVING THAT GREAT ACT OF DIVINE MERCY THAT IS THE WARNING, AND THIS IS WHY MY SON IS HASTENING YOUR STEPS, SO THAT YOU SPIRITUALIZE YOUR SENSES AND
FUSE THE INNER SENSES WITH THE PHYSICAL SENSES, IN ORDER THAT YOU SEE WRONGDOING WITH CLARITY. There will be instants of desolation and of blessing; each person will see themselves as they are, which will cause great pain. You will be examined in depth by yourselves, there will not be a single act or a single work which will not be seen and examined by you. Conscience will act fully as it has never before acted in each person. And then, those who will refuse My Son will give themselves over with greater force to evil and will carry out all the evil that the devil has inside him against those who in repentance choose to continue beside My Son. HENCE THE URGENCY OF YOUR PUTTING INTO PRACTICE THE WORD OF MY SON, in order that you do not only repeat it, but that you be aware of this Word of Eternal Life.
THE GREATEST ACT OF MERCY TOWARDS MAN IS APPROACHING. DO NOT LOOK FOR DATES ...
PREPARE YOURSELVES, PREPARE YOURSELVES.
My children, pray for France, suffering at the hands of terrorism will continue.
Pray, pray for the United States, when it seems that tranquility is coming near, My children will suffer the most.
Pray for India; these children who have suffered so much will be strongly purified.
Pray for Costa Rica, children, it will be shaken.
My children are intoxicated, not only by what they see, but by pride and arrogance, the cause of the great disobedience in which they live, the cause of their distance from My Son.
When man turns away from My Son he loses his center and evil takes all strength that man possesses in order that every creature that turns away from My Son be an instrument of persecution, of pain and of scourge against the children faithful to My Son.
I ask you again to pray the Rosary, it is a great blessing for whoever prays it. Do not pray repetitively, but maintain a full and absolute awareness of this Great Prayer dedicated to the life of My Son.
My children, the winds will gather strength and atmospheric phenomena will be unleashed that will cause alarm. These are scourges born in the hand of man. My pain is great when I see man preparing the death of his brothers and sisters with his own hand.
You are souls in need of Love, Truth, Charity, Hope, and strengthen all this with Faith. As Mother of all Humanity I bless you and call each one of you individually to be Messengers of the Word and of Divine Love.
I BLESS YOU IN THE NAME OF THE FATHER, OF THE SON AND OF THE HOLY SPIRIT. AMEN.
Mother Mary.
HAIL MARY MOST PURE, CONCEIVED WITHOUT SIN.
HAIL MARY MOST PURE, CONCEIVED WITHOUT SIN.
HAIL MARY MOST PURE, CONCEIVED WITHOUT SIN.