Tuesday, November 1, 2016
Message from the Blessed Virgin Mary
To Her Beloved Daughter Luz De María.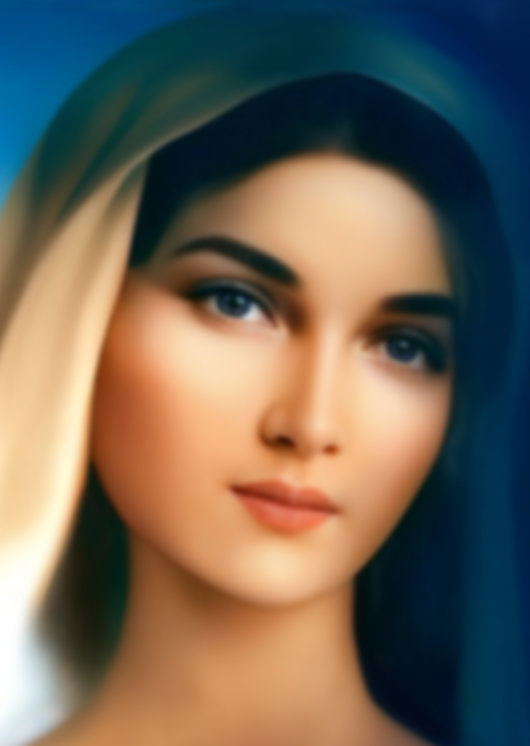 Beloved children of My Immaculate Heart:
MY MATERNAL HEART IS THE ARK OF SALVATION; COME TO ME, I LEAD YOU TOWARDS MY SON.
On this day I come to Purgatory, and take a great number of souls with Me to the Trinitarian Presence, through Divine Mercy. Do not forget to pray for the dead; prayers are light and a great comfort for those who are in Purgatory.
Children of My Immaculate Heart, you do not have to be part of the chaos reigning on Earth. You possess the Love of My Son, and the Most Precious Blood of My Son is Salvation for man.
MY CHILDREN ARE A SPRING WHERE THE GIFTS AND VIRTUES PERMANENTLY FLOW THAT EACH PERSON HAS CULTIVATED IN THEIR LIFE.
The Love of My Son manages to keep the water of the source in continuous movement so that it is oxygenated. Unity keeps each drop of water in its state so that all receive the necessary oxygenation, since stagnant water accumulates residues, its color changes, and the waste forms a layer that hides the beauty of the crystalline water, and the latter takes on a putrid smell.
THIS IS AN INSTANT OF SPIRITUAL COMBAT, AND MY CHILDREN SHOULD KEEP THEMSELVES
OXYGENATED WITH THE CONTINUOUS KNOWLEDGE OF THE DIVINE WORD IN THE HOLY SCRIPTURE.
My Word brings you the Divine Will so that you stay alert and have foresight regarding the constant attacks of evil. I have explained events to you so that you prepare and especially save your souls.
My children must know in depth the meaning of the word FAITHFULNESS, everything it contains for those who walk in the path of the Love of My Son. Whoever surrenders and decides to live truly in the "Way," must be faithful in every aspect of life. But first they have to be faithful to My Son and themselves in order not to be lost.
You are living in a chaos in every respect; man does not define his life, he is inconstant, and therefore tends to follow what comes to him and what seems interesting to him even though it is deplorable. Deviation of values is increasing and with it the lukewarm are multiplying very quickly. From this multiplication heretics come out of their hiding places and devote themselves to leading souls to sin in various forms.
You have managed to see how the Illuminati and Masons have acquired power within the Church of My Son, contaminating the true religion and being permissive towards evil.
THE SMOKE OF SATAN HAS PENETRATED WITHIN THE CHURCH OF MY SON. FORMS OF MODERNISM INSIDE THE CHURCH ARE NOT MY SON'S WILL, THESE ARE PERMISSIVE AND CAUSE SIN TO BE MULTIPLIED.
MY SON CAME FOR SINNERS SO THAT THEY CONVERT,
NOT SO THAT SIN REIGNS IN THE LIFE OF MAN AND BE A REASON FOR CELEBRATION.
Beloved children of My Immaculate Heart, I PROTECT YOU; as a Mother, I do not depart from you but announce and denounce sin so that you do not fall into the clutches of evil.
THE GREAT WAY THAT ALL SHOULD DESIRE IS THE WAY OF MY SON'S LOVE AND BEING HIS OWN LOVE.
My Beloveds, you must strengthen feelings in order that they do not cause you to yield and fall into worldly weakness. You are awakening your spiritual senses and it is necessary that feelings be made pliable so as to work and act well, because in man's instinct is that which causes him to be more comfortable, without the slightest effort.
AT THIS INSTANT, MY BELOVEDS, MAN HAS ATTAINED GREAT SPIRITUAL WEAKNESS, AND THIS CAUSES YOU TO BE WEAK FACED BY THE CHALLENGES OF EVERYDAY LIFE.
You keep recollections in your memory, and the feeling of this recollection leads you to understand whether it satisfied you or not. This understanding you have misrepresented, and you call it 'satisfaction'. Man desires satisfaction in all that he strives for, and without you detecting it, you have taken the desire to be an obsession, and without you detecting the obsession, it has leapt towards frustration.
MY CHILDREN, IN THIS INSTANT EVIL IS NUMBING MY CHILDREN, AND THEY CONTINUE BEING
NUMBED UNTIL FRUSTRATION LEADS THEM TO SEEK AND FIND SATISFACTION IN WHAT IS IMPROPER AND UNREAL. In this sea of confusion and numbness of the senses and the spirit is where Humanity finds itself in this instant.
I call you to exercise the will using the thought of the Truth, so that the decisions you take be attached to your intelligence, so that you do not live from feelings that manage to betray you.
Children, look beside you, man is losing his reason with great ease due to the inability to face the vicissitudes of life. Man limits himself regarding discerning who he is, what he has become, what he believes. At this instant this is what is new: man's inability to reason and to accept himself as he is or the inability to correct himself.
Beloved children of My Immaculate Heart, Humanity depends on the decisions of that group of creatures who have made an incursion into the path of man's destiny, in order to falsify the Truth of what is happening in this instant, and they therefore falsify the Truth. The ignorant man is prey to everything that comes into his hands, without meditating whether it is good or not.
My Beloveds:
THE EARTH IS STRONGLY INFLUENCED BY GREAT ASTEROIDS MOVING IN SPACE; man, with great ignorance, with his stubbornness in works and acts, is attracting those elements that are moving through space. The moon will find its rest and the sun will be darkened for several minutes.
This attraction of the Earth towards the elements that are revolving in space is strong, just as much like man's sin. The effects on the Earth are visible at this instant, and are shocking for man himself. You must understand that wrong actions do not die when the act is committed, but the effect of the act continues throughout Creation, inflaming a greater number of people, and the struggle will not be only against men, but against demons, legions and principalities of evil.
GREAT DEVELOPMENTS ARE UPON HUMANITY...
THE SHAKING OF THE SAME WILL NOT CEASE UNTIL MAN PURIFIES HIS DISOBEDIENCE AND HIS OBSTINACY, HIS OFFENSE AGAINST GOD, AND PURIFIES HIS REBELLION.
The force of the elements revolving in space has shortened the days, terrestrial movements accelerate because of the fragility which man has brought to the Earth. The approach of asteroids and meteorites to the Earth is going to increase. Just as you do not know yourselves, but only know what your brothers and sisters do, so you do not know the whole relationship existing between human behavior and the behavior of the Earth, and therefore of Nature.
YOU, MY CHILDREN, MUST BANISH THE IGNORANCE IN WHICH YOU LIVE, YOU MUST OPEN
YOURSELF AND NOT SEE YOURSELF AS AN ISOLATED PERSON, BUT AS AN ACTIVE PART OF
HUMANITY, WHOSE WORK AND ACTION SPREADS OUT OVER ALL YOUR BROTHERS AND
SISTERS.
The elements are coming dangerously close to man in their eagerness to awaken that man, the image and likeness of God, which they do not find in the great majority. The Earth continues to tremble, awakening man who instantarily brings to memory the God who created him, and then forgets and attacks everything Divine.
The devil grows due to the human wickedness of this instant, inciting man, who, fragile in spirit, easily surrenders faced by the insistence of evil that does not rest.
Dear children:
THIS INSTANT IS DECISIVE FOR EACH ONE OF MY OWN TO SAVE THEIR SOUL AND MERIT ETERNAL LIFE.
Children, you do not overcome your inability to face daily living with its obstacles because of your fragility, for lack of spirituality and therefore Faith. In the face of such weakness, the devil quickly causes you to enter into the desperation of the competitive, pitiless world where worldliness reigns.
Children, anxiety and fear of losing positions within society leads man to a spiritual incapacity that hinders him from feeling the absence of not participating in being a child of God.
Pray children, pray, My Son's People will be cruelly persecuted.
Pray children, pray, be fulfillers of the Divine Will, pray for Italy.
Pray children, geography will change; because of this the Earth is shaking with greater force in its entirety.
Pray children, pray, Chile and Japan suffer because of the shaking of the Earth.
Pray for France, pray for France and the United States, terrorism is planning its action in darkness.
Beloved children of My Immaculate Heart:
MY CHILDREN SHOULD BE MORE DEDICATED TO GOD, WORKING AND ACTING IN THE GOOD, THUS YOU ASSIST YOUR BROTHERS AND SISTERS.
My Angelic Legions are on Earth at the four cardinal points. Call on them so that they help you and assist you in the face of so much evil that exists. The ability of evil to deceive you needs a response, you need to know about evil in order not to fall into its clutches.
Children of My Immaculate Heart, you will face great challenges; receive My Son in the Eucharist, stay away from sin, discern. The Church of My Son suffers. I suffer because of how much you are going to suffer.
MY PRESENCE IS IN FRONT OF EVERY PERSON, MY LOVE CONTINUES WAITING TO BE CALLED. MY PROTECTION REMAINS UPON YOU WITHOUT DISTINCTION.
I bless you: come to Me, I am your Mother.
Mother Mary.
HAIL MARY MOST PURE, CONCEIVED WITHOUT SIN
HAIL MARY MOST PURE, CONCEIVED WITHOUT SIN HAIL MARY MOST PURE, CONCEIVED WITHOUT SIN