Sunday, November 6, 2016
Message from Our Lord Jesus Christ
To His Beloved Daughter Luz De María.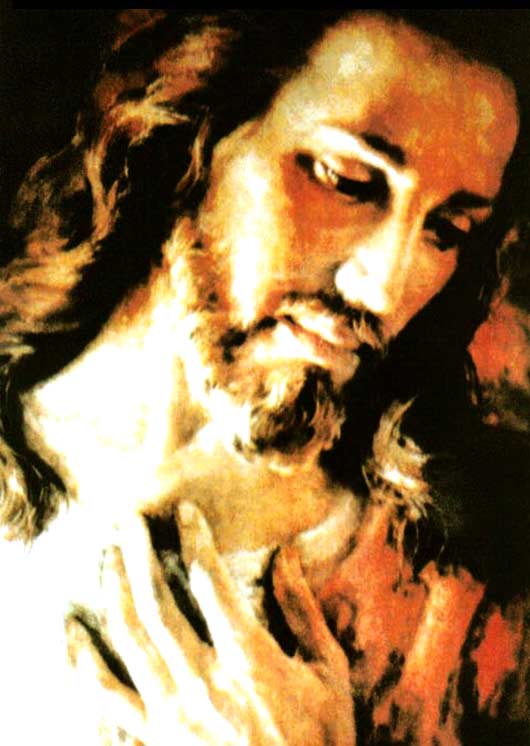 My Beloved People:
I KEEP YOU IN MY HEART. MY PEOPLE ARE CONSTANTLY BEING WATCHED BY ME.
Not everything that occurs is the cause of what encircles man, rather it is human stubbornness that does not allow My Word to penetrate the conscience of man and in this way man be kept in My Will, being centered on My Word, so that My Peace be lived in each one of My children in body, soul and spirit.
My Beloved People, the body walks along a path different from the path of the soul and of the spirit. This is not the Truth of living in My Will; whoever keeps living in this way will not reach fullness so as to be fused with Me.
MY PEACE, LIVED DEEPLY WITHIN THE HUMAN PERSON, IS THE SUSTENANCE THAT MAINTAINS
YOU WITH THE NECESSARY VITALITY SO THAT THE BODY, SOUL AND SPIRIT BE FILLED BY THE GREAT NOURISHMENT THAT MY LOVE GENERATES, AND THUS MOVES AND UNIFIES EVERYTHING WITHIN AND OUTSIDE MAN.
The bad relationship between body, soul and spirit has caused Humanity to live in the chaos that is leading it towards self-destruction, and because of the indifference with which man looks at My Love and takes My Calls for him to live rightly and worthily and maintain peace in his life ..., because of this the spiritual chaos in which Humanity lives today is reflected everywhere.
My children deceive themselves, some because they surrender to the devil, others because they say they live in a constant search in order to meet Me, but this is not the truth, it is one more deception for supplementing the control that the human ego exercises over each person. WHOEVER LOVES ME LAYS DOWN HIS OR HER HUMAN EGO SO THAT THE DIVINE SAP COMES TO MAINTAIN HIS OR HER WHOLE ORGANISM IN UNITY, and so that every instant be the deepest gratitude that the human person raises up towards Our Trinity.
Each one of My children must learn to be noble and humble so they can transform the personal environment in which they live. You have not understood, despite of My insistent Calls, that if you do not die to personal whims, you my children, you will continue being the actors of the developing drama of your life until you manage to unite with Me for a single instant and understand that "I AM WHO I AM "(Exodus 3:14), and fuse with Me forever.
YOU DO NOT BELIEVE IN MY WORD THAT ANTICIPATES, ANNOUNCES, DENOUNCES AND ABOVE ALL, LOVES...
You forget that pride is punished by each one. Along the way you encounter the result of the pride of the past. Some of My children suffer great spiritual hunger, but they do not like to feed themselves with the food that I bring them so that they grow and desire more of what is spiritual than that which is of the human ego.
WHOEVER IS NOT DISPOSED AND CONVINCED SO AS TO ALLOW THEMSELVES TO LIVE IN MY WILL,
SHALL DESERT AT SOME POINT. MY WILL IS ALL THAT MAN NEEDS IN ORDER TO FIND PEACE.
My Beloved People, in order to seek Me, you must first seek humility; without humility every reaction you receive from your brothers and sisters is a high voltage discharge that your brothers and sisters cannot resist, stemming from the action with which you have acted, and the explosion causes serious injuries on a personal level and that of your brothers and sisters.
NOT ALL MY CHILDREN ARE CHOSEN TO BE MY MESSENGERS,
NEITHER ARE ALL MY MESSENGERS PROPHETS, BUT I LOVE ALL MY CHILDREN WITH ETERNAL LOVE.
Humility is necessary in order to allow yourselves to live My Love in a personal and communal manner. At this instant, that impediment to respect and love My choices is causing man to be taken by envy and to become an executioner, not only of My instruments, but of My Will.
MY PEOPLE, I AM SPEAKING TO YOU BECAUSE I WILL NOT ALLOW YOU TO LIVE WITH EMPTY
HANDS, UNAWARE OF THE WELLSPRINGS OF PURE WATER, IGNORING THE TREASURE THAT
EACH PERSON POSSESSES FOR LIVING ETERNAL LIFE, BEING IGNORANT OF WHAT I HAVE
PROVIDED FOR MAN SO THAT HE DOES NOT ONLY REPEAT MY LOVE, BUT BE AN INSTRUMENT OF PEACE FOR HUMANITY IN GENERAL.
My people, you need to understand using your intelligence that you should not be distracted by yourselves. The instant that you say to yourselves that you know, that instant is when you are most ignorant of what you think you know. That is the pride of the human ego that you are unable to overcome.
Beloved, you know yourselves with a body that possesses faculties, without discovering the soul, without wanting to reach the spirit, you limit yourselves to living by the mind, thought and heart, thus being very human and not very spiritual. You have totally taken root in what is worldly, preventing My Divine Light from flooding you with the Wisdom of My Holy Spirit, THUS STOPPING THE TRUE KNOWLEDGE THAT MAN CANNOT LIVE IN FULLNESS IF HE IS NOT UNIFIED WITH THE SPIRIT SO THAT WHAT IS WORLDLY DOES NOT CONTAMINATE HIM. MY SPIRIT GIVES MAN WHAT MAN IS FREELY DISPOSED TO RECEIVE.
My people, the body, soul and spirit need to be one, the concordance between them sublimates the human person and transforms it so that it fulfills its true mission on Earth: BEING MY CHILD IN FULLNESS.
My People, two forces have confronted one another during the history of Humanity: Good and evil.
IN THIS DECISIVE INSTANT, IT IS THE DUTY OF EACH ONE OF MY CHILDREN TO RECOGNIZE THE URGENCY OF BEING AN INSTRUMENT OF MY PEACE. Everyone should know me in order to love Me; it is precisely the ignorance of the Infinite Love of My Father for the Redemption of man that has led Humanity throughout history to distort the Truth and the purpose of My self-surrender.
Man has a restless spirit to which the nourishment of Truth has not been given. Because of this the spirit of man has wandered through different, very mistaken currents in search of a greater spirituality, to live more according to My Will, given the pitiful instruction that My children have received, and thus to live more by the spirit and less by the flesh. Man has been limited and evil has taken hold of this human desire in order to deform man, causing him to search for wrong ways where evil has penetrated and has managed to grow to the point where this generation finds itself: scorning me and aiming to cast me from the Earth, so as to hand it over to the dominion of satan.
BELOVED, EACH ONE OF YOU POSSESSES SPIRITUAL STRENGTH, AND THIS ATTRACTS ME LIKE A MAGNET, WHEN YOU SEEK ME CORRECTLY.
You cannot know Me by the intellect alone...
You cannot know Me by desire alone ...
You cannot know Me by the mind alone, nor by thought nor by reason ...
You need to know that each one of My children has to maintain unity in themselves for that unity to attract Me, and the magnetism of that magnet is: LOVE, OBEDIENCE, HUMILITY, HOPE, CHARITY AND FAITH ...
EVERYTHING UNITED IS THE FORCE THAT ATTRACTS ME.
My Beloved People, evil has been unified ; My children are destroying themselves in the foolishness of believing that they are possessors of My Truth. Each person interprets Me as they please. You do not love Me in spirit and truth ; you say that you know Me when you obey Me minimally and with minimal effort, provided that your interests are not affected.
I do not punish Humanity ; proud Humanity is punishing itself, applying the result of the misuse of free will.
Surrendered to the evil that dominates you, you transform yourselves into a rebel against the Law, creating your own law that leads to spiritual and physical destruction.
The Earth has cradled man and man finds himself at the precise instant in which Prophecies, forgotten and ignored, are being fulfilled.
AT THIS INSTANT I OFFER YOU THE ARK OF SALVATION: MY MOTHER.
SEEK HER PROTECTION AND BY HER HAND YOU WILL FIND THE TRUE WAY, THE ONLY WAY OF SALVATION AND ETERNAL LIFE.
My people, pray for the United States, confusion reigns and with it the anger of man will manifest in that nation. The force of evil has taken hold of the minds of My children and they have reduced the Divine Law so that free will is guided by satan. Natural events will paralyze this Nation.
Pray My children, pray, Peru will be shaken, suffering, water penetrates within it.
Pray My children, pray, Chile is shaken, the high mountains show their force.
Pray My children, pray for Italy, from being a daughter she has gone to denying me, she will be shaken, her territory will be divided.
Pray My children, pray, My Church is being shaken; My faithful ones will be more faithful and the persecutors will be greater enemies of My Church.
My Beloved People, do not continue living without watching the Vault of Heaven; Humanity will live through great commotion.
War is gradually being lived out by Humanity in a constant threat that will become the most cruel struggle in the history of man.
My people will suffer and for this they must prepare themselves in the Faith by means of constant praxis.
I WILL SEND MY ANGEL OF PEACE TO YOU, IN ORDER THAT MY ANGEL ACCOMPANY MY PEOPLE; POSSESSING MY OWN LOVE MY ANGEL WILL GIVE HOPE AND FAITH TO MY OWN. Do not forget that My Angel of Peace is nourished by love and where Love is denied, the doors are closed to My Mercy. Humanity must make itself worthy of My Angel of Peace.
I love you, My beloved ones, I love you with Eternal Love.
"See, I have engraved you on the palms of My hands, your walls are ever before Me." (Is 49:16)
I bless you.
Your Jesus.
HAIL MARY MOST PURE, CONCEIVED WITHOUT SIN
HAIL MARY MOST PURE, CONCEIVED WITHOUT SIN
HAIL MARY MOST PURE, CONCEIVED WITHOUT SIN