Sunday, November 13, 2016
Message from Our Lord Jesus Christ
To His Beloved Daughter Luz De María.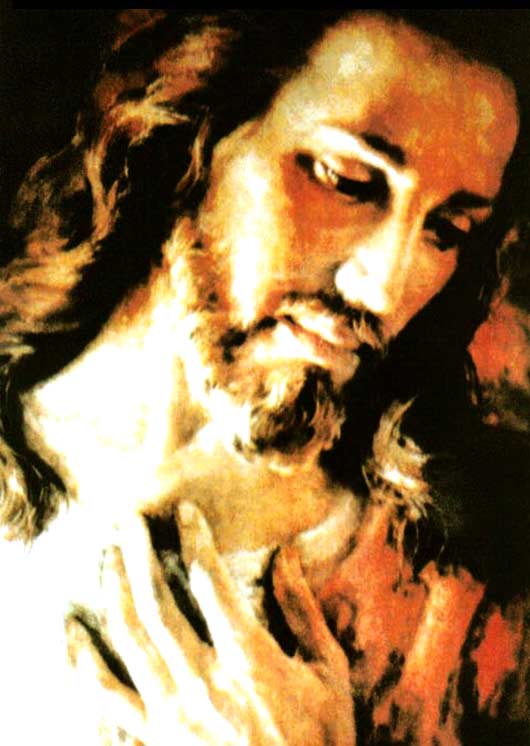 My Beloved People:
IN EVERY BEAT OF MY HEART IS EACH ONE OF MY CHILDREN.
I come to you to heal your wounds, your sorrows, and to give you everything that you need for you to continue in what is right. Sometimes you expect from Me what is not suitable for you; I give you what makes you part of My Flock.
Be aware that "I am the Way, the Truth and the Life" (Jn 14,6), I am Actor and Spectator, I am the Doctor and the Medicine. Sometimes I am the bandage on the wound; at other times, I am the thread that stitches; at others, I am the medicine against pain; on other occasions, I am the gentle wind that helps to heal the wound; and at other times ... I am the brush that cleanses the wound.
My Beloved People, each of My children must fulfill the Law of Love; only thus will you live in the Truth.
My Beloved People:
THE ONE WHO TURNS AWAY FROM ME LOVES HIMSELF THE MOST, LOVES HIS HUMAN EGO THE MOST AND THEREFORE SCORNS THE ONE THAT IS BESIDES ME ...
Whoever loves himself the most has been infiltrated by the fluids of pride, of self-love, of envy, of unhappiness, of despair, of unforgiveness, of vanity, of cruelty, of ill-treatment, of foolishness, of possession, of imposition, of not accepting My Will ...
Whoever turns away from Me always finds a pretext for his brother to be the one to make expiation and he himself the executioner.
Whoever turns away from Me imposes himself on his brothers and sisters, until pride makes him intolerable for his brothers. NO, MY BELOVED, OPEN THE EYES OF THE SPIRIT AND DISCERN...
In this instant, disturbing spirits have taken hold of some of My children in order to keep My People in constant pain. You must discern what comes from Me as necessary for the soul and what comes to you to disturb, scourge and exhaust you in order that you turn away from My Path
In My People, every human creature must be the one who directs their brother to Me and not the one who distances him from Me. He who is obstinate does not grow, nothing satisfies him; for the humble person, it is enough to serve Me and to offer Me what they have, and what they can and cannot, for they make the greatest possible effort.
MY PEOPLE, AT THIS INSTANT UNITY AND THE SECURITY OF THOSE WHO WALK IN MY TRUTH IS INDISPENSABLE. Prepare yourselves in the spirit, assist one other so that the spiritual senses may come forth quickly.
My People are confused on hearing that the Signs of this instant are not signs, but things that must occur and which are natural. You need to be aware that the spiritually blind are those who do not want to see the Signs of this instant as an alert for Humanity to awaken, and instead tell My children that what is happening is natural.
My People, you will see those brothers who have denied the Signs of this instant as a message for you to prepare yourselves in the spirit, you will see them with those who scorn My Mother.
MY PEOPLE, YOU ARE STRUGGLING AGAINST EVIL SPIRITS THAT WANDER THROUGH THE EARTH
PERVERTING MEN, STEALING THE SALVATION OF SOULS; THEY ARE DEMONS WHO HAVE COME OUT OF HELL ITSELF, WHO BURN WITH ENVY SEEING YOU ADORING ME, RECEIVING ME,
WORKING FOR MY KINGDOM, ANNOUNCING TO YOUR BROTHERS AND SISTERS THE INSTANT IN WHICH YOU FIND YOURSELVES.
THE DEMONS SHAKE WITH ANGER AGAINST YOU, BLESSED OF MY FATHER.
Humanity perverted by sin has contaminated every aspect of society. The poison of pleasure and ignorance has been slowly poured out over men, in order that they do not know Me and distrust Me.
FAITH WILL GO OUT IN HUMANITY LIKE THE FLAME OF A CANDLE BLOWN BY THE WIND.
THE CRUELEST OF RELIGIOUS, RACIAL AND ECONOMIC PERSECUTIONS WILL BEGIN.
DISEASES SENT TO HUMANITY BY MISUSED SCIENCE WILL BE SUDDEN AND UNKNOWN.
Pray My children, pray, Nature makes man tremble.
Pray My children, pray, Peru trembles, disease appears.
Pray My children, pray, My Church is surprised.
My People, I insist on the Law of Love and on Charity towards one another. Recognize creatures of charity: they have an upright conscience and a heart abounding in the Truth, they are not creatures of pretend Faith.
MY TRUTH IS LOVE, MY LOVE IS MY TRUTH.
I love you.
Your Jesus.
HAIL MARY MOST PURE, CONCEIVED WITHOUT SIN.
HAIL MARY MOST PURE, CONCEIVED WITHOUT SIN.
HAIL MARY MOST PURE, CONCEIVED WITHOUT SIN.