Thursday, November 17, 2016
Message of the Most Holy Virgin Mary
To Her Beloved Daughter Luz De Maria.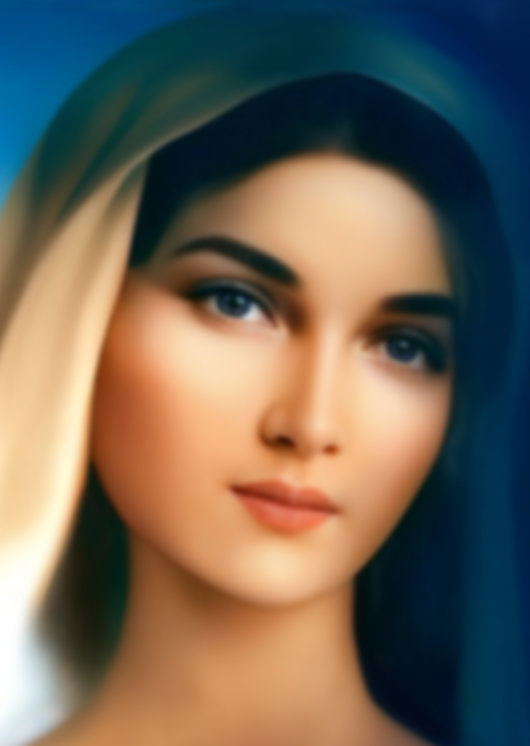 Beloved children of My Immaculate Heart:
MY HEART SHELTERS YOU ALL SO THAT IN IT YOU MIGHT REMAIN WITHIN TRUE LOVE.
Do not leave the path down which I ask you to travel; allow Me to intercede before My Son, keep hold of My Hand.
Each one of My Own is guarded by their travelling companions - the Angels, and alerted when you are in danger of falling into wrongdoing.
Children, it is necessary for personal and then communal spiritual advancement that each of My children should choose to see themselves inwardly, however painful it may be to encounter the reality of how you work and act. You are capable of seeing yourselves inwardly so that you correct what you must correct in life, above all that which concerns the human ego and the treatment of others.
Man would not act in evil so repeatedly if he would stop looking at the evil that he apparently judges in his brother and would see himself definitively in the light of Truth.
When man looks at himself inwardly in spirit and truth, he finds My Son in the depths of his inner being, waiting for you in order to provide you with a deeper awareness of Divine Love and of man's duty as a child of God.
My children, in this instant in which erroneous ideological currents abound, you are called to pay attention in the face of the confusion in which you are living. What the new, spiritual, ideological currents offer you in order that you find My Son through practices of concentration or relaxation, without taking into account the state of the soul, is something completely mistaken.
You need to follow My Son and find in Him what the world will never give you. At this instant in which much of My Son's Church remains inundated by Freemasonry and Illuminati, My Heart grieves at the incompatibility of these secret societies with the religion that My Son instituted.
High positions in My Son's Church are under the power of masonry, unleashing great confusion concerning the acceptance of norms contrary to the Law of God. These practices have drawn satan's smoke towards My Son's Church, taking power in order to conceal its true intention.
My children, you must know Sacred Scripture in order to recognize the difference between the True Path to My Son and the various wrong paths that lead to the worship of the body, of Creation and of satan.
Do not forget that at this instant the devil has activated all his tentacles in order to lash out at you without your perceiving it. The stench of the enemy of the soul covers the streets of cities, spreading hatred and confusion over Humanity, which walks in disorientation, listening to various voices, sinking instant by instant into error, into denial and acting outside of the Commandments. Evil has invaded Humanity, it has reached unthinkable levels of power, within the religion of the peoples: economic, social, political and moral power; it has taken possession of the lukewarmness of My children, and causes them, under the guise of fraternity, to neither be true Christians nor true children of God.
Beloved children of My Immaculate Heart, you must prepare yourselves so as not to be deceived and led towards evil. Know My Son, know the Divine Will for His People; you cannot believe that you are saved if your work and action are not in accordance with the Law of God, the Sacraments and other works of Mercy.
Change within you begins with the acknowledgement of your personal work and action. If this acknowledgement is not made, you will walk dragging behind you the chains that bind you to evil. I do not find a new man without his having recognized himself as a sinner, recognizing himself as proud, recognizing himself as weak and requesting Divine Assistance.
PREPARE YOURSELVES TO BE NEW CREATURES, RENEWED BY DIVINE LOVE.
Beloved children of My Immaculate Heart, Humanity refuses to be reunited with My Son, the comfort that evil offers you alienates you from the mystery of the Cross.
You scorn the gift of sight by denying that evil is living in Humanity at this instant. You do not act well, you do not commit yourself to a definitive change towards good works, you mock those who strive to live in obedience to the Divine Word.
The stench of the sin of Humanity has caused the earth to collapse in various parts of the world; it does not want to continue bearing upon itself the continuous sin of man. Weakness in the face of sin once more shows itself in human history, the alienation from the Law of God gives evidence of the spiritual lukewarmness of a great number of human beings.
Dates regarding The Warning, The Miracle, The Punishment, catastrophes, regarding The Days of Darkness and The Second Coming of My Son are spreading like the wind throughout the world.
MAN OF GOD: PREPARE YOURSELF AS IF YOUR DAY WERE THE LAST THAT YOU WILL LIVE!
Do not be like the hypocrites who wait with anticipation to be examined in order to ask forgiveness and thus exempt themselves from the penalty of their sins; they forget that God knows the least of their thoughts, works and acts.
My Son will come without warning, thus He will take His people and allow them to examine themselves.
You should be aware of the urgency of this instant and not be like the foolish who deny the signs of this instant in order to deceive the naive.
"Thou shalt love the Lord thy God with all thy heart and with all thy soul, and with all thy mind" (Mt
22:37), and "... thy neighbor as thyself" (Mt 22:39). THE SALVATION OF SOULS CONTINUES WITH THE SAME REQUIREMENTS, WITHOUT CHANGES IN THE LAW, WITHOUT CHANGES IN THE SUBSTANCE OF DOCTRINE, WITHOUT CHANGES IN THE DIVINE WORD. BELOVED, RECEIVE MY SON, PROPERLY PREPARED.
WE CALL YOU TO AN INNER CHANGE, WHICH IS: TO BE RECEPTIVE TO THE ILLUMINATION OF THE HOLY SPIRIT, SO THAT YOU DO NOT ONLY SEE THINGS FROM OUTSIDE BUT THEIR ESSENCE. IN THAT LOOKING AT THE ESSENCE, THE SOUL SEEKS GOD, WITH A CONTINUOUS MOVEMENT TOWARDS WHAT IS HIGHER.
My Beloved, the instant is rushing by at great speed, indeed I must express to you that the Earth is turning with greater speed; in as much as the instant is shorter, the weeks pass quickly without you noticing it. Hence the urgency of inner change: events are approaching at full speed.
Evil is wreaking havoc in houses of religious formation; evil distracts the mind of man; evil destroys homes; evil accelerates war in its fullness; evil distances man from God by offering man every possibility of sin in order that he lives in a constant lie.
Man dresses like women, this being one more sign of the instant in which you are living. Thus they lived in the times of Sodom and Gomorrah, in depravity. Women seek the pleasure of the flesh; they offer themselves without shame. You blame evil, therefore I mention evil to you, evil, and it is not evil as such but man's surrender to everything that is not right and the distance that man has taken from God's Law that has opened the door to the devil so that he destroys man and man destroy Creation. Children, this has already happened; at this instant man is receiving the product of his madness.
Everything that happens has been managed by the hordes of the devil who, intuiting the personal examination of souls, is accelerating his attack in order to win souls for himself.
Beloved ones, the Warning is indeed at Humanity's gates, therefore repent, do not let your soul be lost.
Pray My children, pray, you will see on high the fire surrounding the Earth.
Pray My children, pray for the United States, the power of the economically powerful surprises the nation. Racial revolts will not delay. This ground shakes.
Pray children for Russia, the wolf hides behind sheep's clothing.
Pray My children, pray for Denmark, it will be shaken.
Pray My children, for Italy, it will be surprised by terrorism.
This generation will be a witness to the Words of My Son on the Mount of Olives.
Beloved children of My Immaculate Heart, this instant should not be taken lightly, but with an awareness of what Eternal Life is worth. And resembling My Son, look up, look up, you will be surprised.
The effort must be two-fold; he who desires to serve My Son must serve with loyalty. He who is lukewarm is vomited out of God's mouth. Unite, assist one another, be living testimonies of the Love of My Son.
I bless you in My Immaculate Heart.
Mother Mary.
HAIL MARY MOST PURE, CONCEIVED WITHOUT SIN.
HAIL MARY MOST PURE, CONCEIVED WITHOUT SIN.
HAIL MARY MOST PURE, CONCEIVED WITHOUT SIN.