Sunday, November 20, 2016
Message from Our Lord Jesus Christ
To His Beloved Daughter Luz De Maria.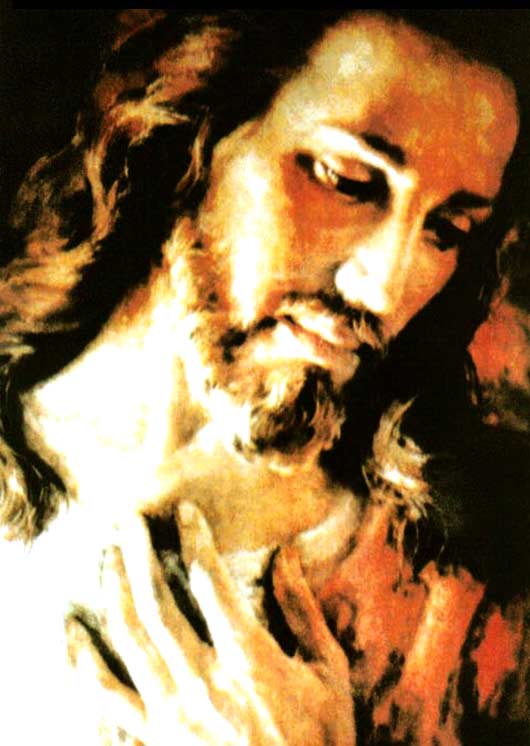 My Beloved People:
I LOOK FOR YOU LIKE THE SHEPHERD FOR HIS SHEEP.
LIVE WAITING FOR MY ARRIVAL...
This instant of spiritual growth in which you are coming closer to Me is clear for those who are aware that in the face of a great evil that is approaching, I am preparing you so that you be one with the Divine Will that has created everything, and resist with spiritual conviction.
I HAVE ANNOUNCED MYSELF SO THAT YOU REMAIN PREPARED AND AWAIT ME WITH A GENEROUS SPIRIT AND CLEAN HEART ...
I HAVE ANNOUNCED MYSELF IN MY SECOND COMING ...
On their own my children are confused; I told you that I will not arrive unless the apostasy comes first and the man of sin appears, the son of perdition. Why do you allow yourselves to be deceived? You look forward to what does not come from My Will, but from the will of men. I will arrive when you least expect it because first you will hear of rumors of wars, and the war will be concretized when every Nation rises against every Nation and when pestilences and hunger are greater than those of this instant. You will hear of peace treaties, but this peace will not come because of betrayal.
Confusion is in sight of all My children. These will suffer until human stubbornness decreases; some do not decide to convert—these are their brothers' executioners. Iniquity will reign on Earth, weak hearts will be allies of evil and the devil's prey, in order that what is written be fulfilled.
My beloved People, pray for Spain, it will be taken by surprise and those who do not love Me will scourge My People, they will empty My Temples and attack My own without fear but with great evil.
My beloved People, pray for the United States, it is strongly shaken. Society enters into chaos; blood will be shed.
My beloved people, pray for Peru and Chile, these beloved peoples are shaken, they suffer greatly.
My beloved People, you are the Mystical Body of My Church, do not see as good that which is not good. Dirty water, if it is not observed carefully, can pass for pure water, therefore you should sharpen your eye and alert your senses so that the whole body remain on constant alert.
Pray for the United States, injustice will be experienced in that Nation. Racial conflicts will return; disorder will be like a contagious plague.
Pray children, pray, the volcano Etna will cause surprise.
Pray children, pray, the earth continues shaking.
Distant human acts will come that have made My People tremble; human discrimination will arise on a large scale.
My People have been flooded with phrases worshiping satan, requesting the taking of the Earth and
My children, through the loud music of heavy rock groups and other musical tendencies in which human beings enter into uncontrolled states and surrender to evil that possesses them. Musical groups take satanic gestures to flood My children with signs used by the followers of satan.
My People, wake up! Music is not what it seems to be; examine the signs, the gestures, the words with which those who present the music to My People deceive them in order to distract them from the true path and add them to satan's ranks. Do not call on satan: with this act you open the door for him to enter your lives, do not allow yourselves to be part of the prey that the devil has entrusted to some people in order to distort the meaning of life and fidelity to Me. Do not follow human idols under any circumstance.
BE CAREFUL OF THOSE WHO SAY: "I am the Christ" ...
MANY WILL COME IN MY NAME BEING DECEIVERS OF HUMANITY
My Beloved People, you must be united with My Work and Action, you must despise injustice and be lovers of peace. Do not prefer those who boast, unite with the humble and simple of heart: in them I deposit My Word. Do not believe that you possess the whole Truth, do not be impetuous, be peaceful. Some of My children do not see the darkness because they live in it, thus they reject the light, because they do not know it.
My Beloved People:
My Angel of Peace comes to assist you and comes in search of people with clean hearts in order to call them ...
My Angel of Peace comes to open oppressed hearts, to soften hearts of stone, to help those who want to be saved ...
YOU WILL CONTINUE ELEVATING THE SPIRITUAL SENSES WITH THE PRACTICE OF THE SENSE OF SPIRITUAL TOUCH.
Pray so that My Teachings do not fall on dry ground. This sense is necessary for you to put into practice.
Man's life resembles a circle that remains in constant motion. From within this circle the senses are like emanations that man emits towards his environment, like lights towards his brothers and sisters. The heart, as in the body, keeps beating, so good or bad feelings become apparent in each one of you.
YOU WILL SEE THE SENSE OF SPIRITUAL TOUCH IN THE AFFECTIONS; these you condition them to what you receive from your brothers and sisters, from the environment and from what you expect of life. In order to be correct, the affections have to be born from a new heart, and you receive that new heart when you surrender to Me in conversion.
Children, each one of you must refrain from judging your neighbor with self-justification mixed with perversion, since man normally tends to lie and despises truth, dragging his affections above his behavior.
At this instant, Humanity has buried affection, one's neighbors are a nuisance or a blessing—clearly two ways: again good or evil, love or hate, joy or tension, boredom or action. THIS IS THE REASON WHY I CALL YOU TO BE RENEWED INTERNALLY WITH A GENEROUS SPIRIT, IN ORDER THAT YOU ASK ME TO SANCTIFY YOUR WORK AND ACTION AT EVERY INSTANT, GIVEN THE BURNING DESIRE TO LIVE IN MY WILL.
The human will mistakes what it desires; because of this, due to the disobedience of man, the affections have managed to blind man, to silence him, to lead him to deafness, and have created spiritual paralysis. My children, if every person does not allow his or her human understanding to be enlightened by My Spirit, he or she will not recognize or understand the true delights of My Kingdom.
Beloved, you need to come out of the denial due of which you do not understand Me, do not know Me and do not love Me. You cannot walk by refusing to understand My Word, saying: "I don't understand, I don't comprehend the Divine Word." This is because in order for the spiritually blind man to see, he needs to have the healing power of My Word, to follow My Law, and to come to Me without expecting to find the same concept that you have about creation or the rules of My House.
The affections of man are found in the in what is base of the world. You have constructed your own model of how My Work and My Action are, and you have become stuck in what is immediate, in what is visible to your eyes, scorning what is of My House.
The transformation of My children comes through knowing Me in order that I transform them and so that they want to know Me in Spirit and Truth. Everything attains the expected beauty if your affections remain up beside Me.
HE WHO IS WISE IS BENEVOLENT, PEACEFUL, MERCIFUL AND—SOMETHING IMPORTANT— DOES NOT JUDGE.
My Beloved People:
CONTINUE PURIFYING THE SENSE OF TOUCH, considering that physical touch corresponds to the affections in the heart of the man who does not despair but waits without faltering.
You associate touch with feeling through the concrete perception of something, and this is not correct. Spiritual touch leads My children to live in the Hope of Salvation, seeing the goal of the final meeting in an ecstasy of love, which the human creature constantly offers me in the struggle of every instant. My People desire what is incorrect and are therefore corrupted and do not maintain Hope or Faith in My Word.
Dear children, continue awakening the Gift of touch. With a clear conscience and immersed in Hope, My People walk in obedience.
FIRST DAY OF THE FIFTH WEEK:
I offer the Gift of touch on this day to the Sacred Hearts of Jesus and Mary Most Holy.
I offer you this gift of touch in this instant for Divine Glory and for the good of souls.
In every present act, my affections will stay attentive, alert, so as not to accumulate what the sense of touch desires and which leads to sin, offending the Sacred Hearts.
Give me the strength to free my sense of touch and to bring it to work and act for the good of my soul and of my brother and sister.
I cry to You, Most Holy Mother, so that you take me as Your disciple, guide my life, and so that my path be directed towards meeting with Your Son.
ON WAKING UP I OFFER:
I have affections for the good. From this instant on, I offer my constant effort so that this Gift be made more spiritual, prioritizing the Divine Desire for my personal salvation.
I propose to free my affections from occasions for sin, in everything seeking the Divine purpose, remembering only the good that each brother and sister has given me, and in Creation, the greatness of the Eternal Father.
I do not wish to sin any more with the sense of touch, I surrender it to the Sacred Hearts so that, being Your creature, my Lord, you raise me out of sin.
I do not desire that what I am should continue to provoke bad affections, nor disdain the Divine Kindnesses that lead me to remain in a state of Grace.
Sacred Hearts, sustain my affections, leading me to retain only the good.
I stop my free will and immediately subject it and entrust it to the Sacred Hearts, so that they free me from occasions for fault, and thus mold this sense so that it leads my affections only to what is for the good of my soul and so that I do good to my brothers and sisters.
May this sense of touch desire the Purifying Water of Love coming from the Sacred Hearts.
Amen.
MIDDAY:
I review with our Mother the morning's efforts and take note of weaknesses.
BEFORE SLEEP:
I give thanks to the Sacred Hearts of Jesus and Mary Most Holy, whom I beseech to help me in this intention of becoming a better child of God.
Our Father, Three Hail Marys and Glory Be.
CHILDREN, COME TO ME AND ENTRUST ME WITH YOUR LIFE.
Do not forget, My children, that touch desires pleasant feelings, but not everything that is desirable to touch is right. Gold shines but gold is not man's happiness.
I bless you.
Your Jesus.
HAIL MARY MOST PURE, CONCEIVED WITHOUT SIN