Friday, November 25, 2016
Message from the Blessed Virgin Mary
To Her Beloved Daughter Luz De Maria.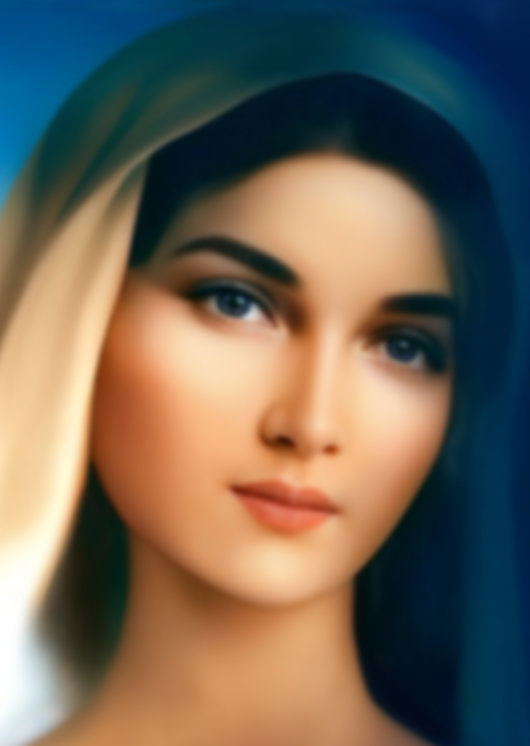 Beloved children of My Immaculate Heart:
WITH THE BEGINNING OF ADVENT, EACH ONE OF YOU SHOULD BE PREPARED TO BE A PART OF THE SPIRITUAL MEANING OF MY SON'S NATIVITY.
Children, keep the flame of Faith, Hope and Charity alight, so that this new wine of the Love of My Son might not be lacking in your hearts as His children. Be aware of your participation in the Mystical Body of the Church, of which My Son is the Head.
You are the candles that do not go out, however strongly the winds may blow…
You are the testimony of the love that My Son has placed in the heart of each person...
Beginning this special Advent, you should renew the Consecration to the Sacred Heart of My Son and to My Immaculate Heart.
IN FAITH, YOU SHOULD HOLD TO THE SECURITY OF DIVINE PROTECTION; THE STAR FROM ON
HIGH WILL GUIDE YOU AT EVERY INSTANT, IF YOU DO NOT SEPARATE THE HUMAN WILL FROM THE FULFILLMENT OF THE DIVINE WILL.
At this instant, seek true repentance, that which is born from the deepest part of you, from where true grief is born for offenses committed against God and neighbor.
Humanity turns against the Church of My Son, points the finger at her and undermines her. The lack of prayer among My Priests hinders their true discernment so that they call sin, sin. My Son's People have become depraved, being a powerful magnet that attracts purifications upon Humanity, one after another, in response to human wrongdoing and to the urgency of awakening man's conscience in order that he be faithful to God, One and Three, and not faithful to men.
Whoever among you places your faith in a man, has degenerated and regressed to his or her most primitive state, confusing what is of God with what is of men. The man of God must reject praise, for the human ego desires such honors and inclines the one who receives them to perceive himself as being different and greater than his brothers, and indispensable for his brothers to be saved. HE WHO RECEIVES HONORS WITH VANITY AND DELIGHTS IN THEM FALLS INTO AS MUCH ERROR AS THE ONE WHO GIVES UNNECESSARY HONORS TO WHOMSOEVER IS A CHILD OF GOD AND NOT GOD, THE ONE WHO ALONE DESERVES ALL HONOR AND GLORY.
In these decisive instants confusion will abound, and some of My children, desiring to do good, will use their brothers as firewood and throw them into the fire amid undue glorification that corrupts the human creature.
Given the malice existing in Humanity, living without repenting of sins committed hardens the human heart, and the person continues acting wrongly with greater frequency and force, until the habit becomes part of man's daily work and action. That is why souls go so quickly from lukewarmness to forgetfulness, and from forgetfulness to the continual repetition of sinful acts, WITHOUT ANYONE CORRECTING THEM.
IN THESE INSTANTS WHICH ARE SO DEMANDING FOR THOSE WHO WISH TO REMAIN ON THE
PATH OF TRUTH, MY SON HAS DRAWN UP A SERIES OF STANDARDS FOR YOU TO AWAKEN THE
SPIRITUAL SENSES, SINCE WITH THIS TRAINING, THE PERSON WILL LOVE WHAT IS OF GOD AND REJECT WORLDLINESS.
The union between man and the Holy Spirit must arise so that Humanity might not be deceived. Whoever gives honor to man will fall with man. Those who are idolaters, rebels, those who threaten, the ungodly, the deceivers, will be defeated by Me.
As a Morning Star, I shine in the midst of the humble ones who are trained in growing spiritually in the Divine Way: in Love, Grace, Holiness, Truth, Courage and Patience, so that the wheat might shine as if the sun were illuminating it.
Beloved children of My Immaculate Heart, being a Christian is not a title, it is not a name, it is not a denomination or a sign of recognition, IT IS THE CULMINATION OF THE LIFE, DEATH AND RESURRECTION OF MY SON FOR THE REDEMPTION OF THE WORLD.
MY SON LEFT HEAVEN TO YOU AND IT IS THE DUTY OF EACH PERSON TO GAIN IT FOR
THEMSELVES. YOU ARE NOT ASSURED OF EVERLASTING ETERNAL LIFE IF YOU ARE NOT TRUE CHILDREN OF MY SON AND ADORERS OF THE DIVINE WILL.
I take the hand of My Son's People in order to bring them to be born again. Man must be reborn with a heart of flesh, faithful, filled with peace, with senses purified by the Divine Will and conscious of the true value of the Cross.
My children, do not refuse the effort or the suffering or the pains imposed by the change from being a person accustomed to pleasing his or her "ego", to being a person who lives in the constant practice of living out the Commandments, of loving his or her neighbor, of living out a constant struggle against his or her desires and passions, of requiring of himself or herself a greater knowledge of My Son and His Work and Action in order to be better and to be closer to My Son.
I DO NOT WANT THOSE WHO REPEAT, BUT PEOPLE AWARE THAT IN ORDER TO STAY ON THE TRUE
PATH WITH FAITH THAT IS MATURE AND READY TO BE TESTED, THEY MUST ENTER INTO THE WAY OF MY SON AND ASPIRE UPWARDS, being aware of the grandeur of being a child of God and being able to call him with Love and trust: "Our Father who art in heaven ..." (Mt 6: 9)
My Son's People are not just any people, theirs is not the way of the world, but they are a people that respect and love the Divine Word and reject the world and its machinations ...
My Son's People do not disguise sin or make pacts with the devil, knowing that evil interests are leading Humanity to the declaration of one religion that will worship satan ...
You know well that evil wants to prevail over My Son's Church. Do not forget to adore My Son, not only in the Tabernacle, but in every one of the actions and works with which you give testimony of the love that you claim to have for My Son. There are so many who gather in the Temples for purposes so different from those truly asked for by My Son!
At this instant, the Temples have been taken over as amphitheaters, seriously offending the Sacred Heart of My Son, by introducing the very instigator of sin within the Heart of the Church of which I am Mother. You blaspheme with these acts...
With trembling and dread, the Heavenly Hosts look from the House of the Father upon those who receive My Son in grave sin, preparing their own condemnation. Is this the Holy Church of My Son? No! This is the church of men, the church of the human will.
I weep when looking at the suffering of My Son's People... Purification is necessary.
Pray children, pray for the United States, its suffering does not end, on the contrary, it increases.
Power usurps the will of the people. The seasons are reversed and the ground shakes.
Pray My children, pray for Italy, it suffers again; sin abounds, repentance is forgotten.
Pray children, pray, the water penetrates the earth. Pray for Japan.
Pray children, pray, new alliances are only false hopes. Treachery is making its way: pray for Colombia.
Pray children, pray for China, it will hold Humanity in fear.
Beloved children of My Immaculate Heart:
MAKE REPARATION, MAKE REPARATION FOR THE GREAT OFFENSES WITH WHICH HUMANITY GRAVELY OFFENDS MY SON.
You betray one another ... Recognize the one who does not love My Son by captivating other men with false words. This is how Satan acts, pitting man against his brother.
KEEP YOUR LAMP LIT, THE WARNING IS APPROACHING ...
Do not tremble before evil, tremble at offending God.
In the end, My Immaculate Heart will triumph. I will lead you by My Hand to the Trinitarian Throne.
Do not fear, children, do not fear. Be souls that adore My Son, love him and make reparation for those who offend Him.
As Mother of Humanity, I will give My Son His Holy People.
I bless you.
Mother Mary.
HAIL MARY MOST PURE, CONCEIVED WITHOUT SIN.
HAIL MARY MOST PURE, CONCEIVED WITHOUT SIN.
HAIL MARY MOST PURE, CONCEIVED WITHOUT SIN.