Wednesday, November 30, 2016
Message from the Blessed Virgin Mary
To Her Beloved Daughter Luz De Maria.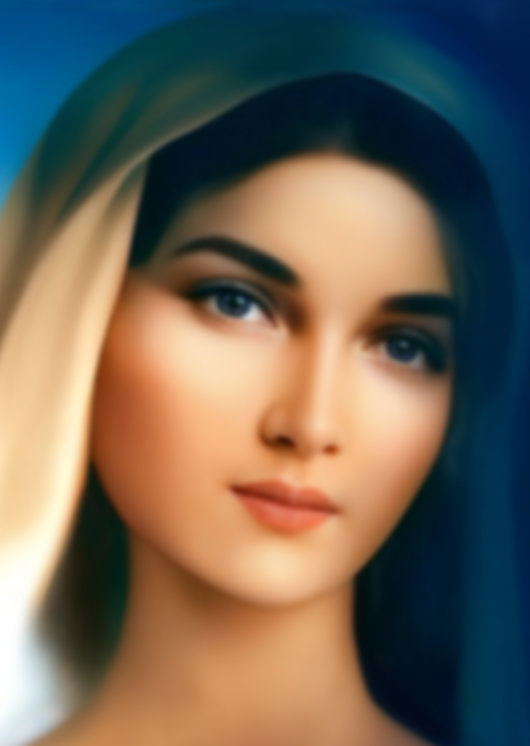 Beloved children of My Immaculate Heart:
MY LOVE STAYS BESIDE EACH ONE OF YOU ...
DO NOT FORGET THAT I AM THE MOTHER OF HUMANITY (Jn 19, 27), MOTHER AND QUEEN OF EVERYTHING CREATED. I am Mother of Humanity and yet it seems that this Word and this designation of the Most Holy Trinity has not been fully understood by My children ...
I do not call you to come to Me because I am greater than the Most Holy Trinity, I call you to come to Me because by designation of the Most Holy Trinity I have been appointed to lead the People of My Son and to intercede for all Humanity so that you might again find the path of Truth, Salvation and Peace.
I HAVE BEEN DESIGNATED BY THE MOST HOLY TRINITY IN ORDER THAT IN THESE DECISIVE
INSTANTS FOR HUMANITY I STRETCH MY HAND OUT TO YOU, OFFER YOU MY HAND, AND SO THAT THOSE WHO WISH IT ALLOW ME TO LEAD THEM ON SAFE PATHS.
I will crush the head of evil (Gen. 3:15), and knowing by Divine Will all the coming events, I announce to you what is approaching in order that you prepare yourselves properly in the spirit and recognize the Divine Word and not allow yourselves to be confused with modernisms that are not the Will of God.
YOU HAVE THE OBLIGATION AS GOD'S CHILDREN TO KNOW THE SACRED SCRIPTURE, TO
RECOGNIZE THE DIVINE WILL IN THE COMMANDMENTS AND TO DISCERN THAT THESE WERE,
ARE AND WILL BE THE SAME AND ARE NOT SUBJECT TO INTERPRETATIONS. (EX. 20, MT 24, 35)
The devil is cunning and wants to bring My Son's Church to chaos, to schism. This is why I grieve, and why as a Mother I come to you again to call you to discernment, to prayer, to meditation, and like My Son, to put into practice every Word of the Gospel (James 1:22).
My children are not passive regarding their work and action ...
My true children suffer thirst for souls and need to take the Divine Word to their brothers (Mk 16,15) and to make known to them what is to come so that they hasten and enter into the way of conversion.
WELL YOU KNOW, MY CHILDREN, THAT THE POWERFUL ELITE THAT MANIPULATES ALL HUMANITY IS PREPARING THE PRESENTATION OF THE ANTICHRIST, AND THIS IS MY URGENCY SO THAT YOU, MY CHILDREN, ARE NOT BE DECEIVED, since those who are not aware of these Prophecies will be basely deceived, utterly confused and made to fall into the fire of hell because they will reject My Son and love the impostor.
This chaotic scenario of this instant throughout the Earth is prepared in order to gradually introduce the People of My Son into a mentality that needs the extraordinary in order to remain standing, and the Church of My Son does not want to open her eyes and see that what is extraordinary, the most extraordinary thing she has, is the Body and Blood of My Son.
Beloved children of My Immaculate Heart:
How many do not love Me! How many reject Me! How many deny My Immaculate Purity! ... BUT,
EVEN SO, I AM THE MOTHER OF THOSE WHO DENY ME, OF THOSE WHO DO NOT LOVE ME, AS
WITH MY SON AND TOGETHER TO MY SON I ALSO BORE YOU IN MY WOMB AS THE MOTHER OF ALL MANKIND. My Son suffered the constraint of every human being in My Womb, and has offered that constraint together with Me for the men of this instant who suffer from narrowness of mind and will, narrowness of heart, and close themselves in order not to look, not to listen, not to discern.
As the "Woman Clothed with the Sun" (Rev. 12, 1 ff.) I share with My Son that light that He distributes and with which He enlightens all souls. It is not an honorific title, it is the reality of My Motherhood for all Humanity: thus it is that in the devotion of the Empress of the Americas I lead this rebellious People, taking them by My Hand towards My Son so that they might merit Eternal Life.
I DO NOT DESIRE THAT YOU EXALT ME MORE THAN MY SON, BUT I DO WANT YOU TO OBEY ME,
IN ORDER THAT I CAN LEAD YOU IN LOVE AND BE AN INTERCESSOR BEFORE THE MOST HOLY TRINITY.
Beloved children of My Immaculate Heart, I grieve for My children who reject Me, not because they reject the Words of this Mother, but because in rejecting Me and not taking the right path by My Hand, that designation of being Intercessor and Leader towards Eternal Salvation is impeded by you yourselves. You are looking for wrong ways, and those shorter ways are precisely those that lead you to the single religion where the impostor is king.
At this instant messages and calls abound ... YOU SHOULD REMAIN IN CONSTANT DISCERNMENT, SINCE IT IS THE DIVINE WILL THAT I, DESIGNATED BY THE MOST HOLY TRINITY, BE AN INTERCESSOR BETWEEN MEN AND GOD.
No instrument chosen by Heaven can condemn or give Eternal Life to a soul ...
No instrument is God so as to condemn a soul to the abyss, nor to grant Eternal Life to a brother ...
Through our faithful instruments, we alert you; through Our Prophet, we shape you in the whole Truth, however painful and distressing this may be. My Son is "the Way, the Truth and the Life" (Jn 14,6) and He does not hide from His People that which can lead them to perdition through ignorance.
If you consider these Calls catastrophic and terrifying, this is what this generation will face (Mt 24:21) for being irreverent, hypocritical, lying, false, for not turning humbly toward the Divine Word, for their Heresies, for their constant sins against the Holy Spirit (Mt 12:32), but always, both My Son and I exalt the Divine Mercy, for you are in the instant of repentance, of conversion, and My Son will not deny forgiveness to anyone who comes truly repentant.
How many of My priests speak to My Son's People against the Calls of My Son and this Mother! REVELATION IS SHAPED IN HOLY SCRIPTURE (II Tim 3:16), BUT ITS EXPLANATION WILL NOT END UNTIL THE PEOPLE OF MY SON FIND THE WAY. You cannot be lukewarm and serve two
masters (Mt 6:24, Rev 3: 15-19).
MY FAITHFUL INSTRUMENTS ARE THE INK THAT SERVES TO WRITE THE DIVINE WILL, BUT THE INK IS NOT INDISPENSABLE; WHAT IS INDISPENSABLE IS THE DIVINE WORD, because, even if there were ink, without the Divine Word they would not be able to write it. At this instant, may pride not fill the heart of My instruments, but may it be humility that directs them.
Whoever gives themselves the first place is not a true instrument.
A TRUE INSTRUMENT OF THE FATHER'S HOUSE is the one who conveys the Divine Word to you so that you do not go astray, who conveys it so that you do not separate yourselves from My Son and from Me, and not be unfaithful to the Divine Word, the one who calls you to conversion (Mk 1: 12-15), to awaken out of the human will and awaken the senses of the spirit, who calls you again and again to live the Divine Will in order that you might not be lost ...
At this instant, Humanity must possess knowledge in order to prepare and not to fall into the clutches of satan; this is indispensable for you in this instant - awakening hearts, thoughts and minds put to sleep by what is worldly and sinful.
Beloved children of My Immaculate Heart, I insist:
Pray for Peru, this People will be greatly shaken by a great earthquake.
Pray children for Japan, the radioactive contamination that it will bring to all Humanity is unprecedented.
Pray, the Third World War does not occur in a instant, as I have already mentioned, but it has already been in gestation and continues gestating until the instant when it will occur in fullness.
Pray My children, pray for the United States, do not neglect it in your prayers.
Pray My children, the plague is advancing with a new disease for which I will come quickly, in order that you do not perish because of what science will not be able to discover.
Pray My children for a Holy Church, as My Son is Holy.
Pray, prepare, prepare for the great event of Mercy, prepare for the Warning during which I will not separate Myself from you.
I bless you, My children. You can enter into the Ark of Salvation that is My Immaculate Heart, because after all the tribulation, My Immaculate Heart will triumph for the glory of the Holy Trinity.
My Blessing be on each one of you ...
Mother Mary.
HAIL MARY MOST PURE, CONCEIVED WITHOUT SIN
HAIL MARY MOST PURE, CONCEIVED WITHOUT SIN
HAIL MARY MOST PURE, CONCEIVED WITHOUT SIN