Sunday, December 4, 2016
Message from Our Lord Jesus Christ
To His Beloved Daughter Luz De Maria.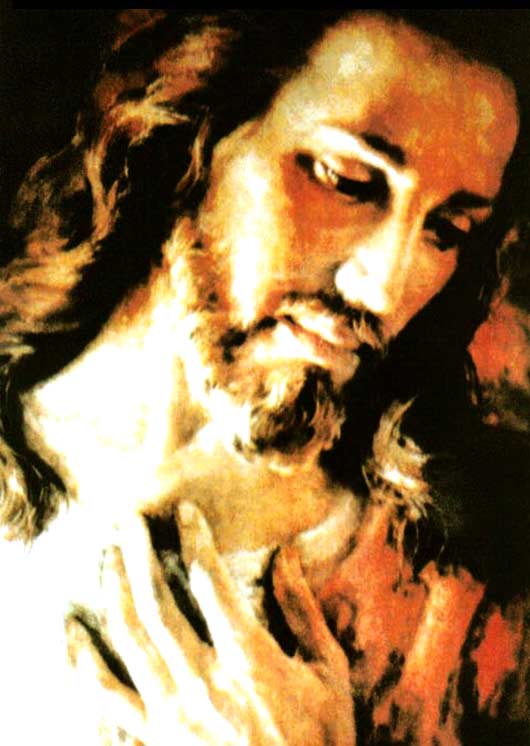 My Beloved People:
MY CHILDREN ARE INSISTENT AND DEMANDING TOWARDS THEMSELVES, THEY SEEK ME IN SEASON AND OUT OF SEASON
They know that My Word does not stop but goes out to meet each person in every event and in what the man who does not know Me allows to go unnoticed.
My Call is insistent for My People to be mystical…
MAN MUST COME TO UNDERSTAND THAT HE IS NOT JUST FLESH, BUT IS MORE THAN FLESH:
HE IS SOUL AND SPIRIT, AND POSSESSES THE FACULTIES TO ASCEND AND TO ENTER INTO THE KNOWLEDGE OF HIMSELF, OF HIS INNER TRUTH AND HIS INTERVENTION IN CREATION.
This instant is uncertain for My People, not by My Will, but by the human will that has wished to penetrate into what does not concern the spirit, but which wholly concerns the flesh and sin in all its forms. The uncertainty in which you remain depends, at the same time, on the decisions taken by My children. "No one can serve two masters ..." (Mt 6,24); you will suffer confusion. In the midst of what is happening, you deny My Truth, you seek it in very wrong paths, and because of this you are increasingly lost, you deny Me and flee from Me. What is worldly pulls you: I love. My People:
You are a weathervane in the midst of the winds of modernism, in the midst of shameful acts by some of My representatives, which will increase, being a scandal and a reason why the detractors of My Church find their constant attacks propitious.
My representatives lack the necessary ingredient for resisting temptation; this is - prayer, not giving preference to those who provide money, appreciating the poor and withdrawal from social life. Some children who represent Me and call My People to conversion before the fulfillment of the Calls to Humanity by Me and My Mother, are swiftly moved away from the parishes so that they do not alert the faithful. These representatives of Mine are called catastrophists by their superiors and even the laity, and on this pretext they send them far away from the cities.
My People, you are manipulated by powerful interests; the concern of these children of Mine is very different from My Will - I seek the good of My children. Those who are within such interests desire power and in their eagerness they will succumb to being subjugated by the one they will elevate before Humanity: the Antichrist. The latter will subjugate them, selfishness will make them suffer the same measure they use with My People.
Some of the powers in the world know the proximity of threats from the Universe and that are going to cause major alterations on Earth.
DO NOT FORGET, MY BELOVED, THAT THE WARNING IS NEAR AND THE UNIVERSE WILL
PARTICIPATE IN THIS ACT OF MY LOVE FOR YOU. Just as in Heaven you will see fire, so the fire of My Love will bless you so that you examine yourselves as you are. (1)
The hands of Freemasonry are wreaking havoc in My Church, weakening the heart of My People, which love:
The god of debauchery…
The god of money…
The god of power… The god of pride ...
The god of misused technology ...
The god that poisons through food ...
The god that penetrates the mind and dominates it ...
The god that plies thought with innovations ... The god of perversion… The god of iniquity ...
The god of immorality ...
The god of flippancy ...
The god of extravagance ... The god of war…
The dictator god ...
The false god ...
What is happening in this instant has been prepared from times unsuspected by man, so that this instant be dominated by the impostor through little antichrists in Humanity. Just as the antichrist (2) has tentacles, these tentacles are supported by those in Humanity who have allowed aberration in the full scope of the word.
Those who know the state of Humanity respond with a shuddering silence, they bury their heads in the ground so as not to give an account of the state of Humanity, forgetting that I know everything that happens.
The Arm of My Father has been held back by My Mother on repeated occasions and the response of My People has been lacking in Love and shameful. My people are living out what neither Sodom nor Gomorrah lived ...
THE DEVIL IS UPON ALL MEN, WAITING FOR THE SLIGHTEST INSTANT TO POUNCE ON SOULS. A great majority do not see sin, they proclaim that Humanity is better, and the Warnings of My House are ignored and scorned.
THE HOLY FEAR OF GOD IS RISIBLE FOR MEN, SINCE SOME HAVE NOT EXPERIENCED THE EFFECT OF SIN ON THE SOUL.
Children who do not see sin, find themselves blinded by Satan himself while innocence is taken from children, violations increase, perversity makes no truce, brutality grows within man, there is approval for laws against life , the creation of weapons of mass destruction, uprisings in various countries, families destroyed, creatures who consider family what is not a family… IS THIS NOT A SIGN OF THE TIME?
Children, My People, which are the leaders who live like a large part of their people, who lack what is necessary? You do not see this because you have been indoctrinated.
MY PEOPLE: WAKE UP, SEE THE EVIL THAT SURROUNDS YOU, COME BACK, WAKE UP!
My Father has been infinitely patient. Our House has listened to the prayers of the faithful and has waited, only for you to continue immersed in sin, ignoring the evidence that appears before your eyes.
THIS IS THE INSTANT IN WHICH YOU SHOULD ASSURE YOURSELVES OF CONFESSING YOUR SINS, SINCERELY REPENTING, RETURNING TO MY SIDE, RECEIVING ME IN MY BODY AND MY BLOOD AND BEING FAITHFUL TO ME.
Pray, My children, pray the Holy Rosary. Each Rosary prayed with true awareness and love is a great attenuation in the face of the cruel suffering that man is going to confront and is a step towards My House if in addition the Divine Will is lived out.
Pray, My children, pray, Nature hastens its pace, events will be nearer to man, these will occur with greater force and continuity. Evil is not comprehended by Creation, born from the Hand of My Father.
Pray, My children, pray, Japan will continue to shake strongly.
Pray, My children, pray for Colombia, this land will suffer a great shaking.
Pray, My children, pray for Canada, its inhabitants will be surprised by terror, its ground will shake.
Pray, My children, pray for Argentina, confusion is born in darkness and comes out at dawn.
Pray, My children, pray, one hand decides about life, the United States rises up.
Pray for My sons the priests, My Church is surprised.
THESE ARE NOT INSTANTS FOR ANY HUMAN CREATURE TO BOAST.
IT IS THE INSTANT TO EXAMINE YOURSELVES INTERNALLY... The man who acts in the good, who works in the good, is accepted by his brothers.
DO NOT FORGET THAT THE DEVIL INCREASES WHEN MAN YIELDS TO ANGER AND DECREASES WHEN THE HUMAN CREATURE ACTS ACCORDING TO THE DIVINE WILL.
Each one is responsible for the great community that forms My Church. Evil has infiltrated within Her, but it will not win. My Mother will defeat it, but first, My People will be purified.
I do not instill terror or anxiety; remain alert towards those who tell you that all is well.
To no human creature do I deny forgiveness if they draw near with grief over the sin committed, and with a firm purpose of amending their life. I come for My children, those who are witnesses of My Love and do not stop even if the wind is against them.
I shelter My People, and this is the whole of Humanity.
WAKE UP CHILDREN, WAKE UP!
YOU WILL SEE SIGNS IN HEAVEN SO THAT YOU DO NOT FORGET THAT I AM PRESENT AND HAVE DOMINION OVER EVERYTHING.
My people will work wonders by keeping the Faith and sharing it with their brothers and sisters. My people lessen events, they do not stop them.
My Love is infinite and therefore I want no one to be lost. In My House there is a place waiting for each one of you.
May My Blessing be for each person the balm that encourages and nourishes you so that you continue on the right Path.
I love you.
Your Jesus.
HAIL MARY MOST PURE, CONCEIVED WITHOUT SIN
HAIL MARY MOST PURE, CONCEIVED WITHOUT SIN
HAIL MARY MOST PURE, CONCEIVED WITHOUT SIN