Wednesday, December 7, 2016
Message from the Blessed Virgin Mary
To Her Beloved Daughter Luz De Maria.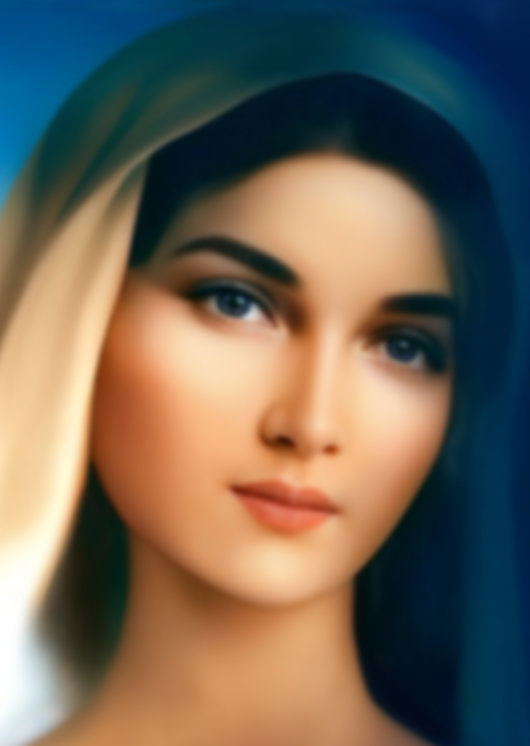 Beloved children of My Immaculate Heart:
MY BLESSING REMAINS WITHIN YOU AT EVERY INSTANT OF YOUR LIFE.
The Love of My Son and His Mercy go beyond what the human mind can conceive and what human thought can embrace. Give thanks to My Son, adore Him constantly, not with your voice, but in every act and every work, as it is there, that you really give yourselves "ad extra" as a testimony for your brothers and sisters.
No human creature is a true worshiper of My Son if they do not love their neighbor with the Love of My Son, and to love his neighbor you must be obedient and humble.
THIS INSTANT IS EXTREMELY DANGEROUS FOR THE SOUL, SINCE IT IS EXPOSED TO THE PERVERSITY THAT SATAN HAS MANAGED TO INTRODUCE WITHIN THE HEART OF HUMANITY. Evil is increasing at every instant until you find yourselves at the highest point of human cruelty, for you do not yet see and are not yet living all the evil that the devil has introduced into man. Walk with Faith; it is the responsibility of each of you to increase your Faith, because without Faith you are easy prey for the enemy of the soul.
Beloved children of My Immaculate Heart:
YOU ARE APPROACHING CHRISTMAS AND EVERYONE HAS THE DUTY TO COME TO WORSHIP MY CHILD, HAVING LEFT SELFISHNESS, PRIDE, HUMAN CLOSED-MINDEDNESS ON THE WAY, AND
HAVING SUCCEEDED IN MAKING THE HUMAN EGO TEND MORE TOWARDS GOOD THAN
TOWARDS EVIL. Each detachment of yours is one less piece of rag that you carry, and this makes the soul and spirit less heavy and tend with greater ease towards the true Way, and makes them work and act the greater part of the instant within good action and good work.
Extremely forceful instants are coming for all Humanity in every aspect of man's life. Degeneration will be unthinkable in the coming year. A large part of the Prophecies that by Divine Will I have given to Humanity will be fulfilled.
There are still instants of this year to pass through, painful instants, instants of trial for all Humanity and especially for the People of My Son.
I HAVE CALLED TIRELESSLY AND INSATIABLY TO PRAYER, and some have devoted themselves to praying verbally, but I also want you to pray by principally eliminating character, for if the human creature is meeker, the way is more bearable; if the human creature is rebellious, the road is heavier.
YOU HAVE NOT UNDERSTOOD THE TRUE MEANING OF PRAYER. Prayer is praying with the heart, but a heart clean of attachments, bad moods, pride, lies, slander, falsehood ... A heart free from what you desire, from what you want, free from occupying the first places at every instant. That is why I have shared you about My instruments, not as an example, for My Son chooses instruments in which you see the transformation of the creature; He does not always choose holy souls, but he does demand and lead them to holiness.
My instruments are those that go unnoticed, not by not raising their voices but by always occupying the last place, not calling their brothers to them, because the instrument is an instrument but it is not God, but by sharing and declaring the Divine Word already written in Sacred Scripture and explained to the instrument in order that they be a faithful spokesperson for their brothers of the True Word of My Son and My Word.
Beloved children of My Immaculate Heart:
IF I WERE TO SET OUT IN DETAIL WHAT IS APPROACHING SO THAT YOU COULD SEE IT, YOU
WOULD BE PROSTRATE AND WOULD NOT GET UP, BUT WOULD REMAIN IN PERPETUAL PRAYER CRYING OUT FOR MERCY AND CRYING OUT FOR THE SALVATION OF SOULS.
The Earth is in danger because a dangerous element from outer space is heading towards it. You must remain attentive to this.
Earth, the Earth has become exhausted from so much sin, from so much taunting and so much innocent blood that man has flung upon it. The ground opens as if hollow in order to renew itself in the face of the misuse that man has made of everything that God put into his hands.
Beloved children of My Immaculate Heart:
You need to continue praying for Japan.
Pray for the United States that will convulse.
Pray for Russia, it will give the world a surprise.
Pray for France that will suffer at the hands of terrorism.
Pray for Peru and Colombia, they will be shaken.
Pray for Costa Rica, it will be shaken.
BUT DO NOT FEAR, I AM HERE AND I AM THE MOTHER OF ALL, AND I LOVE EVERYONE. Do not fear, give me your hand and I will support you because the Divine Will has entrusted me to this generation in this instant.
Beloved children of My Immaculate Heart:
I must warn you about what is approaching for Humanity, but above what is approaching is Love and Divine Mercy, to which you must constantly appeal, without ceasing.
PRAYER ATTAINS THE GREATEST MIRACLES IN HISTORY AND I AM HERE TO INTERCEDE FOR YOU.
Cry out to the Most Holy Trinity! And cry out through true conversion: working and acting rightly.
Pray as families.
I bless you and My Son covers you with His Love and Mercy.
DO NOT BE SEPARATED FROM MY SON, LOVE HIM CONSTANTLY, INSTANT BY INSTANT….
LOVE HIM WITH YOUR THOUGHT, MIND, HEART, BREATHING, SIGHT, HEARING, LOVE HIM IN EVERY PORE OF YOUR SKIN, LOVE HIM IN SPIRIT AND IN TRUTH…
I bless you, I love you, walk in the footsteps of My Son.
Mother Mary.
HAIL MARY MOST PURE, CONCEIVED WITHOUT SIN
HAIL MARY MOST PURE, CONCEIVED WITHOUT SIN HAIL MARY MOST PURE, CONCEIVED WITHOUT SIN