Monday, December 19, 2016
Message from Our Lord Jesus Christ
To His Beloved Daughter Luz De Maria.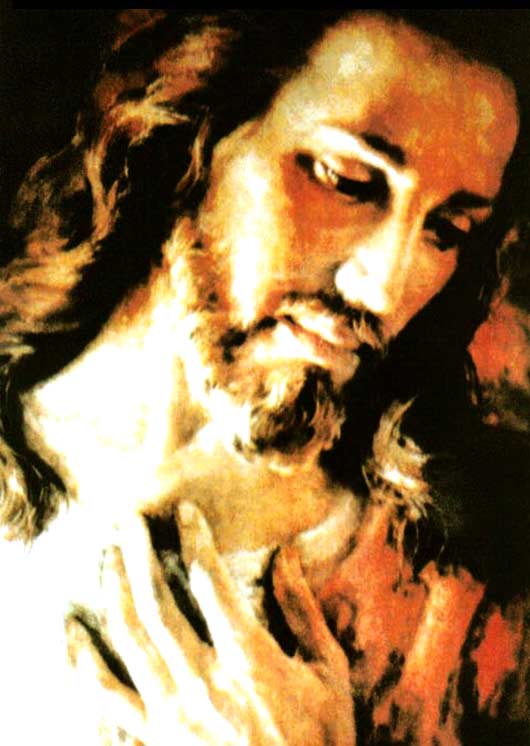 My People:
MY BLESSING IS FOR EACH ONE OF YOU.
YOU ARE MY PEOPLE, WHOM I CARRY ON MY CROSS OF GLORY AND MAJESTY.
I call you not to scorn the Voice of this Shepherd of Souls. The human creature must focus on awakening from the reality in which you are living. You deny Humanity's reality; man wanders over the earth, and as an irrational creature he rejects the Truth of this time when bad customs, base passions and dehumanization predominate. OUT OF FOOLISHNESS YOU DENY THAT YOU FIND YOURSELVES IN THE INSTANT OF INSTANTS ... You do not see the predominance of communism that, disguised in a thousand ways, is manipulating Humanity. With the cunning of a serpent, it has penetrated into all areas, oppressing peoples, scourging them and this, together with Freemasonry, forms the great union between the tentacles and the head of the great dragon that will elevate the antichrist.
My Beloved People: FREEMASONRY HAS FLOODED MY CHURCH from strategic positions within the latter's hierarchy; it has corrupted those who, without belonging to Freemasonry, are weak and enter into the temptation that offers deferential positions or money NOT IN ORDER TO SERVE MY INTERESTS BUT THE INTERESTS OF THE ELITE THAT ARE MANIPULATING HUMANITY AND THAT FORM PART OF FREEMASONRY.
My children must listen to My Voice that calls them not to continue living as if all were well, when Humanity is in chaos. YES…
It finds itself in chaos in denying Me as God and allowing the devil to penetrate into your hearts...
It finds itself in chaos in forbidding My faithful from carrying Sacramentals and allowing those who have surrendered to Satan to build sculptures to him and pay him tribute.
You are in chaos faced by an earth that shakes, announcing to you the prelude to the great earthquakes prophesied for humanity.
You are in chaos for allowing abortion, which is one of the worst aberrations for which this generation will be judged with greater rigor.
The confusion in humanity is great: you accept sin and reject the good.
I COME SO THAT YOU SAVE YOUR SOUL, SO THAT YOU BE RENEWED INTERNALLY WITH A GENEROUS SPIRIT AND ALLOW ME TO ENTER IN ORDER TO TRANSFORM YOU.
Each of you, My children, must grow, you must be more aware of your spiritual state, of the sins that you commit and which have adhered to you, causing you to act mechanically through repetition, without your seeing them as improper acts and great pollutants with which you are dirtying your soul.
Do not believe those who tell you that all is well; they want to cause you to fall into sin so that you lose your soul.
YOU NEED TO KNOW ME AS THE PLANT NEEDS THE SAP IN ORDER TO SURVIVE. You forget me in order to bind yourselves to what is earthly, to what is worldly, you seek wrong affections plagued with lies because you are under the yoke of the tentacles of evil.
My People are being drawn towards what is worldly, you seek Me outside yourselves, in technology and in the influence of the evil that subjects you, and there you will not find Me. You have to enter within yourself, be aware of the senses that you possess and make proper use of them so that you may perceive the world rightly.
My Beloved People, you must approach Me with the desire truly to live in union with My House. The instants plunge man into ignorance, but at the same time spirituality evolves with man, to bring him to the awareness of a very personal decision that has been left in the power of some who do not want My children to evolve. Whoever needs Me in order to unite with Me, does not find the guidance or the necessary support, but must turn away from what is worldly so that My Holy Spirit guides them, for these paths, I say with sorrow, have been relegated to a bygone age.
THE HUMAN CREATURE SHOULD USE ITS INTELLIGENCE TO GO BEYOND WHERE ITS PHYSICAL
SENSES CAN TAKE IT, IN ORDER TO BE ABLE TO LIVE IN A MICROCOSM SO AS TO UNDERSTAND
THAT WHAT IT HAS CONCEIVED AS UNION WITH MY HOUSE MUST BE EXPANDED IN ORDER TO OPEN THE WAY TO THE NEWNESS OF LIVING SPIRITUALLY AND DRAWING NEAR TO MY WILL.
My representatives on Earth must bear testimony to My Love and not be a cause for scandal, they must not be part of the Satan's spectacle in this instant.
I AM GOD AND THERE IS NO OTHER OUTSIDE OF ME.
I call you to My Love and to be reflections of this Love of Mine; ideologies call you to kill your brothers, without any mercy.
Forms of modernism have been created by those who govern Humanity and desire your perdition, My children. I need My People to see deeply, to search out sin in order to find out how sin is disguised. Do not imitate modernism: it is nothing other than the mirror of those who, from the darkness, lead you to surrender to evil.
This elite has taken charge of sowing terror among Humanity; all the while they cast death upon My innocent ones, on My Christian children, with great atrocities that surprise men.
"RATIONAL" MAN IS, AT THIS TIME, THE GREAT PREDATOR OF NATURE. The acts of this generation are shameful, they mock Me, implying that everything announced has happened before and that we go on with our lives. Those who do not look with objectivity at the sequence of all the events of Nature and the folly with which man is acting are deluded: partly because Humanity does not believe in Me and in order to conform to fashion, you deny that I AM YOUR LORD AND YOUR GOD.
My people, you find yourself at a moment of decision:
Either you continue crawling like snakes on the ground, attached to the innovations of the world... Or you take the firm decision to be different and to live in the interiority of constantly searching for Me ...
CHILDREN, YOU NEED COURAGE TO COMMIT TO LIVING IN A MORE HEAVENLY WAY.
My People, Creation groans at the devastation that you have caused and continue to cause; you have taken hold of Nature, devastated it, and it is reclaiming from man what he has usurped.
Most of the geography of the Earth will be transformed, the water of the seas will penetrate the land. My children must anticipate what their rulers do not mention for fear of the truth.
High technology will lead to major confrontations that add to those already existing between the great powers, and so at sea a series of events will be triggered that will be part of the dreaded Third World War.
Fire is moving through space and in Earth's direction with great speed; it is coming against all human injustice, that with its evil actions is drawing Purification from outside like a magnet that will cause it pain. Some of My children refuse these Calls of Mine, and this is because it is not pleasant for them to hear about the causes of their own sin. It is true that in the world thousands of children die of hunger, in a world you call "globalized." This is to speak to you with objectivity and truth. Would you judge my calls as negative because of this? Or will you say that it is apocalyptic that I mention the death of the innocent by famine or war? When that apocalypse has been created by man himself! I CALL ON YOU TO REFLECT SINCERELY.
Others will tell you that they are sent by My House and will not insist on a change of life tied more closely to a spiritual ascent in order that you be better people with greater sensitivity to creation and especially man, the child of God. Do not listen to those who speak to you in their own names, keep in mind that the one who is called by Me invites people to Me, not to Himself. NO MAN IS GREATER THAN HIS LORD.
Pray, My children, pray for Brazil, it will suffer on its soil, this People will weep.
Pray My children for the United States, its thirst for arrogance is unquenched; the scourge is coming, its land is strongly shaken, its people are stirred up, the upheaval will not delay.
Pray, My children, pray for Venezuela, these children of Mine find no peace, they are involved in betraying one another.
Pray, My children, the earth continues to shake forcefully, foreshadowing great geographical changes.
Pray My children, social upheavals are more frequent, man is waking up to oppression, the great powers will be destabilized.
Pray, the danger for Humanity is approaching from space, and it vibrates strongly, shaking Nature and exercising over man a most unexpected form of working and acting.
My Beloved People, continue in union with My House, do not disobey My Requests, in order that you resist the devil with greater strength.
Temptation exists; the wise man is the one who walks and changes when he falls. The prudent man is the one who repels the human ego in order to give himself the opportunity to live in greater union with Me.
Whoever does not suffer is not going on the right path. Be creatures of peace, do not impose yourselves by force, but with the testimony that I dwell in you.
Humanity must look where it is going.
I OFFER YOU MY CONTINUAL PROTECTION ...
MY LEGIONS ARE WATCHING YOU IN ORDER TO LEAD YOU ON THE RIGHT PATH. DO NOT SEEK ME FAR FROM YOU, I DWELL INSIDE EACH PERSON.
Do not forget that I am in your line of sight; call me, look at me, find me. Discern the cause of the purification of a People that renounces its King ...
This King awaits you in order to receive and welcome you without delay. Come to Me and the path will be bearable, Truth will enlighten your path.
MY MERCY IS NOT EXHAUSTED: COME, REPENT AND TAKE UP AGAIN THE TRUTH OF MY WORD.
I bless you.
Your Jesus.
HAIL MARY MOST PURE, CONCEIVED WITHOUT SIN.
HAIL MARY MOST PURE, CONCEIVED WITHOUT SIN.
HAIL MARY MOST PURE, CONCEIVED WITHOUT SIN.