Friday, December 23, 2016
Message from the Blessed Virgin Mary
To Her Beloved Daughter Luz De Maria.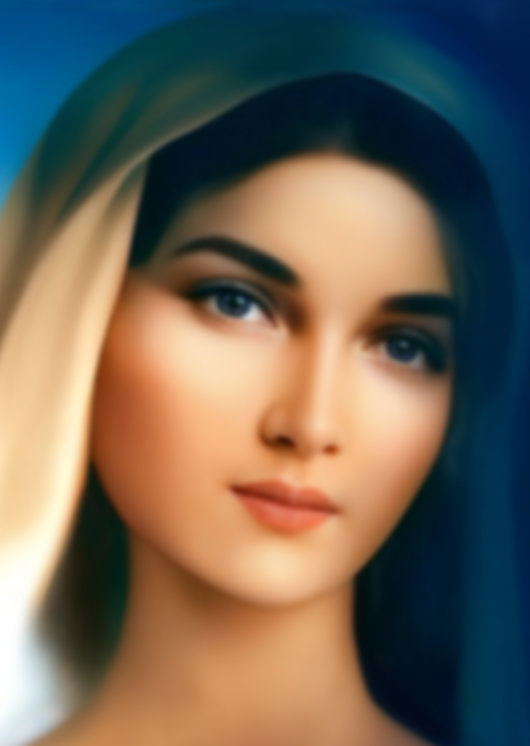 Beloved children of My Immaculate Heart:
May my Maternal Blessing be in each one of you the balm that will lead you to reflect in these instants when you celebrate the Birth of My Son.
In the silence, discover the Voice that guides you, which you do not hear when you remain distracted. You cannot live in inner silence if you do not seek such instants alone with God.
The House of the Father explains Its Will to you, and you do not listen to it because you remain in constant noise.
BELOVED CHILDREN: SAVE YOUR SOULS!
SAVE YOUR SOULS WITH AN AWARENESS OF ETERNAL LIFE, WITH ENTHUSIASM AND BEING VIGILANT REGARDING YOUR WORK AND ACTION MOMENT BY MOMENT.
The Divine Light that remained present in the Ark of the Covenant, on Mount Sinai, in the Manger and on the Cross, continues to stand before each of you, children. Before sinners, saints, before those who do not believe and before those who do believe, before the fools and the wise, THE DIVINE LIGHT IS ALIVE.
In the Divine Love, the one who asks receives, and the one who is wise continues seeking My Son; they stay alert, looking at the signs, not shutting themselves in their shell, but supplying themselves with the Divine Word in order to be penetrated and stirred by this Light of the Holy Spirit that comes to give itself in silence.
Beloved children, the wise person knows the way to go, and even if they do not know the end of the road, they continue their pilgrimage full of humility towards their meeting with My Son.
YOU KNOW THE PURPOSE OF YOUR MISSION:
YOU MUST RETURN THE EARTH TO THE HANDS OF THE CREATOR AND BECOME THOSE WHO MERIT ETERNAL LIFE.
In this instant proud men abound who, by their knowledge and intelligence, believe that they possess everything in advance. No, children, you need to love God, knowledge is a step towards understanding and union with Heaven, but knowledge is not a sign of faith or holiness.
You are called to humility but not to ignorance, because in this instant there is a proliferation of those who have handed themselves over to satan and who are working to increase Humanity's great spiritual holocaust. How many innocents die! How many—through hunger, terrorism, and the terrorism of abortion agreed to by their parents!
You should keep this in mind at this instant, and worship My Son for those who do not worship Him or love Him, and who disrespect Him in many ways.
Dear children:
You do not hear the Voice of God because you live in noise, you do not hear your Travelling Companions because you live in noise ... Your Protectors, appointed by the Eternal Father, protect you ... AND YOU DO NOT THINK ABOUT THESE SERVANTS OF GOD who free you from greater evils. The ignorance of My Son's People is such that you do not transcend, you do not appeal to your Guardians to direct you, with your consent, beseeching them not to forsake you at any time.
CHILDREN, CALL ME! ... I AM THE MOTHER OF GOD AND MOTHER OF HUMANITY.
Man is a sinner, but you do not have to live in sin. Arise, believe in this Mother and in the Revelations through which I have called you and continue to call you.
Live as true children of My Son, in humility, adoring Him, entering into unity with Him. Be creatures receptive to the Power of God, to the Greatness of God, and accept My Son, for IN HIM YOU WILL FIND THE PLAN OF SALVATION AND YOU WILL BE A PART OF THAT SALVATION.
HUMANITY, YOU DO NOT WANT TO PENETRATE INTO UNION WITH GOD!
My Son remains with you. In this instant, meet once again The Lord of time and space.
Be conscious of the magnitude of the Birth of My Son, from which you cannot separate His Incarnation, nor His surrender on the Cross. So infinite is the Love of the Father. And Humanity limits itself to what is superfluous, to not seeking the essence of each event, every Divine Word, and this out of convenience.
In this instant, your brothers and sisters suffer because of so many Herods who persecute the People of My Son, who find joy in killing children without feeling repentance over this. So many Herods who have given themselves into the hands of the enemy of the soul and who sell the Church of My Son! So many Herods who with their economic power corrode the health of the Peoples, starve large populations, infect the food of the Nations, create new diseases, lacerate the innocent! These are the Herods of this time, those who work from high positions without opening their mouths so as not to be discovered.
You, My children, worship and make reparation for such cruelty in Humanity, for faults before God's Law, for the laws being implemented among the Nations and that are contrary to the Divine Will, make reparation for the blood spilled by acts of terrorism.
MY CHILDREN, DRAW NEAR TO THOSE WHO DO NOT HAVE, AND SHARE THE BREAD OF EACH DAY; GIVE FOOD TO THE NEEDY, BUT SHARE IT WITH THE LOVE OF A TRUE CHILD OF GOD.
Pray My children, pray for those who in the name of God seriously offend THE INNOCENT.
Pray My children, pray this Christmas Eve for the suffering and persecution of Christians.
Pray My children, pray for Europe. It weeps, it does not smile, it grieves at the contempt of its brothers who spitefully attack one other.
Pray My children, pray for the Church of My Son, it is shaking. Rome is distressed and afraid.
By accepting evil so that it directs Humanity's destiny, man has grown up with deformed knowledge for his own suffering. Man uses for evil the gifts that he has received from God and those gifts disappear because of wrongdoing; in this way evil penetrates into the human creature, who accepts it, and it fills him with everything contrary to the good.
THEREFORE, DEARLY BELOVED CHILDREN, FILL CREATION WITH THE GOOD THAT IS BORN OF YOUR SOULS, BE CREATURES OF PEACE, BE PLEASANT OFFERINGS NOT ONLY THIS NIGHT BUT IN EVERY INSTANT OF YOUR LIVES.
Pray ... and in the silence make reparation before My Son for the harm that your brothers and sisters are causing to man himself.
Pray my children, and wherever you may be, be a consolation for your brothers and sisters who suffer in this instant because of Nature, which does not wait but wants you to react.
THE ANGELS SING THE GLORY OF GOD ... AND ON EARTH MY CHILDREN SUFFER.
I bless you as the Mother of each one of you. I want you to be born to a new life, aware of what it means to be My Child.
Receive My Maternal Blessing, do not be separated from Me, I lead you to Eternal Life.
I love you.
Mother Mary
HAIL MARY MOST PURE, CONCEIVED WITHOUT SIN
HAIL MARY MOST PURE, CONCEIVED WITHOUT SIN HAIL MARY MOST PURE, CONCEIVED WITHOUT SIN