Friday, December 30, 2016
Message from Our Lord Jesus Christ
To His Beloved Daughter Luz De Maria.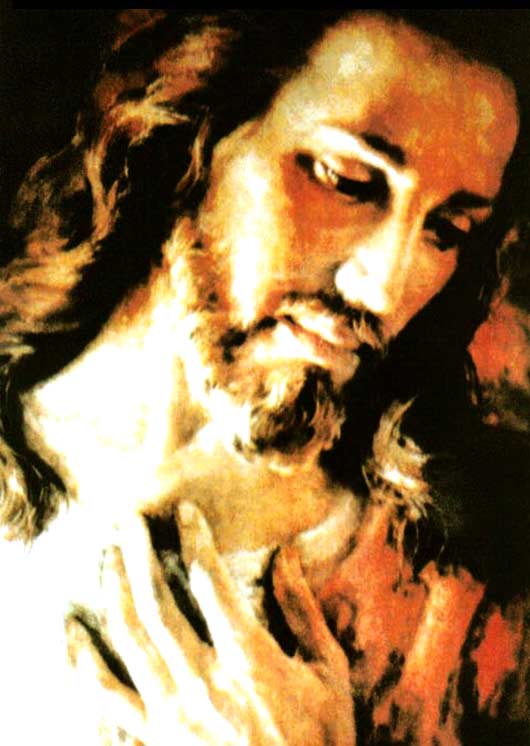 My Beloved People:
YOU ARE MY PEOPLE, WHOM I WISH TO KEEP CONSTANTLY BY MY SIDE, YOU ARE MY CHILDREN,
WHOM I LOOK UPON EVERY INSTANT WITH MY GAZE OF MERCY.
For you the firmament shows its magnificence, every night the Vault of Heaven is covered with stars, and with the sun's light the day marks a new beginning for you. All these bounties are for each one of those who are Mine, except that the majority do not realize what grandeur surrounds them. Man is not aware of what hangs in the Vault of Heaven, so that he not only looks at it but thinks and reasons in the Power of Our Trinity to create all of what exists, since the origin of everything has been Divine.
You, My People, exist; you are real and remain in a reality that can be external and incomprehensible or internal and comprehensible. Each person possesses knowledge. Keeping it static is the responsibility of each one, just as multiplying it and maintaining it in constant dynamism and evolution is the responsibility of each human creature.
My children cannot make knowledge a generator of useful thoughts if they keep their mind tied to what is sinful, mundane, superfluous, to pride ... Reason in a man who is spiritually barren, with thinking limited to what he is told, is a dry reason that does not bear fruit.
I have invited you to knowledge, not only of Me so that you love Me, but to the knowledge of all that surrounds you, of the instant in which you are living, of what is happening in the world; so that the mind succeeds in leading you to live with inner awareness the result of every step that man takes.
Some of My own wish to live only by experiences, not knowing that experiences are not the basis of Faith. I call them to Obedience. GO DEEPER INTO KNOWLEDGE, KEEP YOUR SENSES ALERT SO THAT OUR HOLY SPIRIT ENLIGHTENS YOU AND IMMERSE YOU IN KNOWLEDGE ILLUMINATED BY OUR WILL!
I love you, and your sufferings are not distant for Me, therefore I call you over and over again, but you continue being blind, you do not listen, you do not learn from pain. You do not know My Word, you are rebellious children and you do not see the great labor of satan to destroy My People, you rise up against the True Law. THE DECALOGUE IS NOT MAN'S INVENTION, IT IS THE DIVINE WILL.
Evil has taken important prey. Among them some of My consecrated sons, in order for them to guide My People towards the abyss. Children, because of ignorance of the Divine Will, you are kept in a constant coming and going, going from one side to another, until you are anchored in disobedience, being followers of evil.
In this instant, as in the past, I must warn you: those who betray Me abound, those who, accepting what is worldly, hand My children over to evil, and My People surrender because of ignorance of My Word.
An examination of conscience is necessary for each one of My own, so that you might not be among those who betray Me by denying My dwelling in man, denying My Real Presence in the Eucharist, denying the existence of evil, denying sin by calling it evolution. This, My children, is painful for Me, because to work and act outside My Law means a painful way for man.
They betray the Faith, attack the Eucharist and My Mother, who stops the devil from taking hold of My Church. My children, in your ardent desire to search, you cling to sin, indulging your basest instincts. I AM BETRAYED, I AM BETRAYED BY MY REPRESENTATIVES ON EARTH.
And My children, ignorant of My Word, without wisdom or knowledge, deny Me in every act or work they perform, deny My Truth by not being aware of My Love, deny My Word that calls them to Holiness. These are not instants like those of the past, this is the instant of instants, this generation swings according to the compass of those who accept and those who do not accept it.
FOR HUMANITY MY GREAT TRUTHS ARE A MERE WHISPER; YOU TURN WHAT IS MINE INTO NOTHING.
MY BELOVED PEOPLE, YOU DOUBT MY WORD ... SO I WILL DOUBT YOU. YOU HAVE BEEN PARTICIPANTS IN THE CONFUSION OF YOUR BROTHERS AND SISTERS, LIVING IN THE
LUKEWARMNESS THAT DOES NOT LEAD TO SPIRITUAL GROWTH BUT TO AN INORDINATE CONTINUATION OF THE COMPLACENCY OF THE SENSES, WHICH ARE MISUSED AND CONTAMINATED.
The instant is that which has been indicated. I look with pain on some of My consecrated ones performing the Eucharistic Celebration like a ritual without meaning; they do not live out their priesthood but enter into it like any other profession. This lack of Love towards Me is transmitted to My People, and they show themselves to be increasingly against Me, falling into the hands of the worldly spirits that dwell in some of their brothers, forming part of terrorist groups and acting with great cruelty, anger, and inundated with a particular evil.
Do not forget that evil comes to destroy, and where there is no unity, destruction is tangible.
Dear children, My People, terrorism has grown like the foam of the sea; some human creatures act by imitation. Every instant the number of My faithful is being reduced, because of the lack of openness to living out the proximity of My Truth and My Love. The world is swarming with a multitude of fallen angels in search of souls for satan; do not be absurd, do not resist My Pleas. They have fallen on ground that is fertile for evil. The life of a ruler will be taken away by human hands that have made a pact with evil.
YOU ARE LIVING IN AN INSTANT OF TRIAL; BE SURE TO STAY WITHIN WHAT IS MY WILL.
THE LUKEWARM WILL BE VOMITED FROM THE MOUTH OF MY FATHER.
BETRAYALS BETWEEN NATIONS WILL ASTOUND THE WORLD.
BUT MY PEOPLE ARE KEPT PROTECTED BY ME; I AM WHO I AM (Ex. 3:14).
Pray My children, pray for the Middle East, war will not delay.
Pray My children for the United States, it will be shaken in its land and by those who will betray
it.
Pray My children, the Earth shakes without ceasing.
Pray for Mexico, pray in the practice of My Word. Mexico will be purified.
The great volcano awakens, and humanity is alarmed.
My Beloved ones, when the antichrist appears, My Angel of Peace will come to assist My People, for the truth will flow from his mouth for My People, and the Faith will be taken up again by My children.
PENETRATING INTO MY LOVE, HUMANITY WOULD NOT SUFFER WHAT IT IS SUFFERING AND WILL SUFFER.
COME QUICKLY, COME TO ME.
YOU ARE BEGINNING A CYCLE OF SPIRITUAL TRUTH. TAKE THE POSSIBLE PRECAUTIONS...
THE TRIALS IN THE FAITH ARE BEGINNING.
You are not alone: I am with each one of you.
Your Jesus.
HAIL MARY MOST PURE, CONCEIVED WITHOUT SIN.
HAIL MARY MOST PURE, CONCEIVED WITHOUT SIN.
HAIL MARY MOST PURE, CONCEIVED WITHOUT SIN.