Tuesday, January 3, 2017
Message from the Blessed Virgin Mary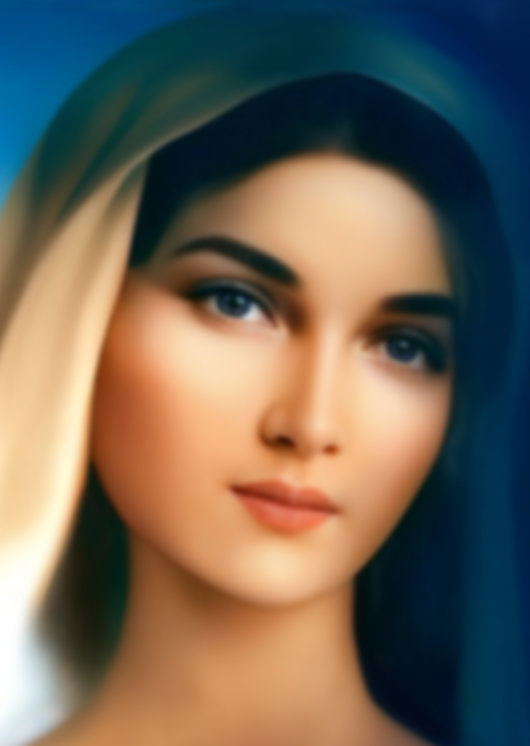 Beloved children of My Immaculate Heart:
I LOVE YOU MY CHILDREN; AS A MOTHER I CARRY YOU IN MY WOMB AS LONG AS NECESSARY.
In My Womb you learn to love as My Son asks you, you understand that in order to live rightly it is necessary for you to know My Son, in order that you might not be surprised by His work and action that are outside every human scheme. My Son is Infinite Mercy and for one soul, He pours out all His Mercy to welcome the sinner; there is no repentant sinner that My Son will turn away from Him. You, as human beings, are confined to the limited vision that each person has; My Son surpasses the human concept of forgiveness and goes out to meet souls, to rescue them and to offer them His Divine Love.
At this instant, children, man must emerge from the fog that prevents him from looking further than his eyes can see. You must break with the ambitions with which you have lived. The ambitious person is never satisfied and this dirties the senses to the point of hardening them so that they only see one goal, which is heavy and destructive.
You cannot walk by dragging the acts and works of others behind you but by undertaking a path of your own, determined, of surrender and humility, of wisdom and, at the same time, of understanding the Divine Justice. All, as children of God, merit opportunities, forgiveness, charity, hope, love, blessing, and above all, deserve to know, at all instants, that they are worthy of opting for Eternal Life.
You, children of My Immaculate Heart, have to strengthen your Faith, strengthen the force that resides in each person, and this you achieve through love and unity. You must look at yourselves in order to achieve a radical change; not looking at your brother as this will stop you: you will always see in your brother aspects that will only lead you to stop spiritually. My children must form an invincible, impenetrable wall.
My Beloved, spiritual torpor, spiritual disillusionment and spiritual blindness cause feelings to spring up that are wrong and contrary to love, making the creature blind before everything. Thus the action of Satan attains double strength, setting continual ambushes for those who do not expect to find any obstacle along the way.
Children, you must know the enemy of the soul, so that you are not be prey of his machinations. You have to know how Satan acts so that you are not prey to his seductions, nor to his ambushes, disguised as good intentions.
Evil walks the world not in one form but in a thousand ways. That is why you have to know in advance against whom and against what you are fighting, in order to draw up the right strategies.
PRAY, PRAY, PRAY; HUMANITY IS SICK FROM THE DESIRE FOR POSSESSION, YOU HAVE FORGOTTEN PRAYER AND FOCUS ON APPEARANCES AND POSSESSION.
The overthrow within the Church will be taken to its most extreme point, not without first leaving strong and deep traces in Humanity, which will have to be evangelized with maturity.
Dear children, humility is not always a sign of modesty. But knowledge gives words of strength so that you have the fire that silences the fool and makes the one who thinks they know everything despair.
I, AS MOTHER OF ALL MEN AND QUEEN OF HEAVEN AND EARTH, SEND YOU TO DEEPEN YOUR KNOWLEDGE OF MY SON AND HIS TEACHINGS.
For this generation in its decisive instants, a week may seem to be several months, and sometimes a week will seem like a day, due to the events that you are living through.
Everything will be different: you will long for the present world, since the one that will exist later will be very different from what you are living today and its possibilities, however restricted they may be.
You do not see how Nature surprises Humanity with its unexpected changes; aviation and aeronautics will have to advance in their systems faced with the unpredictability of the unexpected changes of the winds, of the waters, of the elements; beloved children, everything will change.
Pray beloved children, pray for Argentina, it will suffer and weep.
Pray children, pray for Puerto Rico, it will suffer through the force of Nature.
Pray children, you will see in the sky how fire from the Universe approaches.
Pray children, pray, Brazil will suffer because of its distance from God.
Pray children, pray for Chile, it will suffer, cries will fill the air.
The United States will experience turmoil.
BELOVED CHILDREN OF MY IMMACULATE HEAR, BE JUST TOWARDS MY SON, GIVE HIM THE HONOR AND THE GLORY THAT HUMAN CREATURES DO NOT GIVE HIM.
DO NOT BE CONTAMINATED WITH WHAT IS NOT THE DIVINE WILL, FULFILL THE DIVINE WORD.
DO NOT ACCEPT WHAT MY SON HAS NOT TAUGHT YOU.
The children of My Son are faithful and true. The children of My Son are those who do not refuse or deny My Son. The children of My Son know that My Son is returning in His Second Coming and will give them His Hand and lift them from the place where they will be sent. Wait patiently and do not lose faith.
MY SON IS COMING, ANNOUNCED BY ALL CREATION. He will not return in a poor manger but as King; he comes in the midst of the Vault of Heaven that will open to make way for him, he comes accompanied by myriads of Angelic Beings, and of all the Hierarchies.
The stars will seem to descend towards the earth; by day you will see them shine.
The martyrs will sing the Divine Glory, all that exists will sing the arrival of My Son.
The Archangels and Seraphim will raise up songs with harmonious melodies such as man has never heard. The air will sing and the water will rise up, forming small drops of water that will arise in harmony, forming beautiful multi-colored rainbows, so pure in their essence, that man has not seen such colours before.
The vegetation will join with such rejoicing and will move in unison, producing the sound of the trumpets to the rhythm of the songs.
An Archangel will have a Chalice in his hand with My Son's Blood, the same that was collected at the foot of the Cross, and this Blood will be poured out as abundant dew on the Holy Remnant, faithful and true, who did not deny My Son.
Beloved children of My Immaculate Heart, wait patiently, holding to My Son and to what He makes clear to you.
DO NOT LOOK FOR TREASURES THAT YOU WILL NOT FIND; YOU ALREADY POSSESS THE GREATEST TREASURE: THE EXPLANATION OF THE DIVINE WORD BY GRACE AND TRINITARIAN MERCY.
I bless you,
Mother Mary.
HAIL MARY MOST PURE, CONCEIVED WITHOUT SIN.