Sunday, January 15, 2017
Message from the Blessed Virgin Mary
To Her Beloved Daughter Luz De María.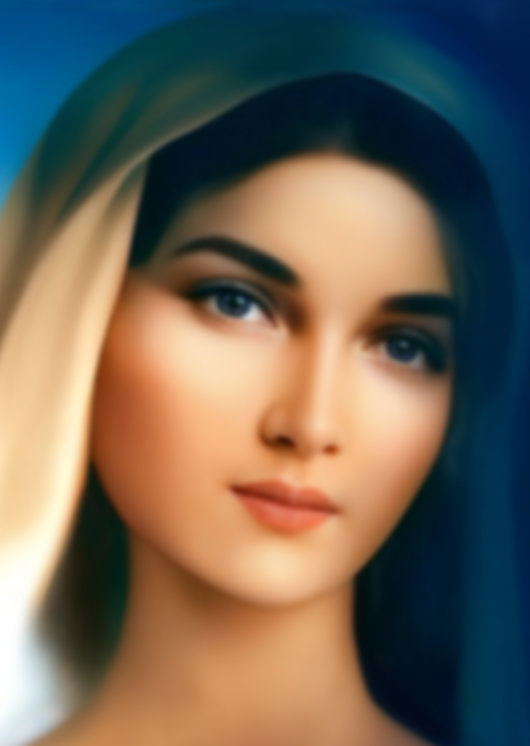 Beloved children of My Immaculate Heart:
I CALL YOU TO REMAIN UNITED TO MY SON, AND FOR THIS IT IS NECESSARY FOR YOU TO REMAIN IN A STATE OF GRACE.
You have to and will have to restore the relationship that man has lost with God because of the ignominy, rebellion, disobedience, perversion, the present arrogance and heresies with which Humanity insults My Son. A few of My children will be able to multiply themselves as many times as God allows and the acts and deeds they perform will be like those of multitudes.
CHILDREN, IN ORDER TO RESTORE THE RELATIONSHIP WITH THE CREATOR, YOU MUST FIRST
DIRECT YOUR EFFORTS TOWARDS THE INSIDE OF EACH PERSON, AS WITHOUT INTERNAL CHANGE YOU WILL NOT ACHIEVE A TRUE AND STABLE CHANGE.
At this instant, the human being does not live in inner peace and this makes him a spiritually unstable creature, and he therefore keeps acting and reacting unexpectedly towards his neighbor, living in a constant fear of losing what he does not have and of losing what he possesses. Because of these improper cravings it is that you are unable to live in peace, but live in a constant anxiety. The aforementioned is because you act alone, you feel that you can overcome the turmoil and appetites of the world on your own, and this is not so. INVITE MY SON AND ME TO REMAIN PRESENT, DIRECTING YOU IN WORK AND ACTION SO THAT EVERYTHING MIGHT CONFORM TO THE DIVINE WILL.
Children, you act by imitation, impulsively and without thinking, since you act without reasoning, without your memory working, without your thinking bringing to mind previous acts that caused you painful and baleful instants; you should avoid repeating the mistakes made, but you do not do so.
You are not sincere with yourselves, otherwise you would avoid falling into pain, frustrations, discord, you would be attentive so as to curb improper impulses, but hypocrisy is greater than Truth.
PAINFULLY I SEE THAT MY CHILDREN LACK HUMILITY; YOU CONSTANTLY POINT OUT THE ERRORS
THAT YOU BELIEVE YOU SEE IN YOUR BROTHERS AND SISTERS WITHOUT CORRECTING YOURSELVES FIRST.
PRIDE IS SO GREAT IN THOSE WHO ARE MINE THAT THEY DO NOT CHANGE AND LIVE IN A
CONSTANT COMPLAINT TOWARD THEIR BROTHERS AND SISTERS ABOUT WHAT FOR THEM ARE WRONG ACTS, BUT THE PROUD PERSON DOES NOT CHANGE IN ORDER TO SET AN EXAMPLE.
Beloved children, as Mother, I know the emptiness in which you are living, and it is precisely through that interior emptiness that the devil penetrates. The devil is subtle and will call you to glorify yourselves - for what? In order for you to eliminate the concept of good and evil, convincing yourselves that My Son has died and that you can therefore act in freedom since you will always be forgiven.
Beloved children of My Immaculate Heart, the glorification of man himself makes God's beloved human creature become a creature saturated with his vaunted human self, which does not reason, thus fulfilling the purpose of satan: that man be the most irrational being of all Creation.
YOU AWAIT THE ARRIVAL OF THE IMPOSTOR, AND THE ANTICHRIST IS NOW ACTING IN THOSE WHO ARE WEAK, FINDING THEM EMPTY OF CONSCIENCE AND FAR FROM MY SON.
The impostor acts upon everyone; the first thing that he carries out in man is to make his pride grow, encouraging him to consider himself judge and lord: he leads the inhuman to be more inhuman ... he leads the unjust to point out the mistakes of others and not to see their own ...
At this instant, the devil is emptying man of feelings and perceptions, of intelligence, in order to subject him by means of a state of servitude, and he prevents him from being creative so that man depends on him.
BELOVED CHILDREN, THE INSTANT IS CRITICAL FOR SPIRITUAL GROWTH,
EACH ONE OF YOU MUST FIGHT WITH ALL YOUR STRENGTH IN ORDER NOT TO CONSENT
TO WHAT IS CONTRARY TO THE DIVINE WILL.
My children talk about sin and discover it quickly, except that, foolish and irresponsible, they often fall into greater sins. Man has lived through slavery and sees it as a thing of the past. In this instant man is more of a slave to sin than man himself thinks, you constantly chew on slavery to vices, and this terrible food produces creatures who are totally distant from God, mistaken in their convictions and totally idolatrous.
My Beloved, you lack Love and this leads you to seek spirituality in evil. There you will never find it; on the contrary, you will be ever harder of heart and will love what is a product of Creation, but you will not love the Creator.
Children, the leaders of evil are stirring up the Nations through a few men, and the rest imitate those few men sent by those who direct Humanity's destiny, causing greater agitation after a very short period of apparent calm. In the great international scene, they will kill the president of a great Nation, and this will convulse the world, giving an opportunity for people to blame one another, and thus the spectre of war stops being a spectre. A frightened humanity is easily guided to evil's goal.
Those who love My Son truly cannot take part in Freemasonry, the Illuminati, dazzling elites, forms of modernism that offend the Mystical Body, communism and its practices; they cannot live with music that is composed for satan, they cannot allow themselves to be dominated by technology, they must not allow themselves to be poisoned with an irresponsible diet, created to finish off much of humanity. Illnesses created by man are the great pretext for contaminating the body of the human creature and slowing causing death with medicines arranged for this.
Beloved children of My Immaculate Heart, the mighty ones of the world are constantly devising elements so that man might fall and be dominated by them.
A HUMAN CREATURE CONTAMINATED NOT ONLY IN HIS BODY BUT IN HIS SPIRIT IS A CREATURE THAT IS TOTALLY VULNERABLE TO EVIL AND TO BEING USED FOR EVIL.
Not praying consciously, the absence of the practice of fasting for those who are not sick, not scrutinize the Sacred Scripture, lack of true repentance as a sign of humility, not receiving the Eucharist, disrespect for one's own life and that of neighbor, and for the human body as the Temple of the Holy Spirit, and the absence of a total love for God are the key points where satan has found a great weakness and even ignorance and illiteracy in this humanity weakened in its spirit.
THIS IS NOT THE INSTANT FOR YOU TO SEEK WHO IS GUILTY, IT IS THE INSTANT IN WHICH EACH PERSON HAS TO TAKE RESPONSIBILITY FOR GROWING IN THE SPIRIT AND OFFERING TO GOD WHAT BELONGS TO GOD.
Pray My children, pray for Italy, it will be attacked by intruders, causing great pain to the People of My Son.
Pray My children, pray for France, it will suffer a great attack.
Pray My children for Spain, it welcomes fraternally those who need it. It will be assaulted without expecting it, its people will suffer, but I will be attentive to the petitions of the children of My Son.
Pray children, pray for Nigeria, blood is spilt.
Pray for children who suffer from satan's scourging.
Beloved children of My Immaculate Heart:
KEEP YOUR SPIRIT ALERT, AS EVIL IS ON THE ATTACK STATE. BE UNITED, BE FRATERNAL AND, ABOVE ALL ELSE, BE FAITHFUL TO MY SON, NOT TO MEN.
This cycle which you have begun indicates to man that he must remain united and fused to My Son so that he is not carried away by the sea-current of the enemy of the soul.
You must remain alert with respect to Nature: earthquakes will cause the waters of the seas to rise and penetrate the land, the winds will lead to disasters and the sun will heat up the Earth, and the fire will burn and sweep through large areas in various countries.
My children, the purification will be a test for those faithful to My Son; the undecided will be forced to decide before the night does not allow the sun to warm the Earth.
Beloved of My Immaculate Heart, love My Son, if you are faithful to My Son, you will not remain alone.
I stand with you: "IS IT NOT I HERE WHO AM YOUR MOTHER?", DO NOT FEAR. I PROTECT AND ENLIGHTEN YOU IN THE WAY OF MY SON.
I love you,
Mother Mary
HAIL MARY MOST PURE, CONCEIVED WITHOUT SIN