Monday, January 16, 2017
Message from Our Lord Jesus Christ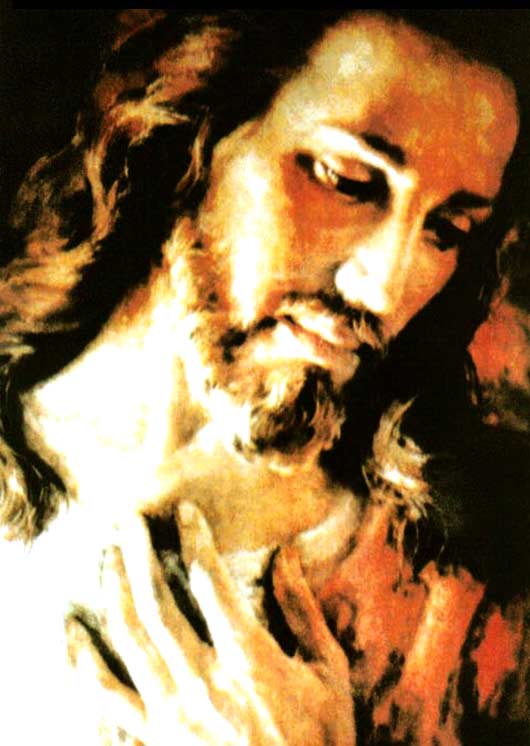 My Beloved People:
I SEE YOU, NOT FROM HEAVEN BUT FROM WITHIN EACH PERSON ...
WHOEVER DOES NOT KNOW ME FEELS THAT I AM FAR AWAY, AND THEREFORE DOES NOT FEEL ME WITHIN THEM.
I dwell within each one of you, sinners or not ... I dwell within you! And it is precisely within the human creature that all feelings converge, all thoughts, desires, whims, dissatisfactions, pride, hope, hatred, love, oppression, discouragement, kindness, charity, sincerity, humility, reason or anger, forgiveness or the radicalism generated by folly.
HOW MUCH HAVE I EXPLAINED AND GONE INTO THE URGENCY OF AN INTERNAL CHANGE IN
THOSE WHO CALL THEMSELVES MY CHILDREN! As I dwell within you and there where you do not see Me with the eyes of the body, I have to live oppressed by the constant assaults on the part of the human ego that dominates you, and you surrender to the "ego" without any will or authority to bend him.
I SEE THE EARTH FROM HEAVEN AND I SEE SO MANY WHO WANDER WITHOUT THE AWARENESS OF THE CHANGE, OF THE TRANSFORMATION TO WHICH YOU MUST PREPARE YOURSELVES IN THIS INSTANT.
Each person has the freedom to climb the heights of My Love or to crawl on the ground with the infernal serpent. This is the decision of human freedom.
The "ego" is formed by everything that man experiences in life ...
The "ego" receives all the information with which each of you informs yourself...
You, children, are a vessel within which is held everything you keep within your mind in order to remember, to work and to act. Ah children, but the reaction or action of man is not the fault of the mind! The mind has been informed by memories, values, convictions, tastes, ideas, fears, humility or pride. Each life experience is brought to the mind and it depends on each one of you whether that information is taken for good or for evil, to improve or to perish with an "ego" inflated by the vanity produced by pride.
EACH ONE OF MY CHILDREN IS FREE TO LIVE BY THE PAST OR OPEN UP TO THE NEWNESS OF MY
LOVE, of ascending spiritually in order to comply obediently with that to which we alert you for the good of your soul, or to continue engaged in the folly of elements shaped by circumstances that emerge in certain situations like an uncontrollable wave that leads you to lose control very easily.
Humanity swells with pride at not needing me ... Within each one of you, I grieve when you treat the Temple of the Holy Spirit with such neglect, while I give you space so for you to prepare yourselves to undergo this interior metamorphosis and leave behind the rags that you carry like chains that do not allow you to be truly renewed: revolting, worm-eaten rags with which you move from one place to another, and hypocritically you flaunt in certain circumstances and others in other circumstances:
WHITENED SEPULCHRES, HYPOCRITES WHO ACT AND LIVE ACCORDING TO APPEARANCES! You go
with the waves of convenience, not true surrender to My Word that wishes to transform you in My Way, so that you act in goodness, move in goodness, work in goodness and be My true testimonies.
I feel each person's thirst, each person's appetite, but not the physical thirst and the appetite, rather the thirst that degrades, the appetite that satisfies the "ego." And there I find Myself as if in a cage that imprisons Me and gives me almost no space to bring My Love to your minds or thought, and less to the heart.
Beloved, I am constantly held back by the multiple "egos" that form the "ego" in its totality and that block My way with the infernal desire for dominion.
SO MANY OF YOU WHO SAY THAT YOU ARE PART OF MY PEOPLE, THAT YOU ARE FAITHFUL AND THAT YOU SERVE ME ARE REALLY THIEVES! ... Some dressed elegantly because they believe that they go unnoticed that way, others dressed in their rags in order to pretend they are authentic: BOTH SCOURGE ME! Both are drunk with opulence, greed and pride.
ONE IS THE WAY TO TRANSFORM YOURSELVES FROM A SINNER TO SOMEONE WHO IS
REPENTANT, ONE. AND THIS IS THE CONSTANT DETERRENT FOR THE "EGO". UNTIL YOU MOLD YOUR "EGO", YOU WILL NOT BE ABLE TO HEAR THE VOICE OF MY LOVE.
This Humanity has degenerated so much that it looks in the same way at the birth of a child and the beheading of another child. Apparently you grieve, but then you decapitate your brother, steal his heart, throw him to the ground and drag him behind you as a trophy of war.
Children, My People, what are you doing? Where is that Divine image that you possess? Where have you thrown it?
At this instant when you have available so much information from Our House, with so much prevention so that you do not fall, and so that if you fall you get up quickly, you have prior notice of the events that you will face, and even so you are rebellious, and because of rebellion the devil is taking power, growing, increasing, and you work and act with such indifference that you ignore one another ... ARROGANT ONES! YOU WILL LAMENT NOT HAVING LISTENED TO MY WORD.
The strategy of evil is not familiar to man; you do not recognize it easily and therefore it penetrates so easily and transforms you. If at this instant you continue to insist on the folly of working and acting according to the "ego" that you possess, and do not lead it towards a state of Truth in My Love, the spiritual battle will be too easy for the devil and he will drag you towards evil, taking hold of you in order to bring down your brothers at every instant.
EVIL DOES NOT REST AND GIVEN THE SPIRITUAL ANEMIA THAT YOU HAVE, THE FORCE OF EVIL EASILY DRAGS YOU ALONG UNTIL YOU FORM PART OF ITS RETINUE.
You do not make a firm commitment to make amends; the first reaction to My Calls is one of "contrition lite", then you forget and continue being the same as before. My Heart grieves at the ease you have cultivated for saying 'yes!' and entering instants later into the denial of what you offered Me.
I WILL SEND MY ANGEL OF PEACE WITH A ROD OF IRON, and when he speaks, His Word will be a fire burning human thoughtlessness and falsehood, unmasking the conceited and stubborn, the conceited who have despised the humble.
My priests will have to amend their way, they who should amend it and once more enter into the prayer and spirituality that guides the mystic by way of My Most Holy Mother. They must devote themselves to calling My sheep and preaching My Word with strength and firmness so that a greater number of My People's souls do not go astray.
My Church is wounded, and each one of My priests is called to be a healer and to heal the greatest number of wounds suffered by My Church before those who do not worship Me devour My People like predators and before My People disintegrate on seeing the Vatican and Rome burn like firewood.
Man's deceiver springs up against each one of you in the instants when you are most vulnerable: when you move outside of My Will. Do you want to be servants of evil, since you do not change? ... AH, AND THEN YOU INVOKE ME ASKING FOR PROTECTION!
WILL YOU CONTINUE IN THIS SPIRITUAL HARRASSMENT IN WHICH YOU ARE LIVING, FACILITATING SATAN'S TASK, AS HE DOES NOT HAVE TO LOOK FOR YOU, BUT YOU CALL ON HIM TO USE YOU?
How much the lukewarm will suffer ! They will be seized by the lie of evil and will be easy prey for satan. Satan is not unaware of the desires of each person and with these he will call you. Within himself, man always desires what he does not have, and evil knows it. BE WARNED, MY BELOVED PEOPLE.
Pray, My children, pray for Jamaica.
Pray, My children, pray for Venezuela.
Pray, My children, My Temples are devastated.
Pray My children, that the Fifth Marian Dogma be proclaimed (1).
My People, love My Mother, She leads My People. I bless you with Eternal Love.
Your Jesus
HAIL MARY MOST PURE, CONCEIVED WITHOUT SIN
(1) Fifth Marian Dogma: Mary as Advocate, Co-redemptrix and Mediatrix of all graces.