Sunday, January 22, 2017
Message of the Blessed Virgin Mary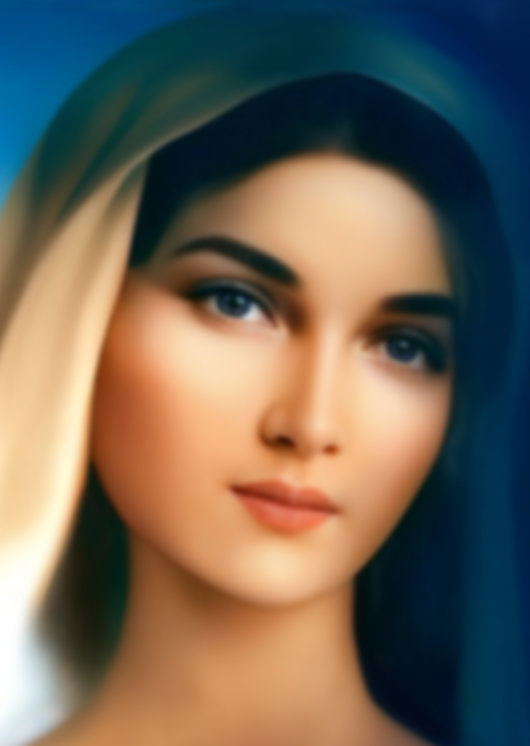 Beloved children of My Immaculate Heart:
AN INFINITY OF BLESSINGS REACHES EACH ONE OF MY CHILDREN WHEN ACTS AND WORKS ARE IMPREGNATED WITH LOVE.
EVERYONE MUST MAKE A RADICAL CHANGE IN THEIR WAY OF ACTING AND REACTING IN ORDER TO BE THOSE WHO GENERATE LOVE AND WHO ARE ACTIVE WITNESSES TO MY SON.
Love vanishes like water between the fingers, but not for that do the fingers remain dry; instead the skin keeps the moisture that the water leaves. Thus, you are called to reactivate this Gift and this certainty in work and action that is a multiplier, awakening in your brothers that Divine Spark which illuminates the darkness and overcomes what is thought to be lost.
YOU NEED TO READY YOURSELVES PERSONALLY IN ORDER TO ALLOW THE HOLY SPIRIT TO ACT WITH FREEDOM WITHIN EACH ONE OF YOU, AND THUS FOR YOU TO GROW AND BE MORE OF MY
SON AND LESS OF THE WORLD. All is not lost for those who are willing and entrust themselves to Divine guidance. You only have to maintain a total willingness for Humanity to turn in the opposite direction to the one that it is taking at this instant, which is: going towards the dominion of evil throughout the Earth. Humanity will suffer for its rebellion, but everyone still has before them the possibility of Divine Mercy and the opportunity for conversion, and therefore, for the soul's Salvation.
THE REQUIREMENT FOR MAN IS TO SURRENDER INWARDLY AND WITH CONFIDENCE IN THE ARMS
OF MY SON. When each one of you is thirsting for the Salvation of souls, in that instant, Love will not only shelter in the human creature that requests it, but will expand to infinity, and in this way, love will transform everything that comes across its path. You must not be sterile: everyone must bear witness by their work and action.
The current reality within My Son's People is chaotic: the blind want to lead the blind... Some of My children wait for My Word in order to focus on criticism, to avoid responsibilities or to enter into the "novelties "of My Son's House.
I feel pain, as Mother, in knowing that some of My Priests do not preach but unload their emotional state in sermons, provoking greater confusion among My Son's People, who are far from acting rightly.
The hands that consecrate My Son have to be kept free from pride, envy, offense, premeditated lies ... Woe to those of My Priests who become persecutors of My Son's People! as a lack of sensitivity demonstrates a lack of Divine Love in the creature, and this paralyzes the Truth, allowing the human ego to emerge.
My Priests sons, evil not only travels the road in search of My lay children, but sends demons with greater harshness to inundate the hearts of those who consecrate themselves to the service of My Son. Evil rises up through a lack of good judgement, spiritual poverty, laziness and anger in order to provoke discouragement in you, dereliction of your duties, the feeling that you are privileged and have superior rank, you therefore being those that cause dryness and hardness of heart in the souls that you lead.
My beloved Priests of My Heart, do not forget that to serve My Son you must be an example and have a right heart.
Beloved children of My Immaculate Heart:
COME TO KNOW MY SON, SEEK HIM, DRAW CLOSE, STAY OPEN TO THE TRUTH... So much so that you
seek to know My Son in depth, stopping to look at what is profound in creation, in nature, in the wind, in water, since in everything that Divine Imprint is present which speaks and gives assurance of the Eternity of the one who created it.
YOU REMAIN IN CONSTANT INTERNAL STRUGGLE ...
AND THIS IS WHAT ALLOWS EVIL TO TEMPT YOU WITH GREATER FREQUENCY.
One of the obstacles of this instant is the GREAT DISPERSION in which you live. Children, dispersion overwhelms the memory and holds back the efforts that you may make to unite with My Son and ascend.
Children, I have already called you to enter within yourselves and to know yourselves without pretense; this will lead you to be firmer, more accurate, prudent and reflective, to recognize what you need to reinforce because of your weaknesses, selfishness, lack of love, and thus you will be able to grow in living together with your brothers.
You live a life attached to the world, but you have these instants to discover the importance of a true relationship with My Son, which is far from the false concepts that you have. You have to come out of that selfish way of thinking, of that "being yourself", of that life that is totally selfish, in order to turn back inward and there to look and be prepared to cancel everything that can separate you from being that true child of God who does not look at himself but at God and his brother.
CHILDREN, SOME HAVE KNOWLEDGE, AND WITH IT YOU DAZZLE YOUR BROTHERS, YET MAN DOES
NOT LIVE BY KNOWLEDGE ALONE, BUT BY LOVE, by being understanding, by accepting one's brother with his obstacles and virtues, by not crushing your fellow man, by not letting anger arise because it ruins everything, by avoiding spiritual envy, since it comes to dominate man to the point of making him fall into all vices contrary to Love.
The agitated life of My children in a constantly stormy sea, it does not allow them to quieten themselves, and therefore some are so weak that faced by daily situations they feel unable to resist ... Spiritual deficiency influences upon the physical body.
Children, you have forgotten obedience to My Calls, you fulfill what you want, giving the first place to what is worldly. You forget your own lives with your own law and your own relationships with God. You do not recognize My Son, nor do you respect the Commandments; this has led you to be part of a perverse generation that desires self-fulfillment and imposes itself in order to be heard, without allowing itself to be corrected ...
MAN CONTINUALLY INTENDS TO RENOUNCE HIS ERRORS AND ATTACHMENTS, BUT DOES NOT MANAGE TO CARRY OUT THE TRANSFORMATION, HE IS LEFT HOLDING THE INTENTION ...
Man empties his intentions into the sea of forgetting in order to persist in fantasy, therefore My priestly sons should not preach on the non-existence of evil, because with this they are causing souls to succumb. Humanity desperately seeks the support of the hierarchy of My Son's Church in order to persist in its world of sin and thus continue in debauchery.
Beloved children of My Immaculate Heart, so much rivalry that exists in man is a product of the lack of Divine Love in man's heart; the lightness of the tongue betrays those who live by appearances, totally contrary to the Law of Love.
The instant calls you to not be creatures that feed on the misfortunes of their brothers. Whoever acts in this way feeds evil. Evil grows, it increases its power through your evil deeds; you have to remain conscious of this if you wish to scale the heights of spiritual life.
THEREFORE, YOU SHOULD CORRECT YOURSELVES HERE AND AT SUCH A TRANSCENDENT
INSTANT IN THE HISTORY OF HUMANITY when the tendency is to rebel against everything, without thinking whether it is good or not. Man at this instant is acting by imitation, not by reason, not by thought. You prevent conscience from bringing remorse: this you do not know, because you have imprisoned the conscience so that it does not trouble you and does not bring you to repentance.
With sorrow, I see My children finding the most comfortable way to evade responsibilities and changes, bad actions and reactions: bad habits are hidden by blaming others. Man has grown according to this sad pattern, blaming others for his own guilt that you do not acknowledge. This is a great personal weakness, a selfdeception, personal deterioration that has led to the irresponsibility in which humanity is living in this instant.
THE WAY OF THE INSTANT IS SHAPED BY EACH ONE OF YOU, EVERYONE HAS CONTRIBUTED TO THE STATE OF THIS GENERATION BY THEIR WORK AND ACTION.
Momentum, fame, vainglory, fortune, pleasures are so important for man that there is no place for what is spiritual. My Son has been banished from the hearts of His children, He lives oppressed by human folly. This favors man's surrender to the antichrist. He who does not know My Son is easy prey for evil. Fantasy and illusion will make you fall into the deceptive hands of the antichrist.
Those who are powerful make those who do not know the essence of the Truth fall into their nets, and Truth is taken away from Humanity in order to bring it to suffering and constant pain. Uncertainty destroys; whoever remains safe by Divine protection has greater stability in their spirit.
At this instant, Humanity is looking at the work and action of a single man whom it will quickly forget until he, through the human power they have given to him, shakes some People. Such is human behavior, so it is with the spiritual; it calls on the Divinity out of fear, then forgets and continues along its daily path.
Certainly, man suffers and will suffer, but whoever has not suffered will not show signs of love to the one who suffers, but sends him far away in order not to know about what he does not know.
The world Powers are not unaware of each other; on the contrary, they are weaving finely together to not jeopardize themselves. It is Humanity that is deceived by the lack of knowledge and acceptance due to ignorance.
Pray children, pray, Italy will continue to suffer, it will again be shaken in its land and surprised by the powerful volcano that is sleeping, and this will awaken others.
Pray, children, the Church of My Son will suffer unexpectedly because of news that it was not expecting.
THEN IT WILL THINK OF MY WORDS AND WILL BE CONVINCED THAT THIS MOTHER HAS WARNED YOU, BUT THAT YOU HAD NOT UNDERSTOOD.
Pray children, Guatemala will be shaken, this suffering People will weep.
Pray, children, pray, new laws diminish the defenseless and hunger accelerates. He who has, desires to have more, and he who does not have will be stripped of what he has. The United States will stay in the world's gaze.
Pray My children, pain for Humanity will come out of the United States.
Pray, children, seismic activity is increasing, the sun strikes the Earth.
Children of My Immaculate Heart: the instant is instant no longer, the proximity of a meteorite is regarded with indifference, man is living as if the events that I have mentioned to you were not to occur. This is the stubbornness of the man who does not change, neither emanating love towards the Creation so that the latter give him more protection.
Venezuela lives in shadow; within that shadow there is an arsenal of weapons bringing danger for America. Communism has not been defeated, but has spread its power of armament throughout the world and holds greater dominion than Humanity thinks.
Children, may each of you be a true mirror of the work and action of My Son, so that you may act by emanating that Love which much of Humanity has banished.
DO NOT DESPAIR, MY SON AND THIS MOTHER WILL NOT FORSAKE YOU ... WE ARE LOVE FOR THE HUMAN CREATURE: MY SON IS INFINITE MERCY.
I bless you.
Mother Mary.
HAIL MARY MOST PURE, CONCEIVED WITHOUT SIN.