Wednesday, January 25, 2017
Message of Our Lord Jesus Christ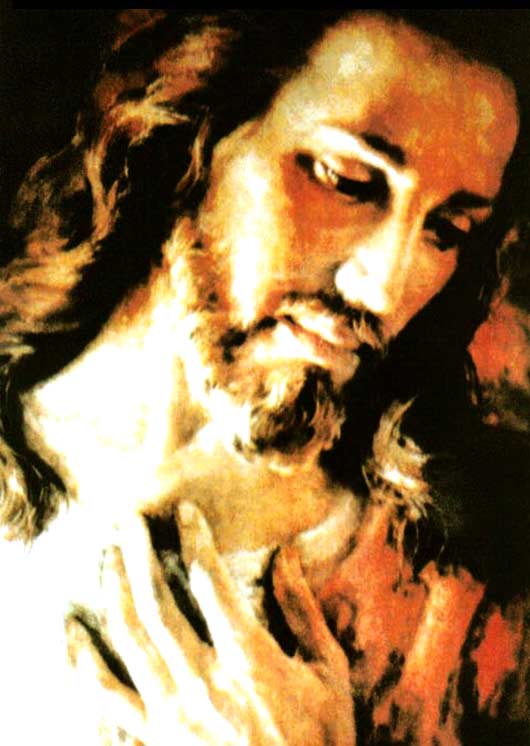 My Beloved People:
YOU KNOW YOUR LORD WELL, THEREFORE KNOW
THAT MY PATIENCE IS INFINITE FOR THOSE WHO ARE MINE.
I warn you so that you awaken, not so that you would lose hope in My Mercy, but so that you decide to renounce sin and be renewed internally with a generous spirit.
I NEED YOU TO BE SPIRITUALLY ALERT. My children do not live by appearances but by what they keep in their hearts, which is why the human creature who is not united to Me will not be able to share what it does not keep nor live out, nor maintain practically in her heart.
My Beloved People, evil does not stop ...
My children must not stop fighting against the evil that they receive from outside.
My children must not stop in the struggle they have inside them and which constantly expands with the human ego, making them feel superior.
DO NOT FORGET THAT THERE IS AND WILL BE A SMALL HOLY REMNANT, AND IT IS YOU WHOM I CALL TO BE PART OF THAT SMALL GROUP OF MY TRUE CHILDREN.
Children, watch with your lamps lit, keeping My Word; do not succumb to the generalized apostasy, THIS IS ONLY THE PRELUDE TO MY FINAL TRIUMPH, NOT THE DEFEAT OF HIM WHO IS ALMIGHTY.
Stay alert, do not allow appearances to deceive you, for those who do not love Me live by appearances and will come to contradict My Word.
HOW OFTEN I HAVE MENTIONED MY ANGEL OF PEACE SO THAT YOU BECOME FAMILIAR WITH THE ONE WHO WILL COME TO GIVE MY BREATH TO MY PEOPLE AND WILL DIFFERENTIATE HIMSELF
COMPLETELY FROM EVIL! Firstly because He will come after the appearance of the Antichrist, secondly because He is the sign of My Love and thirdly because looking at Him, you will see My Mother in His gaze. This Angel of Peace of mine will remain with you.
Pray for those who will stand beside My Angel of Peace; I will call them to be free from all selfish inclination and will remove from the path of My Angel any obstacle prior to His arrival.
Evil preempts those who are Mine and tries to stop them, causing them to think about themselves, managing to take a little portion of sand in his clutches so that My children would suffocate within an apparent mountain of sand.
Oh children, how easily you totter before to the human ego! Recognize that you are not making the maximum effort, recognize that you are weak and proud, recognize that you look at yourselves more than your brothers look at you.
My Beloved People, some are looking with horror, fear or indifference at what is occurring in My Church, but they still continue without examining or putting under the microscope what is really happening at this instant. Some typically say that religious persecutions have always existed, just like events within Nature…
Blind, not only with their eyes, but spiritually blind! ... Those creatures are chained to hell who have decided not to open their hearts in order to understand that in every generation there has been an instant prior to the Purification of those who rebel against Me.
Blind people who with great indifference allow the hidden and silent work of evil to pass by that has always been invading My Church in order to stop Her!
It is just that this instant is the one prior to the Purification - this instant and no other, which is why, a long time beforehand, Satan with great cunning concentrated on attacking My People through the Hierarchy of My
Church, but in this transcendent instant, HELL'S EVIL ADOPTED A NEW STRATEGY: TO INFEST MY CHURCH, ARDUOUSLY WORKING FROM THE SEMINARIES IN ORDER TO ESTABLISH THE FALSE CHURCH TO THE SERVICE OF DARKNESS AND IN REBELLION AGAINST THE PRINCIPLES OF OUR DIVINE LAW.
Beloved My People, I am present in the Holy Sacrifice on the Altar where I am treated with great indifference, irreverence and contempt ... AT TIMES I AM EVEN STRUCK WHEN IN THE CONSECRATION THEY LIFT ME UP AND THEN DROP ME ON THE ALTAR WITHOUT THE SLIGHTEST SOLEMNITY.
Children, is this not a great part of the crisis that My Church is living through in this instant?
Do they not in this way demonstrate unbelief in My Real and True Presence in the Consecrated Host?
Is not this a sign that even the priesthood, is considered in some cases just as another profession, as a means to ... and not as a donation?
So it is that My People live in the midst of ambiguity and do not grow spiritually, because they do not receive the due Food/Nourishment of the Word that leads them to grow and that gives life.
Open your eyes, not only those of the body but of the spirit! And see how little by little the Eucharistic Celebration is losing its value, thus accustoming My People to not needing me or seeing me as the CENTER OF MY CHURCH: My children will believe that they do not need their God.
MY PEOPLE, WAKE UP BEFORE THOSE WHO WANT TO GLORIFY THEMSELVES, AND WITH THE UGLINESS OF SPIRITUAL LUKEWARMNESS, ACCEPT THE EVIL ONE AS GOOD!
Those who do not love and respect My Mother and who do not keep the Commandments enter My House and offend Me.
Those who do not fulfill the Divine Will shall be led into great confusion; in constantly looking at what is happening, they will be indifferent and deny that the Signs are signs, spreading the message among My People that all is well. With far-fetched exclamations, a great majority of human creatures will allow the center of Fraternal, Sacramental Union and Food of My People that is the Holy Mass to be taken away from you, altering this Magnanimous Sacrament with the introduction of other ideologies.
I HAVE NOT SENT THOSE WHO DISTORT MY WORD...
I HAVE NOT SENT THOSE WHO TREAT ME WITH CONTEMPT, NOR WHO BLASPHEME AGAINST MY
HOLY SPIRIT ...
MAN'S ACTION IS THE CRUELTY OF THE MAN OF FOLLY.
The great apostasy is increasing due the indifference of My priests, servants of My People. Evil has infiltrated My Church in the hands of My own servants, whom I warn so they do not get confused and, through that confusion, not to be persecutors of My People among whom are to be found My Servants, the Prophets, to whom I entrust My Word for it to be conveyed to My own and so that My Word is not distorted.
My Mother guards my faithful Prophet within Her Heart. Wolves in sheep's clothing will be persecutors of My Instruments and will tell My People not to listen in order that ignorance might rule among My own and so that they might not be warned.
You forget that I come as a thief in the night. And what will I find? The devil enthroned and worshiped ... My Temples profaned and My children silenced ...
The Third Secret of Fatima is found contained in My Word, (*) it was given with severity in order that My People would wake up and live a new dawn and would not continue living in ignorance and not be led to the shame of decadence ...
SILENCE, MY PEOPLE, SILENCE!…
WHO HAS DARED TO KEEP THE WORD OF MY MOTHER SHROUDED IN ANONYMITY?
SILENCE IS NOT FOR MY PEOPLE, THEREFORE I AM EXPLAINING MY WORD AND THAT OF MY
MOTHER TO MY PEOPLE, BEFORE NIGHT CLOSES IN WITH IGNORANCE AROUND THOSE WHOM I LOVE. My Mother will not be silenced, She will continue with greater emphasis in pleading wIth My People at this instant, being The Woman Clothed with the Sun who leads My own to Me.
Pray My children, pray for Germany, it will shortly be scourged . From that land will come one of the many conspiracies against My faithful people.
Pray My children, pray for the United States, conflicts intensify within an apparent tranquility. Nature scourges that Nation.
Pray My children, pray for Indonesia, it stirs up the nations due to a great volcanic eruption.
Pray for Spain, the people rise up. It laments because of Nature.
This generation will live what previous generations have not lived; the sin of this present Humanity surpasses the sins of previous generations. The grave error: denying sin, denying the existence of evil by giving freedom to the libertines who infect those who remain undecided or the weak who are dazzled by what is worldly.
My Beloved People: I am coming for you!
BE FEARFUL OF MY WORD, OF MY ANNOUNCEMENTS ...
HAVE A HOLY FEAR OF THE THRICE-HOLY LORD OF THE HEAVENLY HOST.
Do not forget that a fruit in bad condition contaminates the other fruits.
Do not forget that whoever recognizes that they must change in order to return to the path of conversion deserves to be seated at the Table and to await the Eternal Banquet.
I am Merciful, My children, and I am Just, so much that My Perfection is infinite, both in Mercy and in Justice.
I COME TO CALL YOU FOR REPARATION FOR THE OFFENSES THAT YOU COMMIT AGAINST OUR TRINITY.
COME TO ME WHO AM WAITING FOR YOU WITH ETERNAL LOVE.
I bless you.
Your Jesus.
HAIL MARY MOST PURE, CONCEIVED WITHOUT SIN.