Sunday, January 29, 2017
Message of Our Lord Jesus Christ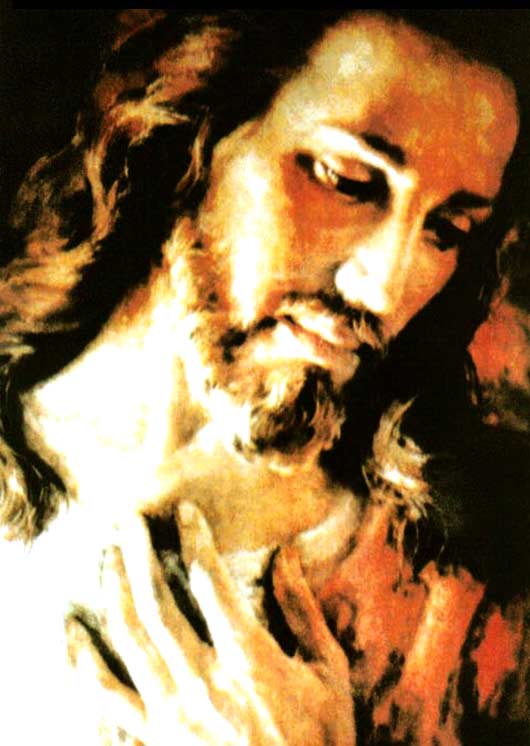 My Beloved People:
AS THE SUN SHINES AT HIGH NOON, SO I ENLIGHTEN YOUR WAY SO THAT NONE MIGHT GO ASTRAY.
In the midst of the persistent madness in which man is living, you are unable to see me. I lead you towards Our
House and you, wrapped up in this toing-and-froing, do not perceive how close I am to each one of My children. You pass by, looking at what is not going to bring you any spiritual benefit; you do not take advantage of the instant as Our House has indicated to you. AH! IF YOU WERE OBEDIENT, LIFE WOULD BE TRANSFORMED INTO A WELLSPRING OF BLESSINGS, AND WITH NEW EYES AND A RENEWED HEART, YOU WOULD EMANATE MY LOVE, MY PATIENCE AND MY CHARITY ...
I see so many of you talking about Me, expressing how much you love Me and love My Mother, but then, when your fellow men do not look at you, the indifference and impiety with which you address your neighbor, especially in your homes, are unrecognizable and inconceivable ...
It grieves me that My children are hypocritical and treacherous!
It grieves me so much that you address your brother with arrogance and great selfishness!
My People are again fomenting the supremacy of man over women and in large numbers women are tortured, ill-treated and put to death at the hands of those who are their parents, husbands, brothers and so on.
THIS GENERATION CAUSES ME SORROW… I am ashamed of the behavior of a great number of the men who claim to follow me, and I am ashamed of the behavior of some women who claim to follow me ...
YOU COUNT WITH THE ASSISTANCE FROM MY HOUSE, BUT EVEN SO YOU REJECT IT WITH GREAT DISDAIN. You do not know that I have asked My Mother to be the protector of My People and that She is ready to help you. My Mother will lead you towards what is not finite: to the glory of faithfulness to Me.
I must tell you the following:
My Mother, and the great majority of Her daughters, were able to spread and expand the Love of Our House all over the Earth, fertilizing the ground so that the fruit might quickly shine forth. THE WOMAN WILL VINDICATE
THE WOMAN GUIDED BY MY MOTHER.
My Beloved People, how I have warned you to be reconciled to Our House! And you do not trust, but on the contrary, you sink into total licentiousness.
Drugs scourge families and society, man is getting lost in his own free will ...
MY BELOVED PEOPLE, YOU DO NOT KNOW WHAT I DESIRE FOR EACH ONE OF MY OWN, YOU
SURRENDER TO THE CONTAMINATION OF THE SOUL BY WHAT IS WORLDLY, BUT I LOVE YOU AS A FATHER LOVES HIS CHILDREN WITH ALL HIS HEART. I LOVE YOU SO MUCH THAT I GAVE MY BLOOD FOR ALL, WITHOUT DISTINCTION.
The world and its machinations despise those who follow Me, especially if they strive to fulfill the obligations of every good child of Mine.
In this moment, more than in any another, Freemasonry is at its apex, no longer infiltrating but dominating what is Mine, deciding over how to govern My People at this instant and preparing the great shaking of My People in order to bring them like sheep to the slaughter.
THEY DO NOT FEAR ME, THEY DISPOSE OF MY PEOPLE, FORGETTING THAT I WILL ARRIVE IN MY SECOND COMING TO ASK THEM TO ACCOUNT FOR THEIR ACTS, AND I WILL JUDGE THEM WITH MY JUSTICE, SEVERELY ...
Freemasonry distorts My Word, tears up the Commandments, oppresses My Church and takes power in order to lead My children through ignorance towards contempt for Our Divine Word. Freemasonry is readying itself to present the great impostor to Humanity, the antichrist, and you, being ignorant about the antichrist, will rise up towards him as if he were Me. He will make My children suffer with the most terrible persecution. He hates those who love Me, are obedient to Me and who fulfill the Divine Will.
MY BELOVED PEOPLE, THE WARNING IS APPROACHING AND THE HEARTS ARE NOT MOVED FOR THE LACK OF DISSEMINATION OF THIS ACT OF MY MERCY FOR MY PEOPLE.
I am wounded by those who from the pulpits deny My Announcements.
I am wounded by those who continue saying that I am not a God of catastrophes, and that therefore My children should not know of all of what I am warning them about. Why do not they not announce that I am Love and that out of Love for My People I tell them in advance what will happen so that they repent in time? My interests should be yours. Instead, before souls are lost, you must shout out loud: how lost Humanity is! This way some of My People would awaken.
I WILL BE SEVERE WITH THOSE WHO DO NOT WARN MY OWN ABOUT THE EVENTS THAT ARE DRAWING NEAR… OR IS IT THAT YOU DO NOT BELIEVE MY MOTHER?
I do not need "shows" or spectacles, "I AM WHO I AM" (Ex 3,14).
My Beloved, do not spend your days like the ignorant who live wrapped up in human pleasures; this will end for everybody in general. Faced by the weakening of the Earth, famine will take hold over all social classes ... THE DIFFERENCE IS IN THE FACT THAT MY PEOPLE WILL BE FED BY MY ANGELS.
My Beloved People: Those who have prepared to flee the Earth at any instant will not succeed; they have forgotten that I Am the Master of everything that exists.
MY WORD IS TRUTHFUL…
I AM MERCIFUL AND I FORGIVE THOSE WHO REPENT FROM THE HEART AND AMEND THEIR WAY.
Children, those who belong to the platform of the antichrist have worked silently on so-called "fast foods", adding to those foodstuffs, which do not provide what the human body requires, that which is needed to raise levels of anger, undermining man's self-control, weakening him so that faced by the slightest situation he reacts with great anger and loses his composure, his thought is clouded and he behaves worse than an animal.
Children, you constantly receive various impulses from everything that surrounds you, causing you not to know how to decide what is good and what is evil. Are you measuring your action and work? Are you thinking if you act impulsively? Are you allowing the authenticity to emerge of those who acknowledge Me as God, being responsible for their actions and works?
Humanity is volatile in this instant; you use the word "forgiveness" with great ease in order to excuse your evil actions and I SEE YOU, KNOWING THAT UNTIL YOU COMMIT YOURSELVES WITH FIRM INTENTION TO CHANGE, THAT WORD "FORGIVENESS" IS ONLY A MEANS OF COVERING UP A CHAIN OF UNACKNOWLEDGED ERRORS.
There is a lack of that inner recognition, that looking inside truthfully in order for you to take responsibility for the acts you commit. It is necessary for everyone to ask: How am I? How do I treat my neighbor? What do I believe in?
My children, those who are Humanity's manipulators are creating every possible scenario so that you do not clearly see what I am telling you. You have to react with your own desire to approach Me, knowing that only I
lead you to Salvation.
Just as man is confused and follows wrong paths without knowing himself, so Nature has come to see how Humanity has been ruthless in treating and ruining it. Human egoism has come to invade the Creation and has devastated it. In this instant, man - aggressive, cruel, hurtful, infamous, bereft of love and dehumanized - is not recognized by Creation. Faced with this non recognition by the Creation, Humanity will increase its suffering. Natural forces are uniting so that man seek Me, recognize Me and return to Me. That is why from Space there is coming that which will make man fear and make him invoke My Name without ceasing.
Pray, My children, pray for Chile, the land moves.
Pray, My children, pray for India, its ground shakes.
Pray, children, pray for My Priests, worldliness is a great temptation.
My Beloved People:
DO NOT CONTINUE IN ERROR, EXAMINE YOURSELVES.
WHEN EVERYONE RECOGNIZES WHAT THEY ARE, CHANGE AND THE RETURN TO ME WILL BEGIN.
My Heart and that of My Mother await you.
Receive My Blessing and remain alert to what does not come from Me.
Your Jesus
HAIL MARY MOST PURE, CONCEIVED WITHOUT SIN