Wednesday, February 1, 2017
Message from the Blessed Virgin Mary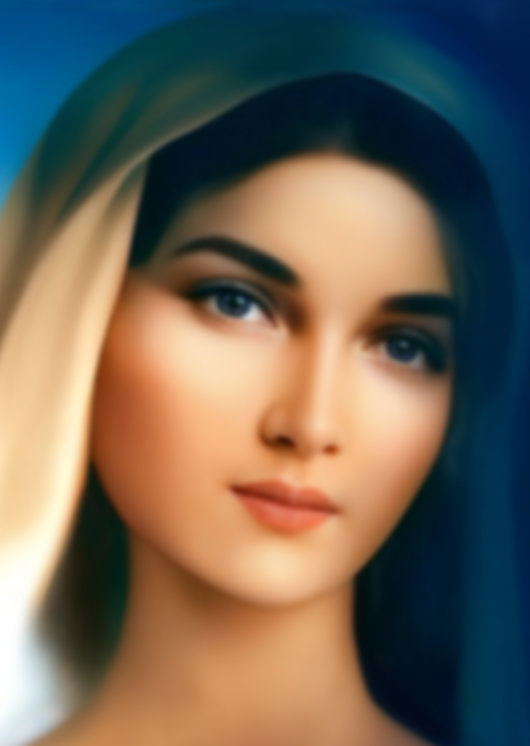 Dear children of My Immaculate Heart:
I BLESS YOU, YOU LIVE WITHIN MY HEART AND I NEED YOU TO BEAT TO THE RHYTHM OF MY HEART.
Humanity has forgotten love, and at this instant man's great obstacle is that he does not know love: love towards himself and love for his neighbor. He does not know love and calls himself a Christian without knowing My Son in depth, working and acting contrary to the Divine Will, working and acting according to his whims, producing words and deeds contrary to the teachings of My Son.
PERHAPS IT IS THE CASE THAT AT THIS INSTANT CHRISTIANS ARE DIFFERENT FROM MY SON? ...
OR IS THAT MY SON HAS GIVEN A DIFFERENT LAW, SOME DIFFERENT COMMANDMENTS, DIFFERENT NORMS FOR THIS GENERATION?
How you deceive yourselves, My children! All are My children, I love you all in equal measure.
How you deceive yourselves by giving yourselves excuses for encouraging incoherent behavior towards the teachings of My Son!
The law of love is not obsolete: it is the same yesterday, today and forever. How many call themselves Christians and say they love me and have formed small sects where they give a different interpretation of Sacred Scripture for their own convenience! They meet, apparently in order to feed themselves and to be different, and they do not fulfill the duties of a true Christian; they do not evangelize but limit themselves to apparent acts of piety, while in essence they do not commune with the rest of the Church of My Son.
You need to gather so that in gathering you would learn humility, for whoever is not humble is proud, and the proud person must bow down until they learn to be humble and obediently to fulfill what My Son demands of whoever wishes to follow him as a true disciple.
The stars illuminate the firmament, and you have been given the Holy Spirit to be the light of the world, but a creature that does not fully live out love towards their neighbor does not fulfill the Divine Mandates, they cannot be the light of the world nor transmitter of My Son's Word.
I see at how little cells have been created that are too far from fulfilling the teachings of My Son, and therefore I am calling them, at this instant, to make amends.
MAN DOES NOT SEE INSIDE HIMSELF; IT IS MORE TOLERABLE FOR HIM
TO LOOK AT OTHERS AND CRITICIZE, BUT YOU KNOW THAT AT THIS INSTANT YOU MOST REMAIN ON CONSTANT SPIRITUAL ALERT.
I, AS MOTHER OF HUMANITY, CALL YOU TO TRULY COMMIT YOURSELVES
AS CHILDREN OF MY SON AND THOSE WHO FULFILL THE DIVINE COMMANDS.
This instant is one of maximum spiritual alert regarding Satan and all the demons that attack souls in search of the slightest wrongful work or action, in order to make them fall into the greatest depths of sin.
Children of My Immaculate Heart:
You cannot call yourselves holy, you cannot say that you have attained holiness or that you have attained salvation. Such arrogance is not worthy of a true Christian. My children strive until the last instant of their existence for holiness, for salvation, for salvation is not a word, salvation is a set of works, acts, continuous efforts, compliments, of making the human ego compliant, of obedience, of charity, hope, love for neighbor, of humility, of faith ... FAITH RISES UP WHEN MY CHILDREN STUDY IN DEPTH THE LIFE OF MY SON AND INTO EVERY REASON THAT HE HAS FOUND TO SHOW HIS LOVE TOWARDS HIS PEOPLE AND TOWARDS HIS CHILDREN.
Each one of you is different but no individual law or treatment has been given, but one is the Law of a whole people, the People of My Son, one is the Word for My Son's People and one is the Mother whom My Son has given to His people.
You still lack awareness, for if awareness were at its maximum, you would strive every instant of your life to put into practice all this Lectio Divina that My Son has been sharing with you for so long now, and about which He has called Me to instruct His People as His faithful disciple. And it is a fact that this Lectio Divina has not been completed because you refuse to look within yourselves and expect from others what you desire for yourselves; you do not respect your brothers, you judge a priori without being God and allow yourselves to sin, like the man who is haughty and merciless.
HOW MUCH FALSEHOOD EACH PERSON BEARS WITHIN THEM!
HOW MUCH HYPOCRISY DWELLS WITHIN THIS HUMANITY BEREFT OF VALUES!
I see the earth bleeding, bleeding deeply. Yes, the earth bleeds, it bleeds all the blood that man has unjustly shed upon it, the blood of the innocent, it bleeds at the torture of the innocents, it bleeds because of implacable man whose only aim is to impose himself through terror. How much error there is in this and how much bitterness you bear towards My Son! For He lives presently in each one of you, in whom he renews his sorrowful Passion.
Beloved children of My Immaculate Heart, it seems that you are safe, it seems that you feel safe because you tread the ground, but HOW MANY OF YOU ARE PUTTING YOUR FEET ON QUICKSAND… EVEN THOUGH YOU HIDE IT?
AT THIS INSTANT YOU MUST MAKE THE GREATEST POSSIBLE EFFORT, YOU SHOULD TAKE HOLD OF ALL THE STRENGTH CONTAINED IN YOUR BODY, IN YOUR SOUL, IN YOUR SPIRIT, PRECISELY IN ORDER FOR THE SOUL TO BE SAVED.
Each person is different but has to come into accord with the love that My Son left to you, since the man who does not love his neighbor cannot love My Son, with whom he is one.
So many struggles are emerging throughout the Earth, so great is the turmoil that exists at this instant, and how many are blaming the devil for this! ... Do not deceive yourselves, you lack growth in love, in faithfulness towards My Son, you lack Faith faced by life's difficulties, you ask so weakly and doubtingly that your petitions dissipate along the way.
Prayer is of the utmost importance, for when My Son's people pray with Faith, forcefully and with assurance, My Son shows His Infinite Mercy. This does not mean that this generation will not be purified, but My Son will indeed respond with His Infinite Mercy to fervent acts of supplication by His People.
Pray beloved children, pray for the United States that at this instant has the whole world watching. Pray, for from this land there will come affliction and pain for Humanity.
Pray beloved children, pray about supposed alliances, pray for signed pacts, signed agreements, for the instant will come when everything that appeared to be unity will collapse and there will emerge the worst disunity that Humanity has ever experienced,
and the consequences for Humanity will be dire.
Pray, beloved children of My Immaculate Heart, pray for your brothers to obey the calls of this Mother and no longer pretend to be lovers and fulfillers of the Divine Law.
The executing angels are near to Humanity. Be strong, firm, be determined. You, children, who struggle at every instant of your lives to remain faithful and to fulfill the Mandates of My Son, strive, find strength in the Food of the Eucharist, reinforce your prayer and be those who totally and absolutely fulfill the love of My Son towards all their fellow men. Examine yourselves, children, examine yourselves; you must make a total change since no human creature can tell themselves that they live in total holiness, for the traits of that "human ego" remain latent in each one of you, you have not reached perfection.
Beloved children of My Immaculate Heart, you already know that the earth will continue to shake, you already know that Nature will strike the whole world. Stay prepared, looking upwards, for man always goes along looking towards the ground and therefore does not detach himself from the mundane. You should look upwards and commit yourselves to going upwards, in order to achieve true spiritual ascent. This is of the utmost necessity for each one of My children at this instant, for whoever fails to detach themselves from what is worldly cannot pretend to be more spiritual; and in order to save your souls, you must be spiritual creatures and more mystical.
IN EVERY WORK, IN EVERY SITUATION THAT PRESENTS ITSELF TO YOU, YOU SHOULD DELIVER A SPIRITUAL RESPONSE AND NOT A PURELY HUMAN RESPONSE.
Ascend, children, go beyond what is worldly in order to be worthy of the fortitude necessary for you to face persecution, humiliation, martyrdom; for it is not only when a human being is martyred by man-made objects, that a human being may be called a martyr. How many of you are martyred daily by your own brothers, by the perversity and lack of love of your fellow men, in your own homes! How many of you are martyred through the most powerful weapon that man has to martyr and kill, to suffocate, to lash: the tongue!
Only those who manage to see themselves, in their own mirror, are those who truly succeed in being detached from themselves and opening up to the true knowledge contained in the Divine Word.
Come to Me, come that I may guide you: I am not more than My Son, I am the Mother of My Son, I am the Mother of each one of you, even if you do not consider me Mother. Come to Me as I lead you and intercede for you. Come to Me, children, resume the path and be intent upon true conversion.
LOVE ONE ANOTHER AS TRUE BROTHERS AND SISTERS, DO NOT MAINTAIN HYPOCRITICAL
RELATIONSHIPS, BE AS TRANSPARENT AS CRYSTALLINE WATER, AND I BESEECH YOU THAT MILK AND HONEY MIGHT FLOW FOR THE NEEDY FROM EACH ONE OF YOU.
Keep your lamp lit and do not allow it to become contaminated.
I bless you, My children, I love you, draw near to Me, for I will not refuse to stretch out my hand to anyone who asks me to lead them to My Son.
Mother Mary.
HAIL MARY MOST PURE, CONCEIVED WITHOUT SIN.