Saturday, February 4, 2017
Message from Our Lord Jesus Christ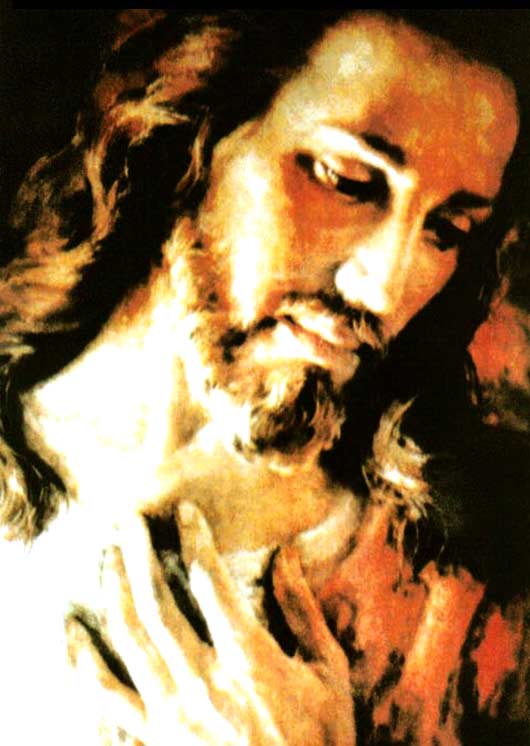 My Beloved People:
I LOVE YOU WITH ETERNAL LOVE ...
My People, whom I love, are those whom I will defend at all instants. My beloved People are the most humble, the most aware, the most hopeful, and those who transform every instant into one of loving surrender for the Salvation of souls.
Be merciful as I have taught you.
Be the life of My Word, do not read My Word in order to recite certain verses at your convenience.
Nourish yourselves with My Word so that you may love it, and in loving it, Truth draws you near to and unites you with Me.
MY CHILDREN, BE OBJECTIVE AND WISE: I ENLIGHTEN YOU IF YOU ARE FAITHFUL AND TRUE.
Therefore, a human being that does not repent of his or her errors and his or her sins does not find My Light and continues walking in darkness. The whole of Humanity needs to be enlightened in its reason, and at this instant, reason is unable to filter out the malevolence that comes to it, generated by man himself and what surrounds him. This is why it is difficult for the soul to guide the body, which has a weak will.
My beloved People, you are so easily inclined towards wrongful work and action that you confuse free will with licentiousness, and when you enter into licentiousness, you adhere so much to it that licentiousness then becomes obsession, and obsession leads you to contempt for all that you are and have, and because of the contempt for all this, the devil invades man, causing him to be his slave, until the slave cannot live without the master. AND ... SO IT IS THAT THE DEVIL REJOICES WHEN MAN LIVES ACCORDING TO THE FLESH AND NOT ACCORDING TO THE SPIRIT.
My children cannot live by My Spirit if they do not know Me, if they reject Me because they desire licentiousness, if they live life in vices of all kinds, if they have given free rein to the human ego that exalts creatures without their noticing, UNTIL THE SAME "EGO" LEADS THEM TO THEIR OWN DESTRUCTION THROUGH PRIDE, seeing their brothers and sisters as ignorant creatures.
Beloved, a great evil has trapped man through pride, and that evil is the irony that man bears within his character; and at this instant, man's character has coarsened his thought, his mind, his "ego", his brain, and has encrusted his heart so that Humanity is ignorant of pain and compassion. The human ego displaces man - My son – in order to create the man of the world, an aggressor, murderer, insensitive, a follower of the minions of evil ...
My beloved People, the struggle between good and evil will not cease until you unite in Me. You live in constant misery because of disobedience, misery that has penetrated the nucleus of science, the heart of unity in Humanity, that has weakened order, masked morality and seen to it that man lives by false human compliments, which are nothing but the acceptance of falsehood and the privation of the goods of Our House.
YOU PROMPTLY FORGET, CHILDREN - IT IS NOT PLEASANT FOR YOU TO RETAIN WHAT I REQUIRE
FROM YOU - , IN ORDER TO BE ABLE TO ACT ACCORDING TO YOUR WHIMS. You do not think of the
Salvation of the soul and you keep it repressed so that it does not cause you to perceive even a single feeling in the absence of good deeds. YOU ARE NOT CONCERNED ABOUT YOUR SOUL ... and this is because you are not taught about the transcendence of the soul in the human being. You prioritize momentary sensations and rebel against Love; you keep in mind what is nauseating for the soul so that it does not receive the slightest word from Me.
HUMANITY IS FOCUSED ON CREATURELY INTELLIGENCE, CONSTANTLY INSISTING ON INTELLECTUAL ADVANCEMENT, LEAVING ASIDE THE PRINCIPLE OF RESPECT, FAITHFULNESS AND GRATITUDE TOWARDS ME.
I see so many of you with your memory so ragged, clogged with attachments, pretension, foolishness, coldness, unconsciousness, disrespect, lack of charity, lack of awareness and ignorance, living in continuous agony ...
REMEMBER MY WORDS IN ORDER TO PUT THEM INTO PRACTICE. Fools are they who, knowing, do not see, knowing, do not listen, knowing, do not walk, knowing, are capricious, who knowing Me and knowing My Justice, forget it, saying to themselves: "Divine Justice will not reach me"... How wrong they are!
My beloved People:
I COME WITH MY SEVERE WORD TO ADMONISH THOSE WHO KNOW THAT THEY ARE CALLED AND DISOBEY, OR THINK THEY ARE INDISPENSABLE.
Think, look around you: how many Signs, how much Warning, how much conflict in man, how much folly within you who do not change! DO NOT FORGET THAT IT IS THE HUMBLE WHOM I LOVE THE MOST. Be the first to reach your brothers and sisters with My Love, be the first to ask forgiveness from your brothers and sisters when you must do so, be the first to witness through good work and action.
YOU MUST CLEANSE YOUR MEMORY OF EVERYTHING THAT CAUSES YOU TO TAKE BACKWARD STEPS AND THAT DISTANCES YOU FROM ME. Use your intelligence to keep your memory enlightened and not muddied by the past, but remain in a constant present, being attentive to renewing your reflection.
Children:
REFLECT! DO NOT ACT WITHOUT THINKING, AS THERE ARE TOO MANY CREATURES WHO ACT WITHOUT THINKING.
I call you to reflect on how you work and act. I do not call you to look at your brother or sister to excuse your own acts or works, but I call each person in a concrete and personal way, since work and action in My sight is a wholly individual responsibility. External influences are what you have to master, not vice versa.
I AM INSTRUCTING YOU SO THAT YOU BE TRUE WITNESSES TO MY WILL. Do not live shielding yourselves behind your brother or sister in order to justify your bad deeds. When you act well you do not say to Me: "Lord I acted well thanks to my brother," but with great ease you attribute to yourselves what is good in your works or actions. So you should do when you are not capable of controlling yourselves, of resisting evil inclinations.
YOU NEED TO ASCEND, TO BE STRONG IN ORDER TO KNOW ME AND LOVE ME.
What is worldly sometimes ensnares those who consider themselves learned, it ensnares them through actions that go unnoticed by man, it ensnares them by means of pride, and when pride enters the human being, the latter is inflated by false knowledge and a demand for respect that exalts the "ego" above everything and everyone.
Be strong, resist the insinuations of evil, which gallops from one end of the Earth to the other, bringing down those who are distracted and who do not mature.
MY BELOVED PEOPLE, YOU NEED TO LIVE IN INNER PEACE IN ORDER FOR YOUR GOOD INTENTIONS TO SUCCEED, IN ORDER TO MAKE AMENDS.
You need inner Peace in order to be united to Me. You need Inner Peace so that you recognize Me and remain faithful facing the trials that you have imposed on yourselves because of great disobedience and rebellion against Me. The unfaithfulness of My People is the cause of so much suffering for Humanity.
HOW MANY DENY ME OUT OF FEAR OF RETALIATION!
HOW MANY WILL BETRAY THEIR BROTHERS AND SISTERS, PARENTS, THOSE OF THEIR OWN HOUSE, IN ORDER THAT THE CHILDREN OF DARKNESS DO NOT PURSUE THEM!
Pray, My children, pray for Rome, it will be struck by fire, Italy will be strongly shaken.
Pray, My children, pray, My Church is shaking
Pray, My children, pray for Japan, again it will scourge Humanity.
Pray, My children, pray, the volcanoes are becoming active with great force.
LOOK UP, LOOK UP!
I bless you at every instant, I bless you so that you might resume the path. My Mother does not neglect any of Her children. My Mother seeks you out in order to draw you to Me.
Children, I will not deny My Mercy to the one who asks forgiveness for his or her sins, who truly wishes to make amends.
THIS IS THE INSTANT IN WHICH YOU NEED TO RECEIVE MY LOVE AND MY MERCY IN ORDER TO BE STRENGTHENED SPIRITUALLY.
I love you, I treasure you, I bless you.
Your Jesus.
HAIL MARY MOST PURE, CONCEIVED WITHOUT SIN.