Wednesday, February 8, 2017
Message from Our Lord Jesus Christ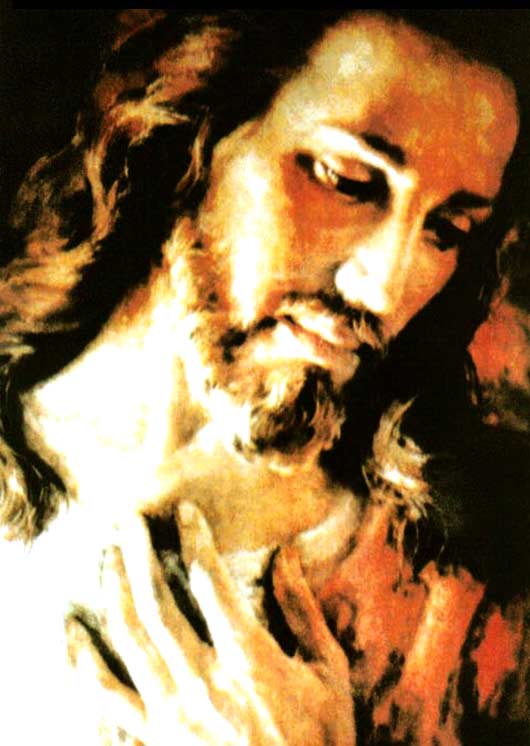 My Beloved People:
MY BLESSING IS NOT CONDITIONAL, MY CHILDREN RECEIVE IT AT EVERY INSTANT.
My Love is for all; it depends on each person whether they receive it or not. The sinner who manages to repent, who manages to open themselves and feel My Blessing and therefore My Love, attains the greatest thing that man ought to desire: SAVING THE SOUL.
At this instant you are working in My Vineyard and you will not only experience the fruits in My House, but on Earth you already receive blessings in being those who repeat My Work and Action, succeeding in obtaining the assistance of My House. My Mother is unceasing in Her kindness; she covers you, gives you strength and distances you from temptation.
My Beloved People, AT THIS INSTANT EVIL HAS ALREADY DEPLOYED ITS FORCE AGAINST EACH ONE
OF YOU, MY PEOPLE. The development of this force is constantly active; it does not stop, it links all elements of society: science, health, weapons, morals and food. Everything is linked and constantly advances in order to bring evil upon you and so that you might retreat in every respect, especially My children, facing those who attack you, not only in your daily living, but in your personality and in your spirituality. The gaze of evil is upon the human being as a species in order to make you disappear.
The goal of evil is not to stop, but to remain in constant action, reproducing itself in order to harm Humanity in everything. Therefore, My children, before every innovation you need to ask yourselves: what is the objective that has motivated the web of evil to create this for us?
MY PEOPLE DO INDEED PAUSE BEFORE EACH PETITION OR ANNOUNCEMENT OF MINE AND DO
NOT ADVANCE, THEY DO NOT REACT. The instant that you waste, evil does not waste, but uses it to divert you from what I am informing you, from what I am warning you about and explaining to you, so that you feel each Word of Our House difficult to treasure in your hearts.
KNOW, CHILDREN, THAT MENTAL LAZINESS HAS TAKEN HOLD OF YOU: nothing is difficult if you
maintain the desire for inner cultivation. That is why evil acts accelerated and good appears to be in a state of lethargy. You sleep, rest, you let yourselves be carried away by laziness and are not in action, in motion, you take no initiatives ...
Wake up! I have called you to wake up, to come out of your lethargy, but evil continues to accelerate, without stopping, but you, yes, you do stop before everything.
Children, evil is active, acting from person to person, it takes each one of you and confronts you in a personal battle; it knows what is the weakness of every human creature and attacks it unceasingly in order to make it fall.
THIS SHOULD NOT BE AN OBSTACLE ON THE SPIRITUAL PATH: YOU SHOULD RECOGNIZE EVIL AND NOT GIVE IT THE OPPORTUNITY TO TAKE YOU ONTO THE BATTLEFIELD. My children are less than
infants, you react with such childishness at the slightest thing that I am ashamed of the reactions of some of you who are not maturing and who allow evil to drag them off wherever it wishes.
YOU CONTINUE WITH SUCH OBSTINACY AND EGOCENTRISM THAT, KNOWING THAT YOU NEED TO ASCEND, SINCE YOU ARE ALREADY IN THE PERIOD OF PREPARATION FOR THE WARNING, YOU DENY YOUR PERSONAL FAULT AND ATTRIBUTE IT TO OTHERS.
Children, before Me you will not be able to hide your personal responsibility for each work and act.
THIS IS A HUMAN TRAGEDY, A TRAGEDY BECAUSE YOU DO NOT PRACTICE WHAT YOU HEAR, NOR DO YOU BELIEVE THAT WHAT YOU ARE HEARING OR READING IS FOR YOU.
My Patience is infinite, time for you is NOT! How often have I told you that each person is responsible for their actions! which is why I have called you to grow spiritually and to mature in your personality, action and work.
Children, you do not understand that when you are hardening your hearts, you are losing the ability to be benevolent, to be charitable, to be a blessing, and what is greatest: LOVING AND BEING LOVE. THAT IS WHEN YOU WILL NO LONGER FIND HEALING.
You call yourselves Christians and read Our Word, but you remain indifferent ... You say to yourselves: "what I am reading is not for me" ... YOU THINK THIS AND YOU TAKE NO ACTION TOWARDS YOURSELVES, YOU DO NOT REPROVE YOURSELVES, THEREFORE I WILL DO SO MYSELF...
I WILL REPROVE DIRECTLY WHOEVER KNOWS ME AND DOES NOT CHANGE ...
I MENTIONED THAT HARDNESS OF HEART IS REACHES A POINT WHERE IT IS INCURABLE. "AND
WHY IS THAT? HOW CAN CHRIST SAY THAT?"
BECAUSE YOU KNOW ME, AND FROM THE ONE WHO KNOWS ME MORE, I ASK FOR MORE, NOT SO
FROM THE ONE WHO HAS HARDENED HIS HEART AND DOES NOT KNOW ME; THE ONE WHO DOES
NOT KNOW ME AND HEARS MY REPROACH AND ASKS TO BE HEALED HAS A GREATER OPPORTUNITY BEFORE ME THAN THE ONE WHO HEARS ME CONTINUALLY AND REJECTS ME.
I see men who have taken the sad decision to resist this explanation of Our House and have decided not to be moved, however strongly I may speak to them. These creatures are like stumbling blocks; I allow them to continue in their free will until they see clearly for themselves what they had seen as darkness.
Stumbling blocks exist, My children: may none of you come to be a stumbling block, because I will act within My Justice.
The one who refuses to listen to Me and to recognize Me is immunizing themselves against My Word and My Love.
DO NOT BE SURPRISED AT MY SEVERITY; IN IT IS IMPLICIT MY GREAT AND ETERNAL LOVE FOR EACH ONE OF MY PEOPLE.
THIS INSTANT IS EXTREMELY DELICATE, CHILDREN: REPENT! NOT YOUR BROTHERS AND SISTERS BUT YOU ... YES, YOU WHO ARE READING MY WORD: REPENT! IT IS URGENT.
You have to take responsibility for every action; it is easy to blame your brothers and sisters for your personal falls. If one of you falls, it is not because of someone else, but because the one who falls is weak and falls through their own weakness.
You do not see how difficulties are growing throughout the Earth. For one reason or another, turmoil is increasing; it does not stop nor will it stop - anger has penetrated the psyche of man and the latter reacts prematurely. This is not an instant for improper reactions, at this instant My children need to have matured in order to resist evil.
Pray, prayer is powerful, do not neglect the Holy Rosary, receive me properly, do not forget that the Divine Law is in the Eternal Present, the Commandments are not subject to reforms. My People must know Me so that they may live in Me.
Pray, My children, pray for My Church, turmoil grows together with division. My Church will continue to shake, MY PEOPLE MUST STAY UNITED IN MY LOVE.
Pray, My children, pray, the great Nation of the north will be seized by terror, the hand of iron will be stopped after the suffering of My children.
Pray, My children, pray, man is discouraged by the unforeseen fall of the god of money.
Pray, My children, pray in the face of the threat; the action begins Humanity's suffering.
Pray for Chile and Italy, they will be shaken. Where it has not trembled, the earth will shake.
My Beloved People, I manifest Myself in the human creature, when the creature delights in Me, when it quietens itself in order not to walk on its own, quietening itself without banalities running through its mind.
Be wise, children, fulfill what I ask of you, observe and fulfill Our Divine Law: The Commandments. Do not forget that reason leads to intelligence so that you might fulfill Our Mandates and thus, together with their fulfillment, you will obtain the Wisdom necessary for you to fulfill them, since it is when you are separated from Wisdom that you fall into errors and, therefore, into what is wrong.
My People must be faithful and true.
My People wait in Holy Patience, but being active.
I WILL SEND MY ANGEL OF PEACE, I WILL NOT LEAVE YOU ON YOUR OWN IN THE MIDST OF THE
PACKS OF WOLVES IN SHEEP'S CLOTHING, FOLLOWERS OF THE ANTICHRIST. With My Angel of
Peace I will reinforce what Our Will has indicated about the family, He will stay within a family.
My Heart is continually lacerated at the millions of abortions that are allowed. These permissions are not only the degeneration of man as a human being, but prevent man from evolving in his spirit.
My children must not only pray in front of the altar in the Temple; each person is a Temple of the Holy Spirit, and as such they must stay in PEACE. He who does not act this way is gravely lacking in My sight.
Children, in My House I welcome you all. The condition: being those who fulfill Our Divine Will. You are not children who are abandoned, you are children who have been warned.
Just as I love you, you must desire and need the explanation of this Divine Word. Do not be shaken, obey. Do not wander, walk in the righteousness of working and acting as My true children.
I CALL YOU: TURN TO ME.
I LOVE YOU: LOVE AS I DO.
I POINT OUT THE WAY TO YOU LITTLE BY LITTLE: DECIDE YOURSELVES TO FOLLOW ME.
I bless you, come to Me.
Your Jesus.
HAIL MARY MOST PURE, CONCEIVED WITHOUT SIN