Tuesday, February 21, 2017
Message from the Blessed Virgin Mary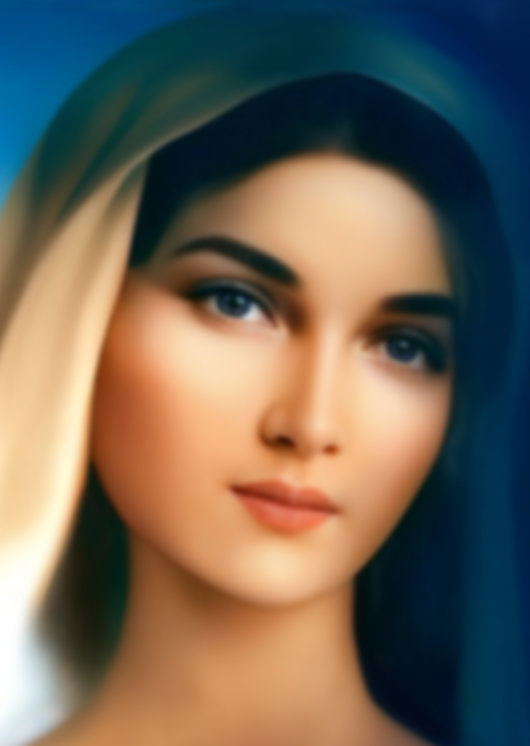 Beloved children of My Immaculate Heart:
MY BLESSING REMAINS WITH YOU ...
The Father's House wants every human creature to be aware of what they truly are ...
You do not know what you truly are, giving priority to any number of descriptions of what man is ...
MAN'S REALITY IS THAT OF BEING A CHILD OF GOD, AND IN BEING A CHILD OF GOD, EACH PERSON NEEDS TO TRANSCEND AND IN THIS WAY TO BE MORE SPIRITUAL.
Children, no human being can believe that they are saved until the last instant of their life when, before My Son, consciousness transcends and, ceasing to be that "I", becomes a child that is ready to be examined in every sense, regarding that which God assigned them and that which the creature has assigned itself.
You belong to My Son's People: so many are those who call themselves children who have grown in the Faith! and yet on many occasions their spiritual immaturity is evident, when they decide to fill life with all that is worldly and that makes them subject to what is base. I see you acting so fast, without stopping, and without direction or discrimination, you act as if it were natural to act consciously or unconsciously. You allow yourselves to do this by not being aware of the duty that you have as the children of God. You do not want to stop and become aware of each person's duty, of your own Salvation and of testifying in order to help your brothers and sisters with their Salvation.
Beloved children, Humanity lets itself be led by the majority, by what is popular, by innovations, whatever they may be, even if they lead you to act from the basest of instincts. This happens because the human creature follows the rhythm imposed by society, which does not exactly believe in God, but society has been seized and immersed in a plot prepared so that it does not have even an instant of spiritual relationship with My Son.
I see so many who boast that they are wise and forget that knowledge does not guarantee that they are bearers of the only Truth! Every human creature has sinned, therefore being an old man who has to transform himself into a new man, being reborn and being a true child of God.
YOU HAVE MEMORY AND SHOULD CLEANSE IT. This is difficult when man's attention is not focused on Divine Affairs, but is distracted by what is immediately at hand, with what comes to him from his memory and causes him to be separated from what is right. The Divine purpose is also retained in memory, but it will not exceed the other recollections present in memory if man does not learn to retain that which is for his good and discard what does not help him in his growth.
HAVE YOU ASKED YOURSELF: WHAT IS ETERNITY? It is something so different from time and you transgress it so easily and by not evolving in the spirit, you limit what you call time and space. In setting instant goals, you do not aspire to Eternity, you are not true and the lack of Truth limits you.
Children, do not compete in being spiritually grown-up, focus on common work and action, focus on putting aside the impulse that causes you to see yourselves as children and to utter inappropriate words against your brother. Your personal shadow is the words with which you define your brothers. If you had no personal shadow, you would not look so quickly at what you believe to be the faults of your brothers.
Beloved children of My Immaculate Heart, in this Word with which I guide you, I call on you not to forget that My Son waits for His children's call; He does not break in where human freedom keeps him constantly waiting.
Do not listen to those who say that Divine Justice neither exists nor is applicable to man because of My Son's Mercy. Those who say this have not been reborn; they are not new men, they do not recognize My Son's Merciful Justice, being the Just Judge.
THE EARTH WILL NOT BE PURIFIED BY A NEW FLOOD, BUT IT WILL BY FIRE.
Humanity is so far from the Word of My Son that it comes to disown its peers, and without values it kills, inundated by the spirit of evil, and thus the world is gradually falling.
CHILDREN, HOW MANY OF YOU FEAR GOD? Many of My children will be lost because of the great arrogance that they will not set aside and because the greed that causes them to treasure everything; they prosper at this instant but later they will be tormented.
You look with contempt and disbelief at the current Signs, until crops are lost and the famine forces men to cross the Oceans in search of food.
Water comes with the storm, rising up and entering the land. Then you will say: 'How is it that I did not listen! ... But your negated conscience will be unable to answer them.
Great Tribulation awaits My children, and as Mother I will not silence My Heart's desire so that you heed the Word explained by the Father's House and attain Eternal Salvation.
Pray with your heart, receive My Son, feed on the Body and Blood of My Son properly prepared.
MY SON'S PEOPLE SHOULD REMAIN ON THEIR GUARD, RECEIVING IN THE EUCHARISTIC FOOD THAT WHICH IS NECESSARY IN ORDER TO REMAIN STANDING.
Woe to those who receive My Son improperly, without repentance! They choose their own eternal condemnation.
Woe to those who commit sacrileges!
Woe to those who mock the Divine! They will know the pains of hell.
Children of My Immaculate Heart, may the instant of self-examination not find you not having repented of all the wrongdoing with which you have offended the Divinity. You see one word in My Calls and because of it you make a great scandal, you look for contrary meanings to bring down My Word, in order to relieve yourselves inwardly and not to continue listening to the truth of the misery that you bear within yourselves.
THE FATHER'S HOUSE WILL NOT BE SILENT, BUT WILL CONTINUE BRINGING HIS WORD
UNTIRINGLY, AND THROUGH HIS ANGEL OF PEACE, HIS ENVOY, AS THE GREAT ACT OF MERCY
FOR HIS CHILDREN, HE WILL MAKE KNOWN ON THE FACE OF THE EARTH NOT ONLY THE INFINITE
LOVE THAT YOU, CHILDREN, HAVE NOT ACCEPTED, BUT ALSO THAT DIVINE JUSTICE WHICH IS
GENUINE, TRUE AND UNEQUIVOCAL. THIS CREATURE WHO IS THE MESSENGER OF THE TRUE
DIVINE WORD WILL CONQUER HEARTS, BUT AT THE SAME TIME OTHERS WILL BECOME HARDER THAN A ROCK. HE WILL ARRIVE IN THE TRIBULATION AND HOW MANY OF MY CHILDREN WILL BE CONFUSED!
Through previous Revelations I have prepared Mankind to love this Envoy of God Who will accompany you who remain faithful. He will accompany you in the instants of ferocious attacks by evil against all Humanity. (1)
THIS MESSENGER OF PEACE DOES NOT COME IN ORDER TO REPLACE MY SON, BUT SO THAT
EACH ONE OF YOU AKNOLEDGE MY SON'S KINGSHIP AND ENTHRONE HIM IN YOUR HEARTS IN A PERSONAL WAY, SO THAT EVIL DOES NOT TOUCH YOU.
Pray, My children, pray for France, it suffers. Opulence and lights will be a thing of the past. Terror overwhelms it. From one point to another it will be shaken by terror, the earth shakes.
Pray My children, pray for England, royalty suffers and the attacks will not be long in coming; Nature rises up before this land and enemies surprise it.
Pray My children, pray for Russia: faced by an unforeseen provocation, it responds harshly. In apparent calm, terror will awaken.
Pray children, pray for Canada, it is shaken by Nature that scourges it.
Beloved children of My Immaculate Heart:
DO NOT DISOBEY MY WORDS, DO NOT DISMISS MY CALL. THIS GENERATION WILL KNOW THE JUST DIVINE HAND.
He who wants to save his soul, should follow My Son ...
He who desires to save his soul, should wash himself of sin ...
He who desires to save his soul, should enter into the knowledge of the practice of the Divine Commands...
My Mantle is not merely a fabric, as those who do not believe in My Motherhood, see it ...
My Mantle is the prolongation of Divine Love giving itself to its children, not only in order to cover them, but it is the unity of all the elements in the great element of Spiritual Love ...
My Mantle is more than protection, it is Wisdom and Obedience so that whoever is under My Protection knows and recognizes what comes from My Son.
I bless you, in Peace I give you My Love.
Mother Mary.
HAIL MARY MOST PURE, CONCEIVED WITHOUT SIN
(1) A Man of Providence: Our Lord Jesus Christ and the Blessed Virgin have been announcing in Their Apparitions throughout the world, from the Middle Ages to our days, the arrival of a chosen one of God, referring to this chosen one for the end of the times as: The Angel of Peace, the Envoy of God, the Restorer, the Great Monarch, among others ... This generation will see accomplished all the prophecies concerning this Chosen One.