Sunday, February 26, 2017
Message from Our Lord Jesus Christ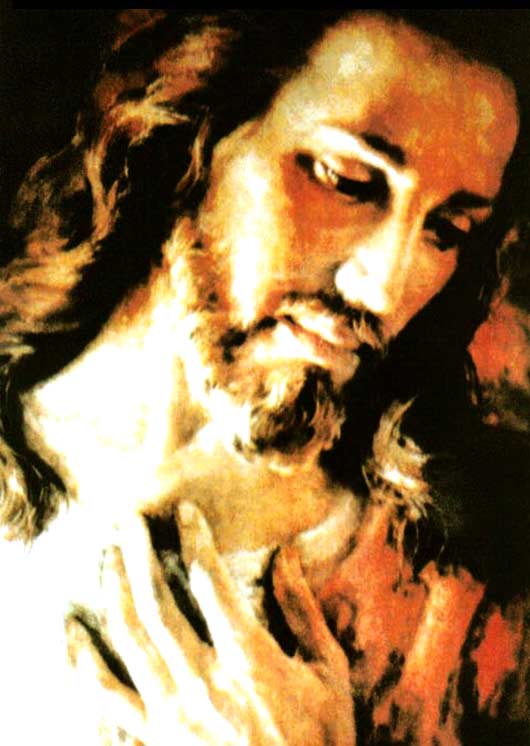 My Beloved People:
WITH MY MERCY I SEND YOU MY LOVE ... Every human creature has been the reason for My Self-giving.
I do not want anyone to be lost due to the great ignorance in which My People are living, ignorance of themselves and of what they possess in their inward being. THE INSTANT REQUIRE YOU TO KNOW AND POSSESS THE CONSCIENCE SO THAT YOU DO NOT THINK THAT YOU ARE FLESH AND NOTHING MORE, AS BESIDES FLESH, YOU ARE SPIRIT, THROUGH WHICH I AM CONSTANTLY CALLING YOU TO SAVE YOUR SOULS.
The little spiritual education of My People focuses My children on their physical body, giving themselves over to hours of training in order to possess a better figure. In causing the body to be deified by Humanity – and how much worship you give it! – you have forgotten that you have soul and spirit and without them the flesh is just flesh.
YOU, CHILDREN, BELIEVE THAT THE SOUL IS JUST AN IMMATERIAL PART OF MAN AND THE SOUL
IS MORE THAN THIS. Without the soul there is no life, although that nature of man's concupiscence is lodged in the soul, therefore I have invited you to save your soul, so that it receives the prize of Eternal Life and not suffer the pains of the eternal fire.
My People:
THE SPIRIT REMAINS UNITED WITH ME, IT INFORMS MY HOLY SPIRIT OF MAN'S WALK IN MY WILL.
THE SOUL IS LINKED TO MAN AND TO HIS WALK IN THE WORLD: BECAUSE OF THIS I AM ASKING YOU SO OFTEN TO REMAIN ON SPIRITUAL ALERT.
My Beloved People, how much blood has been shed! I grieve over it; you conceive of Me differently, each according to your human desire, and I do not conceive it. How you resort to violence, arms, brutality among brothers! Although you claim to have made great advances, you have not managed to tame yourselves.
You are suffering the prelude of what is coming ...
THIS YOU MUST ACCEPT, AS THE FACT IS CLEARLY SET BEFORE YOU THAT THE SIGNS ARE NOT LONG IN COMING. PAINFUL INSTANTS WILL COME: ACCEPT IT, ACCEPT IT ... YOU WHO SAY THAT YOU BELIEVE, ACCEPT IT SO THAT YOU WAKE UP.
Each person has to make a proposal to amend their life and within this amendment there is your character... It conquers you so easily! You are unable to put aside the human ego and to think about your brother. You spin around within yourselves in an egocentrism that is so great that it leads you to maintain great personal interests.
I NEED SOULS UNITED TO ME, NOT WITH HUMAN INTERESTS WITHIN MY WORKS, SINCE THIS LEADS TO THE DESTRUCTION OF WHAT IS MINE.
Evil divides and wrongly counsels My children; no one is greater than Me. In these instants in which the confusion is beginning, some want to enter Me through the big door without going through the narrow space of polishing themselves voluntarily. No one who claims to know me can be truthful unless they obey Me, if they do not stay close to Me and live a life close to My Precepts.
My Beloved People, keep away from violence; it grows excessively, war is being experienced in various forms all over the Earth until you are unable to contain it, and this you must all believe, even the most categorical of you. All will suffer because of war - some more, some less.
MY PEOPLE, SO MUCH IS BEING KEPT HIDDEN FROM YOU! ALREADY THE ROPE THAT KEEPS THINGS HIDDEN CAN NO LONGER HOLD, AND WITH A GREAT CRASH YOU WILL RECEIVE TRUTHS
THAT YOU HAD DISCARDED, and this is just the instant for you to see them as Truth.
My Church is submerged in chaos, My Word cannot be changed or be made conditional. My Word is one and one the Sacred Scripture.
MY PEOPLE, YOU PAY NO ATTENTION TO MY ANNOUNCEMENTS REGARDING THE ANGEL OF PEACE WHOM I WILL SEND TO THE EARTH FOR THE GOOD OF MY FAITHFUL. He is impregnated with my Love and My children are incapable of being love. How will you look Him in the eye, if My Love is in Him?
Children, be unity, seek unity, persevere in everything you undertake: in society, in your homes, jobs, wherever you are, you need to be unity. Without unity there is no Truth, only a veneer of false truth.
How many of My Priests and some who are learned in My Word deny this Word of Mine so that My children will be lost! Usurping My Word is constant and pacts against the explanation of My Word abound.
The wise man is the pious man, not he who makes great speeches and whose heart is empty...
He who becomes sectarian or who claims to be like Me is not wise...
He who is empty inside or who contradicts himself is not wise...
He who walks against the Law of Love or transgresses Our Divine Law is not wise...
"MAN WILL NOT LIVE FOREVER OFFENDING OUR DIVINE LOVE" ...
You very quickly forget that you are constantly falling into what you need to leave behind. NOT A SINGLE WORD OF YOURS IS UNHEARD BY ME, NOT ONE. Therefore, you offend Me and believe that you are not being heard, you reject Me and believe that you are not heard or seen. You have forgotten that in Heaven there is the BOOK THAT ONLY MY FATHER CAN READ ... THE GREAT BOOK OF TRUTH, IN WHICH ARE TO BE FOUND THE TRUTHS SPOKEN TO HUMANITY – ALREADY! - AND WHICH MAN HAS DISTORTED OR DOES NOT KNOW.
My people, you are so far from the House of My Father and there is so much you do not know! You raise your voices against My Father, Owner of all Creation. Heretics, blasphemers! - who raise their voices against My Father or distort His loving Work and Action towards His People.
When the Seals are removed from the Book of Truth, many will fall with their faces to the ground, and they will rise no more. Many men deny My Word at this instant and everything that happens takes them unawares, but they are not surprised, since they find an explanation for everything. But the instant is coming when they will not be able to explain the events and these creatures will know that the instant of instants has come, and they will want to hide their faces, without being able to do so.
Pray, My children, pray for Italy, it continues being purified.
Pray, My children, pray for Spain, it will suffer promptly.
Pray, My children, pray for America, it will suffer unexpectedly.
My Beloved People, be tireless executors of the good, be My witnesses, be those who fulfill Our Will; recognize those who deny My Word.
YOU CONTINUE TO LIVE ACCORDING TO WHAT IS IMMEDIATE, FORGETTING THAT YOU MUST BE BETTER CHILDREN OF GOD AND BETTER PEOPLE IN ORDER TO BE WORTHY OF ETERNAL LIFE. As soon as man understands that he must be better, Humanity will be more spiritual.
Man reflects what he carries inside him ... THIS INSTANT IS THE PRECISE INSTANT FOR YOU TO ACCEPT MY MERCY, AND TO RE-ENCOUNTER YOUR LORD AND YOUR GOD.
Watch: do not sleep, do not live in darkness, be light for your brothers, be true.
PEOPLE OF MINE, I BLESS YOU SO THAT YOU DO NOT SLEEP, BUT ON THE CONTRARY: OPEN YOUR HEARTS OF STONE IN ORDER THAT YOU OVERCOME THE OBSTACLES THAT PREVENT YOU FROM ASCENDING AND BEING MORE SPIRITUAL.
My Heart is calling you; come to Me.
Your Jesus.
HAIL MARY MOST PURE, CONCEIVED WITHOUT SIN