Wednesday, March 1, 2017
Message from the Blessed Virgin Mary
Ash Wednesday – Holy Lent.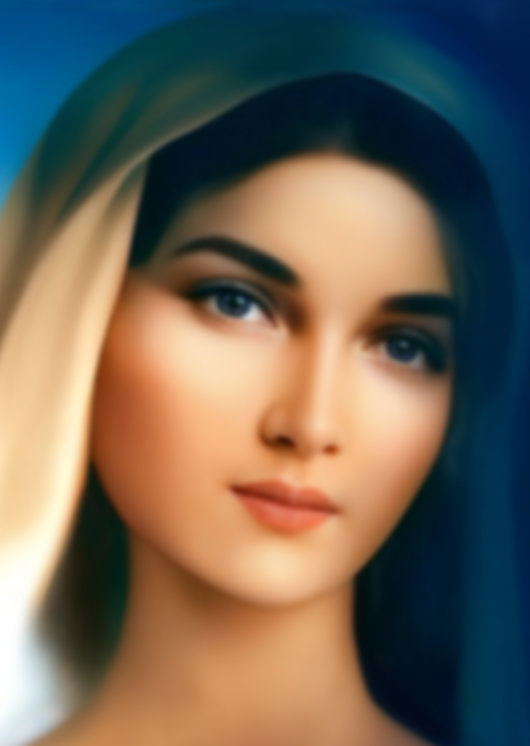 Beloved children of My Immaculate Heart, I bless you.
At this most special instant in which My Son's People enter into the commemoration of the Passion, Death and Resurrection of the Savior of Humanity, BEGINNING LENT ON THIS DAY, I CALL YOU PARTICULARLY TO ABSTINENCE, FASTING AND PRAYER.
This generation, more than any other, is in need of an INNER CHANGE containing sincerity, good intentions, willingness, truth, sacrifice, charity, forgiveness, love and peace, so that you again encounter with My Son and know Him, and in knowing Him, love Him. At this instant there are so many who do not know My Son, and an equal number who walk away from Him, since they cannot love Him who they do not know.
I find so much hypocrisy in prayers loaded with empty words without feeling or sincerity, in those who claim to be close to My Son, and in some of My Priests who do not enter into the Spiritual Mystery that is commemorated from this day on, who do not preach a return to the Gospel.
This instant of penance is not lived out with its true meaning, nor with the true repentance or conversion necessary for you to return to My Son. I beseech My Priests to touch deeply in My Son's People so that they do not to take this instant lightly, as is it the Eternal Present: God, Alpha and Omega of man's existence.
BELOVED CHILDREN, YOU REQUIRE A GENUINE CHANGE IN ORDER FOR YOU TO ENCOUNTER WITH MY SON AGAIN AND TO BE AWARE OF WHAT IS HAPPENING ON THE EARTH.
The streets tainted with the blood of the innocent should not be indifferent to you, those persecuted for the truth should not be dismissed by you. The hidden and unknown martyrs form part of the path on which each of you has the opportunity at all instants to recover the Truth through Divine Mercy.
Divine Love is the sustenance of those who seek it, and they are not finding it because of the laziness of those of My Priests who abandon My Son's People to their fate, knowing that satan's servants are waiting for their prey in order to trap it and chain it to false doctrines that are rising up forcefully in order to distort the Divine Commands ... They are wolves in sheep's clothing.
Beloved children of My Immaculate Heart, I look at how the great edifice of My Son's Church is taken hold of in order to sow darkness within it, and that darkness grows more and more at every instant upon My children. How many false and uninterested servants of My Son do not preach the Truth, but persist with a deceptive sense of the Salvation of souls!
THE LAW IS ONE, THE DECALOGUE IS NOT SUBJECT TO INTERPRETATIONS, IT WAS DELIVERED BY GOD THE FATHER TO MOSES IN ORDER TO BE FULFILLED FOR EVER AND EVER.
I have warned you: My Son's Church will fall into confusion, which will increase without stopping, and priests will rise up against priests. Those who treasure the Word of My Son will preach the Truth, those who embrace other paths will preach licentiousness, causing My Son's People to go astray.
THIS TIME IS DANGEROUS FOR THE SALVATION OF THE SOUL, THEREFORE COME TO KNOW MY SON ....
I call you to live in the constant practice of the Commandments; fulfill the LAW OF GOD. Fear disobeying God: this is the Passion that My Son constantly lives, it is the Passion that is in actual state.
The Priestly People must remain attached to God's Law so that My Son's People may fulfill that Law. My Son is again crucified by His own People, by those who doubt the veracity of His Word, by those who do not believe in the Commandments and dismiss them.
Beloved children of My Immaculate Heart, you wait to see signs and wait for the instant to pass together with a multitude of signs, forgetting that in a few days schism can grow within My Son's Church, and this will awaken nations against nations.
Woe to those who leave conversion for tomorrow! ...
Woe to those who wait and do not convert! ... My poor children!
I BORE MY SON WITHIN MY WOMB, HE WAS CONCEIVED AND BORN BY THE WORK AND GRACE OF
THE HOLY SPIRIT. I AM HIS MOTHER, I BORE HIM IN MY ARMS, I ACCOMPANIED HIM UNTIL HIS DEATH ON THE CROSS, and in this instant they crucify Him again with every thought with which they doubt His Nature, His Life, His Truth and His Word.
I AM HIS MOTHER, I BORE HIM IN MY WOMB AND MY MOST HOLY SON IS LIFE, THE IMMUTABLE TRUTH, THE LORD OF LORDS ...
Woe to those who confuse My Son's People!
Woe to those who feed satanic tendencies by denying My Son! Thrice woe to those who deny My Son's Word!
The battle for souls is hellish, Humanity is spinning towards the encounter with its own evil.
THE LAW IS ONE, THE LAW IS ETERNAL, THE DIVINE LAW IS UNALTERABLE, WHOEVER VARIES IT ACCORDING TO THEIR INTERESTS IS ANATHEMA.
WHERE IS THE FEAR OF GOD IN THE MIDST OF THIS INDOLENT HUMANITY?
Beloved children, as I have mentioned, since My First Revelations to Humanity, Divine Love alone is the True protection valid for man: you have lost Love, you keep Love at a distance and because of this you are prey to evil. You will not be able to give what you do not have inside you.
Children, evil lives in all that man undertakes without love or with premeditation in order to cause evil. Evil is the queen of Humanity in this instant and humility is regarded as pride, whoever speaks the Truth is accused and whoever denies the Truth is praised; man is walking backwards.
DUE TO THIS GROWING DISMISSAL OF MY SON'S WORD, THE FATHER'S HAND IS DESCENDING TO MEET HIS CHILDREN: with those who emanate uncertainty and with those who do not believe or do not want to understand for their own justification.
And the Creation? Is it not the work of the Divine Hand? Does it not recognize man? NO! It does not recognize the man who betrays his God and offends Him. They are so few who aspire to a true spiritual union with My Son, who wish to know in depth what is true fusion with the Divine Will. Simple-mindedness and reluctance preside over the lives of My children, being reduced to the state of spiritual death by their own selves.
How much is yet to come and, and how little-prepared or not prepared at all you are!
How much lamentation will be heard everywhere!
How many misfortunes are approaching!
The Earth will groan and the water of the seas will scourge it, penetrating the coasts of various nations; nuclear energy is the Herod of this generation. The earth vibrates at one end and the other.
Pray My children, pray, fear descends from Heaven for My Children.
Pray for China, its threats will be a reality.
Pray My children, pray for Chile, it shakes.
Pray My children, pray, plague is advancing silently.
Pray My children, pray for Ecuador, the earth vibrates.
Beloved children of My Immaculate Heart: it is not words that save the soul, it is works and acts within God's Will. Everyone will receive according to the measure of their own acts, everyone is unique in the Divine Eyes.
THE INSTANT IS NEAR AND MAN LIVES FAR FROM MY SON ... REQUEST MY SON'S AID, THE INSTANT IS NO INSTANT.
The Church has a Mother, the Church is not abandoned, blessings are attracted by the human creature itself, who works and acts in union with My Son.
St Michael the Archangel and I are prepared upon you, vigilantly waiting for a word through which you request Our Help. You are not alone: I remain attentive to your requests and My Love overflows for you whom I love.
Have pity, My Lord, have pity!
With Maternal Love,
Mother Mary.
HAIL MARY MOST PURE, CONCEIVED WITHOUT SIN.