Wednesday, March 8, 2017
Message from Our Lord Jesus Christ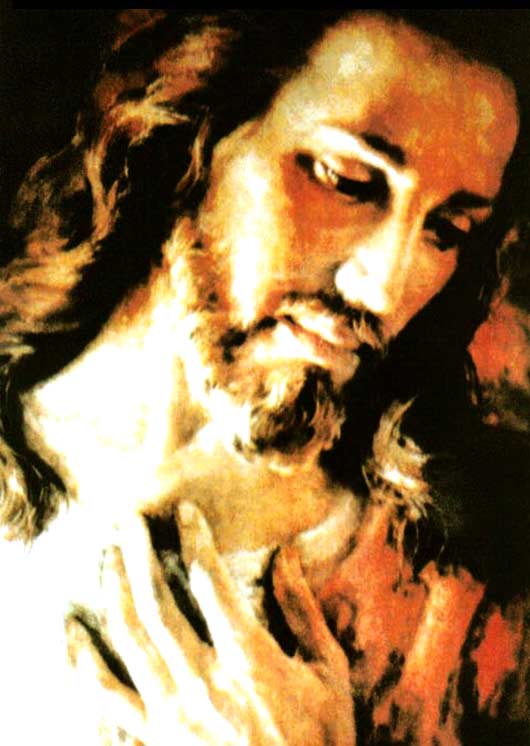 My Beloved People:
HOW MUCH I LOVE EACH ONE OF YOU!
You are at a instant when you are looking for so many adjectives to express what I am ... One word suffices for you to express what I am: LOVE!
IF YOU WOULD UNDERSTAND AND LIVE IN MY LOVE, there would flow from you like a spring: charity, hope, faith, self-giving, understanding, and awareness would lead you not to waste an instant on fleeting matters that do no good for the soul.
I LOVE ALL MEN AND I MAKE MYSELF ONE WITH EACH ONE OF YOU ...
It is men who have created divisions, those who do not love each other: "For just as the body is one and has many members, and all the members of the body, though many, are one body, so it is with Christ." (1 Cor 12, 12).
I come to awaken you, I come for the man renewed, for the conscious man, FOR THE MAN WHO LOVES WITH DIVINE LOVE.
I love you, and you, what do you love? How do you love Me? When do you Love Me?
Where your heart is, there you have your interests, and men are far away from the interests of My House.
YOUR HEARTS ARE SATURATED WITH WHAT IS MATERIAL, YOUR HEARTS AND GOALS ARE IN A
CAR, IN PROPERTY, IN THE LATEST TECHNOLOGY, IN BEING FAMOUS, IN BEING RECOGNIZED, IN
WHAT RENDERS YOUR HOMAGE, IN HONOURS, IN GETTING YOURSELVES KNOWN, IN AMASSING
RICHES, IN ACCUMULATING POWER, IN QUESTIONING YOUR PEERS AND JUDGING YOUR BROTHERS AND SISTERS.
AND ... THAT IS NOT ME!, THAT IS NOT MY PEOPLE!
My Beloved People, you are used to acquiring worldly goods. For this you must pay and it is fair that you pay the value of what you acquire. HAVE YOU THOUGHT THAT IN ORDER TO BE SAVED YOU DO NOT HAVE TO PAY? I PAID FOR YOU AND YOU ONLY NEED TO CHANGE, TO TAKE THE RIGHT PATH AND BE DIFFERENT BY ACQUIRING THE GOOD, IN ORDER TO APPLY IT IN EVERYTHING AND TO EVERYONE.
I ask you: how is it that you refuse to love me? And I answer you: you refuse to love me because you are afraid of looking at yourselves and recognizing the pettiness in which you live, you fear looking at yourselves and seeing yourselves without anything to offer others, therefore you decide to love your own selves.
You deny yourselves Salvation because you are uncontrollably attracted to the goods created by man and prefer to satisfy your inferior tastes and discard the taste for what is superior and infinite.
Inferior goods so dominate you, that the will becomes something bad when you transform the good you have received from Me into something bad, by making an inadequate and improper use of it. You have not filled your senses with the necessary good, but of what the world offers you, you take everything without prior examination.
My Beloved People:
It is painful for Me to look at you and to see those who dedicate their lives to serving me, inclined to banality; they do not focus on Me, THEY DO NOT ORIENT THEMSELVES TOWARDS DIVINE TRUTH.
They are not wise, since Wisdom tries not to enlarge the creature, but to feed the soul and the inner faculties for choosing wisely.
YOU CONFUSE HAPPINESS WITH WHAT IS MATERIAL, AND THIS IS NOT TRUE HAPPINESS, but the most erroneous path and the one that man is used to taking with greater ease. Happy is the one who embraces Me without fear, not the one who comes to Me imposing their authority, since this will never be satisfied.
My Beloved People, KNOW YOURSELVES FIRST IN ORDER THAT INTERNAL KNOWLEDGE MIGHT
GUIDE YOU TOWARDS ME. Knowing yourselves is the great way by which you will not engage in a struggle against the human self, but a communication that will enable you to find out which part of the human self is the one that draws you closer to Me and which part distances you from Me. Within the truth of knowing yourselves is the greater possibility of straightening your path and of entering into My Love and taming that which in the human self leads you to choose evil.
Humanity has degraded My Image in man to the point of destroying it; that is why there is so much licentiousness and so much sin, until you arrive at that instant when you deny Me and disavow Me as your God.
THEREFORE I COME TO YOU TO AWAKEN THIS IMAGE OF MINE SO THAT IT MIGHT GUARD THE
SOUL, AND TO CALL YOU TO THE STATE OF GRACE AND TO THE FULFILLMENT OF THE DIVINE LAW.
My People, man has come to understand that he has not covered all the knowledge of what exists in the Universe and therefore must constantly keep investigating.
Some of My children do not heed My Calls, until science discovers what I have told you in advance. HYPOCRITES!
They hold fast to what is worldly, to what passes, they do not value My Sacrifice, they live by what is immediate and by criticizing their brothers and sisters, continually falling without advancing towards Me, but rather towards the evil oppressor of the soul.
My People:
IN THESE INSTANTS OF SPIRITUAL PREPARATION ...
I CALL YOU NOT TO LIVE IN THIS CLOSED STATE, THIS FLAT POSITION THAT DOES NOT ALLOW YOU TO SEE UP HIGHER, BUT ONLY WHAT PHYSICAL SIGHT MANAGES TO SEE.
Not all who follow Me are those who truly comply with My Will, but these few will not be distracted if they maintain love, charity, hope, the practice of prayer and patience with those who do not love Me.
I call My People repeatedly, so you need to be patient repeatedly with those who want to put me aside.
At this instant evil is invading everything, principally homes, in order that disunity would cause irreparable ruptures. The family is heavily attacked and used by satan to lead My children to discouragement, and they turn away from My Will. Do not allow evil to separate the family, continue walking steadily, trusting in the protection of My Mother and putting My Precepts into practice.
Youth is being incessantly attacked, so those who follow Me and remain within My own Church, those who commit themselves to me, must distance themselves from what is worldly, from drugs, from perversion, so that, far away from those tentacles of Satan, they might be able to bear testimony to My Presence in them.
AT THIS INSTANT I DEMAND COMMITMENT...
A loving commitment on the part of My People ...
A commitment to following the instructions of My House so as not to go astray.
My people, just as Humanity is constantly being stalked, so the Earth suffers from man's incoherence. Humanity's abuse has accelerated the wearing down of the earth's crust; what in ancient times took millions of years to change is destroyed by man in seconds. Man has become Earth's greatest eroder, and he continues ruthlessly destroying what little he finds in his path.
Humanity will suffer from fractures in the earth's crust, caused by the abuse of man who has weakened his house. The ground continues sinking, to the astonishment of My children. Where there is sea, mountains will come to the surface.
Man has taken the Earth and modified it at will. At this instant he suffers in his body the abuse of the Earth that he has contaminated. Humanity suffers from diseases of all kinds due to abuse against the land which he has infested.
Pray children, pray for Poland, it suffers because of Nature and man in turmoil.
Pray children, pray, know that, as I have told you, the Third World War is progressing little by little, man's suffering will be slow. Uncertainty and power are in confrontation as a first manifestation of that war.
Pray My children, pray, Spain suffers and the sun shows blood.
Pray My children, Chile shakes and the sea comes into the land.
Pray My children, pray, My Church is shaken by confusion.
My Beloved People, IN THIS LENT, OFFER ME WHAT FOR EVERYONE IS A REAL SACRIFICE. Be copies of My Love for your brothers and sisters, be charity and forgiveness for those who do not know Me, or who, knowing Me, reject Me.
Do not forget that the struggle for souls is constant and in this, evil does not stop.
See me in your brothers and sisters, at all instants with the Eyes of My Mother. Be upright and do not waver in the face of evil. MY WORD IS ETERNAL TRUTH.
MY PEOPLE, I LOVE YOU, YOU ARE THE APPLE OF MY EYE AND I PROTECT EACH PERSON. REMAIN FIRM, THE WAYS OF THE WORLD ARE NOT MY WAYS.
Look up, may the heart of the righteous not tremble facing the coming Signs.
Be a support for your brothers and sisters and assist them with their preparation so that they might be able to look at the past and, together with you, make amends. Be a testimony of My Love.
I accompany you if you ask Me to do so; every human creature is invaluable for Me, and at the instant you repent of a life of sin, at that instant I look at you as for the first time, I cover you with My Love and I take you by the hand so that nothing might separate you from Me.
MY BLESSING IS WITH EACH ONE OF YOU IN THIS INSTANT OF PAIN.
I love you.
Your Jesus.
HAIL MARY MOST PURE, CONCEIVED WITHOUT SIN