Sunday, March 12, 2017
Message from the Blessed Virgin Mary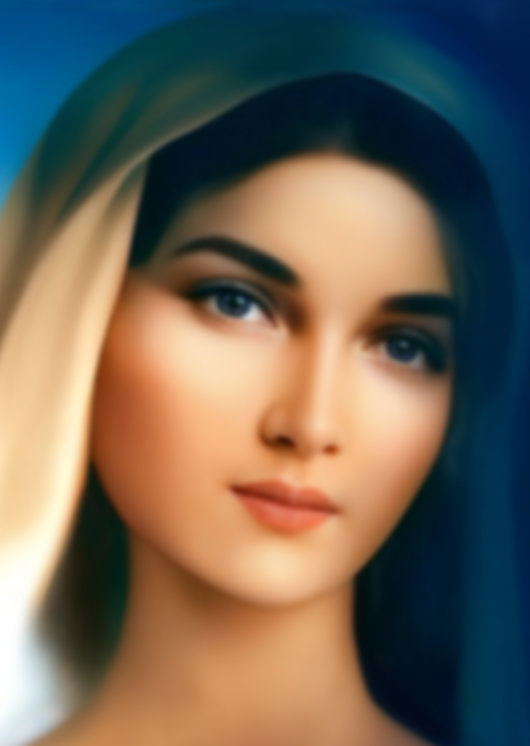 Beloved children of My Immaculate Heart:
FROM MY HANDS, I EMANATE BLESSING FOR ALL MY CHILDREN.
You should not live in sadness but with a cheerful spirit, confident that you will receive the good things that you need in order to be more of My Son than of evil.
You must attain to an appropriate use of free will; you should fill your physical and spiritual bodies with blessings, Faith, Hope and Charity: with the virtues necessary so that what surrounds you might receive from you the Divine Love that dwells within each person. Therefore, it is indispensable that you should know how great the physical body is and how you should care for it so that, by receiving appropriate food, education, faith, knowledge and understanding, the spiritual body might be like a magnet that attracts goodness towards it and repels what is wrong.
BE ASTUTE AND UNDERSTAND THAT THE PHYSICAL BODY, TREATED PROPERLY, IS THE HIGHEST MEANS FOR THE SPIRITUAL BODY TO ADVANCE TOWARDS FULFILLING THE DIVINE WILL. A body to
which you give everything that comes to mind, without discerning between good and evil, is a heavy body that maintains within itself such heaviness in the soul that the latter cannot ascend towards the search for the Divine. Therefore, it is a fickle creature; it goes from one place to another looking for where it can be anchored, but as the wind blows, so this creature quickly changes direction and will not seek the heights of the soul until it keeps its anchor in one place.
Beloved children, I have always spoken to you about the danger lying in wait for you: sophisticated dangers, with all the technology necessary to pass unnoticed, food contaminated to the point of deforming the organism. What reaches you - becoming more subtle all the instant -, is so imperceptible to you that you do not discern, you therefore fall into danger until you perish in it.
It is no surprise to this Mother how man has become lost down wrong paths, since in his search, man is so foolish that he perishes in idolatry towards other human beings or towards himself, so much so that he becomes a stubborn creature who neither hears nor sees the great arrogance to which he becomes prey.
AS MOTHER, I CALL EACH PERSON TO COME OUT OF THEIR FOLLY.
I CALL YOU TO SEE HOW TRANSCENDENT IS THE INSTANT IN WHICH YOU ARE LIVING, I ASK YOU NOT TO REJECT THE CALLS OF THE FATHER'S HOUSE.
My children should recognize evil and should distance themselves from evil so that it does not infect them. I grieve over the ridiculous state into which the human being has fallen, in every aspect of his life, so much so that the one who is most respected is he who is most rotten inside.
What truth do you want to find? If you will truly seek the truth with good intentions, you would be more reflective, more meditative, but you disavow these words, acting by imitation. Man eagerly seeks a point of reference allowing him to know what he does not seek for himself in order to ground and sustain knowledge, and when the creature has no basis, it takes what is within reach, whether right or wrong, and that is where the Devil takes hold of creatures that roam aimlessly or at the expense of others.
Beloved children, WE HAVE INSISTED ON THE NEED TO CLEANSE YOUR MEMORY, since in it you harbor feelings, perceptions, tastes, smells, the past, what is lost, and what you lodge in your memory comes out at some point for your good or ill.
My children, you can cleanse the memory of everything that causes you to regress, but you do not want to do so. Some live in the fantasies of the past, others in what could not be, some in illusions, others in regrets, others in denial, and others continue to cling secretly to the past in hiding, in secret, and that is where they cause themselves the most damage, as they enter into the sadness with which they contaminate everything around them.
Children of My Immaculate Heart, these are instants for spiritual alertness, these are instants for spiritual progress, spiritual growth, unity; but you remain divided. You yourselves live in a duality: you want to change, but you want to continue in what is worldly that you know causes you great physical and spiritual harm.
THAT WHICH HAS BEEN CREATED BY THE FATHER'S HAND CONTAINS THE LOVE COMING FROM
THE FATHER, AND YOU SHOULD SEEK THAT LOVE AS THE GREAT HUMAN NECESSITY IN ORDER THAT YOU MIGHT RESPOND TO HIM WHO FIRST LOVED YOU.
Humanity lives in a state of agitation because of a tide of information it receives. In its storms the sun is emanating particles charged with energy that man is not ready to receive. Children, man is altered by such solar emanations.
The sun influences the Earth, it stirs the Earth up without your being aware of it, just as it influences the Earth's atmosphere. We have called you to protect yourselves from the sun's rays and you do not heed. Man's psyche is affected, impairing his behavior at all instants; he reacts and acts unduly in a constant state of folly directed by the demons. He exposes himself to the sun's rays, which, combined with the chemical elements that some nations throw into the air via airplanes, cause great diseases in the skin, in the eyes, in the mucous membranes of the human body; the purpose of the great nations is to exterminate the human being.
AS MOTHER, I ASK YOU OBSERVE, AS PART OF YOUR DIET FOR LIFE, THE DAILY NEED TO INGEST VITAMIN C, TO INGEST RAW GARLIC OR GINGER DAILY.
Beloved children of My Immaculate Heart, the Earth will be shaken with greater force; you will see and experience a shaking of the earth.
Love for the Most Holy Trinity will be prohibited, veneration for Me will be prohibited, the Blessed will be forgotten, paganized Humanity will soon rise up against all that reminds it of the Divine. My Son's People will be enslaved and others will deny the Faith. Faced with the greatest apostasy and defenselessness in which My Son's People are living, my beloved Angel of Peace will come from the Father's House, full of the Holy Spirit in order to relieve those suffering in body and soul.
HOW MY SON GRIEVES AT SO GREAT AN OFFENSE!
YOU COULD HAVE AVOIDED SO MUCH! ... AND STILL YOU DO NOT CONSECRATE RUSSIA TO MY IMMACULATE HEART.
Pray children, pray for United States of America, it will be taken by surprise.
Pray children, pray for Japan, its soil will be strongly shaken.
Pray children, pray for Israel, its inhabitants will weep.
Pray, volcanoes increase the intensity of their eruptions.
Beloved children of My Immaculate Heart, unite, constantly invoke the Precious Blood of My Son and at the same instant, accomplish My Son's Will, do no evil.
LIVE THIS INSTANT BY GROWING SPIRITUALLY, ADVANCING TOWARDS MY SON. I accompany you and intercede for you. Do not forget the protection of St Michael the Archangel, the great defender of the Children of God, do not turn him away, call on him, he is ready to help you.
DO NOT PARTICIPATE IN THE SIN OF MAN ENSNARED BY EVIL. MY SON IS COMING FOR HIS RECONCILED PEOPLE.
I bless you,
Mother Mary.
HAIL MARY MOST PURE, CONCEIVED WITHOUT SIN