Saturday, March 18, 2017
Message from the Blessed Virgin Mary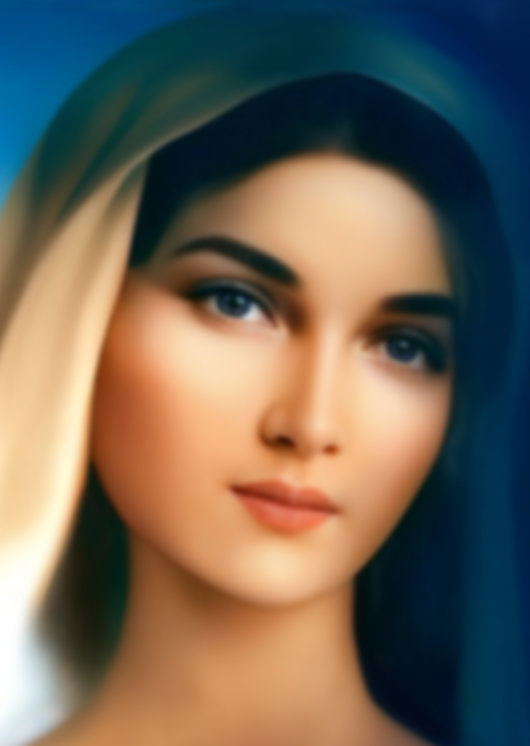 Beloved children of My Immaculate Heart:
I BLESS YOU INFINITELY.
My Son has gathered you in order to unify in His Love all of you who tirelessly seek Him.
I bless you with My Love, I bless you as Mother of My Son's Infinite Mercy.
You know well that My Son overflows with Mercy for each one of you, but it is not only His Mercy that you must seek, rather each one of His children must seek Him through love so that you come to understand the whole Divine Word.
At this instant, the People of My Son argue, My Son's People do not love each other properly, My Son's People are persecuting themselves.
Beloved children of My Immaculate Heart, man has turned himself into a stiff-necked creature who lives attached to what is worldly, who does not want to scale the spiritual heights in order to unite in spirit and truth with the true and only love that will lead him to resume the spiritual path toward the Father.
My Eyes watch with great sadness how the great Nations are preparing for war, which will last for several years, and the suffering of My Children will gradually intensify, and the persecution of My Son's People will be gradual, because the enemy of the soul wishes to exhaust the physical and spiritual strength of all of you. That is why Our Calls do not cease, nor will they cease, for when My Children are downcast, this Mother makes Herself present by Divine Order to bring comfort, to call you to faithfulness, to call you to knowledge, and so that those who approach My Son's People with the intention of destroying them do not succeed, because the People who know whom they love and know in depth, are not easy prey for the detractors of the soul.
Beloved children of My Immaculate Heart:
YOU MUST EXPAND YOUR MIND, FOR AS THE INSTANT ADVANCES SO KNOWLEDGE ADVANCES FOR GOOD OR EVIL. Some welcome the news of scientific discoveries, without even thinking, and when My Son and I have called them to understanding, love, knowledge, they refuse and turn away from Our Calls.
With pain I see how My Son's People are diminished and how they allow themselves to be oppressed by those who do not know the depth of the Divine Mystery enclosed in My Son's Word; they remain fearfully silent, like dumb dogs.
You, in order to be true, must love in spirit and truth.
You must awaken your spiritual senses so that they attain greater discernment and not be easily deceived.
At this instant in which the great powers have created sophisticated and complex technological means through science, My Son's People must know and remain prepared to discern between the real, the spiritual, the Divine and what is human, for Man has taken the intelligence provided by the Father in order to produce great earthquakes, to produce chaos, to contaminate man's food, causing you to decay in health and meditation.
You need to discern, for you will see Signs in the sky that do not come from the Divine Will but from the will of a Nation to cause confusion and chaos. Therefore you should stay awake and prayerful, you must remain united to the Most Holy Trinity, you must stay within My Immaculate Heart so that you discern the signals and signs that the Most Holy Trinity sends so that those who still remain asleep be awaken before the great deceiver of Humanity appears.
Great deceivers have gone through My Son's People and multitudes have followed and follow them; the prophets sent by the House of the Father are rejected. And those who have voluntarily given themselves over to the service of My Son use that power which has been given to them for accompanying and instructing the faithful People, in order to become persecutors of the faithful children of My Son's Church.
How My Heart grieves for those who, shielding themselves behind 'zeal' for the Father's House, want to silence the voice of the instruments that the House of the Father sends to His People!, so that with words full of Truth and going from place to place they fulfill the mission of every true child of the Church of My Son, that of being one more evangelist and one more witness.
Children of My Immaculate Heart:
Walk without stopping, go forward without stopping, being those who fulfill the Divine Law, those who fulfill the Sacraments; receive My Son by living a true Christian life.
HOW MUCH THIS GENERATION HAS CHANGED BY FALLING INTO THE HANDS OF THE DEVIL!, in
being pulled along by the powerful who have united in order to lead this generation to prostrate itself at the feet of the antichrist. (1) That is why I invite you, once again, to look up so that you do not forget that you belong to the Father's House, not to the false ideologies growing at this instant all over the Earth. Therefore, after the antichrist appears publicly, making himself known, not by himself by through his henchmen, THE ANGEL OF
PEACE WILL COME FROM THE FATHER'S HOUSE, WHO IS NOT A PROPHET BUT THE ONE WHOM I HAVE ANNOUNCED OVER THE YEARS IN MY PREVIOUS APPARITIONS. (2)
How would the Father's House abandon His children and not reach out to them? No, children, the Father's Infinite Love for each one of His human creatures once more stretches out and overflows in love and mercy, and sends His Assistance from His House, which will prepare the faithful People for the Second Coming of My Son to Earth.
Pray for My children, pray for Russia, it has still not been consecrated to My Immaculate Heart.
Pray My children, pray for the United States, it will suffer. This people will suffer as sin abounds and they constantly crucify My Son.
Pray My children, pray for France. That Nation's cry will shake Humanity.
Pray My children, pray. Chile, Peru and Ecuador will share in a major earthquake. You, My children, pray for your brothers.
Beloved Children of My Immaculate Heart:
HOW MUCH I LOVE YOU AND HOW LITTLE YOU TRULY LOVE ONE ANOTHER!
HOW OFTEN I CONTINUALLY WELCOME YOU DESPITE THE FACT THAT YOU ABANDON MY SON AND ME! ... AND YOU ARE NOT READY TO FORGIVE YOUR BROTHERS AND SISTERS.
How much patience I have for you in the face of your continual needs and childishness! I see how you use the Gift of sight to criticize your brothers and sisters "ipso facto" for the smallest detail.
Such are not My true children, such are not those who love My Son in spirit and truth, such are not those who surrender to Him. Therefore I repeatedly come to you and extend My Hand to you so that you allow Me to lead you and not only be the Mother but Teacher of every one of you.
I have continually welcomed you with love, I welcome you with love and will welcome you with love, but each person must come to Me voluntarily, and I with My Heart filled with love and joy will lead you towards My Son's Divine Presence.
DO NOT FORGET THAT YOU ARE IN LENT; OFFER UP WHAT CAUSES YOU MOST SPIRITUAL
DAMAGE IN RELATION TO LIVING WITH YOUR BROTHERS AND SISTERS, SO THAT AT THE END OF THIS PERIOD OF LENT YOU MIGHT BE NEW CREATURES, MIGHT BE LIGHTED LAMPS, BE WHAT MY SON EXPECTS OF YOU.
I bless you in the Name of the Father, the Son and the Holy Spirit.
Mother Mary
HAIL MARY MOST PURE, CONCEIVED WITHOUT SIN