Thursday, March 23, 2017
Message from Our Lord Jesus Christ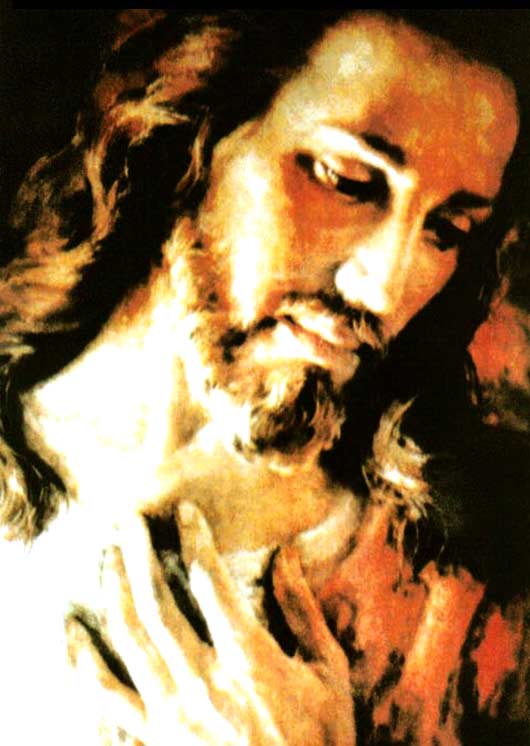 My Beloved People:
HOW MUCH DIVINE LOVE FOR MY FAITHFUL PEOPLE!
HOW I YEARN, WAITING FOR MY NEW CREATURE WHO LEAVES BEHIND THE RAGS OF THEIR OLD LIFE, HAVING DECIDED TO BE PART OF MY PEOPLE AS THEY WALK!
I have come continually to discipline you, and you have refused to listen to me, immersing yourselves deeper and deeper in chaos of every sort.
You deny the evil surrounding you, the irreverence towards My Father's Commands, and to Our Divine Will for these desolate instants towards which you are heading with increasing speed.
MY PEOPLE, REMAIN ALERT TO THE GRADUAL INCURSION OF THE FORCES OF FREEMASONRY WITHIN MY CHURCH, ON MY PREMISES, IN CONTRAST TO MY HOLINESS.
Freemasonry holds to the objective of alienating My People from Our Divine Law and immersing Humanity in the garbage of the antichrist's innovations, putting the antichrist's novelty in place of My Truth.
MY PEOPLE, I CALL YOU EMPHATICALLY TO CONTINUE RENEWING YOUR COMMITMENT TO BEING
A TESTIMONY OF MY LOVE AT ALL TIMES, ALIVE AND PALPITATING IN THE MIDST OF HUMAN CREATURES who at this instant do not know My Word, and who due to this ignorance are going down the barren street of false and attractive but deviant ideologies in which the child of God disappears and the child of evil emerges, with all the licentiousness that exists, so as to transform, as it is doing at this instant, the land of blessing into a land of perdition for the soul.
My Beloved People, how many of those who claim to love me and to be taking My Word to their brothers yearn for the recognition of men and take it upon themselves to judge as they please those who wish to distance themselves from their entourage! (Cf. Gal 1:14)
How many of those who write about Me, expressing opinions about events to come, really have a hidden interest in continuing to exert influence among My children, and in partitioning and dividing My People, and with such behavior, taking advantage so to maintain their status amidst My People's ignorance!
The followers of those who at this instant excel among My children by the eloquence with which they write or publish great and famous books on My Mother and My Will, ARE SUBMITTING TO POOR INTERPRETATION OF MY TRUTH AND OF THE STATE OF AWAKENING IN WHICH OUR HOUSE WANTS TO KEEP THE FAITHFUL PEOPLE, SO THAT THEY BE SAVED FROM THE CLUTCHES OF SATAN.
THERE IS AN ABUNDANCE OF BOOKS, BUT FEW ARE THOSE CONFORMING TO THE TRUTH OF THE DIVINE WORD, OF OUR WILL, AND THE TRANSPARENCY WITH WHICH MY MOTHER HAS ALWAYS SPOKEN TO MY CHILDREN AND HER CHILDREN.
How many are crowned with great intellectual titles and facing Our Word become angry and deny it!
My people, you find yourselves in the instant when you will hear your brothers say: 'I am writing this, speaking of this out of zeal for the Father's House', hiding their true interests, personal benefits that are summed up in pride. (Cf.Philippians. 3:6)
This instant is no different. "... IF ANY WANT TO BECOME MY FOLLOWERS, LET THEM DENY THEMSELVES AND TAKE UP THEIR CROSS AND FOLLOW ME. FOR THOSE WHO WANT TO SAVE
THEIR LIFE WILL LOSE IT, AND THOSE WHO LOSE THEIR LIFE FOR MY SAKE WILL FIND IT. " (Matthew 16:24-25)
May the one among you who follows me be no respecter of persons, may they pick up their cross and follow me.
No human creature on Earth can declare that they have absolute Truth about all things ...
No human creature on earth can follow me without denying themselves, without transforming their life into a constant fulfillment of Our Divine Word ...
No human creature on Earth who mentions My Truth and is chosen as My Instrument can proclaim that they know My Truth, My Judgment, My Time, because if this were true, they would not be living on Earth ... The one who declares himself omnipotent is anathema. Man is man and God is God.
At this instant Humanity holds so much violence in its heart because it has yielded to its weaknesses and the cunning devil presents them instant by instant in order that you fall. I grieve for you My children, I grieve at the course which you have taken and which you do not want to set aside.
Sin is comfortable, Salvation is uncomfortable for you, because it calls you to leave what you like, to deny yourselves what you like, to give what it is uncomfortable for you to give, it is uncomfortable for you to offer what you do not possess: My Love, since you continue to prefer error.
I lament to see how you corrupt one another. Giving greater preparation to those who are far from Me, you have decided to take My children with you to perdition.
Children, as in the past, you are free, and within that freedom, you have embraced the debauchery that you yourselves have drunk from the cup of corruption in the hands of the enemy of the soul. You cannot hide the Antichrist's dwelling among Humanity, handing out orders to his entourage. Every denial by My children is an acknowledgement that you offer to the antichrist and his elite, which will be the same as will oppress you and will cause you to grieve to the point of wishing for death.
MY PEOPLE: I CALL YOU, I SEEK YOU AND I FIND SO FEW RESPONSES TO MY CALL...
Those who recognize Me are so few! My pain is great : My People Keep me in a drawer, not that of a piece of furniture, but in the drawer of oblivion, disobedience, dishonesty, degeneracy, infidelity, corruption, denial, injustice, the death of the virtue of purity ...
I have so few faithful servants who give Me Joy! ... (cf. Mt 25.23)
The madness of evil flows out over Humanity. Some walk from side to side, others do not listen but wander ... So many are they who do not think and have closed their hearts to My Word and adulterate it! How many are they who have cancelled themselves out in order to follow men who lead them the wrong way!
MY PEOPLE, GO DEEPLY INTO MY WORD, LOVE ONE ANOTHER AS BROTHERS AND SISTERS, DO NOT SCORN OUR DIVINE LAW.
Darkness has clouded men who called themselves spiritual and has led them to be followers of the principle of evil, to love themselves, to love their well-being and to love greed, to guide men towards them and their apparent power, in order to distance them from Me and bring souls together with them into the clutches of evil.
Man's thought is not fixed on the Divine but on what is earthly; you have forgotten that accumulating treasures on Earth makes man a slave to his passions, petty, and causes him to give priority to what is not Me.
MY PEOPLE, IF AT THIS INSTANT I WOULD CALL YOU AND ASK YOU TO LEAVE EVERYTHING TO
FOLLOW ME, HOW MANY OF THOSE WHO SAY THAT THEY FOLLOW ME WOULD FOLLOW ME? NOT
MEN, BUT ME, AND I AM THE DIVINE WILL THAT IS TO BE FOUND IN SCRIPTURE, IN THE DIVINE LAW, IN THE BEATITUDES, IN THE SACRAMENT OF DIVINE LOVE.
Conversion is not a matter of words but of NOW! The man who waits to convert does not know if he will be alive at that instant in order to convert. I am Mercy and man relegates Me to his time, to his will, he postpones Me.
DO NOT WAIT, DO NOT PUT ME ASIDE. THERE IS SO MUCH THAT I WILL EXPLAIN TO YOU OUT OF LOVE FOR THOSE OF YOU WHO ARE MY CHILDREN!
Pray My children, the depths of the earth have opened and from them will emerge what the man of this generation has not experienced: purification.
Pray My children, pray : cruelty continues wreaking havoc all over the Earth, astonishing those who remain in Me.
Pray children, pray, you will drink of pain. My People will come to Me severely purified by the hordes of evil which man himself has raised up, and of which some will repent.
Pray My children, the earth shakes man in order that he may react, the water will rise up and the fire continue striking harshly.
Pray My children, pray for My Second Coming together with My Legions and My Blesseds, and the Creation that recognizes Me will send forth its voice which man has never heard.
Pray My children, pray for Argentina.
My Mother has called you to stay alert to communism by stealth and you ignore it; you think that you know everything and you know nothing. Communism gathers power, allies, and you will be surprised. Those who call you to Me and remain allied to Communism are ignorant of those whom they should not follow. Communism is one of the great scourges of Humanity. Do not be foolish, stubborn: "I Am who I Am" (EX. 3:14).
Children, do not continue to be attached to what is earthly; scale the heights of the one who lives in Me, allow yourselves to be creatures of God and not of the flesh, of God and not of what is worldly.
COME TO ME, ENTER INTO MY LOVE, ACCOMPLISH MY WILL AND LOVE SILENCE, SO THAT IN SILENCE YOU HEAR MY VOICE, THE VOICE OF THE SILENCE OF MY LOVE. WHOEVER WELCOMES ONE OF MINE, WELCOMES ME.
You, My People, are the pride of My House.
I bless you and My Blessing extends to your loved ones for whom you intercede, and for whom you do not yet know and who are My children.
Your Jesus.
HAIL MARY MOST PURE, CONCEIVED WITHOUT SIN