Tuesday, March 28, 2017
Message from the Blessed Virgin Mary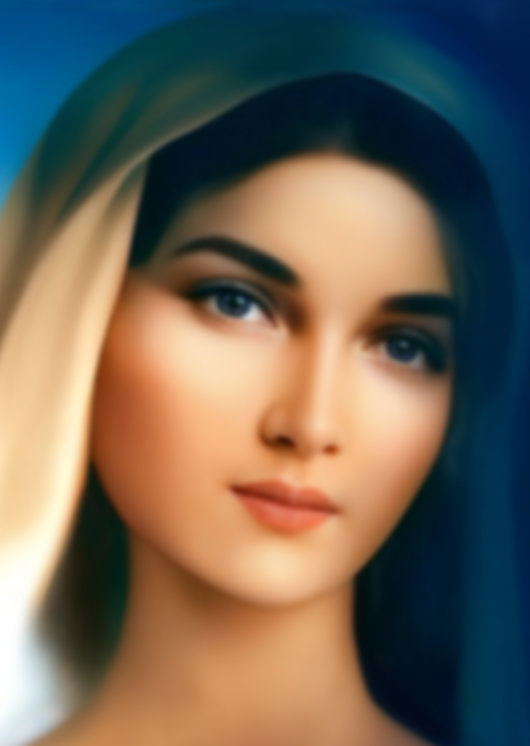 Beloved children of My Immaculate Heart:
AS THE SUN ILLUMINES THE EARTH, SO IN MY HEART I WELCOME ALL PEOPLE.
In My Love I meet each of you for whom I intercede before My Adored Son.
Everyone should keep his or her thinking focused on what Heaven requests in order for you not to go astray or be confused.
The future of mankind is hanging on the behaviour of man himself.
IN ORDER TO GUIDE YOU IN BEHAVING CORRECTLY, I COME TO YOU AS MOTHER OF MERCY. TAKE MY HANDS, I WILL BRING YOU TO SAFE HARBOR.
AS YOU NEED ME, CALL ME; IF YOU FEEL ALONE, SEEK ME ...
I AM QUEEN AND MOTHER OF HUMANITY, DEFENCE OF THE HELPLESS, ADVOCATE OF HUMANITY.
It is necessary for you to enter within My Maternal Heart so that love, surrender and obedience to the Father's Will might be imprinted in you and so you may thus accompany My Son in the preparation of Holy Week.
You must overcome that within you which causes the greatest obstacle on the spiritual path, that which binds you and interrupts your approach to the awakening of the spirit. Children, spiritual understanding is necessary in the face of a man who does not meditate on his actions; surrender to the Divine Will is necessary.
Sometimes My Son leads you on roads that are unexpected for you, that which happens being a trial to cause you to mature. Iron is tempered in the fire, the children of God in the purification of humiliation.
My Son's People walk together at all instants, knowing that the enemy of the soul keeps fighting to discover in you the slightest thought contrary to the Divine Will, to avail himself of it and separate you from the path.
I do not want you to suffer, I do not want you to be suffering because of continual falls. Therefore, continually strengthen yourselves by being sincere in regards to what you lack in order to be better children of God.
Beloved children, be creatures of peace in the midst of so much discord within Humanity. And when you pray for an intention, remain at peace; that way your prayer is received more promptly.
Dear children, at this instant you must open your hearts to the explanation of My Son's Word so that you walk safely, growing spiritually within love and unity, discovering My Son in your brothers and sisters.
I suffer because of so many empty human creatures, living by inertia without any value, rejecting the Divine Word and accepting false philosophies, AND IT IS THE DIVINE WORD THAT IS THE GREAT MYSTERY THAT MAN SHOULD DISCOVER IN LOVE.
Children, it would be easy for man to walk with evidence of everything happening to him spiritually, but man needs to offer obedience to God and discern, because evil will not be clearly exposed before each one of you so that you discover evil for what it is.
Beloved children of My Immaculate Heart: there is so much heresy in the world that My children are constantly oppressed by the weeds, in order to discourage them, to overwhelm them and to lead them into confusion. Those of My children who live in idleness will be more greatly exposed to temptation. The human person must be dedicated and remain constantly united to My Son, so that good works do not derail their thinking nor take the heart away from peace and fraternity.
Dear children: How great is the Divine Love for you that does not cease, Its constant Call so that you might not be lost in the vileness of what is worldly! Evil is thirsting for My children and, being in possession of false science, pride burns in them, they live swollen with pride. Therefore, those men who reject My Son desire honors that do not belong to them, they are bearers of arrogance, they swell with pride and do not know compassion in order to offer it to their brothers and sisters.
BE THE DIFFERENCE; DO NOT BE CONFUSED. BE CREATURES WHO CHANGE, CONVERT, WHO LIVE IN SPIRIT AND TRUTH.
Beloved children of My Immaculate Heart:
EVERY WORD BREATHED OUT BY GOD IS ETERNAL. AS THE ACT OF THE DIVINE WORD IS ETERNAL AND MAN FINITE, so the human creature needs the guidance in order to advance, constantly emerging from what binds him in order to find freedom from himself, freedom from his own "ego", uniting with his Lord and God. The Infinite Power descends into the finite power of man and leads him to understand that every human act has its effect within the infinitude of Creation. You need to be creatures who emanate good and have a multiplying effect towards all creatures so that man's good will might reproduce the good.
Beloved children, at this instant evil has plunged humanity into a manifold variety of apparent necessities for living. These forms of man's dependency are the strategies of evil for chaining Humanity to working and acting outside the Divine Will. And when man does not have these apparent necessities, Humanity will be implacable and People will rise up against People, Nation against Nation and man against man, without restraint. Humanity will be unrecognizable.
Dear children:
THE DEVIL IS PERSECUTING MY CHILDREN, HE ARRANGES WHAT IS WITHIN HIS REACH SO AS TO DEFORM THE DIVINE PURPOSE IN EACH ONE OF YOU. Before the instant of instants, his fight is greater and My children increasingly attacked.
Faced by this way of proceeding by evil, you must intensify your work and action with discernment, above all being bearers of My Son's Love.
EACH ONE OF YOU IS A DISCIPLE, A WITNESS, A FOLLOWER OF THE BEGGAR OF LOVE, AND IN HIS
LIKENESS, YOU SHOULD REMAIN STRENGTHENED FOR THE INSTANTS IN WHICH YOUR FAITH IS TESTED.
Beloved children, the atmosphere will undergo sudden changes in its structure produced by the Sun, and these will be visible to the human eye. Not only does the sun affect man with greater force at this instant, but the moon has greater influence over the Earth and man. Prepare yourselves, My children, be creatures of Love, revise your way of working and acting, do not forget that you will be brought to see yourselves as you are.
Pray My children, pray for the United States, the exalted power of that nation is the cause of its own evil.
Pray My children, pray for Humanity that suffers and will suffer with great pain the effects of a new virus.
Pray My children, pray for France, terror comes out in the sight of all.
Beloved children of My Immaculate Heart, do not watch what is happening in Nature from a distance, do not let the changes in the climate go unnoticed. Man must be vigilant facing the signs of this instant, where everything surrounding man speaks to him so that man saves his soul.
AVAIL YOURSELVES OF THE DEVOTION TO OUR SACRED HEARTS.
I bless you with My Maternal Love.
Mother Mary.
HAIL MARY MOST PURE, CONCEIVED WITHOUT SIN.