Friday, March 31, 2017
Message from the Blessed Virgin Mary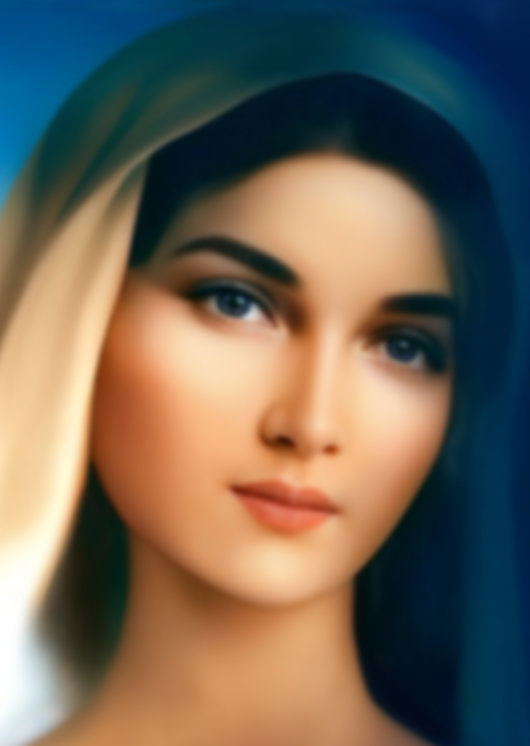 Beloved children of My Immaculate Heart:
MY LOVE DOES NOT STOP, IT REMAINS IN CONSTANT MOTION IN ORDER TO MEET YOU.
My Love flows in the Divine freedom, in order to be Protectress, Morning Star, Health of the sick and Comforter of the Afflicted. I do not abandon any of those who cry to Me to help them in their tribulations and their joys.
Love is not only a feeling or a thought: is a reality that creatures carry rooted within their spirit, it is the greatest strength that does not allow a human creature to be static - Love is action, it is praxis, at every instant in life; whoever loves intermittently has not known Divine Love, but is living a false Love. Do not forget that whoever does not love their brother or sister, or is in conflict with their brother or hates their brother, is a liar if they say that they love with My Son's Love.
The Divine Love to which you are called is not a love of words or of instants; it is lasting and is constantly expanding. Love is not selfish, it does not know jealousy, nor arrogance; Love is understanding, compassionate and patient. (Cf. 1 Cor. 13)
The man of today does not love when he looks around him and feigns love with works of charity. My Son leaves you great lessons of true Love. I was the same at all instants with all who approached Me: all the while I loved all men.
At this instant Humanity has become perverted, and this love has been disfigured; Humanity has turned itself into a group of wicked creatures that look at themselves, and kill their neighbor if that neighbor does not work or act at the convenience of the rest.
THE STRONGEST COMMANDMENT IS THE COMMANDMENT OF LOVE.
A great majority of creatures live remembering some past upset, and this prevents reconciliation from taking place and forgiveness from being true.
Divine Love commands, it is not indifferent towards one's brother, but loves as My Son loves.
You should at all instants maintain a kind, sacrificial and patient spirit. You should not be in ruins, you should not live in the reality of this instant of spiritual decadence.
You should come out of the world's current that puts Love aside. You are living by appearance, like the Pharisees.
'Love in spirit and truth!', my Son asks, but you are not genuine, you do not know what it is to love in Spirit and Truth. Therefore, in the instants of tribulation that you cannot deny will arrive promptly, the true child of My Son will be easily recognized, and those who live in human love will be easily recognized.
MY CHILDREN, BEFORE YOU READ THESE CALLS, BE LOVE, LIVE LOVE.
Love is in agony in those who are not walking towards conversion. Conversion needs constant strength, so that it be constantly renewed in the reality that you are living in the midst of this world of violence that wants to quench the Spirit.
I call upon you to work and act with all your might, so that you may live giving everything to the service of the Kingdom of God.
Love is indispensable in the true children of My Son, so that they do not distort the way, not cause love to degenerate nor put it in danger.
Love, Humanity's great stranger, is insulted by those who live in violence, in irreverence, in the denial of the Divine Commandments.
Humanity falls instant by instant into abysses that fortify the misused "ego", and pride constantly flaunts itself in the creature.
Evil does not wait but prowls around, so do not declare to all your brothers and sisters that Love abounds in you, since evil can make you show quite the opposite in an unexpected situation.
THE UNEXPECTED IS THE GREAT UNVEILER OF THE TRUTH THAT LIVES INSIDE EACH ONE OF YOU.
You do not live in a world of love; you are constantly exposed to terror, to death, to violence, to disrespect, to criticism, and are astonished at it. How many times do you kill your brother or sister with a word?
Prayer can not be set aside; it fortifies you, calls you to walk securely. Prayer accompanied by the Bread of Life of the Eucharist is food for you to resist temptations with greater strength.
THE INSTANT IN WHICH YOU WILL BE EXAMINED BY THE SAME LOVE YOU HAVE GIVEN AND THAT
YOU HAVE, IS DRAWING NEAR. You will see, you will live and experience, you will suffer for your bad deeds, and the lamenting will be fierce. However great and unthinkable the sins committed may be, you carry the Divine imprint, therefore I call you to repentance in order to save your soul.
Beloved, loneliness will invade you and will penetrate your very bones, you will experience true solitude, that which you have never experienced before; you will examine yourselves. You will live and experience the pain for every offense committed against the Divine Will as if you were doing it at that very instant, with no one to defend you, not even yourselves. My Heart grieves over My children. After the Warning has passed, some will rage against God and cruelty will be greater toward My children.
Man will be astonished to look at Heaven and to see the fire approaching the Earth, only that man does not know that this fire will then be that which reaches the soul and the conscience of every human being, burning sin with relentless fire. He will feel unable to resist any more. The heart of man will be in a state of constant spiritual fatigue; you do not yearn to fill it with the Word of My Son or Mine.
Beloved children, fire will fall from Heaven, the fire that wishes to annihilate hypocrisy, man's irreverence before the Divine.
Pray My children, pray for Seoul, it will suffer enormously.
Pray My children, pray for Chile, suffering will not cease, that nation must consecrate itself to Our Sacred Hearts.
Pray for the Church of My Son, pray for the unity of the Church of My Son.
Pray for Argentina and Germany, both nations will suffer greatly.
Children, seismic activity throughout the Earth will increase, atmospheric phenomena will take man by surprise so much that you will wish to withdraw from the places where you find yourselves.
Look up, children, do not live gazing at the earth.
The People of My Son will be surprised.
Sons of My Immaculate Heart, "... no prophet is a prophet in his own country." (Lk 4:24) You should welcome these chosen ones and defend them at all instants.
MY MATERNAL BLESSING IS A HINDRANCE TO EVIL, BUT IN ORDER FOR THIS HINDRANCE THAT I AM SENDING TO HELP YOU, YOU NEED TO REMAIN IN A STATE OF GRACE.
I love you.
Mother Mary.
HAIL MARY MOST PURE, CONCEIVED WITHOUT SIN