Saturday, April 8, 2017
Message from the Blessed Virgin Mary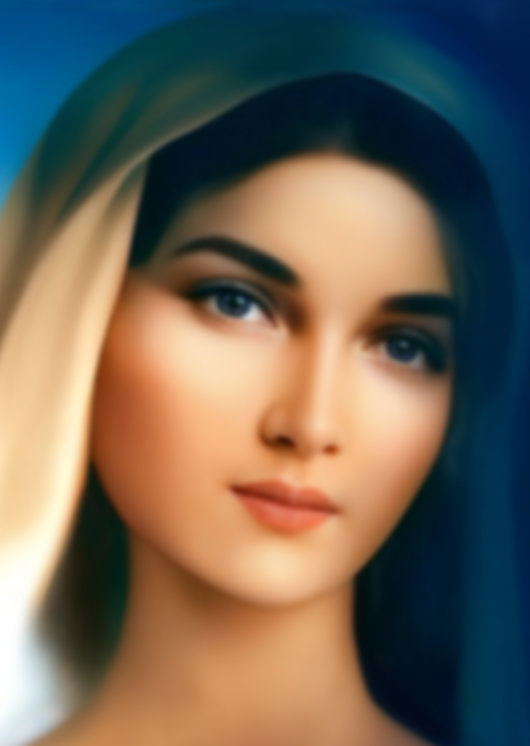 Beloved children of My Immaculate Heart:
I BLESS YOU WITH MY LOVE THAT PIERCES THE MOST HARDENED HEARTS ...
My Son's Love for you entrusted you to Me at the foot of the Cross as Mother of Humanity.
I do not wish to see in My children creatures saturated with hatred, resentment, ambition, dissatisfaction, incoherence, wickedness, anger, arrogance, lack of Faith and pride.
This instant, more than others, is hanging by a thread that one movement may break. I do not want any of My children to be among those who will break that thread, leading Humanity to continuous suffering without measure for everyone. I am not only referring to general suffering, but at the same time I refer to the rivalry existing within the communities that are forming within the Church of My Son, since EVIL ALSO EATS AWAY
AT GROUPS, TAKING AWAY THE LOVE OF ONE FOR ANOTHER, ATTACKING THEM THROUGH INTERNAL STRUGGLES SO AS TO TEAR DOWN MY SON'S WORKS, THEREFORE REMAIN VIGILANT AT ALL INSTANTS.
Beloved children, excessive attachments to passing things, such as attachment to materialism, attachment to the human ego, leave all that is good in second place - Charity, Hope, Faith - and leave everything spiritual on a lower plane.
CHILDREN, WE HAVE CALLED YOU TO MEDITATE ON EACH OF THESE REVELATIONS. YOU SHOULD ABOVE ALL MAINTAIN THE SPIRIT OF SERVICE TO YOUR NEIGHBOR; BROTHERHOOD NEEDS TO OVERCOME THE OBSTACLES, CAUSING YOU TO WELCOME THE UNEXPECTED WITH LOVE, only that very few of My children are willing to accept sacrifice as a means of expiation or as a sign for you to mature in some aspect of life. This is why the enemy of the soul quickly takes hold of My children in order to make them despair and so that they burst like inflated balloons, causing havoc.
Beloved children, in the space of an instant pride causes a soul to be lost ...
Pride makes a great child of My Son into the smallest and undesirable of creatures, reducing it to crawling along the ground.
Some want to anticipate the harvest and to pull up the tares, without looking at themselves, and what they do is to leave the fields without wheat.
Pride invites to jealousy, arrogance, to making demands, masking feelings and every consideration ...
Pride poisons the creature against its brothers and sisters...
Pride invades man's loneliness and makes him as bitter as bile ...
Children of My Immaculate Heart, man possesses faculties for thinking, but in a single instant the devil can take you and make you your brothers' executioners.
THE INSTANT OF INSTANTS WILL COME WHEN EVERYONE WILL BE EXAMINED, EVEN THE MOST RIGHTEOUS, AND THOSE WHO HAVE REFUSED TO LISTEN WILL SEE THEMSELVES IN THAT DENIAL THAT LED THEM TO FEEL SUPERIOR. There is no human creature exempt from this self-examination, all will instantly see their lives and know where they have been lacking and what they need to amend.
Beloved, I want to keep you prepared, because you need preparation in order to continue on the path of Truth in the midst of what is happening: sicknesses and alterations. You are called to continue being testimonies of Divine Love so that you might be able to advance without stopping.
THOUGHT, LIKE THE WORD, POSSESSES GREAT POWER ...
YOUR THOUGHT MUST BE ACCOMPANIED BY DIVINE LOVE, SO THAT WORK OR ACTION DO NOT LACK THAT INDISPENSABLE INGREDIENT, THE SPIRITUAL SEASONING: LOVE.
There must be spontaneous love in everyone, otherwise a single creature disturbs communication between all brothers and sisters, and My Son's projects do not come out as they should.
My children, whoever lives by what is worldly cannot love and accept the things of the spirit; the weakness they acquire leads them to live with their conscience constantly seeking to justify their inadequate work and action, living by their imperfections.
Beloved children, when the human creature is accustomed to living without God, pettiness takes hold of it, it becomes miserable and wretched, without seeing anything good in its brothers, but rather that which it judges at its convenience. My Son sees inside His children, He looks in depth at what you as human beings refuse to see.
Thus it is with the man of this instant, living with his character in opposition to God; his works, actions and reactions are impulsive, full of selfishness and anger, being permeable to the constant attacks of the devil.
CHILDREN, YOU HAVE DEGENERATED ...
YOU ARE NOT AWARE OF THE PRIVILEGED PLACE THAT YOU OCCUPY WITHIN THE UNIVERSE.
You need to correspond to the kindness that you receive from Creation. You are not creatures created to subject yourselves one to another, but on the contrary, you have been created to love one another as My Son and His Father love each other ... The basis of religion is Love and respect for life.
The failure to use spiritual intelligence leads you to have a very narrow vision of what you are as children of God. You limit yourselves out of a fear of commitment to My Son's Affairs.
How much you offend My Son and how My Heart grieves because of the blood of the innocents that is shed by those who are their executioners! The new Herods of this generation, children of evil who obey the orders of the devil himself, who wish to erase all trace of innocence existing on Earth in order to take possession of the spoils more quickly: the souls of rebellious creatures who do not repent of their own free will.
Beloved children, how you have become saturated with evil! You perform evil with great dexterity, with joy, you have forgotten that you remain in the balance and in this the weight of actions and works are inclining towards good or evil. You tear my Heart when you treat each other worse than beasts. You have understanding and have given it over into the hands of satan so that the latter leads you along the darkest of paths, causing you to act in the most cruel and inhuman way that a creature can act.
Beloved children of My Immaculate Heart:
How many laugh at My Son's Word!
How many of them laugh at what I tell you!
EVERYTHING WILL BE FULFILLED, EVEN THE SLIGHTEST THING, NOT BECAUSE MY SON WANTS TO PUNISH YOU, BUT BECAUSE HUMANITY IS GOING TO ENCOUNTER THE PRODUCT OF ITS OWN EVIL.
I have called you to prepare yourselves spiritually and to be reconciled with the Father's House, but again and again you refuse to carry out this act of Salvation. I have warned you of what is approaching this generation and you ignore My Words. Humanity is coming closer to confronting that which you do not want to acknowledge ...
The specter of war will remain over Humanity until the great nations, in a great conflict, divide and fight against each other, flooding the Earth with great suffering.
YOU, CHILDREN, UNITE, PROTECT YOURSELVES, COVER YOURSELVES WITH THE PRECIOUS
BLOOD OF MY DIVINE SON, AT THE SAME TIME BEING TRUE. WHOEVER DOES NOT COMPLY WITH MY SON SHOULD NOT LIVE EXPECTING MERCY IF THEY DO NOT REPENT.
The pain due to advances in armaments is and will be harrowing; that which Mankind believes had already been destroyed by some Powers will come to light having remained intact. Man struggles for supremacy and Satan helps that struggle to be fatal and extremely painful, war being a propitious scenario for the antichrist to rise up with power.
War does not only concern armaments, but involves all aspects of man's life. Plagues will go throughout the Earth and medicines will become scarce, so I have given and will give you what you can use from within Nature to heal the body; thus the Father's House allows this Word to reach you so that you can heal the body and save the soul.
Food is contaminated, but My Son's People are given assistance and food will come to where you find yourselves. FAITH IS NECESSARY FOR THE CREATURE TO ALLOW MY SON TO WORK MIRACLES IN EACH PERSON.
You will see those who live attached to the economy lose their lives, their sanity, and they will become angry against their brothers and sisters. Families will disavow each other because of the economic struggle in the face of a fallen world economy. Even so the unbelieving abound and will abound, being victims of the evil that causes them to rebel against reality itself. Do not be rebellious, children: react, convert, repent!
Pray My children, pray for the United States, it suffers under the weight of its actions; these will come back and fall on this nation.
Pray children, pray for the Middle East, powerful peoples rise up in collapsing alliances.
Pray My children, the cry of the innocent calls Creation to react against man, Humanity suffers increasingly harshly because of the climate.
Pray children, pray, this is the instant that warns you of the proximity of your self-examination of your works and actions.
Pray children, pray, men rise up against their governments, generating more reprisals and more pain for themselves.
I CALL YOU TO UNITE AND TO PRAY, REQUESTING DIVINE PROTECTION AND MY MATERNAL PROTECTION.
Earth is troubled, the biggest volcanoes are waking up and causing the fire cradled in the bowels of the Earth to rise up. Man is racing with time without perceiving that in his madness he is losing the greatest treasure: life and Eternal Salvation.
Beloved children of My Immaculate Heart, it is not by great and lavish acts that you attain Eternal Life, but by the humility of true surrender to My Son; this is how you make your way.
MY CHILDREN, IN WHAT IS MATERIAL THE TRUE SELF OF EACH ONE OF YOU IS UNVEILED.
DO NOT BE CONCERNED WITH WHAT IS EARTHLY, AS WHAT IS EARTHLY WILL NOT HELP YOU.
CONCERN YOURSELVES WITH THE SALVATION OF THE SOUL SO THAT YOU MIGHT ENJOY ETERNAL LIFE.
Children, you have forgotten that the body is Temple of the Holy Spirit and that when you commit sin you offend the Holy Spirit.
Children, unite, be love as My Son is Love. Stay alert; anger spreads like the wind and penetrates the less thoughtful creature, causing them to act like a child of evil.
Beloved children of My Immaculate Heart: BE LOVE AND THE REST WILL BE GIVEN TO YOU AS WELL.
My Love is the wall of opposition within you that prevents the devil from taking you as instruments of discord. An effort to be peace for all your brothers and sisters is a treasure that not everyone is willing to give.
MY SON IS ARRIVING IN HIS SECOND COMING AND ALL THAT AT THIS INSTANT IS ANXIETY WILL BE PEACE, BLESSING AND LOVE.
I bless you.
Mother Mary.
HAIL MARY MOST PURE, CONCEIVED WITHOUT SIN