Thursday, April 13, 2017
Message from Our Lord Jesus Christ Holy Thursday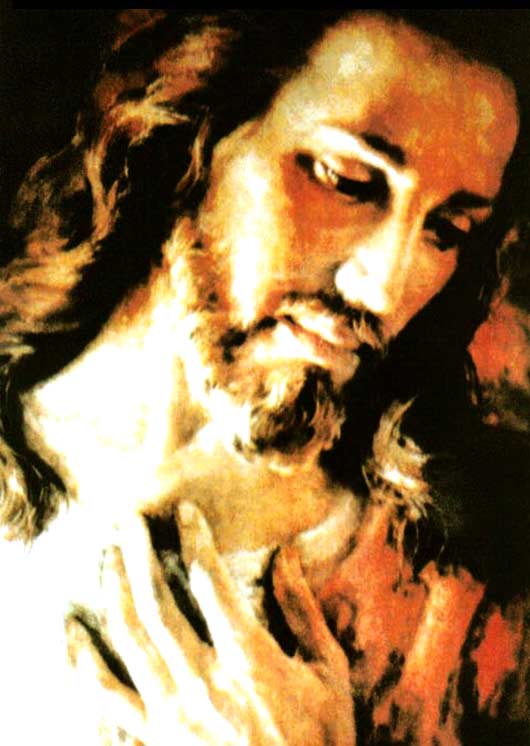 My Beloved People:
IN THESE DAYS MY SELF-SURRENDER FOR EACH ONE OF YOU IS RENEWED, AND RENEWED IS THE MATERNITY OF MY MOTHER TOWARDS EACH ONE OF YOU ...
I CALL MY PEOPLE TO GATHER IN OUR SACRED HEARTS
I invite you to enter into the Way of My Sorrowful Passion: no one should be indifferent to this Act, My children being partakers of the benefits of Redemption and of the commitment that this entails.
In this instant, some continue with tears from the past that they have not been able to dry and in the present, clinging to the folly of the "king of the world", they forget that all My People will be placed in the scales of My Justice.
This Humanity is thirsting for sin and My People know that they need to gather around My Love and My Mercy. You have the blessing of the Sacrament of Confession, of repentance from wrongdoing, from sins, from insults and slander against your fellow men! REPENT NOW!
Repent, children, in this instant of ugliness in which all forms of sin that you cannot even imagine are being committed. Children, sins abound in all areas; the devil presents you with what My People should keep at a distance and places it before your eyes so that desire arises, and from desire you go to being intoxicated with bad deeds.
THEREFORE, I WISH TO WASH YOU FROM THE FILTH WITH WHICH YOU HAVE CONTAMINATED
YOURSELVES: from evil steps, from perverse practices, from the blood of the innocent, from the times when you have denied My Mother's Appeals throughout the world, from the refusals of My priests to instruct and assist My children.
I WISH TO WASH MY CHILDREN FROM THE DOMINATION OF FREEMASONARY THAT HAS BECOME ENCRUSTED IN MY CHURCH, CAUSING YOU TO STRAY TOWARDS WRONG PRACTICES. Be fulfillers of the Commandments, be more than pious, be creatures that need and like Me, creatures that like the good and love those who convey My Word to you, respecting the one whom My House has chosen.
MY PEOPLE, I WISH TO WASH ALL THE SCANDALS OF MY CHURCH: fanaticism, errors, heresies of those who consider themselves learned.
I WISH TO WASH THE APOSTATES AND THE CORRUPT, those who believe they can deceive me, those who consider themselves the owners of My Temples and who without proper knowledge, disperse My children.
I WANT TO WASH THE EARS OF EACH ONE OF YOU, THE TONGUE, HANDS, THOUGHT, MIND, REASON AND CONSCIENCE, WITH MY PRECIOUS BLOOD so that everything might be purified and so that sin might not be able to penetrate any further.
I WISH TO WASH THE HEARTS OF SOME OF MY PRIESTS IN ORDER THAT THEY LOVE ME MORE AND THAT LOVE MIGHT ABOUND TOWARDS ME.
My people, I instituted the Sacrament of the Eucharist so that they would celebrate it as I taught you through My Disciples until the end of time.
I WANT MY PEOPLE TO RECEIVE ME ON THE TONGUE AND TO TREAT ME WITH LOVE, RECEIVE ME WITH LOVE AND BE PROPERLY PREPARED.
My People:
How many of you mistreat me in the Eucharist!
How many of you profane My Blood and My Body!
How many receive Me and do not believe in My Presence in the Eucharist!
I CONTINUE SUFFERING A CONSTANT PASSION THAT REMAINS CURRENT in the constant disobedience of those who claim to love me and hypocritically kneel before Me.
Children, you do not see the consequences of your bad deeds, you maintain bad habits, forgetting Me in these Holy Days, constantly offending me with the nakedness of your bodies, with drugs, with immorality, with forgetfulness, with thoughtlessness and debauchery in every respect.
My Mother looks at you with pain, faced with My People's refusal to be faithful to Her Pleas and inconstancy regarding obedience ...
YOU LIVE THESE DAYS AS DAYS OF FESTIVITIES, AND WHAT ARE YOU CELEBRATING? ... DISOBEDIENCE, IRREVERENCE, PRIDE?
You offer no sacrifice, you do not draw close to Me, you abandon Me for a few hours of pleasure. This is My People, who with loud music celebrate the memory of My Sacrifice ...
I SACRIFICED MYSELF OUT OF LOVE, THAT WHICH YOU REJECT ...
I SACRIFICED MYSELF OUT OF LOVE FOR EACH ONE OF MY CHILDREN IN ORDER TO BEQUEATH YOU ETERNAL LIFE.
My People, do not reject My Mother, who is the Mother of Humanity. She walked the path along which I was taken; everywhere My Mother prostrated Herself and kissed and cleansed My Blood, carrying each one of you along with Her, making reparation for each one of you. Her sorrowful, almost breathless Soul offered up Her sorrows on behalf of each one of you.
HOW MUCH DISOBEDIENCE OF MY PEOPLE TOWARDS MY MOTHER'S REQUESTS
WHICH ARE THE DIVINE WILL, AND HOW MUCH PAIN YOU WOULD HAVE AVOIDED IF OBEDIENCE HAD BEEN ACCEPTED AND MY MOTHER LISTENED TO!
Man is moving towards his encounter with pain, the same as he is sowing on Earth, the same pain that power is preparing in order to reduce the number of My children on Earth. Global power decides which of the domains in which man moves will be the next victim of his wiles. I AM COMING OUT OF LOVE AND I FIND THE EARTH DOMINATED BY A POWER THAT IS PREPARING TO HAND MY PEOPLE OVER TO THE CRUELLEST OF PAINS.
The sun is constantly illuminating the Earth, more so at this instant than at others, but this is not good for man who exposes himself to its rays for hours, yet warning this generation of what harms, it is like telling it: "do it in order to harm yourselves."
My People, war is alive on Earth, it goes from one place to another and most of Humanity lives its own life in the constant personal war for irrational enjoyment. War is not a shadow but a reality, do not continue being careless, be cautious and forewarned. Do not forget that disease will become a plague when it is sent through the air.
EVIL FACES MAN WITH TEMPTATION AND MAN FALLS WITHOUT YOU MAKING REPARATION ... I SUFFER FOR THIS: SOULS ARE LOST AND EVIL REJOICES.
Pray, My children, pray for the Middle East, enmity grows among the peoples and they harm one another forcefully, just as they raise their voices forcefully.
Pray, My children, pray for Italy, it will mourn at the shaking of the earth.
Pray, children, for the United States, a constant wave of events will keep this nation in a state of alarm.
Pray for My children, pray for Russia, it will choose and its choice will be the great discord that will incite men against others, causing irreparable damage.
Pray for Argentina, tension rises and My children bend their knees: this people suffers.
My People:
I AM COMING OUT OF LOVE FOR EACH ONE OF YOU. How many are coming towards Me with love?
I BLESS MY PRIESTS, whom I constantly call to humility.
I HAVE CALLED MY PEOPLE TO RESPECT ME AND LOVE ME in the Blessed Sacrament.
I CALL ON MY PEOPLE TO LOVE MY MOTHER, but My Temples will be ransacked and some of My faithful priests will be put to death for loving Me.
My people of Venezuela are crucified anew.
My People, a body is approaching the Earth from space; it will be a cause of pain for My children. Volcanoes start erupting.
Remain strong, be sincere with yourselves, and I will guard you as the GREAT TREASURE OF MY HEART.
MY PEOPLE WILL NEVER BE ABANDONED, NEITHER BY ME NOR BY MY MOTHER NOR BY MY
FAITHFUL PRIESTS whom I carry within My Heart as a burning flame of Love to save souls.
I WILL BE WITH MY PEOPLE AT ALL INSTANTS, attentive to their needs if they fulfil My Will.
Be strong, firm and determined in all your actions, in all your works, BUT ABOVE ALL, BE MY OWN LOVE TOWARDS ALL YOUR BROTHERS AND SISTERS.
This generation needs to know My Love and to be filled with My Love so that it might blossom. Convert before evening falls.
I love you, I bless you. Unite with Me.
MY LOVE IS POURED OUT THROUGHOUT THE EARTH FOR THE BLESSING OF THOSE WHO WANT TO UNITE WITH ME.
Your Jesus.
HAIL MARY MOST PURE, CONCEIVED WITHOUT SIN