Sunday, April 16, 2017
Message from the Blessed Virgin Mary Easter Sunday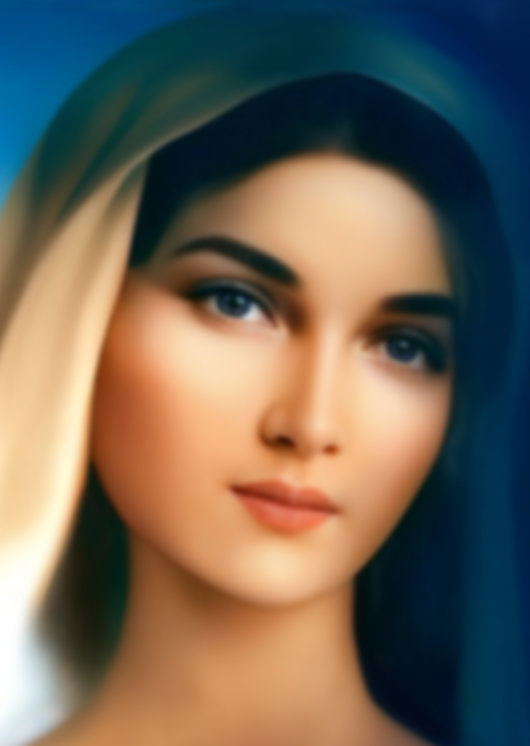 Beloved children of My Immaculate Heart:
I BLESS YOU WITH MY LOVE, WHICH I SHARE WITH EACH ONE OF YOU, BELOVED OF MY HEART.
I rejoice in each Our Father, in each Hail Mary prayed with the heart and with the awareness that without the Most Holy Trinity man is nothing.
I rejoice in My children's repentance for evil deeds or works, since you then turn to My Motherhood with greater awareness and allow Me to help you and bring you closer to the path of Salvation.
You celebrate the commemoration of the Resurrection of My Son. IT IS THE CELEBRATION OF DIVINE LOVE FOR EACH OF HIS CHILDREN.
Divine Love causes you to be reborn like newborn babes that are defenseless unless someone protects them, it causes you to be reborn in your hearts, to be reborn in your senses, to be reborn in your work and action, to be reborn in your thinking, to be reborn in your feelings, to be reborn in your conscience and to be reborn in your mind.
My Son's People are privileged, they are guided through the Divine Word and continue being guided through the explanation of the Divine Word in order that they might not be lost.
YOU HAVE PARTICIPATED IN THE TERRIBLE PAIN WHICH MY SON SUFFERED AND CONTINUES TO SUFFER, AND YOU ENJOY THE VICTORY OF THE RESURRECTION, AS A SIGN THAT NOTHING OVERCOMES THE MOST HOLY TRINITY, BUT THERE IS NO VICTORY WITHOUT A CROSS.
Whoever wants to shorten the path will find themselves facing a cliff, since the life of My children is in retracing the steps of True Love, and it is through this Love that My Son teaches His own to come to Him through the work of Love.
My Son provides good ground for you to germinate and give the fruit of love, the fruit of obedience, the fruit of patience, Charity and Hope, without changing, although instants may change or be contrary to expectations; although the environment may be different and the climate unthinkable, the good seed germinates, grows and fills with joy whomsoever looks at it, while it shares the attributes gained along the way.
Each one of you is a field of good soil and makes wheat or weeds grow in that field according to the free will that every human creature possesses. He who has known how to cultivate the good wheat delights in his Lord and his God, because everything is for Divine Glory. He who has desired to cultivate the weeds and has not obeyed when we have called him to change the way of sowing his field becomes a fool, he ignores the continual signs placed before him so that he changes; he does not want to be consoled but clings to his loneliness.
BELOVED CHILDREN, BE PERSEVERANT, KEEP LOVE AMONG YOU, BE BRAVE, FIRM, KEEP HOPE BECAUSE THE HARVEST IN WHICH YOU WILL BE EXAMINED BY YOU YOURSELVES IS NEAR.
Creation sings Divine Glory and man sings in honor of his own enemy, of disunity, of stubbornness, envy, thoughtlessness, lack of mercy, like a deaf and blind creature that follows the tentacles of evil.
In Creation, everything goes through a cycle and that cycle is dedicated to fulfilling the Divine Will for which it was created. Man takes the strength he has received from the Divine Hand to glorify God or to serve evil.
Beloved children of My Immaculate Heart:
AWAKEN YOUR FAITH! IT IS NOT AN INSTANT FOR CONTINUING IN UNBELIEF, IGNORANT OF THE SERIOUSNESS OF THIS INSTANT IN WHICH MAN IS DETERMINED TO SHOW HIS FORCE AND HIS POWER, FORGETTING THAT HE IS A CREATURE OF GOD AND NOT A CREATURE OF EVIL.
The evil one, the enemy of the soul, the devil or Satan, has usurped in the most vile manner that which is not his, he has usurped what does not belong to his nature, he has usurped the human soul and degraded it, forming men far from God and hungry for greater evil. It is in this struggle, in the search for supremacy where the devil attacks man in order to lead him to desire what is not his and thus to vilify his brothers and sisters. Man has constructed a path of pain, he has constructed weapons that he will use as a sign of power. Man does not construct what he will not use, but what he believes will give him greater glory and greater power.
In this instant, the devil is tracing out Humanity's path, the painful path caused by man's struggle against man himself.
You, beloved children, are a blessed generation, you have been warned of all that looms over Humanity so that you might take a different course, but it has not been so. With the refusal of the explanation of the Word of My Son and of My Motherhood, which by Divine Will is not silent, the devil has been allowed to act forcefully upon My children, so that they might rejoice when alluding to an incomprehensible religion because it asks the sinner for repentance and respect and fulfillment of the Divine Law.
Beloved children of My Immaculate Heart:
THE INSTANT IS RUNNING OUT, I INVITE YOU TO PONDER WHAT I HAVE TOLD YOU, I INVITE YOU TO
PRAY IN ORDER TO DISCERN THAT THE THINGS OF THE WORLD PASS, THEY ARE EPHEMERAL; THE THINGS OF HEAVEN DO NOT PASS, THEY OFFER YOU ETERNAL LIFE.
Do not forget that in the days of Noah men bought, sold, drank, mocked Noah, but then came the Flood and made them perish in disobedience.
At this instant, how many of you are living in darkness! ...
How many do not want to listen! ...
How many prefer ignorance out of convenience to Truth for their salvation!
How many of you have devoted yourselves to prayer, to uniting with My Son, to truly knowing Him in order to enter into My Son's work and action!...
Children, I warn you not of Divine wrath, but the wrath that has blossomed in man and has borne fruit. Our prophet does not warn you of her own accord, but in obedience to the Divine Will, and you disobey ... What will happen?
At this instant I call you to repentance before man makes Humanity weep, lament, and burn his brother's skin and enjoy it – as he is doing, but with greater intensity.
My Angelic Legions look at Humanity with deep grief; how they would like to intervene in order to stop so much pain! but they cannot intervene. Their prayers for Humanity are continuous, they continually touch hearts, continually speaking to the heart of man, without ceasing they remain constantly by man's side.
My children, banish anger, do not allow anger to take hold of you, anger has taken a dominant place in the human creature at this instant. Anger is the sword of satan, anger overcomes men, anger destroys union, anger destroys homes, anger is satan's poison against Humanity.
BANISH ANGER, MY CHILDREN, BANISH ANGER FROM YOUR LIVES…
DO NOT ALLOW ANGER TO INVADE YOU. MY SON TESTS PATIENCE IN HIS CHILDREN.
Pray, My children, pray for the Middle East, steps accelerate and the turmoil is growing.
Pray, My children, pray for the United States and Russia, they are bringing their allies closer to the war that had already begun; in this instant war continues advancing.
Pray, unconscious man will succumb to his own pretensions.
Pray, My children, pray, the earth shakes with greater force on several continents.
Pray children, pray for Argentina, its people will weep.
Pray My children, pray for each person to repent of their mistakes before night falls.
Pray for France, it will weep.
Beloved children of My Immaculate Heart, keep in mind that the instant will come when all you possess will be contaminated by the evil deed of man who has used science for evil. Do not despair, for My Son will provide you with the necessary food.
RESURRECT WITH THE GOOD AND ALL BE MY SON'S.
MY WOMB, ARK OF SALVATION, WILL KEEP YOU PROTECTED.
I love you.
Mother Mary.
HAIL MARY MOST PURE, CONCEIVED WITHOUT SIN.