Wednesday, April 19, 2017
Message from Our Lord Jesus Christ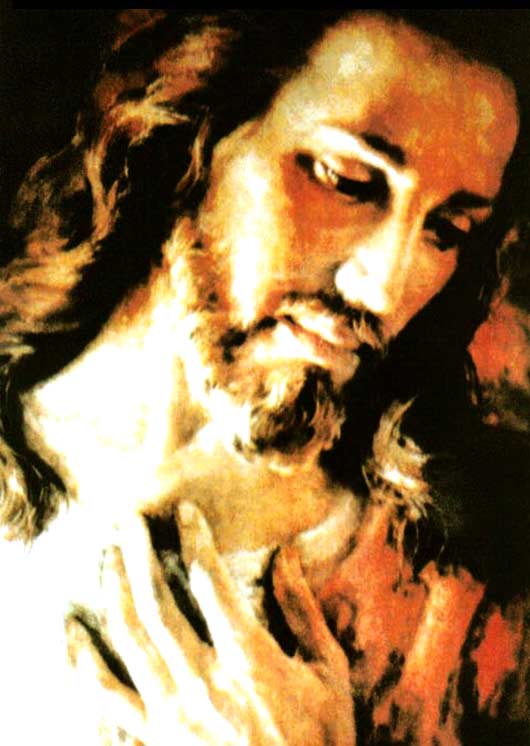 My Beloved People:
IN THE UNITY OF OUR WILL, I CALL YOU TO PREPARE FOR THE DAY THAT MY PEOPLE HAVE DEDICATED TO THE CELEBRATION OF MY MERCY.
What do My People have to celebrate?
The triumph of Life over death ...
The triumph of Obedience over disobedience ...
The triumph of Love over the lack of love ...
The triumph of Piety over impiety ...
Humanity does not live in triumph, it does not live the victory of the Light over the shadows, but continues living in the valley of death.
I CAME TO SAVE YOU AND HAVE NOT LEFT MY PEOPLE; I stay to save you and I continually send you the Assistance necessary for you to overcome evil. This is not happening in this generation because of the ignorance of My Love and this generation's unbridled surrender to evil.
I LOOK TOWARDS THE EARTH, AND THERE ARE SO MANY HUMAN CREATURES LIVING IN A CONSTANT SADNESS AS THEIR LIVES PREVENT THEM FROM EVEN THINKING OF OR WANTING TO GET AWAY FROM THIS STATE, WHICH BECOMES DEPRESSIVE. And so it is that sadness easily arises in man and is difficult to eradicate - do you know why? Because sadness in some cases conceals an element of anger. Sadness arises for some reason and often diverts your attention being born of the anger that has caused what you do not understand, what you do no not overcome, what you have not been able to achieve, what displeases you or that you do not share, outside of the feeling of sadness at injustice, aggression, the killing of the innocent and more ...
Within an attitude of sadness there can be a state of passive anger if you do not live in My Will - passive when you are confronted by the death of a loved one, when disease arrives and you find no explanation because there is none. Deep down within the human being there is a state of passive anger when you do not live sadness immersed in My Will, which contains no trace of anger.
Thus, man has gone from a state of passive anger to a state of active anger. At this instant, everything occurring around man causes him to fall into states of anger, and these are so frequent that man has not the slightest notion of these constant states of anger, since they become a growing habit that deploys itself against his brothers and sisters.
My Beloved People, you must eradicate this living in a state of constant sadness; with it the enemy of the soul introduces not only anger but anxiety, despair and everything that causes you to fall so that you do not become aware of the impasse in which you find yourselves and do not approach Me.
FROM YOUR BROTHER AND SISTER, YOU RECEIVE THE REACTION TO YOUR ACTION. Each of you generates light or shadow, each one projects before his/her brothers and sisters what he/she wants them to see; so it is that man lives in unreality when he does not project true life towards his brothers and sisters, but projects a mask of what he really is.
With this lack of Truth the enemy of the soul has introduced disrespect, intrigue, and incredulity with great ease and cunning into today's society, and that is why My children do not trust their brothers and sisters. My children, this lack of trust has been very carefully sown by the devil so that man distrust everything: his brothers and sisters, his family, his work, his well-being, My Word, My Love, and finally, because of so much distrust, he would deny himself Salvation.
My People are not strangers to the reality in which they find themselves at this instant. SOME DO NOT WANT
TO ENTER INTO THE UNDERSTANDING OF EVENTS THAT ARE NEAR FOR FEAR OF FACING THE
TRUTH. THIS, CHILDREN, IS NOT GOOD: YOU SHOULD NOT DENY YOURSELVES THE CONTEMPLATION OF REALITY. The senses tell you that all is not well with your external surroundings, but the human ego says: "I do not want to know about what is happening to Humanity". This denial limits My children, because the one who lives in denial limits himself in time and space.
My children who remain attentive to My Appeals remain attentive to everything around them and prepare appropriately, especially in the spirit.
EACH ONE OF YOU, MY CHILDREN, IS PART OF THE HISTORY OF SALVATION:
TO THE EXTENT THAT YOU ARE GOOD, YOU GENERATE GOOD; TO THE EXTENT THAT YOU ARE EVIL, YOU GENERATE EVIL.
My call to conversion is urgent, My children. Do not forget that you have bodily senses, yet you are not only flesh, but also soul and spirit, which is why you have spiritual senses and must make use of them so that the senses of the body might be different and unite with Me and want to do good.
My people, do not continue to live according to your own selves, how you would like everything to be, because that would be a lie, and living in the lie is to deprive yourselves of the opportunity that I offer you to attain true life and life in abundance.
I HAVE CALLED YOU TO LIVE MY WAY, and how many refuse out of distrust?
YOU REMAIN IN A CONSTANT IMPASSE BY NOT LIVING IN MY WILL. Man is corruptible, and a great
poison of that corruptibility is the fact that he constantly tries to find spiritual answers within a man who is not spiritual, within a man who offers Me prayers without these being impregnated with love, surrender, obedience, humility, faith and hope.
MY CHILDREN, I BLESS YOU FOR EVERY PRAYER THAT YOU OFFER ME: THEY DO NOT GO
UNNOTICED. This generation must redouble its efforts to overcome what you must face, and prayers must contain all the necessary ingredients so that they not only reach the Father's House, but also make you transcend your own selves.
MY PEOPLE MUST BE A PEOPLE WHO WALK IN MY SPIRITUALITY, ACTING AND WORKING IN MY WILL, IN ORDER THAT YOU MIGHT BE FIRM AND DETERMINED DOERS OF WHAT I ASK OF YOU.
What will become of children who distrust their parents? What will become of the People who distrust Me?
I ask you to walk along the path I have laid out for you and have walked for you beforehand ... Even so you do not obey, you resist, refuse and make your own decisions.
I WANT YOU TO FOLLOW ME IN FREEDOM AND FIND THE SATISFACTION OF LIVING CONSTANTLY FROM THE GOODS WHICH I GIVE TO THOSE WHO FOLLOW ME.
My People, if you could look at the path you are taking, you would be afraid of carrying on where you are going, because you would be afraid to walk in the human will and of the latter causing you to fall into evil.
My Beloved People, look within yourselves in spirit and truth before you are examined by yourselves. The Warning, My children, will give you the grace of examining yourselves: you will see and feel the weight of what you have done wrong in your lives and will see and feel the weight of the good that you have not done in your lives.
THIS IS THE GREAT ACT OF MERCY WITH WHICH MY FATHER TELLS THIS GENERATION: "COME, FULFILL MY WILL". No human creature will be able to exclude itself from that instant; the innocent will be taken in the arms of My Angels in those instants, so that they do not suffer.
My Beloved People, because of the anger of man who does not understand himself since he is not in control of himself, Humanity will suffer the great scourge resulting from anger and evil's dominion over man. Some do not believe that evil exists; they will lament so much when the evil one stands before those children who do not believe that man is able to serve him and execute the orders of evil.
Within those human creatures who live far away from Me, evil infiltrates and is growing like a tree to which fertilizer is being added every instant. Man is not aware of the depths at which evil encrusts itself in order to cause all possible division, all possible intrigue, all possible mistrust, all possible separation ...
HUMANITY IS GOING THROUGH THIS INSTANT LOOKING AT ITSELF, ITS EFFORTS, STUDIES, WORK,
POSSESSIONS, DESIRES, PROJECTS; AND THIS IS GOOD, AS LONG AS THESE DO NOT HOLD YOU BACK ON THE WAY TO ME, NOR CAUSE YOU TO KEEP ME IN THE LAST PLACE, NOR WHEN YOUR INTERESTS ARE SO GREAT THAT YOU DO NOT LISTEN TO MY VOICE.
Do not forget the time of Noah: everyone drank, ate, they did work and other things, and they made fun of Noah, they called him crazy, they distrusted the reasoning of this man who was preparing how to save his family and was suffering for those who would not be saved. Then when the rain came and did not stop, they ran towards the ark and could no longer enter it. That generation perished.
My Beloved People, this disobedient and idolatrous generation finds itself facing an escalation of violence from which it will not be able to escape. Evil is leading the great powers as these will give it human creatures for enslavement and subjection to its orders.
The tentacles of evil have enslaved older men, and older men have given to youth the creations of those tentacles, and adults have given to children what technology has created by order of the tentacles of evil. This generation moves in a circle of vices, all on behalf of evil.
Some are waiting for the appearance of the tentacles of evil; these have already stopped being tentacles and have become weapons of evil with which it has dominated Humanity.
THE ANTICHRIST WALKS IN YOUR MIDST AND YOU DO NOT RECOGNIZE HIM ... BECAUSE YOU HAVE BECOME FAMILIAR WITH EVIL.
My Beloved People:
YOU WILL NOT BE KEPT FAR FROM MY PROTECTION, I WILL SEND MY ANGEL OF PEACE, MY ENVOY, SO THAT HE HELPS AND ASSISTS YOU IN RESISTING THE TERRIBLE AGONY IN WHICH THE ANTICHRIST WILL PUT MY PEOPLE.
You will listen to Him and every Word of his will be a balm for the soul of My children.
My Beloved People, as in the past you did not heed My faithful Pastors who spoke to you with Truth, so you disregard and deny My prophets, deny My true instruments and accept those who deny what you have before your eyes. My poor children, how blind you have become!
Pray My children, pray for the United States, it will bring pain to My People. It will suffer through Nature and by those who are not its allies.
Pray My children, pray for Russia, it suffers because of terrorism. Pray; it does not make the right decision.
Pray My children, pray for North Korea. This People will suffer to the core.
Pray My children, pray for My children of Venezuela, they will suffer in order to be free.
Pray My children, pray for Jamaica, Nature will purify it.
The Earth will continue to shake and erupting volcanoes will be a source of pain for My children. Peoples in turmoil rise up in anger. Humanity remains in tension and this is increasing.
BE THOSE WHO SEEK MY LOVE, BE FAITHFUL, DO NOT FOLLOW SOCIETY WHICH DOES NOT UNDERSTAND ITSELF. CHILDREN, I HAVE GIVEN YOU EYES, DO NOT CONTINUE BEING BLIND, LIVE THE INNER LIFE.
My Beloved People, whatever pain comes to you, offer it up, assist one another, evil scourges My own. Unite, keep your faith in My Protection and in the Protection of My Mother.
Pray to My Mother, come to receive Me worthily prepared, consecrate yourselves to Our Sacred Hearts, go back to praying the Holy Trisagion: it is a balm for Our Trinity.
Beloved children, man must be warned and protect himself.
I ASK YOU TO PRAY IN SEASON AND OUT OF SEASON. BLESS ONE ANOTHER, BLESS WHAT HAPPENS TO YOU.
I love and bless you.
Your Jesus.
HAIL MARY MOST PURE, CONCEIVED WITHOUT SIN