Saturday, April 22, 2017
Message from Our Lord Jesus Christ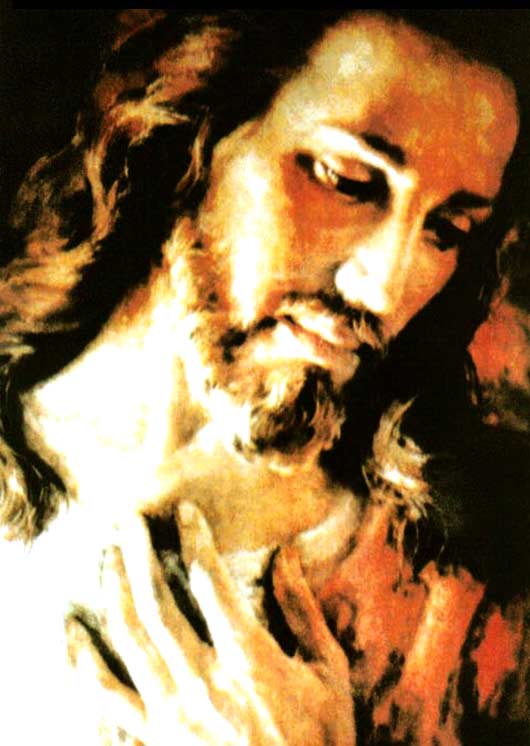 My Beloved People:
I BLESS YOU WITH MY MERCIFUL LOVE. YOU WALK WITHIN MY MERCY; I SEEK YOU, YOU ARE MY MOST PRECIOUS TREASURE AND I DO NOT WANT ANYONE TO BE LOST, ANYONE.
I alert you, warn you, encourage you to battle against temptation, to overcome it and to be perseverant.
MY MERCY KNOWS NO LIMITS: NEITHER RACES NOR LANGUAGES ... I LOVE ALL MEN AND WOMEN, I CALL ALL TO CONVERSION ...
I forgive those who repent and who with firm purpose of amendment are doers of Our Will. I welcome the penitent, the one who humbles himself/herself to serve Me, who becomes small without being interested in the honors of society.
I wait with all My Love for those who turn away from the darkness into which they have plunged themselves, then I enlighten them so that they might understand that those forms of darkness are, at the same time, physical. Clouding your intelligence, they blind you and you are paralyzed without knowing how to get out to find My Light.
Humanity is walking in a thick darkness that obscures what is spiritual and opens up to what is material so that you quickly welcome what is not of Me.
My Mercy is infinite by which you live with the free will that has been given to each person. NOTHING IS YOURS, YOU ARE ONLY MY ADMINISTRATORS, AND I WILL ASK YOU: WHAT HAVE YOU DONE WITH WHAT I HAVE GIVEN YOU?
My Mercy is Justice; for love of those who are Mine, I will not give the just the same as the one who does not repent out of folly or for having chosen to take shelter within and to form a part of the ranks of evil.
EACH PERSON CHOOSES OF THEIR OWN FREE WILL WHICH WAY THEY WILL GO.
MY MERCY GIVES EVERYONE WHAT THEY NEED TO DRAW NEARER TO ME AND TO ENJOY THE
BENEFITS OF MY HOUSE. MY CHILDREN KNOW THAT I WILL COME LIKE LIGHTNING AND ALL WILL REMAIN SPEECHLESS, UNTIL MY OWN RECOGNIZE ME, AND THOSE WHO HAVE NOT OBEYED WILL HAVE NO IDEA OF WHAT IS HAPPENING.
Beloved children, at this instant My children need to receive the blessings of My House and before the events that are so close, on finishing the Novena of Mercy on the day of the Feast of My Mercy, I will pour out upon My children who are in a proper spiritual state of Grace and have been faithful, and who with a contrite heart have asked Me for it, a special grace. If it is for the good of the soul, they will receive it.
TO MY PEOPLE I WILL GIVE THE GRACE OF FIRMNESS IN THE FAITH if nine days before Pentecost you pray and entrust yourselves to Me every day of this Novena, with body, soul and spirit unified in love, with dedication, surrender, with awareness and having turned away from what is worldly. Not only is the requirement to remain in that state of peace, grace and inner love those nine days, but the rest of your lives.
My beloved People, the chastisements are drawing near every instant to meet man; war advances slowly and, I might say, even with fear. The suffering of man is decreed by men and I suffer for this. My Love is Infinite and I do not want My children to suffer. Human rebellion has managed to surround Humanity itself without you being able to walk away: on the contrary you are joining that rebellion against Me, and in this, the one who is gaining great advantage over souls is the devil himself.
Water is a purifying element: it will be abundant on the Earth. You know that water is a sign of purification and the Earth asks for water to purify it from so much evil that man makes fall upon Her, especially from the blood of the innocent that is increasing each instant.
Beloved children, you do not accept My Calls. Scholars mock the explanation of My Word and take every sign of My Presence in the midst of you as something outside of My Omnipotence. Ah! I will look these creatures in the eye who call themselves the owners of My Word ... I DO NOT DENY MYSELF TO MY PEOPLE AND I USE ALL THE RESOURCES OF MY LOVE TO ENCOURAGE SINNERS TO COME TOWARDS ME IN ORDER THAT THEY MIGHT CONVERT.
Do you not see how the most unthinkable and infernal passions have taken hold in Humanity? ...
Do you not see how this Humanity has accelerated away from Me, disrespecting Me, entering My Temples to commit aberrations and sacrileges? ...
Do you not see how they have taken My Temples for holding recitals of secular music, and they keep Me within the Tabernacle where I am a Prisoner in the face of such offenses?...
IT IS THE FEAST OF MY MERCY - YES, CHILDREN, OF MY FORGIVENESS ... BUT NOT OF THE JUSTIFICATION OF SIN, NOR OF SACRILEGE.
I see some of My children entrenched in strategic positions in order to be able to confuse My own, I see them denying everything without stopping to study properly what is Mine and what is of the evil one. Denial is the easy way to evade the responsibilities that each person acquires according to his/her state.
Our Trinity is Love, the Love that you do not know, so much so that My Father sent Me to give Myself for you, taking on your sins.
WE ARE LOVE, SO MUCH SO THAT YOU WILL NOT BE LEFT ON YOUR OWN FACING SUFFERING. MY
MOTHER AND THE MOTHER OF ALL PEOPLE, WILL CONTINUE GUIDING YOU SO THAT YOU DO NOT SUFFER IN SOLITUDE, AND THEN MY ANGEL OF PEACE WILL COME TO GIVE YOU THE PEACE THAT THE ANTICHRIST WILL TRY TO STEAL FROM MY PEOPLE.
I will not leave you on your own as I see you being continually besieged by the devil and his followers, and by the wrath of man himself that evil is causing to rise like yeast within Humanity. You are besieged, children, very much besieged and stealthily pursued by the wiles of evil in order to make you fall into sin.
The evil of rebellion has been poured out upon the nations, so that, in the midst of the fury of the protests and upheavals, men would rise up against their own brothers and sisters.
I HAVE ASKED VARIOUS LEADERS TO CONSECRATE THEIR COUNTRIES TO OUR SACRED HEARTS
IN ORDER TO FREE THEM OR MINIMIZE SOCIAL UPHEAVALS, BUT I HAVE NOT BEEN HEARD OR
TAKEN AT ALL SERIOUSLY, SO PROUD IS MAN. THUS NOT ONLY WILL THE ONE WHO DOES NOT LISTEN TO ME HAVE TO SUFFER, BUT ALSO HIS/HER PEOPLE.
Argentina, land of great saints, how I have looked at you, and you have not listened to Me!
My People, my beloved People, I grieve for you who suffer. Persecution on a larger scale will not be long in coming.
MY FAITHFUL CHURCH WILL SUFFER: FREEMASONRY IMPOSES LAWS AGAINST MY WILL.
I grieve for the temples that will be destroyed by debauchery and injustice. Therefore, My children, prepare yourselves properly, change your lives, resume the true path. Come to Me; each person will see himself/herself, everyone personally, and everyone will see how much they have loved Me, how much they have loved their brother and sister, how much they have built and how much they have destroyed ... Each person will examine himself/herself in Love.
My People, life is the Gift of Our Love, therefore I call on you who live to attain Salvation, I call you to love as I love you. And for this I need creatures who wish to attain the Benefits of My House, creatures with firm intention, creatures who are ready to forgive, creatures WHO ASPIRE TO AN INTIMATE LIFE BESIDE ME SO THAT THEY WOULD NOT ONLY BE RELIGIOUS BUT FULLY CHRIST-CENTERED, AND SO THAT I MIGHT GIVE THEM MY BENEFITS SO THAT THEY LIVE ENJOYING MY LOVE AND ACCOMPLISHING MY WILL.
Pray My children, pray for France, the fear of its inhabitants will continue, terror and hatred give no rest. This Nation suffers ipso facto. The Hill of Montmartre will be taken and My Sanctuary of the Sacré-Cœur will be trampled, desecrated and then destroyed; I suffer for it.
Pray My children, pray for the Middle East, the turmoil is fiercer and My children suffer mercilessly.
Pray My children, pray for those who do not believe, who do not love Me and scorn My Mother.
Pray My children, pray, the United States shakes.
Pray for Chile and Ecuador, the earth shakes forcefully.
My Beloved People, My Mercy alerts you: you have to live closer to Me, entrust yourselves to My Most Holy Mother, request the company of My Archangels and the Angels who accompany you. Do not continue living on your own. The antichrist is preparing its silent arrival.
MY PEOPLE SUFFER, THEY ARE PURIFIED, AND THIS BEGGAR OF LOVE WARNS YOU AND CALLS YOU TO COME TO ME.
My Beloved People, listen to the explanation of My Word.
I BLESS YOU WITH THE GIFTS OF MY MERCIFUL LOVE.
I DO NOT WANT YOU TO BE LOST.
MY MERCY IS POURED OUT UPON HUMANITY; EVERYONE EITHER TAKES IT, AS IS MY WILL, OR IGNORES IT, AS SATAN WISHES.
My Love is for every one of you.
Your Jesus.
HAIL MARY MOST PURE, CONCEIVED WITHOUT SIN