Wednesday, May 3, 2017
Message from the Blessed Virgin Mary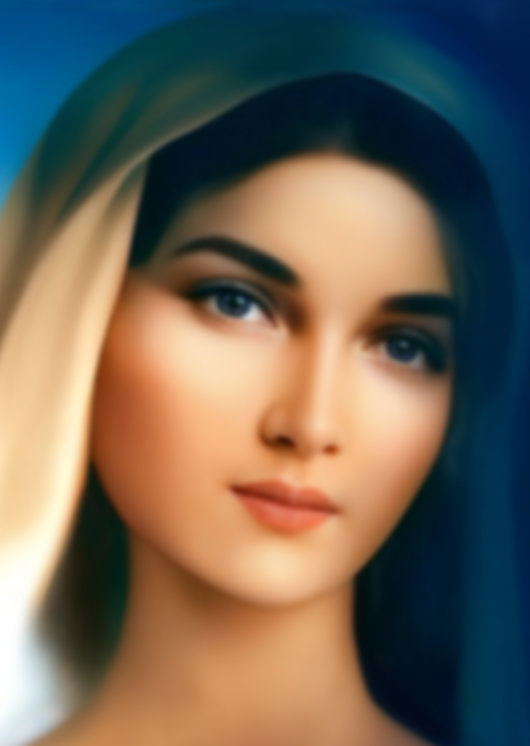 I had been waiting for the Word of our Mother and was meditating on the diversity of thoughts carried by each human creature and how much of what is carried inside coincides with what should be our priority because it is the Truth and the Life.
Our Blessed Mother: Daughter: Were you waiting for me?
Luz de Maria: Yes, Mother.
She is so beautiful, she enchants me with her golden garment, finely embroidered with white details, and her veil does not look like cloth but a ray of sun that covers her from the head almost down to her feet; she is so pure that this purity increases Her beauty...
Our Blessed Mother:
Beloved, in this month that you dedicate to My Motherhood, My desire is that you keep the peace, because I will be very much attacked by those who do not love Me, as an offensive gesture towards My Son. My children must send blessings; I will dispense graces to those who act in obedience to My Son.
The dark has seized the minds of creatures and saturated their hearts with darkness. I call sinners to conversion, but they remain set and obstinate in their sins; they mock My Requests and join with what is sinful with all the more delight.
Luz de Maria:
Mother, how can we make reparation for so much pain to Your Sacred Hearts?
Our Blessed Mother:
Beloved, by acting and working in the good, being bearers of peace and witnessing to My Son's presence in you.
HOW GREAT IS THE RESPONSIBILITY OF THOSE WHO KNOW OF MY SON AND OF ME, WHO KNOW
OF THE APPEALS TO HUMANITY! It is a blessing and at the same time a great responsibility; you cannot be like those who do not know us, nor can you allow evil to take hold of you momentarily in order that you might be a cause of pain for your brothers and sisters or a reason for stumbling.
My children, I have called you to be facilitators of good on the hard path endured by your brothers and sisters who have become immersed in what is worldly.
BELOVED, MAN'S LACK OF CONTROL OF HIS EMOTIONS IS DUE TO THE FRAGILITY WITH WHICH MAN HAS TREATED WHAT IS HAPPENING TO HIM IN EVERY RESPECT.
REMAINING INDIFFERENT ON THE SPIRITUAL PATH CAUSES WEAKNESS IN ALL AREAS OF THE HUMAN BEING, AND DUE TO THIS, IT HAS BEEN EASY PREY FOR EVIL.
Evil's action has not remained passive; on the contrary, it has acted quickly and My Son's People, living in the haste of the instant, do not think; they do not turn inward but live externally in step with social unrest, among other things.
Children, you need to accept the newness of this instant in which the Holy Spirit is calling you to be more spiritual, to maintain your unity with My Son.
The spiritual person does not separate his/her interiority from his/her exterior, from relationship with his/her fellow men, but his/her brother enters into the spirituality that this person lives internally in order to partake of such work and action in total intimacy with My Son.
The inner man, the spiritual man, is the one who invites his fellow men to walk with him; he does not exclude, but wants to include everyone in that renewal which he experiences, in that continual happiness, not because he does not suffer but because everything is a reason for offering, and therefore for joy.
It is what is inside the human creature - joyful and full of the Divine Light -, which is transferred to man's exterior and to everything around him: the action of the Holy Spirit in him and towards his fellow men.
BELOVED CHILDREN, AT THIS INSTANT EVERYONE WANTS TO JUSTIFY THEIR WORK AND ACTION; BECAUSE OF THIS EVERYONE GIVES A PERSONAL MEANING TO TRUTH. A capricious meaning in order
to justify what they do not know of, what they do not know about, and to justify licentiousness, without listening to their conscience. So many think they are learned because they know about some subject, but they are unaware that believing is not the same as knowing everything or having the last word or the greatest knowledge.
BELOVED CHILDREN, BE SPIRITUAL; SEEK MY SON, THIRSTING FOR HIM, BE UNITED WITH HIM.
My Beloved, you know that great sacrileges against the Eucharist are occurring, not only in secret but in public, and My children let them pass unnoticed for lack of deepening in the Truth. So many consecrated hosts taken by followers of the devil in order to show their scorn for My Son in the Holy Eucharist and to commit sacrileges! So many hands are stretched out to receive My Son in the Eucharist with hearts full of reproaches and ingratitude because of not loving Him! Disrespect towards My Son abounds in churches and is viewed with great indifference by those who have a duty to protect him.
Beloved, I have called you on so many occasions and set out in the minutest detail what is going to happen, in order that you might prepare spiritually and concerning what is of prime necessity. Some misunderstand it and are terrified, others receive it with indifference and say that this is not going to happen, others mock My Words and say that what I am announcing has already passed.
It is not the case: My Word is for this instant, just as it is for whoever wishes to be united with My Son and makes an effort; may they be determined and humble in order to pray for Divine Assistance, they will receive the necessary grace.
As Mother I take your hand and do not set you aside, but take you with me on the path if effort is continuous, not intermittent.
Pray, My children, pray for Hawaii, it will be surprised by fire.
Pray, My children, pray for England, it will suffer unexpected pain.
Pray, My children, pray for Chile, it will shake.
Pray My children, pray, war continues on its way, false peace agreements will not last.
Beloved, I love all people so much that I leave nobody on their own. The one who asks for My Assistance will receive it without delay.
I am the intercessor of men before the Most Holy Trinity. Ask, children, and I will be the intercessor for whoever asks it of me.
DO NOT DESPAIR, CHILDREN, WORKING AND ACTING WELL ARE PROTECTION FOR YOU IN THE FACE OF EVIL.
Pray, be active in order to testify to your brothers and sisters of what you bear within you.
My daughter, may My children not despair: this is a lack of faith. Tell them that they are children of the King and thus possess the will to give up sin and receive the blessing of the forgiveness of sins and a firm purpose of amendment.
Tell them that I am Mother of all Humanity and I wait for everyone.
My beloved children, do not wait for the instant to pass; be lovers of My Son in the Eucharist.
At this instant, Humanity is in greater turmoil: it is fertile ground for evil to act with ease. Do not be distracted, focus on him who is the Center of man's life: God, One and Three. Nobody is abandoned by the Divine Hand, nobody.
MAKE HASTE AND ENTER INTO OUR SACRED HEARTS.
COME, CHILDREN, THOSE WHO ARE HELPLESS, THOSE WHO ARE HUNGRY, THOSE WHO DO NOT
HAVE A HAND TO WELCOME THEM, THOSE WHO BELIEVE THAT THEY ARE NOT LOVED BY MY SON, THE HUMBLE, COME CHILDREN, COME TO THIS MOTHER WHO LOVES YOU AND WILL NOT LEAVE ANY OF HER CHILDREN ABANDONED.
I bless you from My Heart.
Mother Mary.
HAIL MARY MOST PURE, CONCEIVED WITHOUT SIN