Friday, May 5, 2017
Message from the Blessed Virgin Mary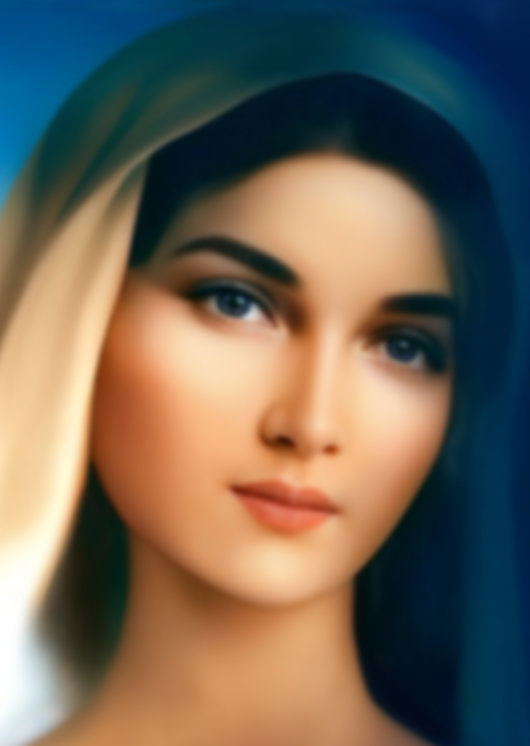 Beloved children of My Immaculate Heart:
MY CHILDREN, MY BLESSING GIVES ABUNDANT FRUIT WHEN MY CHILDREN RECEIVE IT WITH A READY HEART AND IN THANKSGIVING.
My Son's People should carry the Cross alongside My Son and in this way make reparation, share, merge with My Son's Self-Surrender, for in total surrender there is nothing at all that can take away that unity.
And it is precisely this to which I come to call you:
That you might be one with the Holy Trinity ...
That you might resume the right path; it is never too late for a repentant child.
I COME TO INVITE YOU TO BEGIN A NEW LIFE, FILLED WITH TRUE LOVE WHICH IS WHAT MY SON OFFERS YOU.
During the course of daily living, you are aware that every work, every action is performed by each person individually, and you do not invite My Son to perform works and actions together with you. From that separation between the Divine and the human in which man has been living it follows that ignorance has made Humanity stagnate, so that you believe that God is distant and that to find him you must look outside yourselves. It is because of this that My children go astray and take paths that seem to lead them to deepen their spirituality and that, on the contrary, lead them to draw near to false idols, wrong beliefs and actions outside of what My Son allows.
Humanity lives in constant change, except that at this instant the changes are so continuous that you do not perceive them and plunge into acting badly.
INDIVIDUALISM IS WHAT IS MOST NORMAL FOR THIS GENERATION AND IT IS INCREASING. THE
GOOD OF ONE IS THE GOOD OF ONE AND THE EVIL OF THE OTHER IS THE EVIL OF THE OTHER;
YOU THINK THAT NOTHING AFFECTS YOU, THAT EVERYTHING IS VERY PERSONAL AND THAT YOU SHOULD STRIVE ON BEHALF OF THE HUMAN EGO.
This, My children, creates pride. When you do not share, when your brother's joy is not experienced as your own, when there are rivalries and brothers who with their sharp tongues attack those who are down, My children, this is pride. Pride does violence to the creature because it makes him insensitive, robs him of love, compassion, charity, forgiveness, and causes the proud to become ignorant concerning the mandate of the First Commandment.
Humanity is in a state of constant change; man's mind receives influences from everything around him: influence on his psyche and external influence via fashion, through music, cinema, video games and misused technology. In addition, just as the Earth undergoes transformations, changes in the sun and moon come to Earth, and man's body is not prepared to receive high levels of geomagnetic emanation and small particles from the atmosphere and the sun. This causes alterations in the normal rhythm of the organs of the human body, in its working and activity, increasing the possibilities for disease.
Man is a receiver and transmitter of good or evil; evil causes alterations in man himself and he emits those alterations towards the Universe, just as the good reproduces itself to infinite levels. I regret that at this instant evil is greater than good.
In particular months when solar activity coincides with some phases of the moon, serious alterations occur on Earth, causing earthquakes, some of great intensity. And man thinks that he is the master of his life, and thus what he does is not related to the rest of the Universe, but to his ego.
SO MANY OF MY CHILDREN ARE WAITING FOR SOME SIGN TO OBEY MY CALLS! CHILDREN, I AM
THAT SIGN, urged on by the instant in which you are living, urged on by disregard for My Calls, urged on by the disobedience of some of My Priests, urged on because man says: "this has already happened and here we are" ...
But this is not the case, My beloved! Previously, there have been serious events, but from one country to another you have had time to aid one another. WHAT IS COMING IS THE INSTANT OF INSTANTS, WHEN
THERE WILL BE SORROW, SADNESS AND EVERYONE WILL FEEL THAT THEY ARE ALONE IN THE
WORLD. It will be the instant of pain and man's confrontation with good or evil. Therefore, do not be like the Pharisees, do not pray in order to be seen, do not receive My Son in the Eucharist for appearance's sake, as whoever receives My Son conscious of the sin in which they are living is forging their own condemnation.
I have seen knees with bruises, knees with traces of mortification, but all this is empty because you have not prayed being aware of what you are expressing in prayer, you do not live out what you express with the tongue, you are not authentic, you are not witnesses to My Son's Truth.
I SEE EMPTY PRAYERS, WITHOUT FEELING, REPETITIVE, BECAUSE YOUR THOUGHTS ARE FAR FROM WHAT YOU ARE SAYING. I see empty hearts repeating what they have learned by memory, which is why I insist on the urgency of an awakening of conscience on man's part, so that he strengthen his faith and penetrate within himself where My Son is to be found.
IT IS URGENT THAT YOU BECOME AWARE OF HAVING A SOUL, and that without it the body would not be a body, since the soul infuses life.
IT IS URGENT THAT YOU BECOME AWARE OF HAVING A SPIRIT and that you need to live in a continuous correspondence of love towards the Most Holy Trinity.
IT IS URGENT FOR MAN TO BECOME AWARE THAT HE CANNOT WALK ALONE AND NEEDS TO SAVE
THE SOUL in order to attain Salvation and not lose Eternal Life.
Beloved children, man needs to possess a special quality without which he can do nothing in the good, he cannot act and cannot do anything good without that special quality.
And it is precisely that quality in which the evil oppressor has attacked in order to make it disappear from man:
THAT QUALITY IS LOVE ... WITHOUT IT MAN CANNOT CLAIM ANYTHING, AS MAN IS THE PRODUCT OF LOVE. WITHOUT LOVE MAN WILL BE UNABLE TO EXPAND HIS FACULTIES OR SENSES; EVERYTHING RIGHT AND GOOD IS BORN OF LOVE.
Children, do you know about Trinitarian Love? Love is the greatest thing with which man has been endowed and it is what man has despised the most.
Evil's desire is to confuse Humanity by leading men to behave stubbornly until the human creature comes to be totally unrecognizable regarding its work and action.
BELOVED CHILDREN, THE AUTHENTIC CHRISTIAN IS THE ONE WHO TESTIFIES TO THE PRESENCE OF MY SON IN HIM, BEING LOVE IN PRAXIS.
Children, do you want to be free? Be Love and there you will find true freedom, when works and actions flow without any difficulty because they come from that source that flows with milk and honey, the source of true Love: Divine Love.
MAN IS SO IGNORANT OF THE IMPORTANCE OF ENTERING INTO AND BEING FED WITH DIVINE LOVE FOR SPIRITUAL GROWTH AND POSSESSING LOVE!
Beloved, Humanity looks at the outside; you should look within people, and this can be seen in their works and actions, in how they love. Look for what is inside people and you will know how to recognize the Divine presence or lack of it in your brothers and sisters. But for this you must first purify yourselves and give up what is most painful for you to give up, since you do not yet fully trust My Son.
A loveless creature is an empty creature: it does not know itself, does not recognize itself as a child of God, it will always be lacking something, because nothing will satisfy it.
MY CHILDREN, I CALL YOU TO STOP AND THINK THOROUGHLY ABOUT THE RESPONSIBILITY OF BEING CHILDREN OF GOD.
My children, look up without uttering a word, and with all the love that you have, ask for Divine Protection.
Do not forget to pray the Holy Rosary; the Eternal Father has granted Me abundant graces for those who are fervent children, who do not forget the Holy Rosary.
Unite, understand one another, be in solidarity.
My Beloved, Humanity is facing carnage; remain forewarned, do not forget spirituality, do not forget to prepare yourselves.
Pray, My children, pray for Chile, this country will suffer.
Pray, My children, pray, in the ocean you will find what man has never imagined.
Pray, My children, pray and prepare for The Warning.
Pray, My children, pray for Jamaica, My children will be surprised by water.
Beloved children of My Immaculate Heart, do not be like those who do not know the Divine Word. Therefore, you should not ignore it. Evil does exist, but do not forget that the good is greater and that you attain it by looking at My Son and repenting of your evil deeds, and He will forgive you.
Do not go with evil's innovations, do not become contaminated, be creatures of Love and good habits.
THE INSTANT IS GROWING SHORT.
Come to Me, I will lead you towards My Son.
I bless you.
Mother Mary.
HAIL MARY MOST PURE, CONCEIVED WITHOUT SIN