Wednesday, May 17, 2017
Message from Our Lord Jesus Christ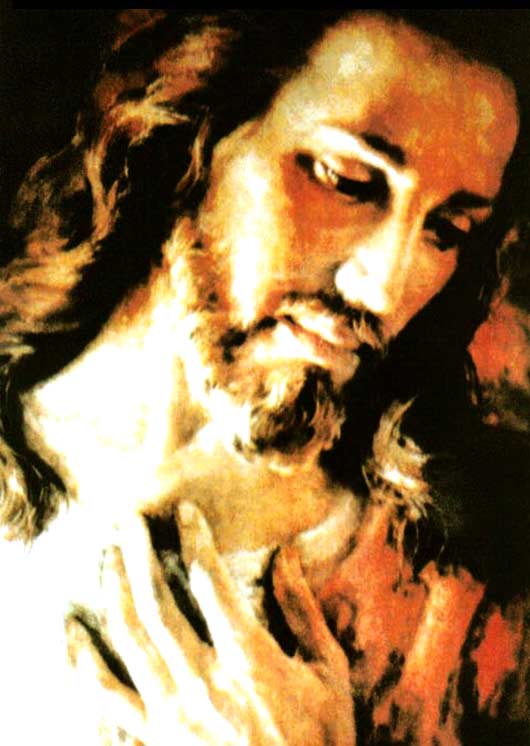 My Beloved People, I bless you with My Love.
MY PEOPLE: WHERE ARE YOU?
I speak to you and you do not listen to Me ...
I call you and you do not respond ...
I beseech you and you do not listen or take My Words with due seriousness ...
At this instant, it is necessary that My children grow and penetrate My Love so that, being love, it would not be easy for evil to make you become like puppets and cause evil.
MY PEOPLE, YOU HAVE NOT UNDERSTOOD THE URGENCY OF INNER GROWTH SO THAT YOU MEET
ME AND UNITE WITH ME. You continue to be held back the whole while by that human ego that you do not cease to flaunt or to praise constantly. You know everything, you can do everything, you leave everything aside to continue being you, being the "ego"!
Your tastes or preferences may not conform with My Teachings, with the behavior of a true child of Mine, but I do not stop and you must not stop on your walk towards Me; you must not stagnate and think that you already have everything to reach Me. Man's spiritual growth does not end until he leaves for My House.
SOME OF MY OWN ARE CONCEITED, EGOTISTICAL, ARROGANT, ACCUSATORY, THEY DO NOT FORGIVE, THEY IMPOSE THEIR POINTS OF VIEW, THEY DO NOT ACCEPT THE WAY OF THINKING OR
THE UNDERSTANDING OF OTHERS OF THEIR BROTHERS AND SISTERS TOWARDS MY AFFAIRS,
THEY CONSTANTLY POINT OUT THE ERRORS OF THEIR BROTHERS AND SISTERS WITHOUT
KNOWING THAT THE DEFECT THAT THEY POINT OUT IS THE ONE THAT THEY HAVE THE MOST. This, My People, is so common in you that it gives Me such sorrow as you continue walking with the same rags that you have always borne.
Quarrels are not only those that can be seen publicly among My children, but those that each person carries inside and externalizes harshly in an instant when they attack their brothers, without stopping for even a second to think about the damage they are causing to themselves.
I have delegated Missions to some of My Instruments, and this Mission that I have given through the explanation of My Word is not to be taken lightly, but it is so that My People might grow, since I CANNOT ONLY LEAD YOU TO PRAY OR ONLY CALL YOU TO RECEIVE ME, WITHOUT THERE BEING A TRUE INNER CHANGE SO THAT FAITH BE BORN WITHIN AND TAKE HOLD AND BE TRUE.
My Beloved People:
YOU NEED PRACTICE, PRACTICE OF MY LOVE TOWARDS YOUR BROTHERS AND SISTERS. Whoever carries on being like a whip, like a torturer of their brother, is not genuine, they pretend to be among My own ...
PEACE IS A SIGN OF THOSE WHO ARE WALKING TOWARDS ME ...
RESPECT FOR NEIGHBOR IS A SIGN OF THE ONE WHO WALKS TOWARDS ME ...
THE LACK OF TRUST IS A SIGN OF THE ONE WHO IS NOT TRULY MY CHILD but is lukewarm and must commit at this instant, because these attachments do not allow you to grow, they are a continuous hindrance …
My Beloved People, I do not come to explain My Word in order for you to read it and not practice it, being the same unbelievers, fools, ignorant and arrogant as make Me suffer.
EVERY REQUEST OF MINE IS AN ORDER FOR YOU, AN ORDER SO THAT YOU CAN GROW AND BE MORE SPIRITUAL AND LESS SINFUL. Spiritual growth keeps you away from sin and what is wrong. I need you to prepare yourselves to walk in My Own Way; you cannot take shortcuts as you like, you have to walk in My Will.
SPIRITUAL GROWTH INCREASES FAITH IN THE CREATURE AND MY CHILDREN HAVE TO GROW IN ORDER TO OVERCOME WHAT BINDS THEM. Most people voluntarily attach themselves to what is worldly, to their lifestyle, to their tastes and their pleasures, they do not trust in Me, do not believe in Me, do not abandon themselves in My Will, and some have defied Me because of the terrible attachments they have. Attachments that dominate the mind, and they believe that they will unable to live without them.
My People, this generation rebels against Me at every instant, so it will not be easy for you to live as you will have to live with the events that are approaching:
How is the one who lives in opulence going to live from one instant to the next?
How is the one who lives focused on their economics going to live from one instant to the next?
How is the one who has become accustomed to satisfying their "ego" and their whims going to live?
How is the one who is accustomed to commanding going to live?
How is one who has disobeyed Me going to live?
My People, you will not have the conveniences of this instant ... NOTHING!
SECURITY WILL BE IN FAITH IN MY ASSISTANCE AND IN THE ASSISTANCE OF MY MOTHER TOGETHER WITH YOUR BROTHERS OF JOURNEY.
YOU WILL NOT BE ABLE TO HAVE YOUR WHIMS OF THIS INSTANT, YOU WILL BECOME EQUAL, THE ONE WHO HAS WITH THE ONE WHO HAS NOTHING, AND AT THAT INSTANT SECURITY WILL BE IN ME AND WHOEVER IS NOT PREPARED TO OBEY WILL NOT BE ABLE TO BEAR THAT STATE.
My People, the instant is no longer instant, it grows short and you go on as if nothing has changed. Great diseases are spreading quickly and when they become known through the medical media, no longer able to hide them, it will be what My Mother has revealed to you for some diseases that will stop them, but in the midst of everything the creature's Faith is needed.
Children, how many of you are not attaining greater spirituality because you keep denying yourselves inner change! Man may have walked through his life with a certain character, with a particular way of being, with very personal demands and tastes ... BUT THIS IS AN INSTANT OF CHANGE, OF TRANSFORMATION, HEALING AND A SPECIAL FORM OF MY ASSISTANCE.
Children, you are creatures of free will, you are aware of your actions, you can reason on your actions or works, you have a mind and consciousness; use these Gifts to grow, not to regress. The human self is part of consciousness; therefore it is so important that you know yourselves so that you can decide to change for your own good and that of your entourage.
This generation feels that it is self-sufficient with current technology and has plunged into using modern artifacts without wanting to believe that these consumes their instant, prevent you from being fraternal and willing to change, and lead you to violence and dependence. How many forget Me without thinking that even with all the modern innovations you are equal to other generations that became lost like this generation because of not aspiring to know me!
BY YOURSELVES YOU CAN DO NOTHING, YOU NEED ME TO REMAIN IN YOU, AS I DWELL INSIDE EACH ONE OF MY CHILDREN. At this instant you are separating Me from yourselves, hence the deep rift that you are forming, with which you obstruct that uninterrupted dialogue that should exist between us.
YOU HAVE A HUMAN GOAL IN LIFE ...
AND I CALL YOU TO THE DIVINE ONE THAT HAS NO END
My people, I facilitate our encounter for you, but you resist in this instant of human existence of such importance, such transcendence.
You must not remain the same, you must not commit the same mistakes of the past, you must no longer carry the rags of bad habits learned in your family or approved by yourselves. No man has authority to defile their brother or to keep them in constant torment.
CHILDREN, THE HUMAN CREATURE SHOULD ATTAIN MY ACTION AND WORK SO THAT YOUR HUMAN EGO DOES NOT RISE UP AGAINST YOUR BROTHERS AND SISTERS.
My People, the suffering of My Church is not something distant; it will be harshly purified, and you, Mystical
Body, are within My Church: for that reason you must be better at every instant. DO NOT GIVE UP, CONTINUE UNITING IN MY WILL. YOU ARE NOT ABANDONED BY ME: EACH PERSON IS UNIQUE AND IRREPLACABLE FOR ME.
Beloved My People, the sun discharges its harmful emanations and you are going to suffer. The arms race of the nations will find its raison d'être before the eyes of Humanity. The wolf in sheep's clothing wants to take over Humanity without Humanity noticing it, so at this instant it appears to be seeking world peace.
Do not be confused, My children, stay alert in every respect. When the economy seems to present great solidity, do not trust this. I SEE FURTHER, AND YOU WILL NOT CARRY ON LIVING AS UP UNTIL NOW; THE ONE WHO HAS MONEY WILL BE LIKE THE BEGGAR AND THE BEGGAR WILL TEACH HIM HOW TO LIVE WITHOUT POSSESSIONS. All will need brothers and sisters in order to protect themselves as Christians facing the voracious persecution that will be unleashed with great force against My People.
Do not wait for the Signs announced by My Mother in order to change; there must be change at this instant. Be reconciled with Me and give thanks for having been called to live in My Love, from which comes everything that man requires.
Pray children, pray for France, it will suffer terrorism deep within it.
Pray children, pray for the United States, this nation will cause My Children to suffer.
Pray children, pray for Ecuador, this People of mine will see the great volcano awaken.
Pray children, pray for the Middle East, Humanity will arrive at what is unexpected.
My beloved People, pray for My Church, be prudent and commit to being transformed into true children of Mine.
IN THE FACE OF HUMAN EGOISM AND ARROGANCE, SHOW FAITH IN ME WITH A TRUE INNER CHANGE.
I have called everyone to prepare because the instant is no longer instant. But My People wait and when they wake up it will be doubly difficult for them to come to Me, but My Mother's Love will not cease, She will continue interceding for each one of you and will draw you to My Way, where you will never find the Door closed.
I BLESS YOU, MY BELOVEDS. DO NOT FORGET THAT THIS THE INSTANT FOR PREPARATION.
Your Jesus.
HAIL MARY MOST PURE, CONCEIVED WITHOUT SIN