Saturday, May 20, 2017
Message from the Blessed Virgin Mary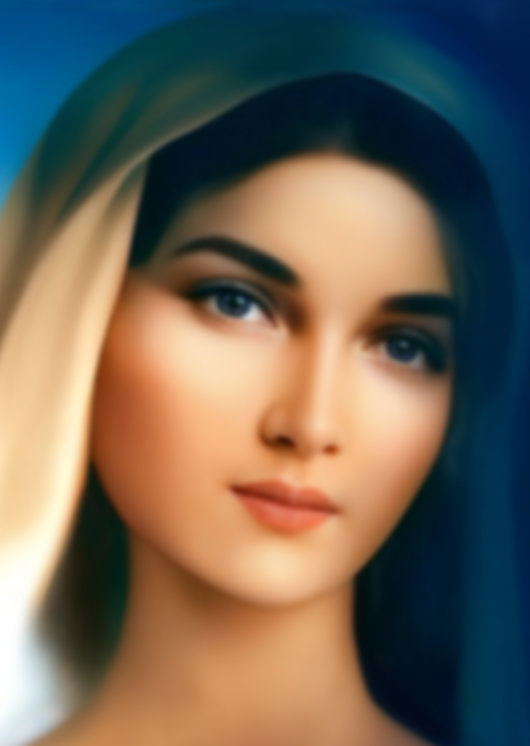 Beloved Children:
I WISH THAT YOU WOULD OPEN YOUR SPIRITUAL EYES SO THAT BLINDNESS WOULD DEPART FROM YOU.
Anyone who does not want to continue living in evil must have the courage to put aside wrong actions, the bad teachings that they have received, ignorance, disrespect, but above all, as long as My children do not abandon the arrogance with which they treat My Son's affairs, they will not grow and will therefore not be able to maintain clear vision guided by the Holy Spirit.
THIS WORD IS GOD'S WILL IN ORDER THAT YOU MIGHT AWAKEN FROM THE LETHARGY IN WHICH YOU HAVE IMMERSED YOURSELVES, AND YOU CONTINUE LIVING COMFORTABLY, AS IF NOTHING WERE GOING TO HAPPEN.
This is how men carried on in Noah's generation: nothing stirred them, they mocked the words of Noah and what he was building in obedience to God. Some were unbelieving, others believed him mad or possessed by an evil spirit that induced him to build an ark.
Thus, walks the man of this generation: put to sleep by the possession of what he desires, maintaining his security in the god of metal with which he achieves a "status" that gives him superiority over the rest of society. You know that what is material will not last forever or be a cause of perpetual security, but as if deaf and dumb, living by false reasoning, you continue being led to disobedience.
Some of My children attend in order to hear and participate in the Meal of My Son at Holy Mass, pray daily to entrust themselves to God and offer Me some Hail Marys. They say to themselves that they do not harm their neighbor or cause harm to anyone, but they are not spiritual, they are mediocre; renunciation of what is worldly causes them to fear, they believe half-way, living a "light life": they believe that they obey the Commandments and God, but do not listen to the Call, they consume their days in the multiple occupations of their labors. And how is their heart? They have forgotten that where the heart is, there is Faith.
Dear children:
MY SON WAITS FOR A RESPOND TO HIS REQUEST AND FOR HIS PEOPLE TO ASK HIM:
"THY KINGDOM COME". AND I ASK YOU: IN WHAT KINGDOM ARE YOU LIVING? IN THAT OF THE WORLD?
Do not let the evil one distract you; he keeps his militia on Earth constantly tempting you in order to distract you with what will cause the greatest damage to you spiritually, so that at every instant you might become more closed regarding the occurrence of the true events affirmed by the signs of these instants.
You, My children, I call you to stay awake: you have been deceived so that you will believe that you are waiting for the Savior, and being deceived, you will receive the antichrist. Humanity faces war, there will be no order on Earth, famine will take possession of all Humanity and the Antichrist will enter to give My children a supposed peace, a false security, and he will give them food ...
And how will those who do not know My Son and have refused to listen to these Calls react? They will be captive to deceit and will act following the antichrist, rendering him an evil cult. Men will adore him because he will offer them immortality, an immortality without God, but Humanity, foolish and ungrateful, will surrender and will follow him, not knowing that the desire of evil is to extinguish the greater part of the world population.
My children, at this instant the stage is set so that men walk towards that stage. Over the centuries the evil one has accumulated with his evil arts what he needs at this instant; he has nourished esotericism, false doctrines, he has led man to ignorance of the Truth, he has provided you with a false security and the denial of God.
EVERYTHING I AM EXPRESSING TO YOU, CHILDREN, IS REAL.
EACH ONE OF YOU MUST KNOW AND RECOGNIZE MY SON IN ORDER NOT TO FALL INTO EVIL.
Every human creature who adheres to the arts of darkness, who adheres to comfort and exaggeration, every one of you who worships the god of money and strives to possess it in order to maintain security, everyone who has lived and committed acts against the Holy Spirit, everyone who has lived defaming their brother, everyone who wishes evil on their brother, IS INSTILLING, EVEN IF THEY ARE UNAWARE OF IT, THIS PART OF WHAT THEY HAVE LIVED WITHIN THEMSELVES, AND THEY GENETICALLY TRANSMIT THAT INHERITANCE WHICH IS AWAKENING AT THIS INSTANT IN THE YOUNG GENERATION.
I call you to break these bonds of the past ...
I call you to be new creatures ...
I call you to overflow with the Love of My Son ...
I call you to be reborn to a new life that will take you away from the excessive desire for material possession and be enveloped in the soul's enrichment of the soul, so that you might live in the fullness of those who ask: "Thy Kingdom come"
PREPARE THE KINGDOM SO THAT THE DIVINE WILL CAN BE FULFILLED ON EARTH AS IN HEAVEN.
YOU SHOULD PREPARE YOURSELVES AT THIS VERY INSTANT SO THAT YOU CAN RECOGNIZE WHAT IS NOT OF GOD.
My children, the evil oppressor will possess the power to change the Natural Law and will thereby convince My children, and they will surrender to him, this being the great and terrible trial of the Church.
My Beloveds, you know this, you hear it, you are not ignorant of what I have told you; however, there is a great difference between knowing and doing, between knowing and recognizing, between knowing and correcting oneself.
In 1 Corinthians 15:58:
"Therefore: be steadfast, immovable, always excelling in the work of the Lord, because you know that in the Lord your labor is not in vain."
In 1 Thessalonians 5, Paul concludes a lesson on the coming of Christ with these words:
"So then let us not fall asleep as others do, but let us keep awake and be sober."
Beloved children, what would have happened if the Apostles had no longer worked after My Son's Resurrection, had they not worked for the Kingdom of God, if they had waited without labor? Would the Gospel have been known? Would the Word be known?
YOU WHO CALL YOURSELVES FOLLOWERS, LOVERS, ADORERS, CHILDREN, DISCIPLES AND
CHRISTIANS, YOU HAVE THE DUTY TO RESPOND AS MY SON COMMANDS YOU, AND GIVEN THE
KNOWLEDGE OF THE IMMINENT RETURN OF MY SON, YOU HAVE THE OBLIGATION TO MAKE THE GREATEST EFFORT AT EVERY INSTANT AS IF THAT INSTANT WERE THE LAST, AND IT IS SO THAT EVERY INSTANT IS THE GREAT DIVINE GIFT FOR EACH ONE OF YOU.
In 1 John 3: 2-3: "Beloved, we are God's children now; what we will be has not yet been revealed. What we do know is this: when He is revealed, we will be like Him, for we will see Him as He is. And all who have this hope in Him purify themselves, just as He is pure."
THE END OF THE TIMES IS COMING, SIN ABOUNDS; as Mother, I have kept you away from sin and you do not give thanks, you do not respond ... You see how diseases increase ...
You see how anger possesses men ...
You see the great protests all over the world and you do not believe ... ON THE CONTRARY, YOU DENY THAT YOU HAVE TO CHANGE, YOU DO NOT WISH TO BE BETTER, YOU PERSIST IN YOUR THOUGHTS, AND WITH THIS NEGATIVITY THAT YOU TRANSMIT TO YOUR BROTHERS AND SISTERS, YOU CONTINUE HYPOCRITELY RECEIVING MY SON IN THE EUCHARIST, WITHOUT A DUE EXAMINATION OF CONSCIENCE IN SPIRIT AND TRUTH.
Beloved children of My Immaculate Heart, so many events will happen and so many contradictions arise that those who are not prepared will abandon My Son. My Son's Church will suffer even more and many of My Children will abandon it.
Denial, sin, contempt, arrogance, lack of charity are great walls that you yourselves raise against God, and He, out of respect for free will, does not trespass them, and what happens within those walls? Is God there or not?
THE WAY OF HUMILITY, SURRENDER, OBEDIENCE, FULFILLMENT OF THE COMMANDMENTS AND RENUNCIATION OF ATTACHMENTS GIVE YOU GOD'S MERCY, AND HE LEADS YOU ON THE ROAD THAT TAKES YOU AWAY FROM SIN.
At this instant, sins against the Holy Spirit abound. Sins against the Holy Spirit are constantly being committed.
My Son has explained the Truth to you, He does not deceive you with pretty ideas, nor tell you that this generation obeys Him. Do you know why, children? BECAUSE THE TRUTH IS STRENGTH FOR THE SOUL, IT IS FOOD FOR THE SOUL, IT IS FREEDOM FOR THE SOUL, HENCE IN THESE CALLS HEAVEN SPEAKS TO YOU WITH THE TRUTH.
The one who loves is free, they know well that their freedom is found in My Son and not in men, so they do not feel captive.
Beloved children of My Immaculate Heart, the instant is an instant and within it, the Love of My Son for each one of you leads Him to love you and forgive you, to love you and welcome you, to love you and guide you. CALL HIM, SEARCH FOR HIM, MEET HIM ONCE MORE, REPENT OF YOUR ERRORS AND SINS WITH WHICH YOU HAVE OFFENDED HIM, CONFESS YOUR SINS AND COME OUT CLEAN TO MEET THE ONE WHO HAS NEVER ABANDONED YOU.
Prepare yourselves and keep in mind the Second Coming of My Son.
Pray My children, pray for Spain, this people will know pain.
Pray My children, pray for Venezuela, the pain will continue until freedom is found.
Pray My children, pray, the earth continues to tremble.
Pray My children, pray, do not forget that disease comes out of the laboratories; use what I have told you for health.
Pray My children, a great catastrophe will occur at sea.
Beloved children of My Immaculate Heart:
I am with you, I am Your Mother and a Mother does not abandon Her children.
MY BLESSING IS A BALSAM FOR THE WOUNDS, CONCERNS AND HEALTH OF EACH ONE OF YOU.
UNITED, LET US ADORE THE KING OF KINGS AND LORD OF LORDS.
I bless you.
Mother Mary.
HAIL MARY MOST PURE, CONCEIVED WITHOUT SIN