Wednesday, May 24, 2017
Message from the Blessed Virgin Mary
Commemoration of the Feast of Mary, Help of Christians.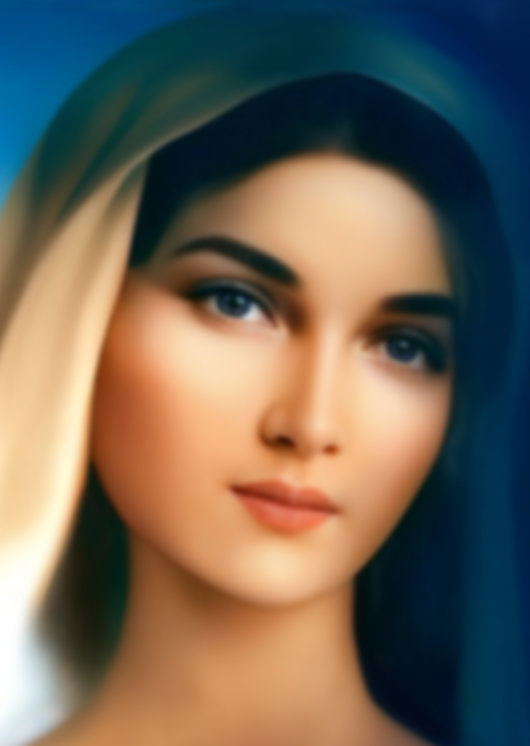 Beloved children of My Immaculate Heart:
My Motherly Love goes throughout the Earth in search of creatures who need to draw near to My Divine Son, and in this way, I intercede as Mother for each of these human creatures.
I DO NOT WANT EVEN A SINGLE SOUL TO BE LOST; ALL NEED TO RECOGNIZE THAT THEY MUST CHANGE IN SOME ASPECT OF LIFE, AND THEY CANNOT MANAGE THIS ALONE: all need Eternal
Salvation, all need conversion, all need Divine Assistance.
YOU WILL NOT ACHIEVE ANY SPIRITUAL ASCENT IF YOU DO NOT FIRST RECOGNIZE THAT WITHOUT GOD YOU CANNOT ATTAIN ANYTHING.
The man who gives good fruits is the one who knows that God sees everything, and who keeps in mind that good work and action are requirements that they must fulfill in order to maintain that relationship that flows between the Divine and man.
YOU CANNOT GIVE WHAT YOU DO NOT POSSESS. That is why, at this instant, so many disagreements in families, marriages, workplaces, brothers and sisters, finally in society in general, are taking shape before your eyes. When a heart does not have love, it cannot give what it does not have and that is where discord enters, since without Divine Love present at every instant, lack of love comes and brings darkness and anger, misunderstandings, discord and other attitudes with which men distance themselves from each other.
THE MAN OF THIS INSTANT MUST COOPERATE WITH HIS OWN SELF FOR HIS OWN SALVATION, BUT TO MY SORROW THIS IS NOT THE CASE. Society has created egocentric creatures, creatures who are constantly competing against each other. Man does not want to recognize himself with lack of help to change his behavior so that his action might be in accordance with what Heaven commands.
Each of the Calls you receive is Omnipotent Love that is poured out upon those who acknowledge it. Children, you should not read this Word, you need to discern it for yourself and ask: 'where am I at fault?, 'what do I need to improve?, 'what should I let go because it is keeping me bound?'
YOU MUST PUT INTO PRACTICE WHAT IS NECESSARY IN ORDER TO AMEND WHAT DOES NOT ALLOW YOU TO ASCEND, THAT WHICH DOES NOT ALLOW YOU TRULY TO GIVE YOURSELVES OVER TO CONVERSION. The struggle between good and evil is continuous; insofar as Humanity lets it pass unnoticed, evil profits.
You do not want to let go of the "ego" that falsely keeps you in an unreal sense of status. The person who does not surrender to the Most Holy Trinity is the one living in falsehood, which will not make him a better child of God, until he looks inwardly and decides not to live by appearances.
My Son has not called all of you to live in a cloister, but He does call all of you to succeed in uniting so much with Him that each person lives dominated internally by Divine Love, and comes to live the Divine Will as if in an internal cloister.
My Son has called you to be merciful, to forgive, to not be party to injustices, this being part of the preparation of His children for what they are going to live and what some are already living through: persecution, martyrdom
...
The disciple of My Son is obedient and opposes violence because they are a faithful follower of My Son's Love.
At this instant, the persecution of Christians is not hidden and the Church of My Son, nonetheless, knowing that I have already declared this, it must raise its voice and prayers for those who suffer this present tribulation.
Beloved children of My Immaculate Heart, the evil one pursues My children, those who seek unity, precisely because he finds his contentment in disunity and this leads him to increase.
EVIL CANNOT DESTROY THE GOOD, AND ABOUT THIS YOU, CHILDREN, YOU MUST HAVE IT CLEAR; BELIEVE IT AND WALK WITH THIS ASSURANCE. Trials lead you to grow more and to be stronger, if mind and heart fix their gaze solely on the Divine Purpose which is to lead you to taste Heaven in advance.
Children, you must prepare yourselves to continue on My Son's path; this you cannot do by crushing your brothers and sisters, nor by imposing your tastes or what you believe is right.
THOSE WHO WISH TO KNOW MY SON MUST SEEK HIM NOT ONLY IN PRAYER BUT WITH THEIR
UNDERSTANDING, IN THE DONATION OF THEMSELVES THROUGH OBEDIENCE AND SURRENDER FOR THE GOOD OF THEIR BROTHERS AND SISTERS.
My Beloved, I lead you so that you react and take the firm decision to continue being obedient children who wish to make their lives a way of acting consistent with the Precepts of the true Christian.
My children are not those who teach new ways of loving God and neighbor. The Law of God is contained in advance in Scripture in order that everyone might not form their own law.
YOU KNOW OF THIS WORD, BUT YOU DO NOT DISSECT IT, YOU DO NOT GO BACK TO IT AGAIN AND AGAIN, YOU DO NOT PUT IT INTO PRACTICE IN YOUR PERSONAL LIVES.
Children, you are afraid to acknowledge yourselves as being disobedient to the Divine Calls. You store up treasure for Earth and not for Heaven, your thoughts towards your neighbor are the worst and least appropriate; for you doubt is not a possibility but a law that you have accepted, and so you judge, forgetting that thus you will be judged. Therefore, I call you to conversion; you spend your life expecting more time, without thinking that concerning social commitments or family and work you do not say: I am expecting more time. You only keep God waiting, trusting in His Mercy, and this is great stubbornness, folly and disrespect.
I HAVE ALREADY MENTIONED TO YOU WHAT IS BECOMING OF HUMANITY; EVEN SO, YOU CONTINUE TO BE WRAPPED UP IN YOURSELVES AND DO NOT CHANGE YOUR PRIORITIES. Mankind,
prey to its own development, will experience the harshness of the oppression of nations that have prepared themselves to fight against the children of God with the aim of establishing a religion where God does not exist, but where free will shall allow every human being within that single religion to live according to their conscience, precisely because man at this instant makes no use of conscience but acts out of imitation and obstinacy.
Beloved children of My Immaculate Heart:
Some of you are preparing shelters for the times of persecution and tribulation ...
And your conscience, your thoughts and heart: how are they doing?
Will you be creatures who are detached and willing to live with their brothers and sisters? Will you have the Heart of My Son to see Him in your brother?
In truth, I tell you that man prepares himself concerning what is material and leaves what is spiritual for last, Love in the heart of each person being necessary for coexistence in order to achieve unity.
BELOVED CHILDREN, MY SON HAS CALLED EACH ONE OF YOU BY YOUR NAME AND STILL SOME
DO NOT BELIEVE IN DIVINE MERCY AND DENY GOD WHAT IS GOD'S. These will be the ones who will fall with their face to the ground and will mourn for their disobedience.
The volcanoes are stirring, pouring out, and this is where that man sees his smallness before the great Work of the Heavenly Father. The earth increases its shaking and this is where man cries out to God. The seas will cause alarm for coastal zones, the level of the oceans will rise and man will have to retreat. The seasons will vary more until the sower does not know when to plant, when to prepare the land, faced with Nature out of control.
Pray, children, pray for Australia, this people of Mine will suffer.
Pray, children, pray, terror causes Humanity to suffer too much.
Pray, children, pray for Russia, it is not a bringer of peace but of lament.
Pray, children, pray, because man's manipulation of Nature brings scarcity and lack and you will not be able to cover man's basic needs. The water is being contaminated with radioactivity at every instant.
Dear children of My Immaculate Heart, the instant will come when great cold will come to the tropical countries, and where cold is usual, heat will make man suffer.
Do not neglect My Words: Earth is threatened by a Celestial Body and man continues to eat and drink as if nothing were going to happen.
The instant will come when you will say:
THE INSTRUMENTS THAT CONVEYED THE EXPLANATION OF THE WORD FROM ON HIGH WERE AUTHENTIC. THIS, MY CHILDREN, IS PITIFUL: DISMISSING DIVINE MERCY IS A SERIOUS OFFENSE.
The wheat will not be gathered before the precise time, but the weeds will be pulled up by Divine Command.
Serious illnesses are approaching that attack the digestive system; use the plant known as ANGELICA(1) and use the whole plant properly, pregnant women being cautious. A disease is coming that will attack the eyes; for this, use the plant known as EUPHRASIA(2).
Beloved children of My Immaculate Heart:
BE OBEDIENT TO THE DIVINE REQUESTS; I REMAIN BEFORE EACH ONE OF YOU, I AM YOUR MOTHER AND I LOVE YOU.
On this date when you celebrate My Advocacy as Mary Help of Christians, entrust yourselves to My Son and ALLOW ME TO LEAD YOU TO THE TRUE PATH.
My Blessing be upon you.
Mother Mary.
HAIL MARY MOST PURE, CONCEIVED WITHOUT SIN
(1) Scientific name: Euphrasia Officinalis Common name: Euphrasia, Family: Orobanchaceae
(2) Scientific name: Angelica archangelica L., Common name: Root of the Holy Ghost or Herb of the Angels or known also as the Angel of Herbs. (It received this name because of the belief that it was a gift from the Archangel Gabriel to a wise hermit so that he could fight the plague that ravaged Europe during the Middle Ages). Family: Apiaceae