Monday, May 29, 2017
Message from Our Lord Jesus Christ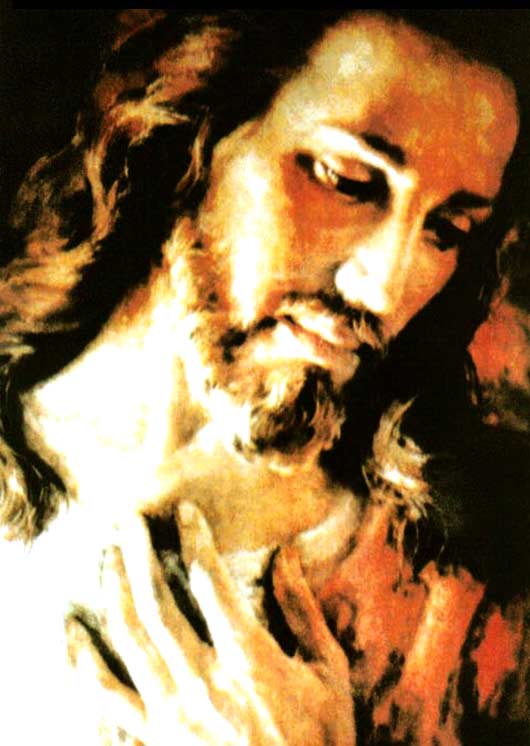 My Beloved People:
MY BLESSING IS IN MY CHILDREN, THE EXPRESSION OF MY LOVE.
My Divine Love surpasses all of men's expectations; My Love is in fullness. Therefore, My Love is not and will not be understood; neither are nor will My Calls be understood in fullness.
I ASK HUMANITY TO LIVE IN TOTAL UNION WITH ME, BUT BECAUSE OF NOT GIVING EVERYTHING,
MY WORD WILL BE WRONGLY INTERPRETED AT THE CONVENIENCE OF EVERY HUMAN CREATURE,
FORGETTING THAT ... "MANY WILL BE CALLED, FEW CHOSEN" (Mt 22,14 )
My children strive to have a greater consciousness than they previously had; this obliges you not to act like those who do not know Me. Not all human creatures enter into the knowledge of the Truth, not all of them go deeply into My Words and those of My Mother in these Calls.
I CALL YOU TO REACH THE FULLNESS OF LIVING UNITED WITH ME, AND FOR THAT, YOU HAVE TO TAKE THE COURAGEOUS DECISION TO PRIORITIZE MY MATTERS OVER WHAT IS OF THE WORLD.
Every human creature usually takes My Word at their own convenience, this being a form of self-defense with which you excuse behavior not in accord with what I want from My People.
My beloved People, you worship science, and the more it comes into man's hands, the more man surrenders to its innovations and the more he immerses himself in what is not convenient either for the body or for the spirit.
At this instant, I see a Humanity weakened by technology that totally consumes it, a man who puts Me in the second place in his life, a Humanity that does not prioritize Me but puts Me off at every instant, since the human ego comes out with great force because of a human being who is neither physically nor morally opposed to temptations.
I give you My Word, and instead of taking It with love in order to be better, you take it so as to be arrogant and to argue and question and point at your brothers.
WHICH OF MY CHILDREN CAN BE THE JUDGE OF ANOTHER BROTHER OR SISTER? THE ONE THAT NEEDS TO EXCUSE THEIR ACTIONS ....
My beloved People, do not neglect My Mother, but on the contrary, have a truly conscience of who My Mother is and of Her special protection towards Her children at all instants.
In the heart and reasoning of My children the need for remaining united to My Mother stands out, not only in order to imitate Her but to continue working under Her Protection within My Flock and thus live by practicing the virtues that the Christian should keep latent.
MY MOTHER'S FIAT CAUSES MY CHURCH TO BE FRUITFUL, THUS MY MOTHER IS THE MOTHER OF MY CHILDREN.
MY PEOPLE MUST UNDERSTAND AND LIVE WITHIN THIS REAL, ACTIVE, INTERNAL AND EXTERNAL BOND WITH MY MOTHER AND MYSELF, IN ORDER THAT YOU CAN BE FRUITFUL.
YOU NEED TO GROW SPIRITUALLY IN ORDER TO SURRENDER TO MY DIVINE WILL AND LIVE IN MY WORK AND ACTION, AND THEN ENTRUST YOURSELVES TO HER WHO IS FULL OF GRACE.
Not only should My Church as an institution continually beget new believers, but My children must carry me in their way of life as a living testimony.
My Mother is the Holy Member of My Church, She is the one who is Full of Grace and the example for all My children of unconditional surrender, as well as of absolute Faith and Charity.
My Mother, willing for obedience and to putting the Divine Word into practice, is the one who communicates to My Church, to My children, the Treasures that you possess, the events that man himself has generated through disobedience, and the previsions that will free you from them.
I do not want you to see My Mother as competing with My Graces, but She is also a distributor of graces in order that men can be saved.
My Mother is the most exemplary Member of holiness and the most favored Member of My Church.
My Mother maintains and will maintain Her concrete Mission within My Church; therefore She invites, calls and gives Her Word to My children so that they do not get lost.
MY MOTHER IS NOT A DECORATION FOR MY CHURCH BUT IS THE LIGHT THAT MY FATHER SENT TO BE MY MOTHER AND MOTHER OF MY CHURCH.
MY MOTHER DOES NOT COME TO COMPETE WITH HER SON BUT TO LEAD MY CHILDREN TO MY WAY, TOWARDS SALVATION, WITH HER INTERCESSION.
My Mother addresses My People to ask you for your personal YES! and to lead you by Her Hand to Me.
My Mother is Mother of humility and is offended when man places Her above Me. THIS HAPPENS BECAUSE MAN HAS NOT UNDERSTOOD THE TRUE BEING OF MY MOTHER: MEDIATRIX OF ALL GRACES.
It is not just in this instant that My Mother is speaking to My children, but from a long time ago, since for a long time My children have been living more immersed in sin than in obedience to Me.
OBEY MY MOTHER, WHO CALLS YOU BY DIVINE WILL AND BECAUSE OF HER LOVE TOWARDS YOU WHO ARE HER CHILDREN.
My Mother speaks to you of sin, of good and evil, and man denies evil, as if My Mother were speaking lies and of what does not exist.
My Mother has called for the fulfillment of the Divine Law and man only calls for My Divine Mercy, seeing to it that Humanity settles into unbridled living where what is bad is to live correctly and to fulfill the Commandments.
Children, My Prophets have at all instants in Human history been treated as crazy or extremists and creatures that convey tragedies. And so it is that man does not see the tragedy of the current society just as Humanity did not see it in the past.
HUMANITY WANTS TO LIVE IN THIS FALSE AND MISTAKEN COLLECTIVE BLISS OF SIN, CONTRADICTING THE DIVINE WORD.
My People, keep in mind that the time of harvest is when the tares is more like wheat, and those who stay far from Me and do not know Me or say that they live close to Me without conscience of or faith in My Teachings, are very easily confused.
Not entering into the knowledge of My Word prevents you from understanding Me and loving that "why" and "for what" I call you to work and act within My Work and Action. Not living in the practice of My Word limits you in growth, in approaching to Me confidently and fulfilling My Mother's Requests.
My People, you need to maintain the certainty that the life of the Christian is not only going to Holy Mass, nor receiving Me without true conscience or a proper preparation. You have to know Me to love me and to know that within that My great and infinite Love for each one of you, My Justice keeps beating, anticipated by man's free will, bringing about his own pain in life.
I am infinitely Merciful and forgive the one who comes repentant and with a firm purpose of amendment, but man has to confess this repentance and this purpose of amendment in order to obtain My Mercy, which I do not deny if you request it from Me properly.
MAN CAN NOT CONTINUE EATING AND DRINKING AS IF NOTHING WERE GOING TO HAPPEN while
Humanity keeps Me hidden in order to commit impure acts and offend Me with every type of sin. Debauchery does not lead you to Me, acts contrary to the Divine Law do not bring you to Me, separating Me from your works and actions does not lead you to Me, but makes you constantly fall into a deep well where you will find more understanding and a greater welcome from those who do not want to come out of sin.
I SEE MY CHILDREN MENTIONING THE ANTICHRIST WITH SUCH EASE, AND THEY PRESENT HIM SO NATURALLY THAT HE SEEMS TO BE HUMANITY'S FRIEND, and those who do not warn about him deny it so that he can absorb My children and appropriate the goods that you possess in every respect, being the sole leader before whom the great leaders of the nations will bow. A single government that will be the greatest persecutor of those who are Mine, a single currency to identify My faithful, a single religion that totally excludes Me.
The impostor's domination throughout the world is agreed to by those who at this instant hold power over Humanity to declare war, famine for countries that do not generate income for them, and they send diseases to nations that do not suit them. They who decide the destiny of Humanity, decree revolutions, revolts, uprisings, the fall of governments, the fall of the economy ... AND THIS THEY WILL KEEP UP UNTIL MY CHILDREN, FACING PURIFICATION, RECOGNIZE ME AS KING OF KINGS AND LORD OF LORDS.
The impostor, the antichrist, will feed the hungry and give drink to the thirsty with great apparent kindness in order to captivate them, but when he holds them in his hands, he will be the great oppressor, punisher and persecutor of My children. He will scourge My People, clothe them with purple and flog them with the greatest of pains of which you are unaware at this instant.
This usurper will confuse those who do not know Me fully, those whose hearts are not ready, the proud, the learned who in some cases preach My Word but do not live it, because My Teachings go beyond knowing the Holy Word by heart.
MY PEOPLE NEED TO BE HOLY AND TO RECOGNIZE THAT THEY NEED TO ENTER INTO ME IN
ORDER TO BE ONE WITH OUR TRINITY; ONLY THUS WILL THEY ATTAIN THE DISCERNMENT TO DEFEND THEMSELVES FROM SUCH TERRIBLE EVIL.
This impostor looks with great anger at My Mother, She who is Full of Grace. He knows of My Mother's attributes, of what My Father has granted Her in order that She intercede for and protect Humanity. This impostor wants to eliminate My Mother's children so that She suffers, because he knows that My Mother will crush him by Divine Will, so he makes believe that Her Messages are not valid in order to minimize my Mother's place within My People.
CHILDREN, YOU MUST KNOW ME AND RECOGNIZE ME, YOU MUST DISCERN SO THAT YOU DO NOT BELIEVE EVERYTHING, BUT ALSO SO THAT YOU DO NOT DENY EVERYTHING.
"For many will come in my name, saying, 'I am the Christ' and they will lead many astray. And you will hear of wars and rumors of wars; see that you are not alarmed; for this must take place, but the end is not yet. For nation will rise against nation, and kingdom against kingdom, and there will be famines and earthquakes in various places: and all this will be the beginning of the birth pangs." (Matthew 24:5-8)
The increase of false messiahs, the increase of wars, the increase of famines, plagues and natural disasters ... These events are Signs for this generation.
Humanity focuses on what is material ...
My Warnings go unnoticed and My Mother is a cause for derision ...
This Humanity is degenerating and My Church is moving away from Me ....
They do not want to know about My Warnings or the Parousia ...
They deny the definitive establishment of the Kingdom of Our Will with My Second Coming.
Pray My children, pray for the Middle East, it makes humanity suffer.
Pray My children, pray, the earth is stirred up more forcefully due to the proximity of a body coming from Space.
Pray My children, pray, you must make Faith last facing those who say that religion will remain untouched, since it will become adulterated.
Pray children, pray, at this instant freemasonry is plotting Humanity's destiny.
Pray children, France continues to suffer because of terrorism. England grieves because of violence. The United States continues in uncertainty, it will know misery.
MY PEOPLE, DISOBEDIENCE BLINDS AND DENIAL LEADS TO PERDITION AND TO ARROGANCE; DO NOT IGNORE THIS BEGGAR OF LOVE.
I am coming for My own, for My People ...
I am not coming alone, I come with My Mother and My Legions ...
I come with omnipotence and majesty ...
I come as King and Lord and everything will recognize Me: the earth, the water, the air, the fire, My children - everything will tremble, because I, Your God, am coming for what is Mine.
Pray children in spirit and truth, not merely with your mouth without words lived out beforehand in your heart.
I love you, you are My People, I bless you, My People.
I BLESS THOSE WHO STRIVE EVERY DAY TO BE BETTER AND NOT TO BE LOST.
I BLESS THOSE WHO TRULY REPENT.
I love you deeply.
Your Jesus
HAIL MARY MOST PURE, CONCEIVED WITHOUT SIN