Wednesday, June 14, 2017
Message from the Blessed Virgin Mary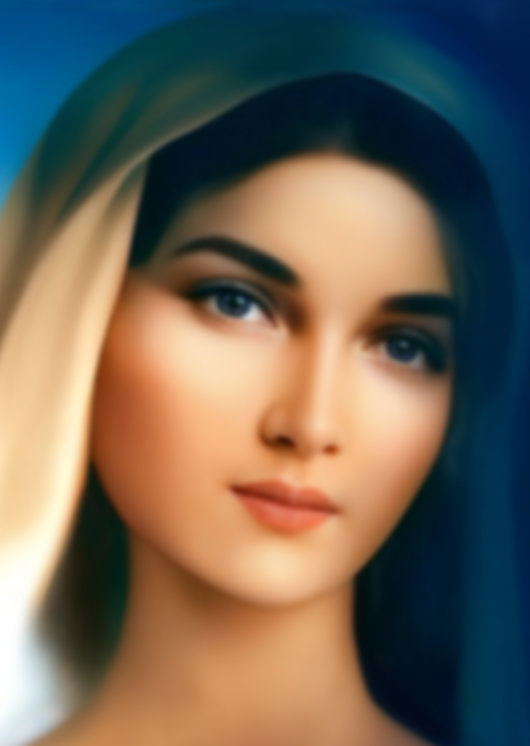 Beloved children of My Immaculate Heart:
I BLESS YOU, YOU ARE THE FRUIT OF DIVINE LOVE.
My Word continues to draw close to each one of My children so that they may reject deception and accept the Truth, which is what endures forever.
You, children, should not live from the "moment", but you must be creatures continually seeking to stay in perfect and perpetual union with My Son.
As Mother of Humanity, I call you to remain attentive to the Signs of this instant and not to be like those who scorn the Word from Heaven.
Man goes away from God as a result of evil human work and action, built on a lukewarm life without commitment, filled with works and acts done at the convenience of personal free will. The ideas, the ways of thinking, the aspirations of man are not always those to which My Son calls you, yet you disobey and everyone distorts them at their convenience.
HUMANITY IS DEVOTING ITSELF TO CAREFULLY PREPARING THE FUTURE WHERE MY SON IS EXCLUDED, AND THUS LIVE IN LUKEWARMNESS, YOU ARE GUIDED BY WHAT IS SINFUL, WITHOUT CONTEMPLATING WHAT IS THE DIVINE WILL.
You have forgotten that I have called you to remain attentive to the Signals, not only those that occur in the sky, but those that are continually happening on Earth.
The sea will be stirred up so much that you will almost hear it roar, in the midst of the confusion of My children, who have rejected all the warnings given to them.
CHILDREN, TO THE EXTENT THAT YOU REJECT CONVERSION YOU WILL BE GREATER LOVERS OF YOURSELVES: HOW MANY OF MY CHILDREN WILL SUCCUMB UNDER THEIR OWN PRIDE! HOW MANY WILL LAMENT THEIR GREED AND FALSE PIETY!
Examine yourselves! Most of My children live in lukewarmness, in their "comfort zone" so as not to commit themselves as true children of God or to aspire to a spiritual life. Beloved, you do not perceive or see the danger in which you are living, nor the constantly snares from evil upon you in order to tempt you and that provocations that are not imaginary are becoming part of the reality of the believer who does not deny their faith.
HUMANITY: YOU ARE LIVING AND WILL LIVE A FIERCE STRUGGLE TO REMAIN WITHIN THE "YES" THAT YOU HAVE PROMISED GOD. The battle intensifies as the instant passes. For this reason, the Divine Law is disrespected and transgressed due to the evil that is increasing, not only in society but within man himself, rejecting the Divine Law, Divine Order, and welcoming with pleasure the licentiousness that the devil himself has slowly been implanting, in order that man detaches himself fearlessly from life in a state of grace and succumb to the abyss beneath forms of modernism from which the Divine Will is excluded.
Human creaturely hypocrisy causes you to make pronouncements against My Revelations, which by Divine Mandate I make known to you so that you are not be taken by surprise in the face of adversity and the necessary purification of this Humanity.
In great quantities you meet and will meet brothers who, like stumbling blocks on the road due to their misguided lives, hold a constant and heavy cross on My children, reproaching them for works and actions in order to bring them to despair and insecurity, and in this way you feel insecure and fall into what is wrong.
Attention, children:
THOSE HUMAN BEINGS WHO INSIST ON CLOSING THEIR EYES TO HEAVEN'S CALLS BECOME THE GREAT DETRACTORS OF THE TRUE INSTRUMENTS OF THIS INSTANT, AND THIS THEY DO FOR FEAR OF THE LIGHT THAT IS BROUGHT BY THE EXPLANATION OF THE DIVINE WORD REVEALED TO YOU,
AND FOR FEAR OF MY REVELATIONS. Even so, do not be afraid; I intercede for the persecutors of the People of My Son in order that they convert, and in not converting they will be overwhelmed by the darkness of their own folly in the midst of this Humanity that despises correction and welcomes sin.
My constant Warnings are not in vain, nor are they for keeping you in constant expectation out of fear, but they are for you to prepare and walk with righteousness in all your works or actions, they are so that you know what is behind the constant trials and difficulties of My children. My repeated Warnings are a wall that protects you against everything rising up against My Son's People, against the world and its falsehoods, against the heresies and abominations with which they wish to mislead the Church of My Son.
You believe that you are watchmen of My Son's People and yet you are blind people who do not want to see, you do not speak for fear, the word of some brother surprises you and you treat the Word of My Son as nonsense. How incoherent you are, children!
HUMANITY, IDOLIZING YOURSELF AND HOW MANY FALSE GODS YOU FIND ON YOUR WAY: WAKE UP AND DO NOT SLEEP FACING SUCH FALSEHOOD AND ABOMINATION!
BE WISE, DO NOT WASTE THIS INSTANT ON BANAL THINGS, BUT BE INTELLIGENT AND KNOW MY
SON SO THAT YOU MIGHT NOT BE DECEIVED BECAUSE OF BEING IGNORANT OF THE TRUTH AND THUS FALL INTO THE FOLLY OF THE PROUD AND BE TAKEN LIKE SHEEP TO THE SLAUGHTER.
The Earth finds itself facing the greatest dangers in the history of Humanity and everything seems to be a lie to you. You have accepted dates marking the end of this generation - dates marked by men -, and have fallen into terror because of not knowing the Divine Word.
AT THIS INSTANT YOU ARE REPEATING WHAT YOU HAVE HEARD FROM OTHER BROTHERS: "NOTHING IS GOING TO HAPPEN, WE HAVE BEEN WARNED AND NOTHING HAS BEEN FULFILLED".
HYPOCRITES! YOU HIDE BEHIND HUMAN ERROR IN ORDER TO CONTINUE IN THE FOLLY OF THE
FLESH AND GO ON POLLUTING YOUR MINDS, SO THAT WITH A HARDENED HEART, EVERYTHING
MIGHT BE PERMITTED FOR YOU. GOD TRIES HIS PEOPLE IN ORDER FOR THEM TO DEMONSTRATE THEIR FAITH.
Do not reject this Word, go seriously back to the path that leads to Salvation, being those who fulfill the Divine Law. Humanity finds itself inside the theatre that evil has prepared for you. The tentacles of the evil one labor without ceasing and the People of My Son live constantly waiting, putting aside reconciliation with My Son and therefore Eternal Salvation.
Beloved children of My Immaculate Heart, evil does not sleep: as soon as man is not careful it surges fiercely, not only to tempt but to bring him down. BE MATURE PEOPLE, KNOWING THE DIVINE TRUTH, AND MAKE AMENDS WITHOUT LOSING THE INSTANT.
The Earth is threatened by a Celestial Body; the men of science know it and Humanity does not know it, the rulers of the powers know it and do not make it known. It would be good for Humanity to be aware of these threats hanging over the Earth.
Water wants to purify the Earth, the fire will be greater in as much as temperatures are extreme, the air will bring with it particles unknown to the inhabitants of coastal areas.
Wickedness is increasing and gaining strength as My children become weaker and are more lukewarm than the lukewarm. Persecutions and turmoil in the nations are increasing like a plague going through the nations. My children are not loved, they are rejected and put to death for being Christians and living trying to be better at every instant of their lives, leading a holy life. Holiness is hated by the devil and his followers; this is the reason why those who follow Satan are tearing down images of My Son and committing sacrileges, scourging and putting My Priests to death; goodness is the light that tells My Son's People that evil will not triumph over good.
I GRIEVE THAT THE MINDS OF SO MANY YOUNG PEOPLE ARE SATURATED WITH FILTH TO WHICH
THEY HAVE SURRENDERED IN ORDER TO FOLLOW WHAT THEY CALL "MODERNISM", WITH THEIR MINDS AND HEARTS DEVOID OF MY SON, OF VALUES, MORALITY AND RESPECT.
Pray children, pray for Argentina, it will weep.
Pray children, pray for Venezuela, this nation finds no rest.
Pray children, pray for Finland, it will cause fear for Humanity.
Pray children, volcanoes wreak havoc throughout the Earth.
Pray children for yourselves, so that you may come to the knowledge of the Truth and be faithful children of the Most Holy Trinity.
Divine Mercy is not exhausted and will send its Angel of Peace so that, with Love, He lifts up the dejected and renew their strength so that the People of My Son be enlightened.
DO NOT LOSE YOUR PEACE, MY CHILDREN, BE CREATURES OF PEACE.
I love you, I bless you.
With Love.
Mother Mary.
HAIL MARY MOST PURE, CONCEIVED WITHOUT SIN