Saturday, June 17, 2017
Message from Our Lord Jesus Christ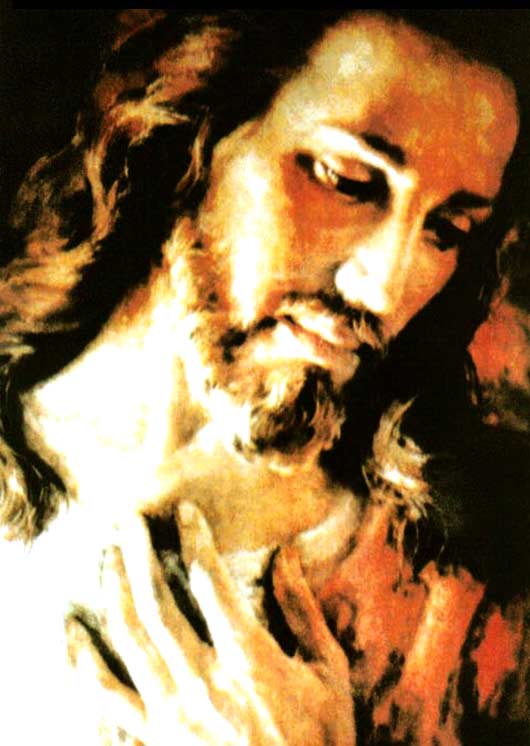 Beloved My People:
I call you to continue opening up a path within the jungle of the disordered appetites that at this instant abound in Humanity.
MY PEOPLE REGARDS MY CALLS WITH DISINTEREST, BECAUSE THEY DO NOT READ OR WISH TO
UNDERSTAND WHAT I EXPRESS TO THEM, SOMETIMES FIRMLY, SO THAT THEY DO NOT LEAVE ME
OR FEEL THAT IN ATTENDING AND RECEIVING ME ON SUNDAY IN THE EUCHARIST ... THEY HAVE ALREADY OBEYED.
Man has grown up looking for me, yet not within himself but by straying onto other paths that cause him to fall into the clutches of satan.
Humanity, deafened by its own desire to excel, blinded by continuing to advance, has disrespected Creation. At this instant, man's suffering is complemented by aggression towards what surrounds him.
Insofar as man has attacked his own self by devastating everything around him, he has minimized Creation's protection over all Mankind.
I call you to inner change; you read it but do not treasure it by not loving me - on the contrary, you react against spiritual union with My House and spiritual growth.
MY BELOVED PEOPLE, YOU KNOW THAT THE ENEMY OF THE SOUL DEVOURS LOVE IN THE HUMAN BEING.
You are foolish: I call you to grow spiritually so that you overcome your weakness and not be easy prey for the devil, and instead, you react and act totally contrary to what I request from you. This is human folly, the reaction of one who is not converted and convinced, who has not decided to give everything for Me, but who on the contrary continues in a constant struggle against Me.
This generation takes My Words at their convenience in order to distance itself from Me. It gives its own meaning to My Law in order to transgress it in the light of the total debauchery in which the human being is living.
The times of Sodom and Gomorrah were not like these. This generation has surpassed them with humanity living by the moment and demanding answers that it does not deserve.
THE INSTANT IS PASSING WITHOUT YOUR MEDITATING ON HOW YOUR LIVES ARE GOING, AND YOU
DO NOT FIND PEACE, THIS BEING DUE TO THE FACT THAT YOU ARE NOT SATISFIED BY ANYTHING OR WITH ANYTHING.
Man grows without knowing me, initiative is not necessary, not even that of seeking Me. I see so many of My children participating in prayer groups, providing help within religious services, mentioning that they belong to a particular group, yet they are so empty that they do not become aware of what I am giving them. The reaction of a large number of My children is one of pride towards My Calls.
MY PEOPLE, IT IS NECESSARY FOR YOU TO LOOK WITHIN YOURSELVES, AS CONTINUOUS
REBELLION POISONS MAN UNTIL IT CAUSES HIM TO STAY IN THE SOLITUDE OF HIS OWN DISGRACE.
My beloved People, "man does not live by bread alone"(Mt 4,4). You feed on everything that comes into your hands and without knowing me, you question Me.
THE DEMON KEEPS EACH OF HIS TENTACLES OVER A CERTAIN SECTOR OF HUMANITY. EVERY
TENTACLE OF EVIL HAS BEEN DESIGNATED TO CONSTANTLY ATTACK MY CHILDREN DEPENDING ON THE CAPACITY AND QUALITY OF EACH PERSON.
Our House protects you, but Humanity rejects Divine Protection and goes on living in its "ego", with its personality, because for man the slightest change is a sign of weakness.
I am not a God tailored to the whims of each of my children, "I AM WHO I AM" (Exodus 3:14) and My People have been called to live within the fulfillment of Our Will.
My people, evil feeds the proud, the dishonest, the envious, the rebellious, the treacherous, the one who does not allow rebuke, the one who does not love and therefore finds their life full of lukewarmness in every respect.
You wait ... what are you waiting for? What has been revealed will be fulfilled, Humanity has not responded and finds itself in the Purification, which will increase all every instant.
MY - REBELLIOUS - PEOPLE! From Our House will come Divine Assistance like manna for My troubled children. My Angel of Peace is a bearer of My Word and will help those who are Mine. He, united with My Mother, will be a refuge for My Own.
The Earth, My children, will be transformed by Nature that man has altered and managed to contaminate so much that it has been weakened and in becoming weak is crumbling in some places.
MAN WILL HAVE TO EMIGRATE, LEAVING BEHIND THE COMFORT IN WHICH HE FINDS HIMSELF.
ANTI-CHRISTIANITY IS ONE OF THE GREAT SIGNS FOR YOU AND YOU DO NOT SEE IT.
The specter of war has been unmasked, you live in war and you do not see it that way ...
You live in the midst of the hatred of some against others and you do not see it that way...
You are stiff-necked creatures and you do not see it that way ...
You do not change, you are not transformed because of pride, and you do not see it that way ...
Rome, without your noticing it, is surrounded by those who rebel against Me. Rome will suffer at the hands of terror and its soil will be stained red.
Evil feeds anger, man allows anger to make him unrecognizable. Children, Satan is using some of those who were My servants to confuse you and steer you onto the wrong road leading to the precipice. Discern ...
You carry on living in spiritual misery, living off crumbs while being children of the King, because of the constant denial in which you find yourselves, because of the constant rebellion in which you find yourselves, because of the limitation to which you have voluntarily submitted ...
You know My Word and deny the explanation of My Word. You are living in a fleeting instant ... and are not prepared to convert!
The Warning announced by My Mother is close to you and My pain is infinite at the state of the souls that refuse conversion.
YOU NEED TO UNDERTAKE RADICAL CHANGE: SERIOUS, DECISIVE, AND YOU NEED TO STOP
BEING MEDIOCRE AND LUKEWARM. MY CHURCH NEEDS TO BE SALVATION AND NOT PERDITION.
IF YOU DO NOT DECIDE FOR INNER CHANGE AND BEING TESTIMONIES OF ME, WHAT GOOD IS KNOWLEDGE TO YOU? KNOWLEDGE WITHOUT PRAXIS IS A CANDLE WITHOUT LIGHT.
My Beloved People, hitherto unknown atmospheric changes will astonish science. Man does not know what he has provoked by altering Creation.
Pray, My children, pray for Russia, it will suffer because of Nature. Its inhabitants will suffer from terrorism.
Pray My children, pray for Canada, it will be greatly shaken.
Pray children, pray, the earth continues shaking and takes by surprise those who are not expecting this. Volcanoes increase their fury and the great volcanoes make news.
Beloved My people, from immorality you have gone to total abandon and this is increasing without measure, offending and transgressing My Law.
You do not look at the light of My Truth, you condemn yourselves without the slightest of qualms.
YOU REJECT THE MEANING OF EFFORT, THEREFORE YOU HAVE REJECTED ME. YOU ARE NOT GRATEFUL FOR WHAT YOU HAVE, BUT DESPISE IT. The time will come when the enemy of Humanity will separate you from your possessions and you will regret it, being too late to aid the needy and the hungry.
MY PEOPLE , YOU DO NOT WALK BUT ARE LED BY THE CURRENT OF THE WORLD, THEREFORE YOU DO NOT STOP AND CHANGE DIRECTION.
The big cities are infested with evil and perdition; you, My children, do not approach evil.
You are not the owners of Salvation, you must be worthy of it. You are not owners of salvation but have to acquire it.
COME TO ME, CHILDREN. COME TO ME, DO NOT BE REBELLIOUS.
I bless you, I love you.
Your Jesus.
HAIL MARY MOST PURE, CONCEIVED WITHOUT SIN