Wednesday, June 21, 2017
Message from the Blessed Virgin Mary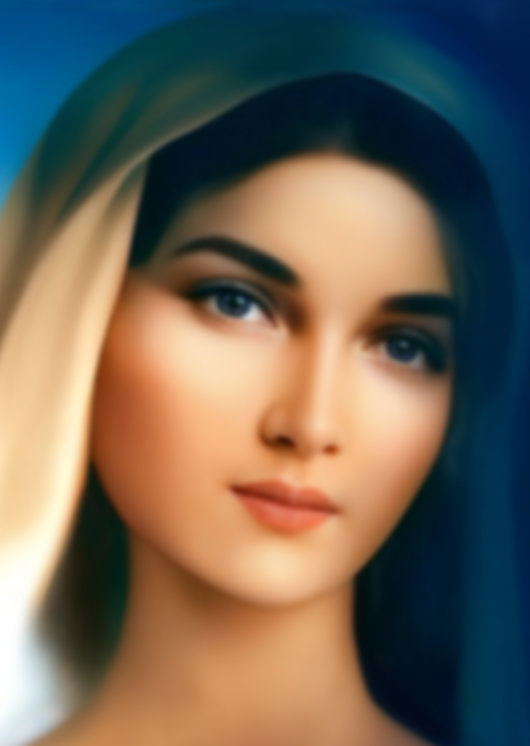 Beloved children of My Immaculate Heart:
MY LOVE KEEPS PROTECTING EACH ONE OF MY CHILDREN.
AS THE WOMAN CLOTHED WITH THE SUN, so I come at this instant to open the eyes of those who do not want to see the Truth of the instant.
Evil has taken possession of My Son's People, who have surrendered without qualms to the suggestive word "pleasure"...
Evil continues to deceive man, and the latter surrenders unreservedly to the deceptions with which it drew past generations towards it.
My children are persecuted without mercy; this persecution is spreading quickly. Every sign of goodness is an offense to those who are lovers of satan.
MAN'S MALEVOLENT OPRESSOR, THE ANTICHRIST, WILL NOT PRESENT HIMSELF TO HUMANITY
REVEALING HIS IDENTITY; ON THE CONTRARY, HE WILL BE A WOLF IN SHEEP'S CLOTHING, WITHIN WHICH THE MOST SINISTER PLANS ARE BEING HATCHED. He will feed the hungry, he will heal the sick, supply man's basic needs, he will perform miracles so that you see him as the savior of Humanity, and when he presents his true face, he will be the murderer of My Son's People.
THE ANTICHRIST WILL PENETRATE THE MINDS OF MEN, CAUSING THEM TO FIGHT AGAINST ONE
ANOTHER; HE WILL RAISE PARENTS UP AGAINST CHILDREN AND CHILDREN AGAINST PARENTS - FAMILIES WILL PERSECUTE THEIR OWN MEMBERS. Terror will seize society until it leads to denial of the Faith and blasphemy against God. Those who are followers of the Antichrist will be deprived of thought, for their thinking will be engulfed by the force of the psychic power of the evil oppressor of Humanity.
The worst instincts will awaken in men, all disrespecting one another. Scarcity will be the trigger for the weak to profess their faith in the antichrist. That is why I call you to know My Son and to recognize Him so that you will not be deceived by evil.
Beloved children of My Immaculate Heart, retain the knowledge of what pertains to the Antichrist, before he takes complete control of Humanity.
DO NOT FEAR; INSTEAD, LOOK INSIDE YOURSELVES AND RECOGNIZE THE SIN YOU HAVE
COMMITTED. TAKE THE DECISION TO CHANGE AND BE RENEWED INTERNALLY WITH A GENEROUS SPIRIT; ENTER INTO THE TRUE LIFE IN ORDER TO RESIST EVIL.
Do not reject My Words so as not to regret what you have left behind as something worthless. I do not announce to My children what they will not suffer, I announce it so that you prepare and convert.
My beloved, purification is man's choice in the face of such decadence, abomination and heresies with which the People of My Son offend the Most Holy Trinity.
The wrath of God will descend to Earth. What has not been seen before will be suffered by the human race; unbelief will be the lament of the lukewarm. BELOVED CHILDREN, I THEREFORE OFFER YOU MY PROTECTION. THIS IS AN INSTANT FOR DECISION: YOU CANNOT CONTINUE BEING LUKEWARM BECAUSE EVIL WILL DRAG YOU OFF, WITHOUT YOUR BEING ABLE TO FLEE FROM IT.
Humanity must change before the devils take it as their possession ...
You need to pray ...
You need to offer penance ...
You need to ascend spiritually; you cannot continue being mediocre, you should not content yourselves with calling yourselves Christians without giving EVERYTHING for My Son.
Do not say "Father" if you are not true children, do not say that you "forgive those who sin against you" if you do not forgive: do not be like the hypocrites. God knows about everything, knows everything, and no human creature is ignored by the Father.
Humanity is given over to complete disorder, My Son suffers because of it.
Pray My children, pray for France, it will be scourged more severely, again and again.
Pray children, pray for the People of My Son, pray for yourselves.
Pray My children, pray, the volcanoes make their power felt, shaking the earth, pouring their fury over the earth, ravaging peoples.
Pray My children, pray for Spain, it will be taken by surprise, pray for Spain.
Pray My children, the United States will continue being scourged by Nature and terrorism will come to cause uncertainty.
You, My beloved:
I CALL YOU NOT TO DECREASE IN THE FAITH, BE THOSE WHO SHINE IN THE MIDST OF THE GREAT
DARKNESS THAT REIGNS ON EARTH. DO NOT FORGET THAT WEAKNESS IS COMBATTED BY THE
FORCE OF THE EUCHARIST: TREASURE THIS INSTANT WHILE YOU CAN RECEIVE MY SON EUCHARISTICALLY.
Remain in expectation, Russia will take a decision that will affect all of Europe directly and the whole world indirectly.
Unite in the Name of My Son; be fraternal, do not seek the individual good but the common good.
Invading churches and destroying them will be an everyday occurrence to frighten My children and so that they renounce the faith.
Beloved children, do not be silent about your sins; acknowledge that you are sinners, examine yourselves, do not deny yourselves Salvation, do not condemn yourselves for not acknowledging sins committed.
I HEAR PREACHING ON DIVINE MERCY, YET YOU ARE NOT BEING WARNED ABOUT DIVINE JUSTICE. The sinner is not rewarded if he does not repent. Children, you are being led to lose your soul: the sinner has to convert - this is the Truth.
My Requests have not been obeyed; the times would be different if Humanity had obeyed me, if My Son's Church had complied with My Requests that I made in the Name of the Most Holy Trinity, the destiny of all Humanity would be different.
BELOVED, THE ANGEL OF PEACE WILL COME FROM THE FATHER'S HOUSE WITH THE DIVINE WORD
IN HIS MOUTH, TO PACIFY THE TURMOIL OF HUMANITY, WHICH IN DESPAIR WILL MAKE SOME RISE
UP AGAINST OTHERS, LOSING ALL CONTROL, SURRENDERING TO THE WILDNESS CAUSED BY
DESPAIR. IT WILL BE THE INSTANT OF THE ANGEL OF PEACE, THE INSTANT OF THE RESCUE, OF THE UNITY OF THE REMNANT CHURCH, THE FLOCK WILL CALM DOWN.
Beloved children of My Immaculate Heart:
I protect you, I constantly bless you: listen and do not continue without action - be constantly practising the Divine Word written in Sacred Scripture.
DO NOT CONTINUE IN INERTIA! WAKE UP, MY CHILDREN, WAKE UP! Take My Calls seriously. The
instant will come when you will see the fulfillment of what I have revealed to you, and how you will regret your disobedience.
I CALL YOU TO HEED THIS WORD OF MINE. I BLESS YOU.
DO NOT FEAR, I KEEP WATCHING YOU AND DELIVERING YOU FROM GREATER EVILS.
Mother Mary.
HAIL MARY MOST PURE, CONCEIVED WITHOUT SIN