Monday, June 26, 2017
Message from Our Lord Jesus Christ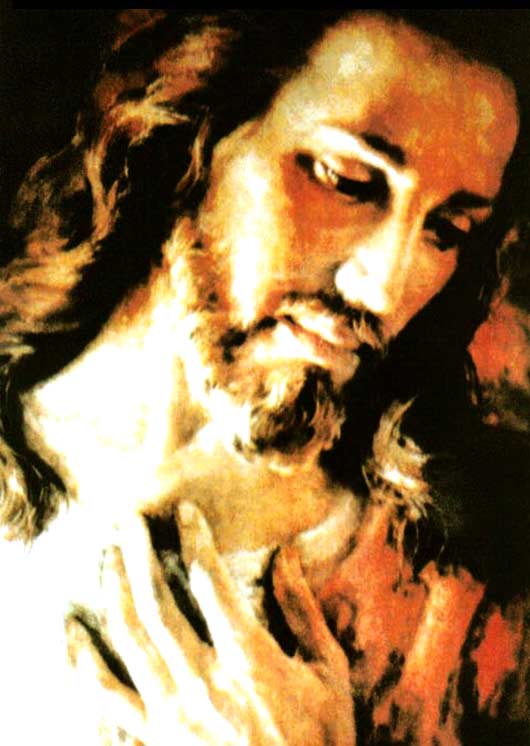 My Beloved People:
MY HEART KEEPS BEATING FOR EACH ONE OF YOU... I THIRST FOR SOULS!
I call you again and again to obedience, and you refuse. You continually rise up without the need to show yourselves to be against Me, but continually accepting new idols that men create and that are leading you to the precipice.
You live in denial of My Divinity. It is not necessary to utter words, but with your acts and works you are more eloquent than the greatest orators.
EVERY INSTANT I SEE MY PEOPLE ADAPTING TO THE DENIAL OF MY DIVINITY so as to create more confusion. I wonder at seeing with what ease you voluntarily adapt to the instant in order to deny Me and create confusion in your brothers and sisters, with the goal of creating greater evil, greater ignorance, and thus premeditatedly taking a greater number of human beings to the abyss. Evil is heading very quickly towards its maximum expression.
My people:
WHERE ARE YOU GOING?
DO YOU NOT SEE THE IGNORANCE CREATED BY MAN HIMSELF OVER PAST CENTURIES?
EVERYTHING HAS BEEN CREATED SO THAT AT THIS INSTANT MAN WOULD BE MORE PERMEABLE TO EVIL AND LESS WORTHY OF BEING CALLED MY CHILD.
You want to heal the evils you create by committing greater evils. Sin has no other name: sin is sin. But he who leads his brothers to offend me being aware of that offense commits a greater sin, and the offense is greater.
My people, the barbarism in which you are living was not created in an instant; degeneration has been implanted within Humanity long beforehand. At this instant the rebellion in which man has been living previously is emerging in public, it is just that human degeneration used to remain hidden and is now public.
My children, how many followers instantly succumb to total degeneration! In every respect, where life exists, man contaminates it with degeneration and perversity.
IGNORANT IDOLATERS!
SUCH ARE MY PEOPLE: BEFORE MERE MEN YOU BOW DOWN AS IF THEY WERE GODS.
Not only is he guilty who adores whomsoever is not God, but the one who allows himself to be adored like God, pandering to pride and arrogance. Are not these the sons of the devil who are leading My people astray? You have entered into idolatry and cannot stop it, ungrateful children! I give Myself to you and you constantly deny Me.
SUCH IS THE EVIL THAT YOU CAUSE TO REACH ME THAT FIRE WILL FALL FROM HEAVEN. And even
so the mouth of the liar will not be silenced; you are committing so much evil before My Eyes, there is such an abundance of impiety by the idolaters, they will bring this generation to instants of very great pain.
Look how many rags you drag, how much you are handing over to Satan, and it is not only Satan who is a liar, but man himself, who calls himself chosen without Me calling him chosen.
How many of My People feel that they are sealed, called, selected, separated from sinners, themselves being sinners who do not take the straw out of their own eyes! They commit offenses against Me and think that I do not see them - hypocrites!
My people, how much pride I see in you, and you go on calling me your God when you should repent before I cause you to examine yourselves on your own.
I am surprised to see how you take My Word and ignore it; you take it according to the needs of each person. How you will mourn for it, rebellious people!
FOOLS! STOP OFFENDING ME ...
PUT A STOP TO THE FALSE GODS THAT HAVE IMPOSED THEMSELVES AND THOSE THAT YOU HAVE ACCEPTED VOLUNTARILY IN ORDER TO ACCEPT THE WRETCHED STANDARDS OF THOSE WHO BELIEVE THAT THEY ARE MORE THAN ME.
You have ignored My Warnings and have forgotten that when man feels himself to be in possession of a great science, he runs the risk of swelling up in the spirit and feeling that he is more than his brothers. WHY DO YOU NOT FEAR ME?...
My people have gone away from Me, they are a people who desire the Earth, therefore they attach themselves to what is instant, rejecting My Law, they feed on the Earth and the Earth itself vomits them out.
Great is the person who converts, needing me, seeking me in order that I protect them in the midst of so much evil that surrounds them...
Great is the person who seeks Me faced with the degeneration in which Humanity is living...
Great is the humble person who does not litigate with their brother but seeks peace...
Great is the one who knows how to keep silence so that I speak...
Are you, My children, the converts of this instant?...
Are you the ones who have left the world or those who continue being sad?...
What is Justice for you and what is Justice for me?...
Are you honey for your brothers and sisters, or are you gall? ...
Are you bringers of happiness or unhappiness? ...
Are you those who seek Me with the eyes of the body, needing what is material in order to touch me? ...
My people, those and only those who have a pure heart can see me. For this you first have to cleanse your eye and then, with the eyedrops of love, seek me within, in your heart.
MY PEOPLE, SO FEW ARE THOSE WHOM I CAN CALL "BELOVED CHILDREN OF MY PEOPLE".
The instant in which you are living is crucial for Humanity: you know it but deny it.
Do not surrender to evil as if I did not warn you; enter into inner silence and seek me while you have an instant.
I do not refuse My children, I do not refuse the one who seeks Me, I do not refuse the one who needs Me and recognizes that they are a sinner.
Let those who are tired of the things of the world and its machinations come to Me...
Let those who are persecuted come to Me...
Let those who have gone wrong come to Me…
Let those who find themselves tied to sects contrary to My Will come to Me…
Let those who are in tribulation come to Me… Let those who are lonely come to Me...
Let those who do not listen to Me in My Calls come to Me, let them draw near with a contrite heart and I will welcome, enlighten and protect them.
Pray My children, pray so that My Holy Spirit might dwell in each one of you.
Pray for My children, pray for Germany, it will suffer at the hands of terrorism and Nature will scourge it.
Pray my children, pray. I call you to begin a Worldwide Chain of Prayer of the Holy Rosary for peace in Venezuela.
Pray children, Spain grieves with pain over offenses against My House.
Pray My children, Colombia shakes.
My people, as My children sink into the mire of impurity, so the Earth experiences sinking throughout the world.
My People are faithful and true, they do not worry over what worries the world. On the contrary, they remain in continual prayer because they know that I am with My own, I AM FAITHFUL AND TRUE.
I bless you at this instant in which My people are being tested.
I bless your hearts in order that My Love might abound in them.
I bless your sight, thought, ears, so that in them My Calls reach the depths of each person.
Your Jesus.
HAIL MARY MOST PURE, CONCEIVED WITHOUT SIN