Saturday, July 1, 2017
Message from Our Lord Jesus Christ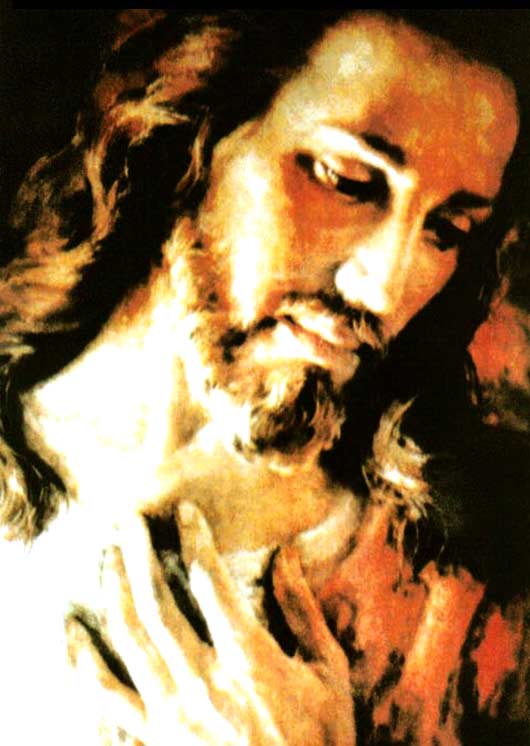 My Beloved People:
MY SACRED HEART BURNS WITH LOVE FOR EACH ONE OF YOU.
I keep My Sacred Heart open to all who draw near with a contrite and humble heart, with a firm purpose of amendment, ready for that reunion to be true and lasting.
I am jealous for My own. I protect them at all instants, warning them so that they do not go astray. I explain to them all of what is found in My Word and I repeat the Calls of My Mother given at all the necessary instants so that My children understand that Humanity has gone astray and, when it has gone astray, has passed through the crucible of purification.
My people, conscience has been obstructed by man's constant falling back into the sins with which you offend Me and adhere to evil.
You have still not understood that in order to live in My Will you must know Me and acknowledge Me so that each act be an echo of Mine, each work be an echo of My Works filled with Divine Love. Until My love lives in you and has dwelled in you, it will be difficult for you to be faithful and true children.
MY LOVE IS OBEDIENCE, IT IS FORGIVENESS, GRATITUDE, PRUDENCE, CHARITY, UNDERSTANDING.
MY LOVE IS GIFT AND VIRTUE, WITH WHICH MY CHILDREN ARE A TESTIMONY TO MY TRUTH.
Appearances do not exist before Me, they are detestable to Me. When My People love appearances, I quickly go away. Faced with this detestable act, I do not recognize human creatures. I Am faithful and true.
HOW MANY OF MY PEOPLE KNOW HOW TO TALK VERY WELL BEFORE THEIR BROTHERS AND INSIDE THEY ARE EMPTY AS A CONTAINER THAT IS PERFORATED!
I desire works and acts born of Truth and of My Love in order that they be a prolongation of My Love and My Truth.
My Beloved People, at this instant Humanity is lost in its folly, it refuses to comply with the Divine Law and has surrendered to satisfying its base instincts with its misused free-will. My people do not recognize evil, since this has become connatural to man, and so the enemy of the soul joyful gathers the fruit of his constant temptation of My People.
MY CHILDREN DISAVOW ME, THEREFORE THEY HAVE BECOME LUKEWARM AND ENJOY THE LUKEWARMNESS WITH WHICH THEY ARE DECEIVING THEMSELVES.
Evil gives you the dowry and more so that you be creators of a greater evil. You are unable to stop the erroneous teachings within My People because you are lukewarm children and do not know Me. You say that you are My children and instead you are My torturers who constantly keep Me suffering.
All that surrounds you acknowledges Our Divinity: you deny Our Trinity, reject My Mother and mock My Calls. When the Calls of Our House leave you exposed, you attack them, and you thereby make it clear that within My People the snakes are not crawling on the ground but remain high up. But before an ignorant people, the serpent flies and makes the eagle crawl so that it does not warn those who seek Me.
I DO NOT EXPLAIN MY WORD TO YOU IN ORDER FOR YOU TO KEEP IT ANONYMOUS, BUT SO THAT
YOU MIGHT BE FED WITH THE FOOD THAT MY HEART EMANATES FOR MY PEOPLE, THAT PEOPLE WHO OBEY MY WORD.
My people: the more you depart from Me, the greater is the purification!
Each person is an expansion of My Love or an expansion of the evil with which you contaminate those who find comfort in lust, in the folly of evil, in profanation, in fornication, in denial towards My Love, in lies and in the comfortable life of the way of the world.
I AM NOT DECEIVING YOU: PERVERSE HUMANITY GOES TO EVIL TO SOLVE ITS NEEDS AND FIND REFUGE FACING PAIN.
THE DEVIL SOLVES YOUR IMMEDIATE NEEDS BUT OFFERS YOU NOTHING FOR FREE. YOU HAVE TO PAY BY SURRENDERING TO HIM AND WITH THAT YOU KILL THE SOUL.
The danger for My People is approaching from the Universe; the great world powers know about these Celestial Bodies that will be catastrophic for Humanity. They deny this knowledge, not for the good of man but to keep you within the lie of a Humanity without problems and without sin.
The weather will never be the same. The constant changes have managed to penetrate you, they invade your brain and the latter is unable to respond to the drastic climatic changes in which man is not accustomed to living.
The seasons used to be clear, and men kept to clear patterns. At this instant, the sower does not know when to plant or when he will harvest his crop, man is unable to define the seasons because these have changed and continue changing constantly. The Sun used to provide man with well-being, but at this instant the Sun makes My People suffer, seeing them as strangers.
You have lived with the constant regression to which you have been submitted by those who believe themselves to be masters of Humanity. WITH HUMANITY NOT RESISTING THE ACQUISITION OF NEW AND MISCONCEIVED WAYS OF LIFE AND IMPROPER ACTS, EVIL HAS STRETCHED OUT ITS TENTACLES OVER HUMANITY THAT HAS EMBRACED IT AND DOES NOT WANT TO LEAVE IT. THUS HUMANITY HAS FALLEN INTO ERROR AND IN THE RENUNCIATION OF MY LOVE. THE ABYSS HAS TAKEN SHAPE: IT IS CALLED DEGENERATION IN ALL ASPECTS OF MAN'S LIFE.
The chaos to which you have surrendered has become a palpable reality; you do not only think but carry out great offenses against Me, making them a reality.
Man falls low, he constantly falls lower, driven by the environment around him. Man dresses and adorns himself like woman and is encouraged to be feminine without being so. The woman is object and subject, dresses like a man and rebels with the force of a man. She rejects motherhood in order to be an object.
HOW MUCH PAIN ON THE TIRED AND DEVASTATED EARTH!
HOW THE EARTH CRACKS AND WILL CRACK IN ITS DESIRE TO DRIVE AWAY THE SIN THAT BEFALLS IT!
UNDER THE OPPRESSION OF SATAN MY PEOPLE WILL SUFFER THE GREATEST TRAGEDY.
You are living with your eyes blindfolded. You are not realists but idealists, and at this instant ideals are maintained about false gods that are leading you to the soul's great perdition.
SAVE YOUR SOUL, ATTAIN SALVATION AND ETERNAL LIFE!
DO NOT FEAR THE TROUBLED WATERS; BE FAITHFUL TO MY WORD, DO NOT REJECT MY MOTHER, RECEIVE ME IN THE EUCHARIST PROPERLY PREPARED.
DO NOT DEPART FROM ME, AS I DO NOT DEPART FROM THOSE WHO CALL ME.
The waters of the oceans will give man great surprises, giving way to the appearance of hidden volcanoes. The tectonic plates will be shaken and My People will suffer because of it.
Pray children, pray for Europe, it has forged its own pain.
Pray children, pray for France, again evil is leading it to pain.
Pray children, pray for the United States, it suffers through man and Nature.
Pray children, pray for Ecuador, it is strongly shaken and the great volcano causes My children to suffer.
MY BELOVED PEOPLE, SEE HOW YOU HAVE DEPARTED FROM ME, HOW YOU RESIST THE GOOD AND HOW YOU HAVE SURRENDERED TO WHAT IS NOT LOVE...
Understand that without love you are creatures without life, you are empty and unmoved by anything. The heart hardens not only towards your brothers and sisters but also hardens towards yourselves; that is why you reject the Gift of Life. Be creatures of good, be Love.
My people, prepare yourselves, be spiritual, do not settle for not knowing me, but demand of yourselves to know me in order for you not to be deceived. You must enter into My Word so that you do not confuse what comes from My Love with that which is the work of man guided by Satan.
MY PEOPLE WILL BE ACCOMPANIED BY MY ANGEL OF PEACE, WHO IS NOT A FORMER PROPHET, BUT IS THE NOVELTY OF MY LOVE TO SUPPORT MY PEOPLE UNDER TRIBULATION THROUGH INFERNAL PERSECUTION. My Angel of Peace will be the consolation of My faithful, the support of My People and, by the hand of My Mother, will bring My Love to the hearts of the humble of heart.
MY FAITHFUL WILL RECEIVE THE BLESSING OF THEIR FAITHFULNESS. NOTHING IS IMPOSSIBLE FOR THOSE WHO STAY WITHIN MY HEART.
I warn you, I bless you.
Your Jesus.
HAIL MARY MOST PURE, CONCEIVED WITHOUT SIN