Friday, July 7, 2017
Message from the Blessed Virgin Mary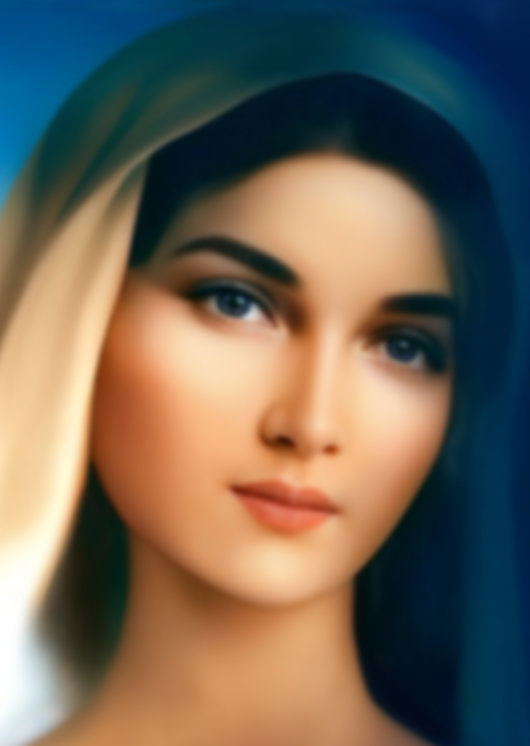 Beloved children of My Immaculate Heart:
RECEIVE MY BLESSING, MAKING SUPPLICATION TO THE HOLY SPIRIT SO THAT THESE WORDS
THAT YOU RECEIVE MIGHT BE WELCOMED WITH WISDOM AND THUS THAT YOU WHO READ THEM MIGHT TREASURE THEM AND THAT THEY WOULD MOTIVATE YOU TO CONVERSION.
The Devil's claws are rising up in the midst of Humanity, which has transformed the Earth of blessing into a dark earth saturated with human misery, where confusion and anger abound.
Children, do you not understand that improper, impetuous and harmful acts strengthen hell's minions?
YOU SAY THAT YOU KNOW MY SON, YET THIS IS NOT TRUE, SINCE THOSE WHO KNOW THE
DAMAGE CAUSED BY ALLYING THEMSELVES WITH EVIL, ALLOWING EVIL TO USE THEM TO CAUSE TROUBLE, IF THEY LOVED MY SON, THEY WOULD TURN AWAY FROM THESE TEMPTATIONS.
Humility, silence, peace and unity are contrary to the Devil's nature, and when you are in between apparently good acts and acts contaminated with evil, the Devil gains greater advantage by distancing you from the righteous work and action of the children of God.
The devil does not rest, bringing and pouring out unhappiness among men so that war between nations be prefaced by violence in Humanity.
Some of My children, with faith and great courage, stay within the obedience to which My Son calls them. These children are the ones whom the demons tempt with greater fury: the instruction is to rob them of peace, because they know man, and when man loses peace, the sequence of thoughts works and acts are for the most part not what My Son wishes to receive.
Man is so poor in his conscience that he lets himself be carried away by pride, and from this evil Satan gains great profit, infecting man with grave evils by means of pride. The proud creature emanates so much purulence that it contaminates every one that comes across its path, and the demons rush to heighten that great evil in them, since a proud man causes more pain in a single instant wherever he goes than what the demons themselves can achieve.
Men rush from one place to another in search of dates regarding the events of purification that Humanity will suffer, and those who seek dates should stop and ask themselves about their spiritual state.
HOW MANY AMONGST HUMANITY WOULD THERE BE WHO WOULD SAVE THEIR SOULS IF AT THIS
INSTANT MY SON CAME IN HIS SECOND COMING? THEREFORE, BEFOREHAND AND FOR THE GOOD OF SOULS, THE PARTICULAR JUDGMENT IS FACING HUMANITY.
HAVE YOU THOUGHT ABOUT THIS ACT OF MERCY?
ARE YOU PRODUCING FRUITS OF ETERNAL LIFE OR, ON THE CONTRARY, ARE YOU CREATURES OF STRIFE?
Children of My Immaculate Heart, you possess everything for attaining Eternal Life and are losing it at every instant in the face of minor and unforeseen situations.
SPIRITUAL GROWTH IS A CONSTANT TRIAL, since the one who does not live like a spiritual adult cannot be a spiritual adult, but goes from maturity to childishness with great ease. You have not grown up spiritually so as to face the instant in which you are living.
YOU DO NOT POSSESS SPIRITUAL STABILITY, and in the face of this great lack, the wily and evil thief is quick to cast you into old spiritual failings in order that you regress as much as possible and turn away from the true Way of Salvation.
An angry man causes great conflicts ...
An angry family causes serious wounds ...
An angry people cause great devastation and deaths ... An angry Humanity causes great wars ...
The devil is cunning and you easily fall into his nets, so much so that he continually facilitates the arrival of many reports, literature, news, predictions that intrigue you and you, children, pounce on what awakens your curiosity ...
OH MY POOR CHILDREN, HOW MANY OF YOU ARE WORN OUT BECAUSE OF NOT KNOWING MY SON IN DEPTH! AND YOU WANT TO ATTAIN GREAT HONORS WITHOUT HAVING ATTAINED THAT WHICH WILL MAKE YOU HEIRS OF THE KINGDOM: DIVINE LOVE. You want to be learned without praxis, and the sinner who does not decide to rid himself of what causes him to fall will not be able to overcome sin. Without the constant practice of self-denial, man cannot overcome what causes him to fall. For my children the practice of goodness and separation from evil are indispensable.
Beloved children of My Immaculate Heart, My Son sees each person in particular, He sees the works and actions of each person in particular and My Son will not ignore acts contrary to the Law of Love. How many of My children find themselves in great conflicts because of wanting to acquire the gifts of another brother, without thinking that love governs everything, and those who concern themselves with coveting their brother's spiritual goods harden their hearts and alienate themselves from the Celestial Goods.
AT THIS INSTANT, HOW MANY ARE ARGUING, DENYING OR AFFIRMING THE EVENTS THAT THE
FATHER'S HOUSE HAS REVEALED TO YOU!
If you desire Salvation, you must devote yourselves to living in holiness, fulfilling God's Law and being living testimonies of Divine Love at all instants and in all places, in and out of season.
For this Humanity, truth is its truth, and that truth is infinitely distant from the truth that My Son left to His children.
MAN CANNOT ALTER THE COMMANDMENTS, THEY ARE ALWAYS NEW, A CONSTANT PRESENT, THEY ARE NOT SUBJECT TO FREE INTERPRETATIONS. But what does this generation do? It has
abolished sin and works and acts contrary to life, to the Salvation of the soul, contrary to obedience, modesty and purity, and has given itself over to debauchery, opening the mind to lust so that base human instincts spring up and reproduce themselves in an environment constantly favorable to this.
MY SON'S PEOPLE REMAIN INERT, THEY REFUSE TO RECOGNIZE THE INSTANT IN WHICH THEY ARE LIVING, AND THE ENEMY OF THE SOUL, WITH HIS CUNNING, IS TAKING HOLD OF HUMANITY AT EVERY INSTANT. Technological inventions are praised by the vast majority of Humanity without proper knowledge. This brings man closer to accepting any technological innovation without reservations. Thus Humanity will accept the use of the microchip with great trust, this ingenious and miniscule artifact being the greatest controller that has ever existed.
THROUGH THE MICROCHIP, MAN'S THINKING WILL BE NULLIFIED, AND THE FREEDOM THAT MY
SON HAS GIVEN TO MAN SHALL BE DEFINITIVELY TAKEN AWAY FROM HIM. THE MICROCHIP IS A PERTINENT SIGN PRIOR TO THE PUBLIC APPEARANCE OF THE ANTICHRIST.
Beloved children of My Immaculate Heart, each of you must voluntarily consecrate yourself to Our Sacred Hearts; My Son has asked this from you and I repeat that urgent request.
EVERY HOME SHOULD BE CONSECRATED TO OUR SACRED HEARTS, EACH FAMILY SHOULD
CONSECRATE ITSELF TO OUR SACRED HEARTS, BUT DO NOT FORGET THAT THE CONSECRATION IS PUT INTO EFFECT BY CONSTANTLY LIVING IN THE FATHER'S WILL. BUT WHERE DIVINE LOVE DOES NOT REIGN, CONSECRATION DOES NOT PRODUCE FRUITS.
Beloved children, man does not rest in his eagerness to lead Humanity. Technological inventions do not stop; these are not only for man's good but are mostly used to dominate man. The human mind is a subject of constant study and constant surprises for the man of science: that is why Humanity receives innovations with which they capture human attention and take it away from everything around it.
One more invention comes into the hands of children and youth, with which they will totally disconnect those who use it from reality. These constant seals of evil are those that prepare man for the total domination of the mind by the Antichrist, in order to possess Humanity without the latter rebelling.
Parents:
HOW CASUALLY YOU HAVE GIVEN YOUR CHILDREN OVER TO SATAN'S WHIMS!
HOW FLIPPANTLY YOU HAVE ALLOWED YOUR CHILDREN TO LIVE IN AN UNREAL WORLD AND TO
BE TRANSFORMED INTO AUTOMATA THAT LIVE INSIDE THEMSELVES, CONSTANTLY COMPETING AGAINST THEMSELVES!
Parents are not listened to, they are not respected, they are not loved by their children.
I hear so much grief about this. Parents: your children, inert creatures, are the product of technology created to dominate man and FIND THEMSELVES DOMINATED BY THE DEVIL'S TECHNOLOGY. EVERY INNOVATION THAT YOU PLACE IN THE HANDS OF YOUR CHILDREN BRINGS YOUR CHILDREN NEARER, WITH YOUR AWARENESS, TO IMPLANTING THE MICROCHIP AND BEING AMONG THE WORSHIPERS OF THE ANTICHRIST.
How disobedient man has fallen!
CHILDREN, YOU PRAY YET DISOBEY, YOU PRAY YET IGNORE THE WARNINGS THAT MY SON GIVES YOU IN ORDER TO BE FREE FROM EVIL AND TO FREE YOUR FAMILIES.
Evil goes throughout the Earth, it is an invisible force contaminating those who allow it. Therefore you must proclaim that evil exists and that the People of My Son will not be saved until they decide to set out on the path of holiness, which is not just praying.
EXPAND YOUR MINDS, NOURISH THEM WITH KNOWLEDGE, WITH PRAXIS, SO THAT YOU ARE NOT BE DECEIVED BY THE WILES OF THE SEDUCER OF SOULS.
Pray My children, pray for Turkey, it will suffer the pain of its inhabitants.
Pray My children, pray for North Korea, its people will suffer the effect of its own nuclear creations.
Pray children, pray for Chile, the earth shakes with great force.
Beloved children of My Immaculate Heart:
The Earth shakes more forcefully, great earthquakes in the depths of the sea cause devastation on the Earth's surface. Aviation will be paralyzed for a time in much of the Earth; keep the faith. Volcanoes give signs of their awakening.
Beloved children of My Immaculate Heart, remain attentive, devote yourselves to good deeds, attend to the requests of this Mother. Be creatures of good, do not let evil invade you, be love towards yourselves and your brothers.
DO NOT FORGET THAT EVIL GROWS, BUT DIVINE LOVE IS MULTIPLIED BY AS MANY ACTS OF OBEDIENCE AS MY CHILDREN CARRY OUT.
Beloved, My Son loves you with Eternal Love.
CONVERT, DRAW NEAR TO MY SON, DO NOT FEAR HIM, DRAW NEAR AND LIVE IN THE FULLNESS OF THE CHILDREN OF GOD.
As Mother of Humanity, I will remain with you until we hand over the Earth to Its Creator. I bless you.
Mother Mary.
HAIL MARY MOST PURE, CONCEIVED WITHOUT SIN