Friday, July 14, 2017
Message from Our Lord Jesus Christ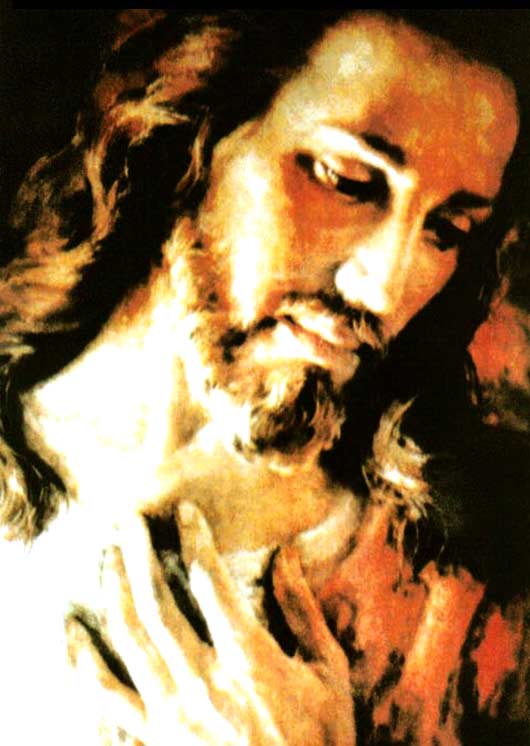 My Beloved People:
IN MY HANDS I HOLD MY PEOPLE, THOSE WHO SEARCH FOR ME INCESSANTLY.
I am Divine Mercy, I am Peace, I am Charity, I am Hope so that My children might be strengthened in the Faith. I am Justice, and as the Just Judge, I wait until the last instant in order that the human creature might repent and return to Me.
At this instant, I can only look at the Earth and continue pouring out My Justice slowly due to the supplications of My Mother for those who remain faithful, for those who continue making an effort not to falter, for those who are constant, humble and true Christians ...
I HOLD BACK MY JUSTICE DUE TO THE PETITIONS OF MY MOTHER FOR THOSE WHO ARE
PREPARING by examining themselves over and over again, by those who, deepening their knowledge of what is coming, become aware of the urgency of genuinely entrusting themselves to My House in order to save their souls and be a testimony to their brothers, with the intention of helping them.
Modernist and liberal beliefs present me as an inert God, thus inviting man to be liberal, to keep on behaving contrary to My Work and Action. MAN'S ACTION IS IN TOTAL DISCORD WITH OUR DIVINE WORD, IT IS IN CONTRADICTION WITH THE DIVINE LAW, IT IS A VERY SERIOUS AFFRONT TO THE COMMANDMENTS AND TO THE TEACHINGS THAT I LEFT YOU.
This generation is constantly corrupting itself and is surrendering to madness.
THE ANTICHRIST HAS PREPARED THE CURRENT SCENARIO IN WHICH HUMANITY IS LIVING, AND HUMANITY HAS ACCEPTED IT...
My children's personality is no longer their own, but has been conformed to the majority, with a man emerging who has no thought of his own other than that inherited by the rest of society. A man has arisen who imitates his fellow men, who does not reason but only imitates others' behavior.
Children, My people, I call you to inform yourselves, to deepen into My Word made explicit for you in various ways, because it is you who are going to be participants in the coming events.
PREPARE YOURSELVES, DO NOT IGNORE WHAT THIS GENERATION IS LIVING THROUGH and what is making its way amidst the ignorance of a man who regards everything happening as normal.
I watch you passing the instants without leaving a trace; you find satisfaction in saying that you are alive, but you do not think, do not reason, do not feel, and this pleases those who hold in their hands the important decisions of Humanity, within which you are.
A group of men and women with economic power have decided that you, My People, should remain ignorant of the true reality, with the goal of manipulating you. You are not unaware of this: I have explained it to you, but you do not stop to think and take measures in this regard.
My people, this generation is aberrant, degenerate, it rejoices in what is illicit and in what reduces its status as a child of God: you worship the god of money, the god of technology, the god of modernism, the god of degeneration ...
Such are the instants that indicate to you the stage in which this generation is living. I see more sinners than in Sodom and Gomorrah. You will not stop before sinning, however gravely that may be; the whole instant you will promote new ways of offending Our Most Holy Trinity. And in the end, the good will be seen as evil and evil will be welcomed with great pleasure.
Families are a continuous battlefield: children rise up against their parents, brothers do not look see one another as brothers, you are rapidly losing your values. Loyalty will come to be unknown, blood relationships will be ignored, all will disavow one another, deny one another...
Humanity is in permanent chaos. Our Spirit is constantly grieved; man's imagination is stronger than knowledge itself, and imagination contaminates the creature, dominating it by distorting knowledge.
Children do not bear good fruit when they rise up against their parents. Parents correct their children and children laugh, consenting to what Satan sets before them.
THIS IS THE INSTANT IN WHICH MAN HAS DETACHED HIMSELF FROM WHAT IS SPIRITUAL, CONSIDERING IT RIDICULOUS AND NOT NECESSARY IN ORDER TO EVOLVE.
Evolution for today's man depends on technology, knowing that technology has dominated him, has caused him to be its slave and has chained him - not with physical chains, but with chains that have robbed him of his mind, thought, will, capacity for decision, intelligence; and I see zombies wandering on Earth... My People have become a People without will.
My people are diminished in the face of the constant wave of malevolent ideologies that have chosen to separate Me from man so that he surrenders to evil. You are continually creating new towers of Babel in which you have perished and continue to perish, completely nullifying yourselves, losing your relationships as human creatures.
My Mystical Body has turned away from Me, it feels that it does not need me; you tear down My Temples, defile Me, blaspheme against Our Trinity, reject and mock My Mother, and My Real Presence in the Eucharist will come to be denied.
My People find themselves more alone, My Church on Earth will suffer for her mistakes, schism will come. Evil has a field day with the contamination in sectors of My Church, creating scandal and more scandal.
YOU, MY CHILDREN, PREPARE PROPERLY, REPENT OF OFFENSES COMMITTED.
My people, in the midst of the apparent quiet preceding the Warning (1), men continue to go further and further astray. Children, you will examine yourselves, the very depths of your souls will be shaken, human conscience will be known for the first time by some of My children.
All will see the offenses they have committed against the Divine Law, and with an iron rod, they will live through the particular judgment from which not even a single person will be able to escape. Everyone will remain in the personal desert of their sins, they will not be able to help one another. After this, My faithful will be more faithful and those who do not love Me will love me less. PERSECUTION TOWARDS MY FAITHFUL WILL INCREASE AND THE GREAT DECEIVER WILL TELL HUMANITY THAT THIS ACT OF MERCY FROM MY HOUSE, THE WARNING, WAS CREATED BY HIM.
During this personal examination, the Creation will be shaken, the Universe will remind man that human offenses have managed to draw heavenly bodies towards Earth. The Earth's atmosphere will be tinged with fire, and with this fire the Earth will burn.
MY BELOVED PEOPLE, WHOEVER DENIES ME BY SAYING THAT I CAUSE THEM FEAR IN CONVEYING MY TRUTH, IS A STRANGER TO THE REALITY IN WHICH THEY ARE LIVING.
Pray My children, pray for the Philippines, this land of Mine will weep to the full.
Pray My children, pray for Guatemala, the great volcano awakens forcefully.
Pray My children, pray, the Middle East burns.
Pray My children, pray, the sea is strongly stirred up due to the proximity of a celestial body.
My Beloved People, folly is the daughter of evil: take My Words and be renewed internally with a generous spirit.
I WILL NOT DENY YOU PROTECTION IF HUMILITY AND PURPOSE OFAMENDMENT ARE GENUINE.
DISCOVER THAT YOU ARE LIVING, NO LONGER BE SLAVES OF THE TECHNOLOGY THAT DOMINATES YOU.
LIVE, BREATHE MY LOVE.
I bless you with My Heart that suffers thirst for souls.
Your Jesus.
HAIL MARY MOST PURE, CONCEIVED WITHOUT SIN