Wednesday, July 26, 2017
Message from Our Lord Jesus Christ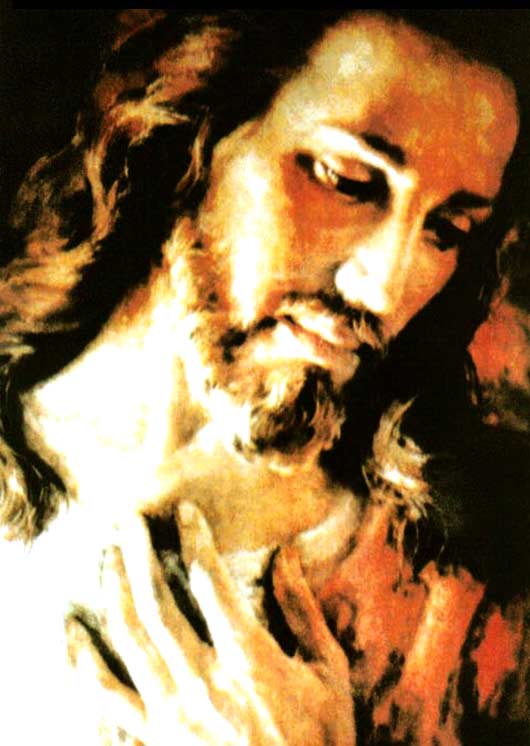 My Beloved People:
I BEAR YOU WITHIN EACH ONE OF MY WOUNDS, MY CHILDREN, SO THAT MY MOST PRECIOUS
BLOOD PROTECTS YOU, DEFENDS YOU AND BE THE SHIELD BY MEANS OF WHICH MY CHILDREN DEFEND THEMSELVES FROM THEIR OWN HUMAN EGO.
I have invited you to know Me, not in human fashion, but to know Me and to enter into Me assisted by My Holy
Spirit.
At this instant you are sailing in an extremely stormy sea in which I see each person's boat on the verge of shipwreck ... And today's man - even those who are close to Me - has altered true love: My Love. And what is man without love, but an empty wineskin? What is a man without love, but an inert body that confines the soul and keeps it constantly oppressed?
My Beloved People, you have still not understood My Love, therefore you continually allow the human ego to come out in you, and it is precisely the human ego that is causing the boat of each of you to sink in that stormy sea.
I HAVE ASKED YOU FOR FAITH, BUT I SEE SO MANY WHO, EVEN THOUGH THEY INTRODUCE THEIR
FINGERS INTO MY WOUNDS, SEEING ME, FEELING ME, DO NOT BELIEVE AND DO NOT ALLOW FAITH TO BRING THEM BY MY HAND TO KNOW WHAT TRUE LOVE IS.
And Faith is the strength of My People ...
Faith is the door that opens them to greater knowledge ...
Faith facilitates communion among brothers and sisters… Faith facilitates understanding ...
Faith is charity ...
Faith is hope ...
And Faith binds you to obedience out of love.
IN THIS INSTANT OF INSTANTS, MY HEART IS IN PAIN, DEEPLY HURT BY THOSE WHOM I HAVE
ASKED TO ENTER IN AND TO COMMIT THEMSELVES to various Works in order to assist and to take My Word to a Humanity devoid of It, and I see them being tossed about again and again by Satan. They have not learned from the lessons that life gives them through their actions and work outside of My Will, and this failure to take each stumble as a true lesson, is taken by Satan who places it in the personal boat of each of My children so that the latter weighs more and sink down into the sea of the human ego.
You look too much at your brother and his faults, and this is the product of living in a competitive society which is not spiritual but worldly. I see each of My children spending their lives without recognizing me in their brothers, forgetting that the gravest offense and sin that man commits is against My Holy Spirit.
MY HEART IS BLEEDING WITH LOVE AND BLEEDING WITH PAIN. Some will ask: how does it bleed with love and pain? In this way: as I gave Myself for love and for your salvation, salvation that you are continually rejecting, salvation that you reject by continuing to be so worldly and so disrespectful, like those who do not draw near with words of encouragement and love to their fellow men who suffer.
Science has advanced, children - and well you know it -, not only for evil but for your good, but at this instant, misused science is holding humanity by a thread at the point of breaking, a product of the unconsciousness of some.
You are not ignorant: you have the tools for keeping yourselves constantly informed through this Word of Mine of what is happening and of what is threatening the Earth. The Sun has gone from being man's ally to displaying itself with all its force, as a sign that it does not acknowledge human work and action, and the Earth finds itself threatened.
MY BELOVED PEOPLE: IN WHAT ARE YOU LOOKING FOR ME? WHERE ARE YOU LOOKING FOR ME? ASK YOURSELVES THIS.
My Mercy is infinite and you are wasting this instant, instant in which with My Word I am calling you to a total conversion.
You know about what is to come, but it is not the same, children, as knowing what will come at the instant when you are living what is to come; if you are not properly cemented on solid rock, you will not be able to stand, you will not be able to stay firm and immovable. Hence My insistence on a radical change.
I DO NOT NEED YOUR OFFERINGS, I DO NOT NEED YOU TO OFFER ME CHANGE, I DEMAND A
RADICAL CHANGE FROM YOU, AS THOSE WHO MAKE AN OFFER AND DO NOT FULFILL IT ARE WHITENED SEPULCHERS. And at this instant My People must remain faithful to Me in order to be able to receive the necessary discernment from the Holy Spirit.
My Beloved People:
Pray for Argentina: turmoil is increasing and the subversive voices are only heard in silence, but these will rise up and take the majority by surprise.
Pray, My children, the earth will be shaken, My children will witness a strong earthquake.
Pray, My children, pray for yourselves because My Scales are in front of each one of you.
Pray My children, pray for the land of the North: in the midst of turmoil and surprise it will be scourged by those who do not love it.
Pray My children, pray for Ecuador, it will suffer because of various events.
My People:
Every instant is a century of preparation, every instant is a diamond for you, every instant means forming part of the wheat or the tares, every instant is the instant of instants, and THE DUTY OF MY PEOPLE IS TO GROW IN LOVE, IN WISDOM, IN KNOWLEDGE AND IN THE RESPECT AND FULFILLMENT OF THE TEN COMMANDMENTS THAT SHOULD BE LIFE WITHIN YOU.
This generation is writing its history with blood, with the blood of innocents who love Me, but at the same time you are writing your history with a lack of love and accepting Satan as your god. Even so, I do not abandon you, but continue bringing you and explaining My Word to you, because I do not want any of you to be lost.
ENOUGH NOW! LET GO OF THE RAGS WITH WHICH YOU ARE WALKING. Still you are not aware, you have not realized that these rags of selfishness, egoism, these rags of power, these rags of conflict, envy, possession, exhibitionism, rags of materialism, those rags are those that, if you do not detach yourselves from them, will cause you to be among those who follow the Antichrist. The latter is moving rapidly by means of his satellites in order to enchain his followers.
Sadly I must tell you that those who are serving the Antichrist at this instant are acting; they are not sleeping like you, like My People, they do not wait for a request to carry out what they know or that to which they have committed themselves, they do not wait for a call of attention because they know that the one begotten by Satan does not forgive mistakes. And this Jesus who is infinite Mercy and constantly forgives you is rejected and thrown out.
YOU, MY PEOPLE, ARE CONTINUALLY CRUCIFYING ME, YOU PIERCE MY HANDS WITH THE NAILS OF
FOLLY, OF STUBBORNNESS, OF A LACK OF LOVE, OF INJUSTICE, OF INTOLERANCE, OF FAILINGS
WITH RESPECT TO CHARITY, OF ARROGANCE, OF FAILINGS WITH RESPECT TO HOPE, AND ABOVE ALL, OF REFUSING TO BELIEVE AND TO TRUST IN MY WORD.
It is you who are again screaming "crucify him!", you are the ones who are repeating history...
I NEED SOULS WHO ARE COMMITTED TO SUFFERING, TO SUFFERING THE UNSPEAKABLE IN ORDER TO REMAIN FAITHFUL TO MY REQUESTS.
My children, My people, you are so close, so close to My Church's being shaken, so close to the shaking of the earth with great earthquakes that you were expecting in future times, far in the future, and you have not yet understood that you are living in the instant of instants.
My Mystical Body will be strongly shaken, and I need the Faith of My Mystical Body to remain firm in My Promise and My Word, but for this, you must be those who fulfill My Commandments and who fulfill the Law of Love.
My people, how much degeneration is constantly coming to light! How many are being contaminated the whole while by anger and becoming unrecognizable in My Sight, but not unrecognizable for Satan! Understand, children, that when you lose your peace, you open the door for Satan to use you as his instruments against your brothers and sisters.
REALIZE THAT THIS INSTANT HAS BEEN ANNOUNCED AND IS THE INSTANT IN WHICH MAN STOPS
LOVING ME AND ACCEPTS EVIL AS HIS ALLY. BUT EVEN SO I DO NOT TURN AWAY FROM MY
FAITHFUL PEOPLE, AND I KNOW THAT MY FAITHFUL PEOPLE WILL WELCOME THEIR BROTHERS AND SISTERS WITH LOVE IN ORDER THAT NO ONE MIGHT BE LOST.
I pay attention to you, to every word, to every glance, to every step that you take, to every thought, and I demand that you be true to yourselves because I know you, but some still do not know themselves and need to reconsider this.
My beloved People, remain united to Me, think of me, adore me, constantly invite me to work and to act within you. I need My People to be strengthened in love in order that unity might not be a pretense but be true and impossible for evil to penetrate. TRUE UNITY IS A WALL AND THIS, AT THIS INSTANT, IS WHAT MY PEOPLE SHOULD BE; OTHERWISE EVEN THE FAITHFUL MAY FALL.
I hold you by My Hand, I do not abandon you, but as true Love I respect man's free will.
COME TO ME WITH HUMILITY AND PREPARED TO ALLOW ME TO SHAPE YOU.
I FORGIVE YOU OVER AND OVER AGAIN, BUT I NEED YOU TO REALIZE THE URGENCY OF THIS INSTANT.
I love you, I bless you My People, I welcome you, I shelter you, you are the apple of My Eyes. Come to me. Remain in My Peace.
Your Jesus.
HAIL MARY MOST PURE, CONCEIVED WITHOUT SIN